Ben and Katie are both accountants and have been together for over 6 years. Ben proposed to Katie on the top of a mountain, and while he thinks the altitude might have played a role, of course she said yes, and before long they were waking up on their wedding day at Hornington, surrounded by loved ones and bathed in sunshine!
The Unconventional Florist arrived to deliver Katie's bouquet as she was getting ready with her Bridesmaids in the Ballroom. The room lit up with beautiful sunflowers, hydrangeas, roses, thistle and gypsophelia, matching the Bridesmaid's pale yellow and blue gowns. The colours continued in the Wedding Barn with terrariums on each table, bursting with blooms and framed with pastel blue tulle.
Ben and all their guests waitied for Katie at Bolton Percy All Saints church, as she made her way there with her dad. Her gown was so beautiful with intricate lace detailing and capped sleeves. Katie was absolutely glowing and just so excited to marry her best friend.
As guests returned to Hornington, waiting for them on the front lawn were glasses of prosecco, a cask of locally brewed ale and the wonderful Sophie Jane providing the soundtrack to the day. In the Barn, each guests place was marked with a pinecone and a little bottle of homemade plum and sloe gin. The woodland touches continued to their three-tiered naked cake, made by Katie's sister Emily, which was topped with adorable Bride and Groom pinecone Hedgehogs, decorated with figs, blueberries and blackberries and entwined with ivy.
Katie's dad described his daughter as kind, caring and beautiful on the inside and out. After 6 years together, Ben has well and truly become a part of the family; He likes beer, red wine and scrabble- what's not to love! He knows Ben is incredibly fond of his daughter and will look after her. He joked that Katie's initials are now KEPT, so we will have to wait and see about that…
Katie's dad produced a poster of Katie's childhood teddy, 'Monkey' who used to belong to her mum Sue, and now sits alone waiting for Katie to visit. It just wasn't right that he was missing the big day, and he showed up as a surprise guest, dressed in a tux and top hat!
Ben thanked Katie's Bridesmaids (of which there were a lot) for all their love and support for Katie. Katie has three sisters who were all dressed in yellow, along with Katie's mum. The real star of the day though is he beautiful wife. they make such a great team, and Ben said that marrying Katie will be the single best thing he has ever done.
It was then time for the Best Men, Christian and Harrison, to take centre stage and present 'Ben's Story'. Just like Ben, they said, this speech won't be very funny, but it was jam packed with stories from their years of friendship after meeting as kids playing tennis. However, there were a lot of stories that they weren't allowed to tell, all of which were listed so they could then get on with their speech! Since meeting his one true love, Ben has done very well, and the last few years have been the best of his life. So a huge thank you goes to KPMG! At the end of their speech, they made Ben commit to a few more vows they had written, promising to love, honour and cherish Katie as much as he does KPMG, and to show as much dedication to their relationship as he does to becoming a Pokémon trainer. Joking aside, they make a wonderful couple and Christian and Harrison we so happy for the new Mr and Mrs.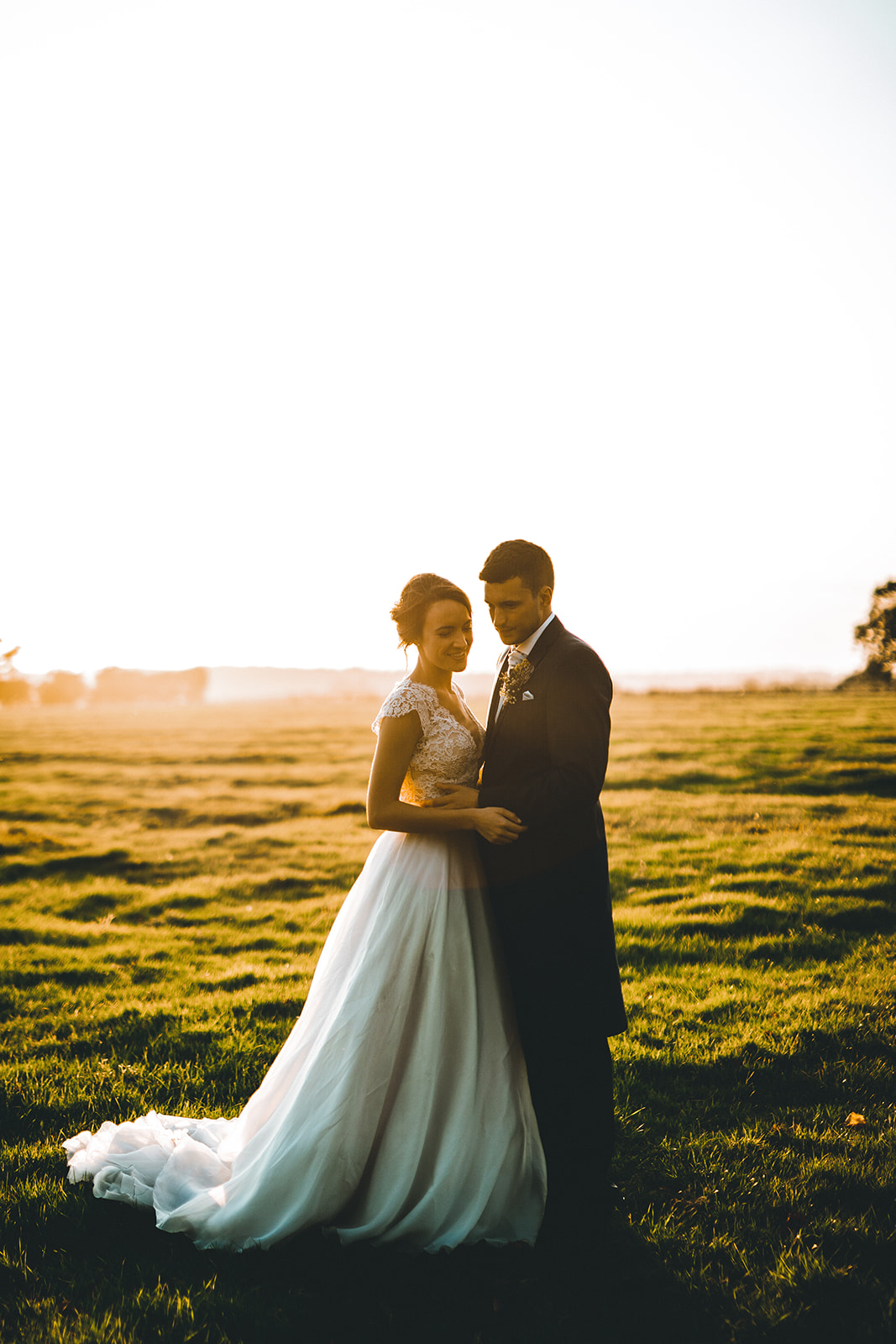 After the speeches, caterers the Yorkshire Party Company served Beetroot-cured Gravadlax and Oak roast salmon, followed by Poached and seared Chicken with a fresh herb Farci, Fondant potato and shallot puree. Pudding was a warming spiced Apple and Blackberry Crumble with Greek Yoghurt Ice Cream.
As evening fell, Katie and Ben wowed on the dancefloor with their choreographed first dance to 'September' by Earth, Wind & Fire, which couldn't be more perfect as their wedding fell on 21st September!
It was such a brilliant day and we want to congratulate the newly-weds and wish Katie and Ben all the love and luck in the world on their new adventure as Husband and Wife.
Suppliers on the day…
Photographer
Caterer
Florist
Hair and Makeup
Music