Nick and Francesca live in London and are quite possibly the most laid-back Bride and Groom ever! They have such an amazing group of friends and were so excited to be spending the whole weekend with them in the Manor, to really make the most of the extra special occasion! As not only were they celebrating their wedding, but also the New Year!
Francesca was the most happy, relaxed and radiant bride. She had chosen a beautifully elegant gown, with sparkly beaded back detail. Her Bridesmaids wore burgundy satin gowns which screamed festive chic. Nicks suit was a deep burgundy velvet and looked fabulous.
Guests gathered in the wedding barn which had been decorated with festoon lights and paper lanterns. Francesca walked down the aisle arm in arm with her dad Jim to a string version of David Bowie's 'We Could be Heroes'- Francesca's mum had surprised them on the Friday night with a purple neon sign of this a quote which was proudly displayed behind the bar and I'm sure will be admired in their home too.
During the ceremony, we heard a couple of readings by Nick and Francesca's friends, including 'We Have Everything Today' by Mike Garry and an adaption of readings from Carl Sagan, Stephen Hawking, Douglas Adams, Mark Twain, Buddha and The Beatles. Now that is quite a collection of people, but the reading was lovely-
The size and the age of the Cosmos are beyond ordinary human understanding.
Lost somewhere between immensity and eternity is our tiny planetary home. And yet our species is so young and curious and brave and shows so much promise.
In the last few millennia we have made the most astonishing and unexpected discoveries. They remind us that humans have evolved to wonder, that understanding is a joy, that knowledge is prerequisite to survival.
Our little planet floats like a mote of dust in the morning sky. All that you see, all that we can see, exploded out of a star billions of years ago, and the particles slowly arranged themselves into living things, including all of us.
We are made of star stuff.
We are the mechanism by which the universe can comprehend itself.
The world is so exquisite with so much love and moral depth. We should remain grateful everyday for the brief but magnificent opportunity that life provides. The sum of all our evolution, our thinking and our accomplishments is love.
A marriage makes two fractional lives a whole. It gives to two questioning natures a renewed reason for living. It brings a new gladness to the sunshine, a new fragrance to the flowers, a new beauty to the earth, and a new mystery to life.
After the ceremony, the newlyweds joined their guests in the Gallery where a His and Hers cocktails of Dark 'n' Stormy and Cosmo were being served along with our Horny Hemp Ale. Inside the barn, we set up the tables and in reference to the special date of their wedding, the tables were set out like a clock, with enormous golden number balloons mark each table, and the top table right in the centre.
The proud father of our beautiful Bride, affectionately known as Chicky in the family due to her love of food as a child, was first to say a few words. Francesca used to love playing tricks on her siblings, and her favourite trick was hiding down the side of their beds, waiting for them to fall asleep and them bursting out, scaring the living daylights out of them- I' not sure how they ever recovered! Jim shared fond memories of playing Tomb Raider on the PlayStation with Francesca, he would play and she would hold up the cheat sheet- they were the perfect team!
Nick and Francesca shared similar upbringings, which involved lots of football, strict rules about Christmas and plenty of games! Nick has his mum to thank for his competitiveness and his dad to thank for his camp-ness! He thanked all the extended family and friends of both families for helping to raise them and for sharing their special day. And the most important thanks to his incredible, brilliant, hilarious and gorgeous wife, Francesca, Frankie, Chesca, but never ever Fran. 'Thank you for being you and my best friend'.
Ready for the final speech, we served Espresso Martinis to each guests which was very well received! Jim, the Best Man met nick on their first day of Uni as they shared the same halls of residence. Nick pranced over, as though straight from the cover of a university catalogue- football under one arm and a crate of beer under the other wearing an Oasis t-shirt. Jim's first impression of Nick was that he was definitely trying to impress- if he wasn't the centre of attention he would just start juggling, so it's no surprise that he decided to become a teacher, where all eyes are on him! One thing Jim particularly struggled to get on board with was Nick's concept of 'Summer Feet'. This would involve walking barefoot from April onwards wherever possible, to the shops, pubs, lectures etc. His objective essentially was the thicken the skin on the bottom of his feet ready for the summer beaches! Well as they say, fail to prepare, prepare to fail!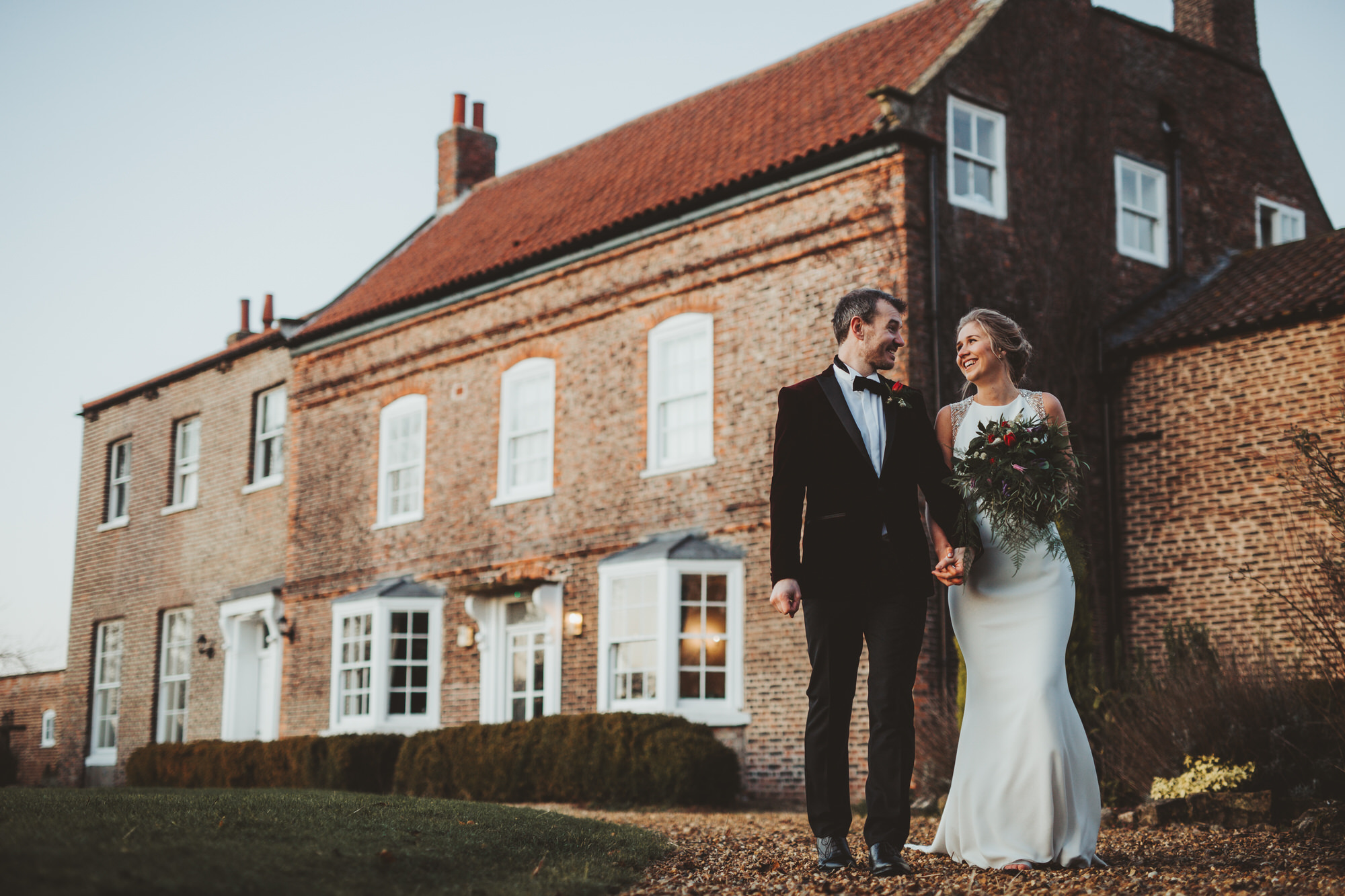 After uni, Nick and Jim lived together and soon after, Francesca became their new housemate, and the rest is history. Jim can't think of a couple who are more perfect for each other and wanted to end his speech with a few lines from a song which, while written a long time ago, is still meaningful today-
'She loves you yeah, yeah, yeah. She loves you yeah, yeah, yeah. With a love like that, you know you should be glad.'
Nick's sister hosed a fabulous wedding themed musical bingo which got everyone up on the dancefloor, where they stayed for the rest of the night, and at midnight there was an explosion of colourful confetti cannons to celebrate the new Year, but most importantly, the new Mr and Mrs.
Suppliers on the day…
Photographer
Caterer
Florist
Band