Kathryn and Kristian are both police officers and met at police training school. Neither our Bride or Groom were meant to be on the course that day, but life just has a little way of putting you in the right place at the right time. There was no looking back for Kathryn and Kristian and their whirlwind romance had led them on a beautiful journey, which had now arrived at Hornington on their wedding day! They awoke to the most perfect autumn day, and it was as though the Manor had been preparing all year; the ivy turned the most stunning deep red which complimented the warm purples and claret shades of the bouquets and Bridesmaids dresses.
Kathryn's dress was really beautiful, with a delicate beaded back and waist band. The bouquet was truly a work of art, featuring some incredible blooms in rich autumnal colours. Rocking a bold red lip, Kathryn was absolute perfection.
The ceremony was held at Bolton Percy All Saints Church and Kathryn walked down the aisle to Fleetwood Mac's 'Songbird' played by their friend Kirsten, and both she and Kristian were beaming. Throughout the ceremony, their friends Heather and Hannah shared readings from Colossians and a special piece named 'Wish' which Hannah had written herself.
Back at Hornington, the barn was beautiful. The chandeliers were decorated with autumnal foliage, their top table featured a pom-pom curtain (courtesy of Kristian's crafting!) and their cakes (yes 2!) were sat upon their initials, lovingly made from real tree branches by Kathryn's family.
Kathryn's maid of Honour and longest childhood friend Natalie started her speech with a shot for all the bridesmaids and our Bride. Their families had been friends for years and the pair had promised to be each other's Maid of Honour since they were tiny. She shared wonderful memories from their childhoods, namely active family holidays and singing Cher and Celine Dion on Karaoke. Natalie said her best friend always puts others first and would do anything for her friends.
Our wonderful groom Kristian raised a toast to absent friends and family, including Kristian's beloved Nan who recently passed away, and Kathryn's Grandad 'Papa' who was a fine Gentleman and adored by Kathryn. Kristian proposed to his Bride in St Tropez in the most stunning setting, after getting last minute permission from Kathryn's dad Dave. Or at least he thinks he did, the line was bad so Kristian just assumed he said yes! Kristian said his Wife is the most amazing, beautiful person who makes his days start and end with a smile.
Kristian's big Brother and Best Man number 1, Karl, said the pair did everything together growing up, from BMX to Skateboarding and Monopoly. They are still just as close now as they were as kids. Nathan, the second Best Man presented the Bride a Groom with a little gift to help them through the next 10 minutes or so- a stein of beer for Kristian and headphones for Kathryn! Nathan met Kristian at Derby Uni 14 years ago when they both joined the same football team. And while most stories of these years incriminated him as much as Kristian, he wasn't sat in front of his new in-laws so he carried on regardless! Nathan thinks Kristian is a great bloke, the life and soul of every party, and he and Kathryn are absolutely made for each other!
Our newly-weds shared their first dance to James Arthur's 'Falling Like the Stars' before the party really got started, and as Kathryn said, off duty cops really know how to let their hair down! With drinks flowing and pizzas served in the courtyard, the evening was perfect and such a fitting way to end the most incredible day.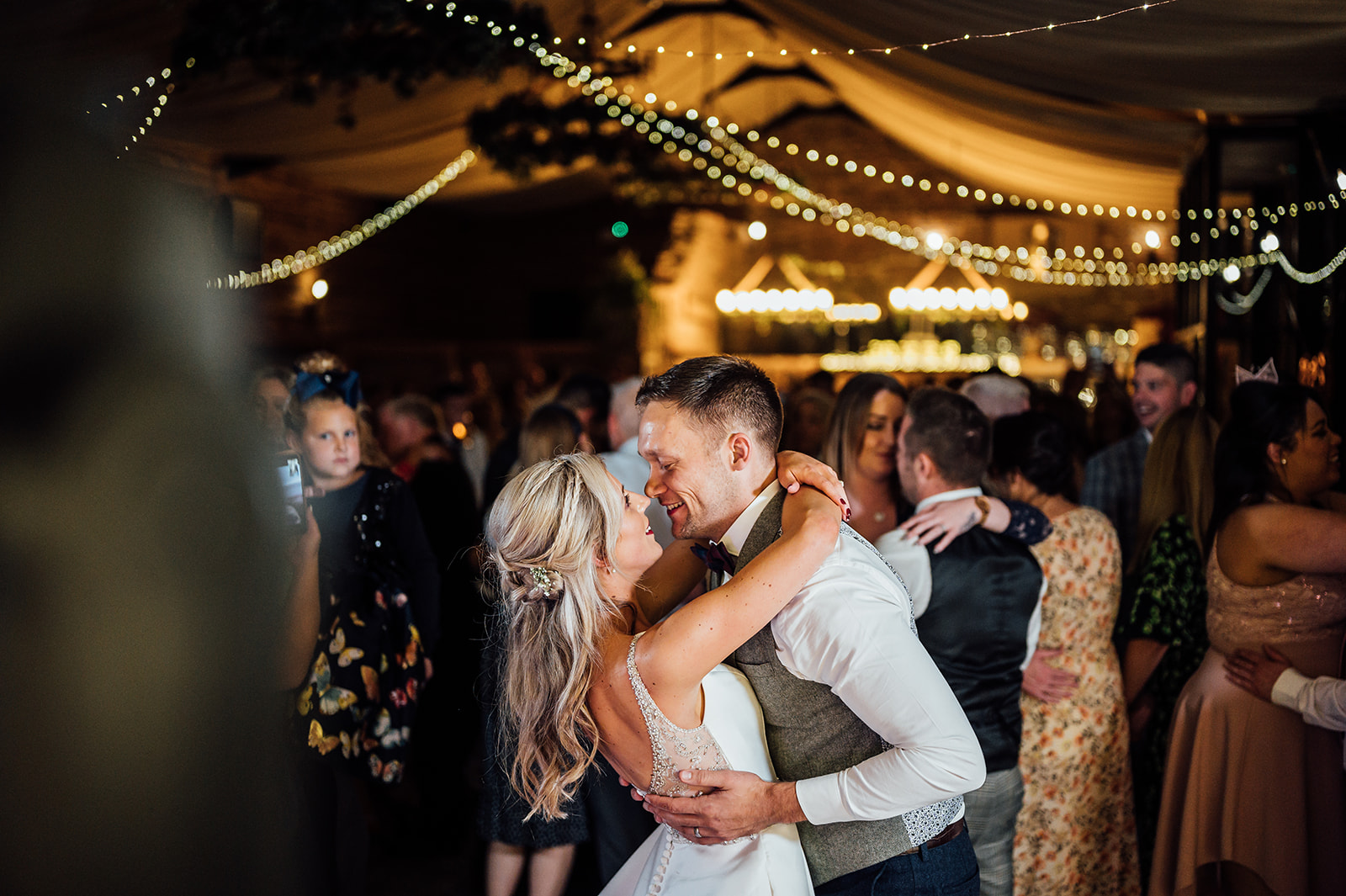 Suppliers on the day…
Caterer
Photographer
Videographer
Florist
Hair
Steph Lockwood Hair
Make Up