Jonti and Rhian's love was written in the stars, they were childhood friends, and their romance blossomed after they went on their first date aged 17 to the cinema to see Avatar. The couple share a love for the stars and space and incorporated this into their day. Each table in the wedding barn was named after a different constellation in the night sky, along with a little description of the stars and how their legends came to be. Our favorites included Cassiopeia, who in Greek Mythology was a vain queen who was banished to the night sky for all to gawk at; Orion, who was a supernaturally gifted hunter and the son of Poseidon; and Lyra which in Greek Mythology represents the harp of Orpheus. After the Death of Orpheus, Zeus sent an eagle to recover his lyre and place it in the night sky.
The ceremony was being held in St James Church in Wetherby, and Rhian made her way there in a beautiful vintage pastel blue convertible, and thankfully it was a gorgeous sunny day. Our Bride Rhian looked absolutely stunning. She wore an intricately detailed lace gown with a beautiful long veil which had a mind of its own in the breeze! Her Bridesmaids wore pale blush pink and lilac gowns which complemented the blooms in Rhian's bouquet.
When Rhian and Jonti returned from church as Mr and Mrs, they enjoyed the sunshine on the front lawn with a glass of fruity Pimms and a bottle of beer.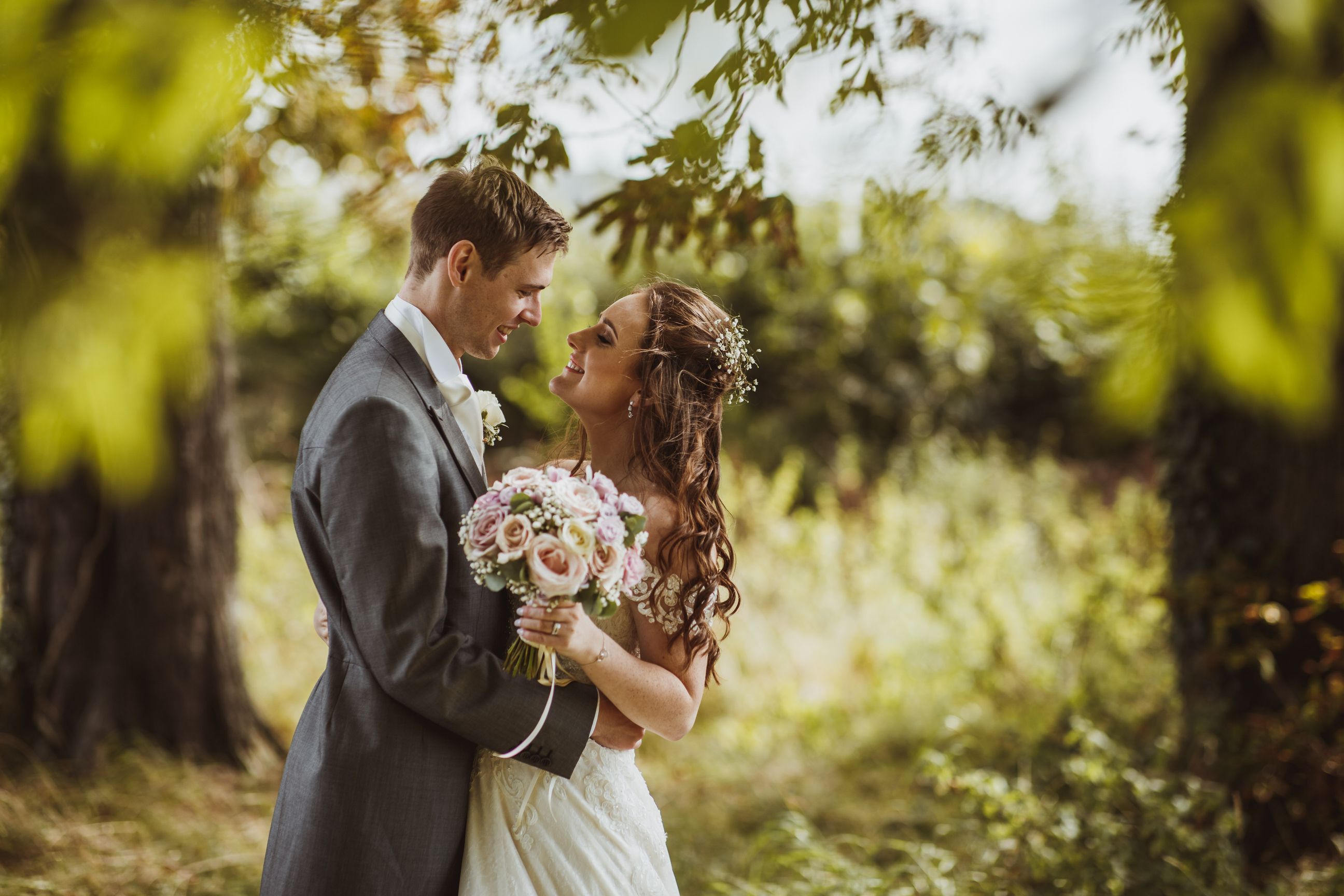 Inside the barn, final touches were being made. Rhian and Jonti had decorated the chandeliers with amazing foliage bunches and behind the top table sat a huge real tree decorated with twinkly lights. Their cake was a true work of art, with the top tier depicting the night's sky and our Bride and Groom's astrological constellations- Libra and Aries. Outside the entrance to the barn sat their seating plan, colourful planters and a beautiful bicycle bursting with blooms. Menu cards were placed on the tables, and inside was a list of the zodiac signs and a little horoscopes.
Jonti's speech to Rhian was a poem he had written, in which he said it was an honour to marry his best friend, aka the Girl on the Bus!
As evening fell, Rhian and Jonti's photographer Neil Jackson Photographic captured the newlyweds with the met stunning sunset on the front lawn, and in it's place rose a hauntingly beautiful full moon which filled the sky, and was so fitting for our space loving pair. Not only did the moon come out at night, so did the casino which was set up on the mezzanine level above the bar. Along with some extra special 'His and Hers' cocktails, the night was magical and topped only by reports of a meteor which passed by very close to Earth on Sunday, as a little 'Congratulations' from the universe. 
Suppliers on the day…
Photographer
Videographer
Caterer
Florist
Cake
Hair
Janine for Hair
Make Up
Transport
Band
City Sounds from Entertainment Nation
Casino
Photobooth