When Reece met Lottie at Leeds University, who is a doctor, he confessed he was way out of his intellectual comfort zone, however laughter paved the way for a whirlwind 10 year romance, and now they find themselves waking up at Hornington Manor on their wedding day!
Despite the showers, we were all determined to have the ceremony outside, so we armed everyone with an umbrella and they took their seats in the courtyard. Lottie had stayed in the West Wing and was joined by all her Bridesmaids for hair and make up while Reece and his groomsmen played pool in the Manor. Lottie's stunning fitted lace gown, designed and made by Reece's Aunt Liz Metcalfe at Orchid Designs, was finished with intricate beading and a floor length veil, and her beautiful bouquet featured only British flowers grown and arranged by florist Beecroft Blooms.
Just as Lottie set out to walk down the aisle, the heavens opened, but it didn't matter one bit, as all she could focus on was her Groom at the end! Reece and Lottie said their vows under the Lych Gate, while Lottie's cousin sang 'wherever You Will Go' which was so special.
As soon as out couple became Mr and Mrs, the sun popped out and guests moved onto the front lawn for canapes and reception drinks. Meanwhile, we were making the finishing touches in the Barn which looked beautiful with cherry blossom trees framing the entrance and vases of wildflowers on each table. Their cake was a three-tiered masterpiece topped with Sweet Peas and summer berries. Photos of Lottie and Reece's 10 years together span the wooden wall of the Barn and it was lovely to see photos of when Reece and Lottie lived in Australia together.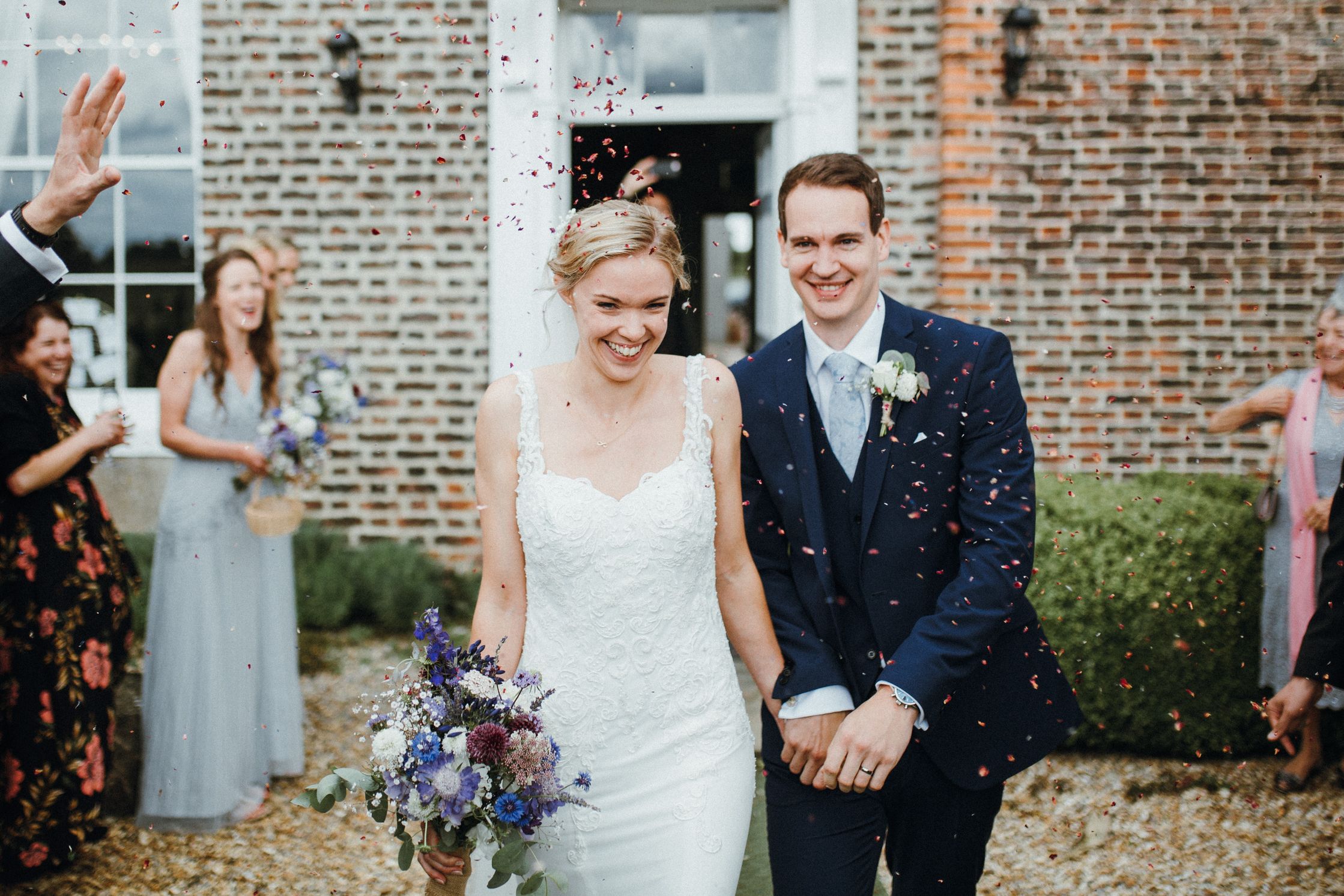 Lottie said a few words of thanks to all their incredible friends and family for celebrating with them on their special day, but an even bigger thanks to her Husband Reece for being her anchor. Reece then thanked Lottie for marrying him and revealed hie is a far better man because of her. He told Lottie he is going to support her and love her for the rest of their lives.
Reece's first Best Man Rob warned us that Reece can get incredible Hangry so he brought him a little packed lunch which Reece tucked right into! Rob and Reece also met at Leeds University and they played a lot of pool together over the years. He said his pal Reece is the most enthusiastic and friendly person he knows, and as long as he keeps doing everything Lottie says, he'll be alright! Best Man two was Adam, who also met Reece on day one of university. He revealed that Reece's chat-up line to Lottie was 'On a scale of 'One' to 'Cheeky Snog', where are you?'. 10 years later, I think he did something right!
As the sun set on a beautiful day, our Bride and Groom shared their first dance to Use Somebody by Kings of Leon, and after that, the dancing continued well into the night with a little help from their brilliant band 'the Avenues'.
Huge congratulations to our Bride and Groom Lottie and Reece, and a special thanks to their incredible photographer Leah Lombardi for sharing her images for this blog.
Suppliers on the day…
Photographer
Florist
Hair and Make Up
Caterers
La Cantina (Friday Night)
Fryton Catering (Saturday and Sunday)
Musicians
Ian Craig Lawson (Guitarist)
The Avenues (Band)
Dress
Liz Matcalfe at Orchid Designs