Seeing as Paul and Mel live just a stone's throw away from Hornington, after they came for their first viewing, we were constantly bumping into them in Tadcaster and hearing a little bit more about the day they were planning each time. Paul runs a video production company so it was a dead cert that he would entrust the videography of the day to his team, and Melanie's florist in Tadcaster was the only florist Mel wanted for her special day.
When the day finally arrived, in true Hornington fashion, the rain stopped and the sun came out, meaning Paul and Mel could have the outside ceremony they had hoped for. Paul walked out to the Lychgate to whoops and cheers from all his fans (aka his friends and family) who were so thrilled so see Paul and Mel say 'I Do.'  
Mel was excitedly getting ready in the West Wing with her beautiful bridesmaids who wore deep navy lace dresses which complimented Mel's gorgeous halter neck gown perfectly. Mel's dress was from the Bridal Rouge Gallery in York and she would absolutely recommend it. Mel was so giddy and giggly, and walked arm in arm with her dad Rob to meet her Groom at the end of the aisle to Florence and the Machine's 'You've Got the Love'. Paul and Mel's nephew Oliver was the smartest and most handsome ringbearer and during the ceremony, their friend read out the lyrics to The Courteeners' 'Last of the Ladies'.
As guests enjoyed beers and prosecco on the Front Lawn to the soundtrack of Steven Heath on his acoustic guitar, the final touches were being made to the Wedding Barn. Guests were greeted with a 'Where in the world are you sitting' table plan with each table names after places the pair had visited together, including Dublin, Kefalonia, Havana, Glastonbury and Valencia. The tables were decorated with gin bottles filled with Gypsophelia, a disposable camera for guests to capture the day, and a little glass bottle of homemade limoncello for each guest. At the back of the barn sat a huge dessert table full of delicious cakes and bakes made by the guests, including a beautiful 5-tiered naked sponge cake decorated with fresh summer berries.
Mel's dad Rob thanked guests who had travelled far and wide to be there on his daughter's day, from Australia, Scotland, America and not forgetting Taddy! It is clear to see Paul and Mel are made for each other and they are so happy together. Paul, aka the 'Sexiest Man in Tadcaster' told us about he and his wife met at a friend's birthday 4 years ago in York, and she chatted him up asking if he wanted a shot. They went on a date, had such a laugh, and nothing much has changed since then! When Paul proposed, Mel burst into tears and couldn't be sure whether she was happy or sad!
Paul thanked Mel's family; Dad Rob, Mum Linda and her brother George for raising one hello of a daughter, who just happens to be the kindest, most beautiful, and funniest woman in the world. He asked all the guests to stand, open their limoncello and shot it together- 'To Mel!'
Paul's Best Man and oldest friend Wayne shared stories of their childhood which mostly involved getting in trouble. About Mel, in the words of Gerry Cinnamon, 'She is a belter' and he knew she an Paul were meant to be when she went traveling to Brazil one Christmas and Paul was alone and so miserable- now they are inseparable.
Before they shared their first dance, Mel and Paul had a very important dance with nephew Oliver to 'The is the Greatest Show' where he dressed up as the Greatest Showman himself. After that, there was no stopping the party. Guests didn't leave the dancefloor all night, except to refuel at the bar of course, and everyone had the best time celebrating their amazing friends getting married.
After Mel and Paul left us the following morning, they sent us a lovely message to say thankyou for helping to create their perfect wedding.
'We're finally coming down from the high of the wedding! And we just wanted to say a huge thanks to you & the team for your help with everything.
You guys have been amazing from start to finish. You've been great in particular, with looking after everything & advising/reassuring us on so many different things!
We had the best day. The venue & house were amazing, but the best thing for us was to see all our friends & family having such an awesome time – which you guys helped massively with.'
Huge congratulations to the new Mr and Mrs and thank you for choosing Hornington Manor!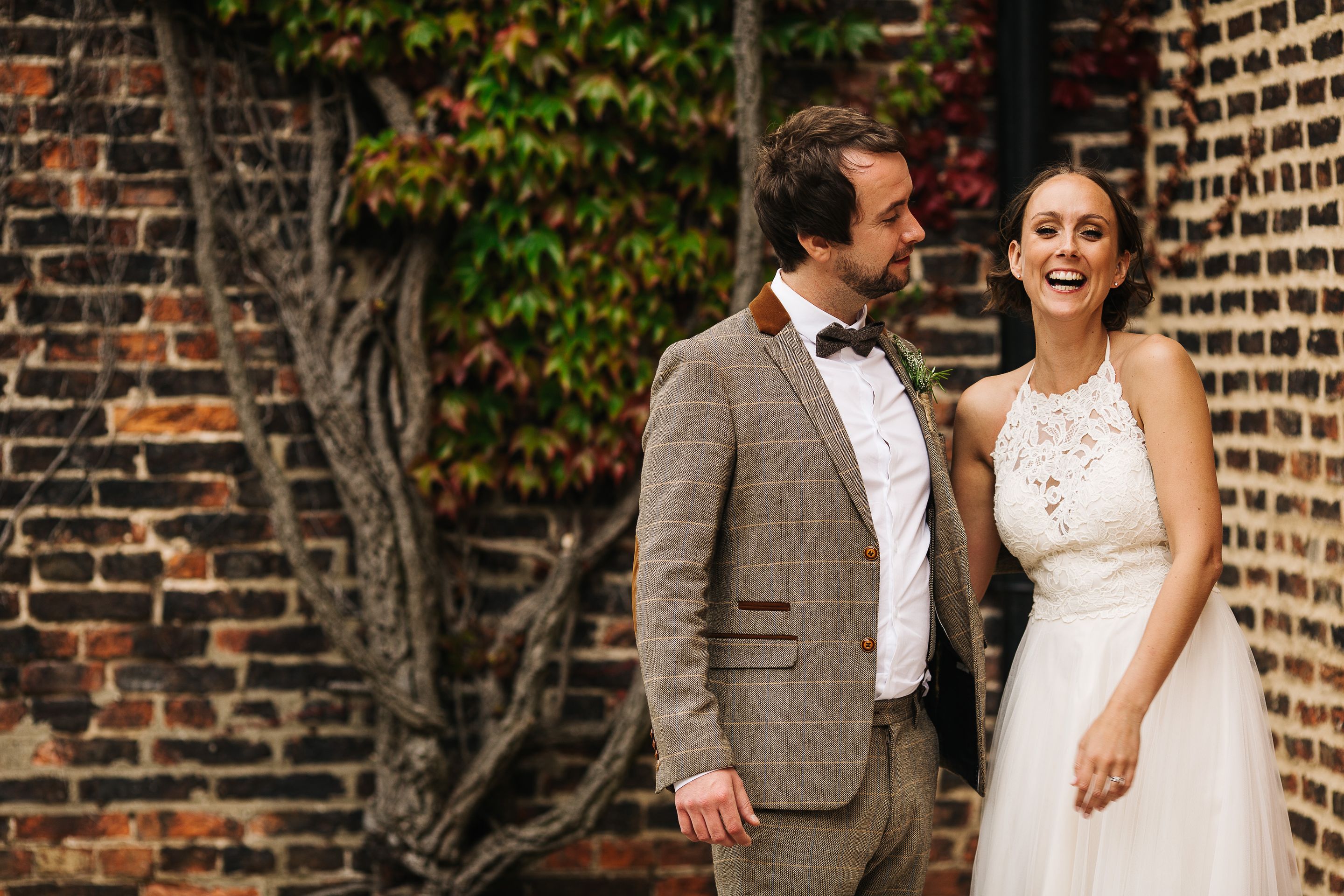 Suppliers on the day…
Photographer
Caterer
Ricky Barton Elite Marquees and Bars
Musician
Dress
Suits
Bridesmaids Dresses
Florist
Make Up
Hair