Having met Emily and Dan a number of times in the run up to their wedding, we quickly learnt that they are the most amazing couple, perfectly matched and genuinely lovely people, and we couldn't wait for their big day. Rather than take Dan's name, both Emily and Dan decided to put their surnames names together to create their very own brand-new name to start their married lives together, which we think is beautiful.
With the help of their venue stylist Rachel at Simply Vintage Events, Emily and Dan had the barn looking beautiful in no time at all. Each table was named after Whiskey or Gin, favourites of the Bride and Groom, and lovely little miniatures of Jack Daniels and Slingsby Rhubarb sat at each guests' place setting.
Emily and her dad Mike have such a lovely bond. First thing Saturday morning, they went on a run together to clear their heads and settle the nerves! Mike was later presented with a handkerchief from his daughter embroidered with a special message. Emily looked stunning as she left in a vintage Aston Martin for Church. Her gown from Harrogate Wedding Lounge was beautiful, with delicate back detailing and a gorgeous train.
While at church in Bolton Percy, the final touches were being made to their tables in the wedding barn. Stem Style had created stunning floral displays which towered over the guests and were bursting with roses, hydrangeas and Blue Hobbit thistles. Their guest book was a lovely framed photo of the pair from their engagement shoot, which guests were asked to sign as a keep sake for our Bride and Groom. Their three-tiered naked cake looked delicious, and was made by Emily's sister-in-law who is pregnant with a little girl.
The Haha Baah served gin and tonics and our Horny Hemp on the front lawn while Craig Rodgers whisked the new Mr and Mrs Thornham around the grounds for photos. Soon it was time to head back into the wedding barn and Emily's speech was first. She thanked her bridesmaids Olivia and Sam who she had been friends with forever. She just about made it through an emotional thank you to her parents Mike and Bev (extra special thanks to Dad for making Dan understand that what's Emily's is Emily's and what's Dan's is Emily's too). Emily said she had hit the jackpot and bagged herself an absolute Stud, and shared her top 10 reasons why she loves him, which included how he always sings the wrong words to songs, he laughs at his own jokes, his inability to resist a thumbs up in every photo, and most importantly, how he always tells her he loves her, and those are words Emily will never tire of hearing.
Mike was up next, who started by welcoming guests who had travelled from South Africa and France, and had successfully memorized all of Dan's family members which earned a round of applause from all the guests! We leant how resilient Emily is when Mike shared a story of one Christmas Eve when she was thrown from her horse, who then tripped over a fence a fell right on top of her. Mike and Bev rushed to the scene to find emily in floods of tears but without a single broken bone. Emily got into rugby at University where she was studying for a Sports degree, and later completed a masters in Physiotherapy. Emily now works as a Physiotherapist and Pilates teacher. Emily is loving, compassionate, caring, naturally beautiful and the shining light for both Mike and Bev.
Emily's parents are huge fans of Dan and have welcomed them into their family with open arms. Mike described marriage as 2 trains running on parallel tracks. Sometimes they start to divert and grow apart, so how do you keep them running parallel? 1- Communication, 2- Give each other space, 3- Compromise, and most importantly for Dan, 4- Always put the toilet seat down!
Dan described how he first met Emily when he worked in a bar. As soon as he saw her, he knew she was the one. There was just one stumbling block- she was with her boyfriend! He found out from friends that he was called Jamie, they were a lovely couple and he was a nice lad. Dan still gets told today how nice he is, and at that all the guests jokingly toasted 'To Jamie'! A year later Dan saw Emily again, and this time she was single, which was great news! Jump to today and he couldn't be happier they are now husband and wife. Emily makes him a better person, and just goes to show that if you really want something- go and get it! Dan thanked Emily's parents are being so welcoming and generous, and he thanked his mum for raising him and his brothers Steven and Simon to be happy, hard working and caring. He finished his speech by inviting everyone to join him at the makeshift whisky and cigar bar under the Lych Gate, which was the only part of the wedding he planned!
Best Man Steve assured Mike that Dan is the best person he knows and he would do anything for his Daughter. He told stories of their childhood and university days, in particular one night when they raided a pitch-black kitchen after a night out on the hunt for food, but they were rumbled and while Steve ran off, Dan was left stood there clutching a bag of chicken Kiev's!
Emily and Dan danced to 'All of Me' by John Legend before New York Brass Band took over for the evening. They were absolutely brilliant and played most of their sets in the courtyard as the sun was going down. Everyone was out dancing and singing and it was such a brilliant end to the best day.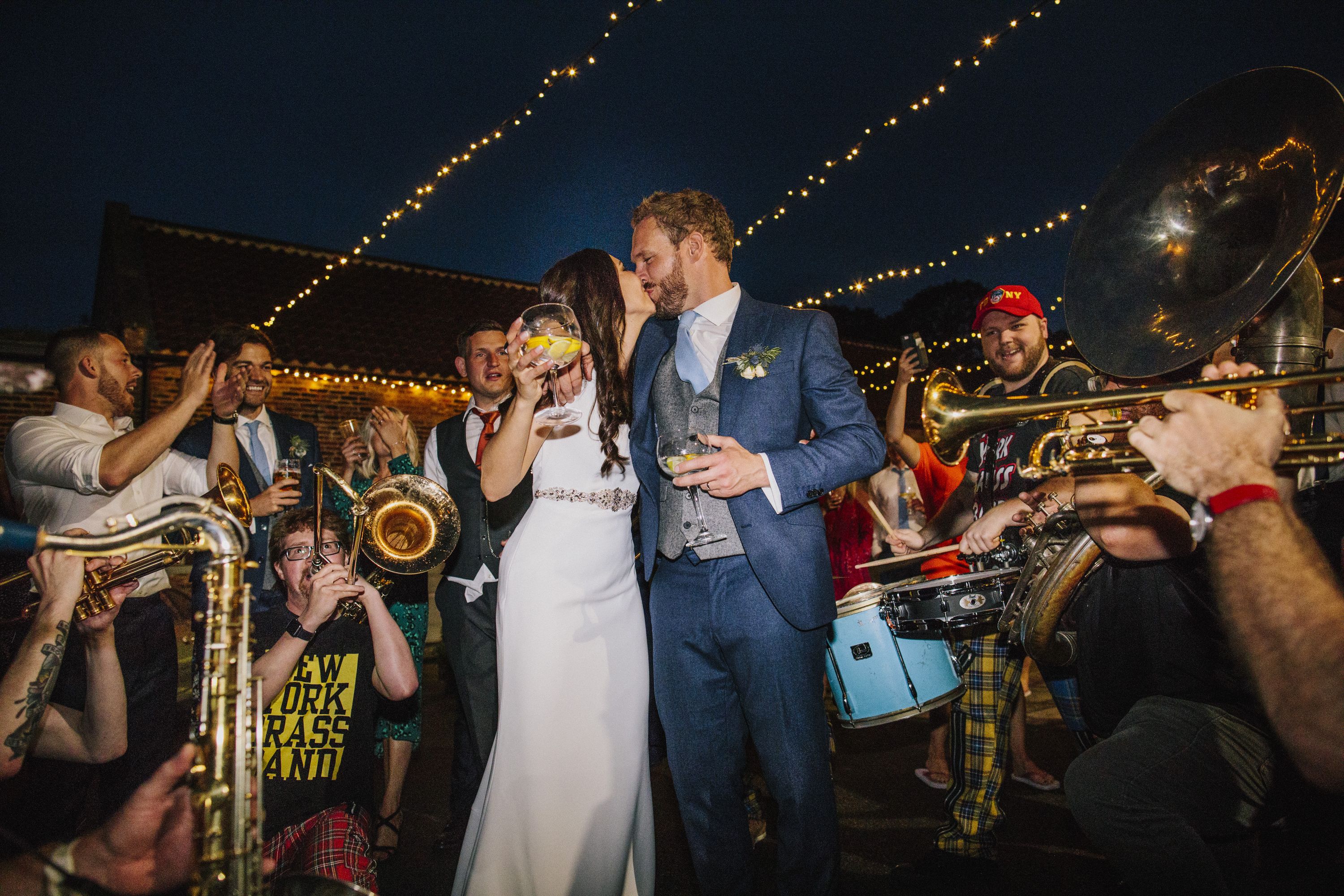 On Sunday, Emily and Dan had planned a second celebration with delicious Hog Roast, donut wall and plenty of gin!
We hope you had an amazing time and we wish you both a lifetime of happiness. Congratulations Emilt and Dan!
Suppliers on the day…
Photographer
Caterer
Videographer
Venue Stylist
Florist
LOVE Letters
Bands
Trio Vivo
Hair
Emma – Divine
Dress
Donut Wall