We feel so lucky to have celebrated the gorgeous wedding of Sam and Laura, two of the most lovely people we have ever met, and the perfect match for each other. From the moment they arrived on Friday, to when they left as Mr and Mrs on Monday, Laura never stopped smiling. She was just so excited to marry her best friend, and it was amazing to see. After a last minute transport nightmare, Yesteryear Coaches came to the rescue with their beautiful vintage London bus. Laura and her six Bridesmaids had taken over the West Wing on the morning of the wedding and the Ballroom was buzzing with excitement. Laura's bridesmaids wore soft pink dresses and Laura had chosen a beautiful a-line gown which was finished with tiny pearls- she was bridal perfection.
Laura and her dad, Steve, made their way to church in a vintage VW Camper which belonged to their friend. During the ceremony, Russell read a poem by Wilfred A Peterson called 'The Art of Marriage'':
A good marriage must be created.
In the marriage, the little things are the big things.
It is never being too old to hold hands.
It is remembering to say "I love you" at least once each day,
It is never going to sleep angry.
It is having a mutual sense of values and objectives.
It is standing together and facing the world.
It is forming a circle of love that gathers in the whole family.
It is speaking words of appreciation and demonstrating gratitude in thoughtful ways.
It is having the capacity to forgive and forget.
It is giving each other an atmosphere in which each person can grow.
It is a common search for the good and the beautiful.
It is not only marrying the right person
It is being the right partner.
Back at Hornington, we were keeping a close eye on the weather, and thankfully it stayed dry just long enough for guests to enjoy reception drinks on the front lawn. Laura and Sam's photographer, the wonderful Hamish Irvine, captured the newly weds as they enjoyed their first moments as Mr and Mrs!
It was soon time to head into the wedding barn, as just as we did, the heavens opened! The barn looked beautiful, and each table was decorated with alternate wooden crates filled with beautiful blooms and individual mini trees, expertly crafted by Wild Floral Couture. Each table was named after a different place which was sentimental to Sam and Laura. Their Top Table was Hvar, the beautiful Croatian island where Sam proposed; Sabah, which is the state in Northern Borneo where Laura spent her 3 months Medical Elective. Sam joined for 4 weeks and they explored the rainforests and met the beautiful orangutans! The Alps, where Laura took Sam on his first skiing trip back in 2017, and Madrid which is special to both our Bride and Groom's families as Sam's sister Ruth lives there, and Laura's brother Jonny spend a year there as part of his degree. Bottles of specially brewed beer curtesy of Sam's brother Luke, called 'To Hop and to Hold' sat on each table, which counted as their something old, new, borrowed and blue and the label incorporated the photo taken when Sam proposed to Laura.
Rather than spend money on favours for each of their guests, Laura and Sam showed how kind and considerate they are by donating to amazingly worthy causes around the world-
'The 100 guests here today have given 100 children in India a healthy school meal, so they can make the most of their education.
The 11 tables here today have made life better for 11 families in Cambodia by giving them clean water for a year, and protected the planet by planting 11 trees in Borneo, 11 trees in Kenya and training 11 Indonesian farmers in sustainable farming techniques.
And as one big family today, we have given a year of support to help a poor family in Cambodia stay together.'
Laura's dad, Steve, shared some wonderful memories from Laura's childhood, and explained the families surprise when she became a doctor as she was so squeamish as a child. Although, Steve did feel somewhat responsible for her career choice as when she was born, he recreated a scene from Only Fools and Horses by taking her to the window and saying 'One day, all of this will be yours'. Of course, the view from the window was the hospital! Steve said both sam an Laura have hearts of gold and are perfectly matched. If he has one piece of advice for Sam, it is to cherish Laura and his life will become even more special.
Laura's mum Carol shared a beautiful poem her dad had written her when she married Steve 35 years ago, and now as a parent herself, she understands it a lot more.
'This is the day when a new life you start,
We shall be smiling but deep in our hearts,
We shall remember amidst all the whirl,
The first years that you were our little girl.
And now for the new life and long may it last,
To love and to marriage, be true and hold fast.
And many good years will be yours to recall,
Good luck and God Bless you both,
The Best wishes of all.'
It was then time for Sam to take to the microphone. He thanked Laura's parents for raising such an incredible person, and his own parents for raising such an intelligent, handsome, modest child. Sam said he knew from day 1 they would be a perfect match- Laura's really good at telling him what to do and Sam's really good at doing it! He joked that finally, after being together for 10 years, they can finally go on holiday without the pressure to propose! The pair met at Nottingham Uni at the very same halls Sam's parents met which is such a wonderful story. Sam said his wife Laura makes him so happy and he truly can't express how much she means to him.
Laura's little sister and Maid of Honour told us how when Laura was trying on wedding dresses, a woman came in to the shop from the street to say that she looked absolutely amazing and simply had to buy that dress, and she did! She then shared a little poem Laura had written for Sam called 'I Love You Today'
'I love you today, tomorrow, forever
Whatever life brings us we're better together.
It started as friendship and grew into love,
We're meant for each other like a hand to a glove.
Each day when I see you, you bring a smile to my face,
And a glow in my heart every time we embrace.
We start our journey today full of hopes and dreams,
Love, children and laughter are some of the themes.
Whatever life brings us I'll be there for you,
To celebrate and cherish and comfort you too.
I promise to love you for the rest of my life,
You and me always, Husband and Wife'
Lastly it was time for the Best Man's speech, and Sam's brother Luke had travelled all the way from his home in San Francisco for the special day. Luke chose to hold his gorgeous baby girl through the speech so that if anyone got a little bit bored, they had a distraction! We learnt that Sam overshadowed the one day a year that Luke gets to be the centre of attention, his birthday, to tell him he was getting married. So Luke carefully planned his revenge and waited for Sam's birthday to tell him he was going to be a dad! He commented on Sam and Laura's beautiful proposal photo, although it is a shame, they had to take it 4 times after the ring box got stuck! Luke revealed that Sam had told Laura he would marry her the first time they met, so he is definitely a man of his word!
At the end of the speeches, Laura and her parents had a little surprise for everyone, especially Sam, as they had written him a special song called 'Today's Our wedding Day' which was to the tune of Lord of the Dance and all the guests got a copy of the lyrics and joined in the sing song which was so lovely.
As evening fell, we hosted a cocktail hour in the courtyard with a His and Hers choice of Espresso Martini or Raspberry Mojito. The Rolling Keys had everyone on the dance floor and even started a huge conga around the room which was led by Sam and Laura. We absolutely loved every minute of Laura and Sam's day and we were so thrilled they chose to celebrate with us.
Congratulations to Laura and Sam, we wish you all the happiness in the world.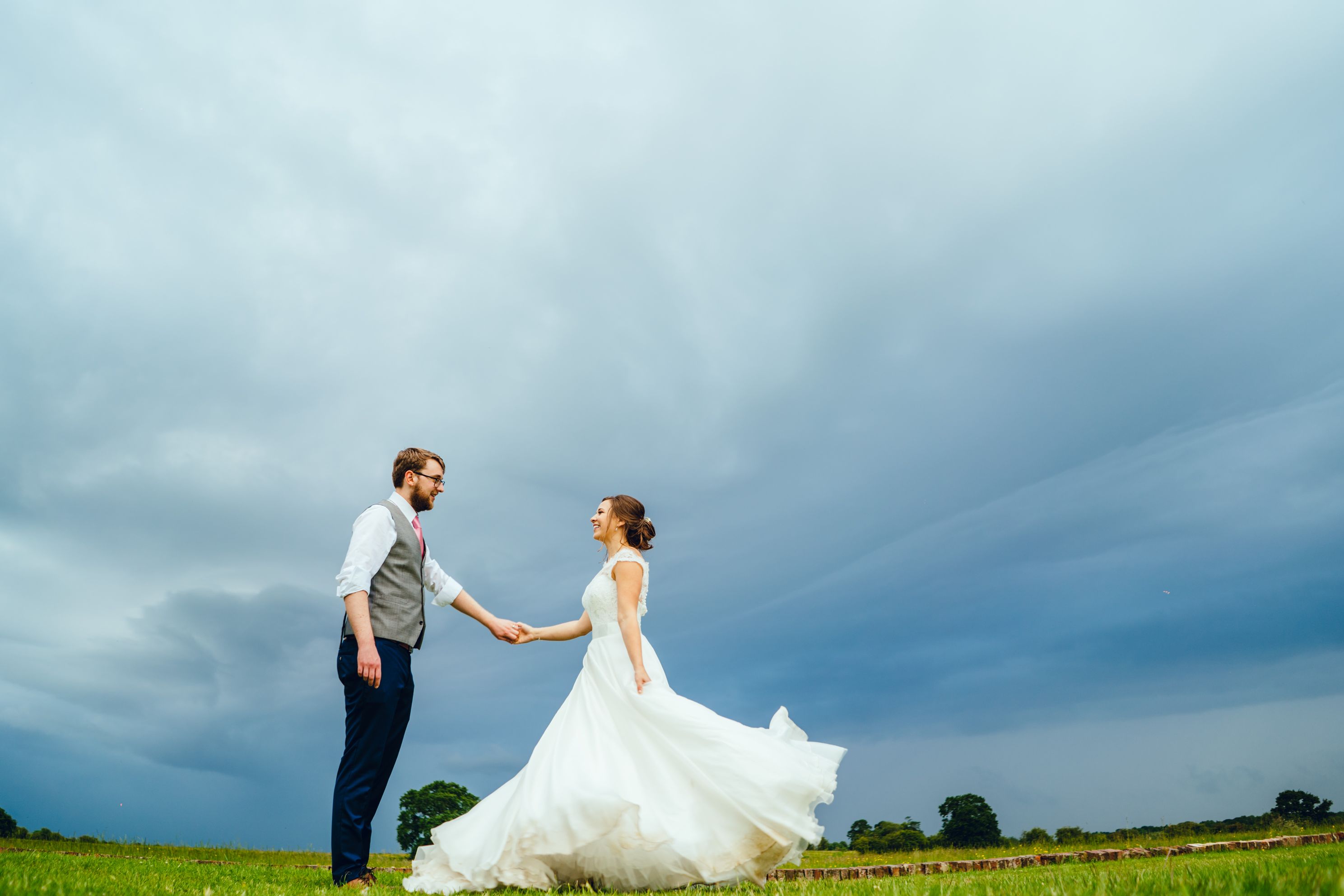 Suppliers on the day…
Caterer
Florist
Photographer
Videographer
Transport
Hair and Makeup
Photobooth
Musicians
Favours