We've known Nina and James for over 2 years and each time we saw them, we could picture another piece in the puzzle of their perfect day. James is in the Royal Navy and is often away from home for months at a time, leaving Nina to plan every detail of their wedding, which has its pros and cons!
Nina's vision for the wedding barn came together on Friday with the help of their friends and family. Banquet style trestle tables created a really lovely, inclusive feel to the barn and Nina's carefully selected details looked amazing. Blue table cloths, to match the Royal Navy uniform worn by James on the day, were topped with a hessian runner which sat the full length of each table. Jars of flowers were delicately arranged by Nina's mum while James was tasked with preparing little glass bottles of Port for each guest as favours. James had also been busy making their order of the day which took the form of a wooden pallet decorated with lush foliage and gypsophelia.
Try as it might, rain certainly did not stop play for James and Nina. They said their vows at St Mary's Church in Boston Spa and Nina made her way in her Dad's beloved vintage Morris Minor 'Boris', which lucky had a soft top roof! Nina looked incredible. Her gown, which we discovered had 2 looks to it (genius idea!) was simply stunning. Her bridesmaids wore blush pink gowns which was subtly picked out from the bouquets.
Once back from church, reception drinks were being held on the dancefloor in the wedding barn which was lit by a curtain of fairy lights. After much prosecco and beer, guests were seated and it was time for the speeches. Nina's Dad Martin spoke of his surprise when Nina asked him if he would driver her to church in Boris, as the one time he had picked her up from school in his vintage car, she had hidden in the footwell all the way home from embarrassment! Martin spoke of the strength of James and Nina's love- Being in the Naval Guard of Honour, James has recently been away in Bahrain for the past 6 months, but their beloved spaniel Nelson does a fantastic job at keeping Nina company. Martin described his beautiful daughter Nina as always being very strong minded- she adopted her own name 'Nina' from her given name Georgina as soon as she could speak! Her first spoken word was 'Apple' which was apt, as she earnt the nickname 'Our Little Gannett', but her love of food was matched by her constant activity; Heptathlons, Hurdles and University Hockey Captain's to name a few of her sporting success. Martin said only James can make her laugh so heartily and calm her so quickly, so he knows they are a perfect match.
Nina's mum then made a surprise little speech in which she spoke of James' transformation from a shy graduate to a striking, dashing, handsome Naval Officer, and she feels blessed to have James as her son-in-law. Love for our Bride and Groom blossomed at university, and has been tested over the years due to James' career, but it has certainly proved itself.
James thanked Nina's mum and dad for their kind words and shared the story of the first time he met Martin- he was dressed in head to toe fluorescent Lycra and it's safe to say, he learnt a lot more about his future Father-in-law that day than he ever wished to. James thanked friend Sian who have livingly made all the invites, menus and had also travelled back from India especially for their day. He was delighted to now call Nina his wife. He never knew what was missing before he met her, and after 10 years together, his only regret is taking 8 years to ask her. Our Groom said he can't wait for their honeymoon in The Lakes and Tanzania!
Finally, James' Best Man Alex took to the microphone. The pair met at university and Alex had developed the nickname 'Wirrall Squirrel' and James was 'Hamster'. He surprised us with a slideshow of photos from their university days and we learnt that Alex has known Nina for nearly as long as James as he was the one who introduced them. Alex told us that James joined the Navy in the hope that it would improve his social skills, but he ended up living in a metal tube underwater for 6 months so he's not sure how successful that was.  Despite the distance, James and Nina have built a beautiful life together.
Hog and Apple served huge sharing platters which worked perfectly on their banqueting tables and their beautiful three-tiered naked cake was finished with gold leaf, pretty blooms and a silhouette topper of James and Nina with Nelson.
Their band The Wilde Ones were fantastic and kept everyone dancing all night! On Sunday, Nina and James had a second party where Nina got to show off the second look to her dress and really make the most of the time together with friends and family.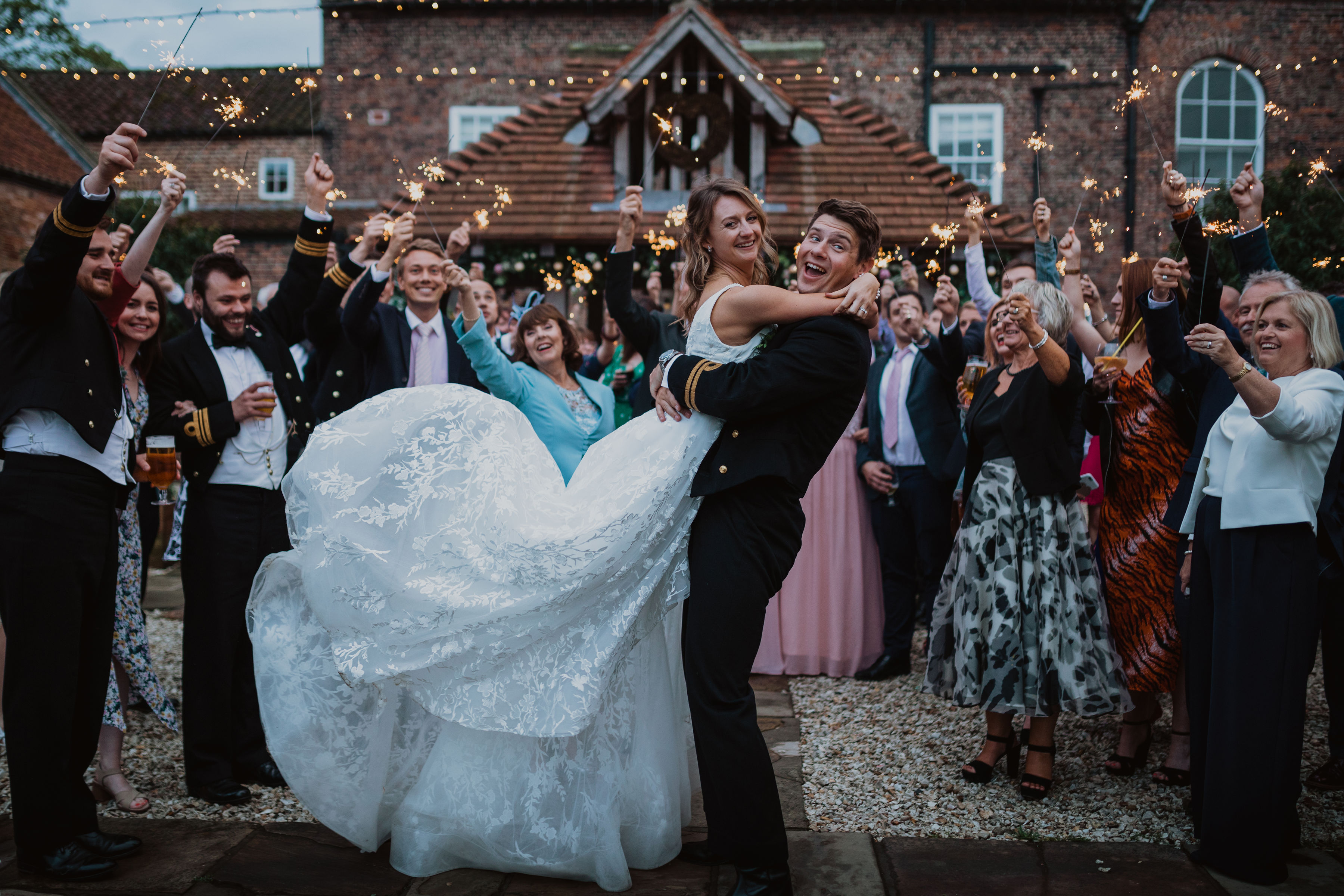 We wish you both the happiest of lives together and huge congratulation on becoming Mr and Mrs Maddick.
Suppliers on the day…
Photograher
Caterers
Cake
Florist
Band
Tables