From the moment Sarah and Andrew booked Hornington, it was Sarah's dream to get married on outside, and although their wedding day was a little windy, she got her wish! Having given birth to their beautiful little boy Charlie, just 5 months ago, the weeks leading up to their wedding had been hectic to say the least, but Andrew and Sarah took it in their stride and the whole day was amazing from start to finish.
Sarah looked absolutely stunning in her lace gown with delicate beading around her waist, and her bridesmaids, Kirsty, Nat, Becky and Tina wore beautiful mint green gowns. Their bouquets and centrepieces had a nod to their wedding season with bright yellow daffodils which are a symbol of rebirth and new beginnings, which seems very appropriate when you are just about to start your life together as Mr and Mrs. All the flowers for Sarah and Andrews day were home grown, which makes them just that little bit more special.
Sarah and Andrew's guests, some of which had travelled all the way from Canada, Wales, Cornwall, took their seats in the courtyard and waited for Sarah to arrive. Our Bride and Groom's wedding rings are all made from the rings of their dear relatives who are now no longer with them, which is a beautiful way to remember their loved ones.
After the ceremony, guests gathered on the front lawn for reception drinks and canapes. Meanwhile the final touches to the wedding barn were being made. Each table had a number and was named after favourite pubs and places the couple loved to eat and drink- Stonegate Yard, Old Mother Red Cap, Wills "O" Neils, Fleece Inn, The Port William, Fox House. The Top Table was called Spencer Arms. Andrew's brother's girlfriend Charlotte, had designed the table signs and name places. Each table number was covered in a collage of photos of Sarah and Andrew's life together. On the mezzanine sat a fantastic photo booth which had been designed and built by Andrew's brother Sean. It was such a fab piece of kit- we think he might have missed his calling!
Andrew thanked the beautiful Flower girls, Eva and Addie, and their lovely Paige boys, Charlie, Hughie and Finn. Andrew gushed over his Bride saying 'Sarah, you are the best thing that has ever happened to me. You are the most beautiful girl I have ever seen and today is the most beautiful I have ever seen you'.
Sarah is a Sheffield Utd football supporter from birth, which she inherited from her Dad, and Andrew is a massive Huddersfield town supporter an this was joked about throrughout the speeches.
Andrew's Best Man Johnathan started his speech by crying and disappearing upstairs onto the mezzanine. Seconds later, he then reappeared as "Johnathan the Dazzler Naylor" Quiz Host Extraordinaire, in a curly wig and gold sequined jacket. He had posted a multiple choice quiz under everyone's chair all about Sarah and Andrew, and he was definitely the host with the most with his witty compare!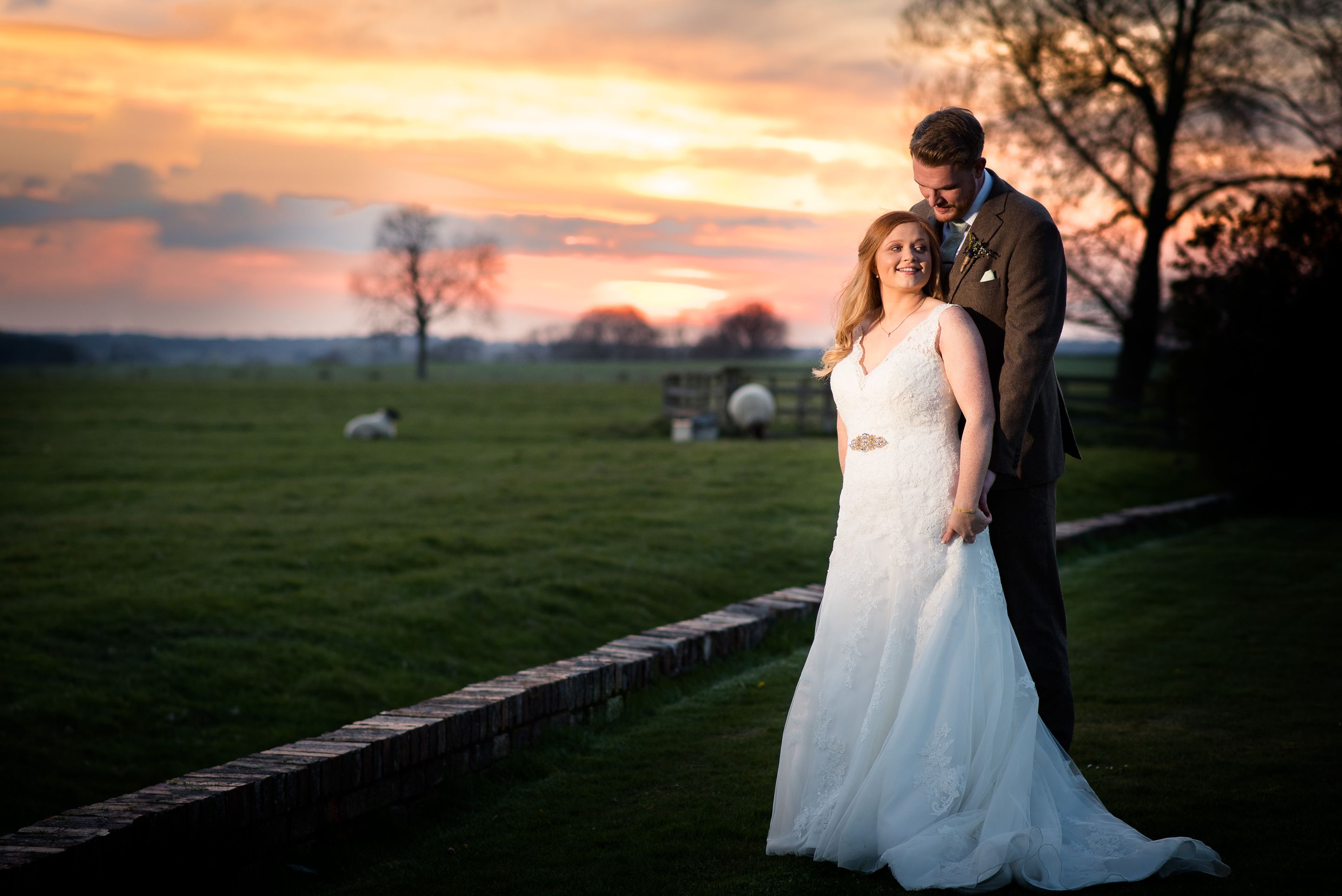 Sarah and Andrew are such a wonderful couple and along with lovely Charlie, are now are beautiful family. Huge congratulations to the newly weds and we wish you a lifetime of happiness.
Suppliers on the day…
Photographer
Flowers- All home grown
Cake
Caterer
Chip 'n' Dales Fish and Chip Van (Evening Food)
Band