Disney lovers Danielle and Ben had been dreaming about their fairytale wedding day for such a long time, and it was so beautiful seeing it come together. Danielle was absolute bridal perfection in her fitted off the shoulder lace gown with the most gorgeous train and veil. Her bridesmaids wore elegant lilac gowns with beautiful satin bows. The wedding ceremony was being held in the Barn and while Ben and their guests waited for Danielle to walk down the candle lit aisle, they listened to a fabulous string quartet.
The wedding barn doors were framed by stunning wisteria trees and blossom tress created a focal point at the end of the aisle. Ivy and eucalyptus hung from the chandeliers- the whole barn looked amazing.
During the ceremony, both Danielle and Ben's mums shared readings-
When the one whose hand you're holding
Is the one who holds your heart
When the one whose eyes you gaze into
Gives your hopes and dreams their start,
When the one you think of first and last
Is the one who holds you tight,
And the things you plan together
Make the whole world seem just right,
When the one whom you believe in
puts their faith and trust in you,
You've found the one and only love
You'll share your whole life through.
Once our Bride and Groom had said I Do, the moved into the Gallery and were welcomed by a wonderful hand drawn table plan which was Disney themed, with each tables named after their favourite Disney films.
Danielle's dad Malcom is the owner of a classic car and it meant a lot to him that is was included in his daughter's day, so Danielle and Ben took a little 'Just Married' ride, complete with trailing tin cans!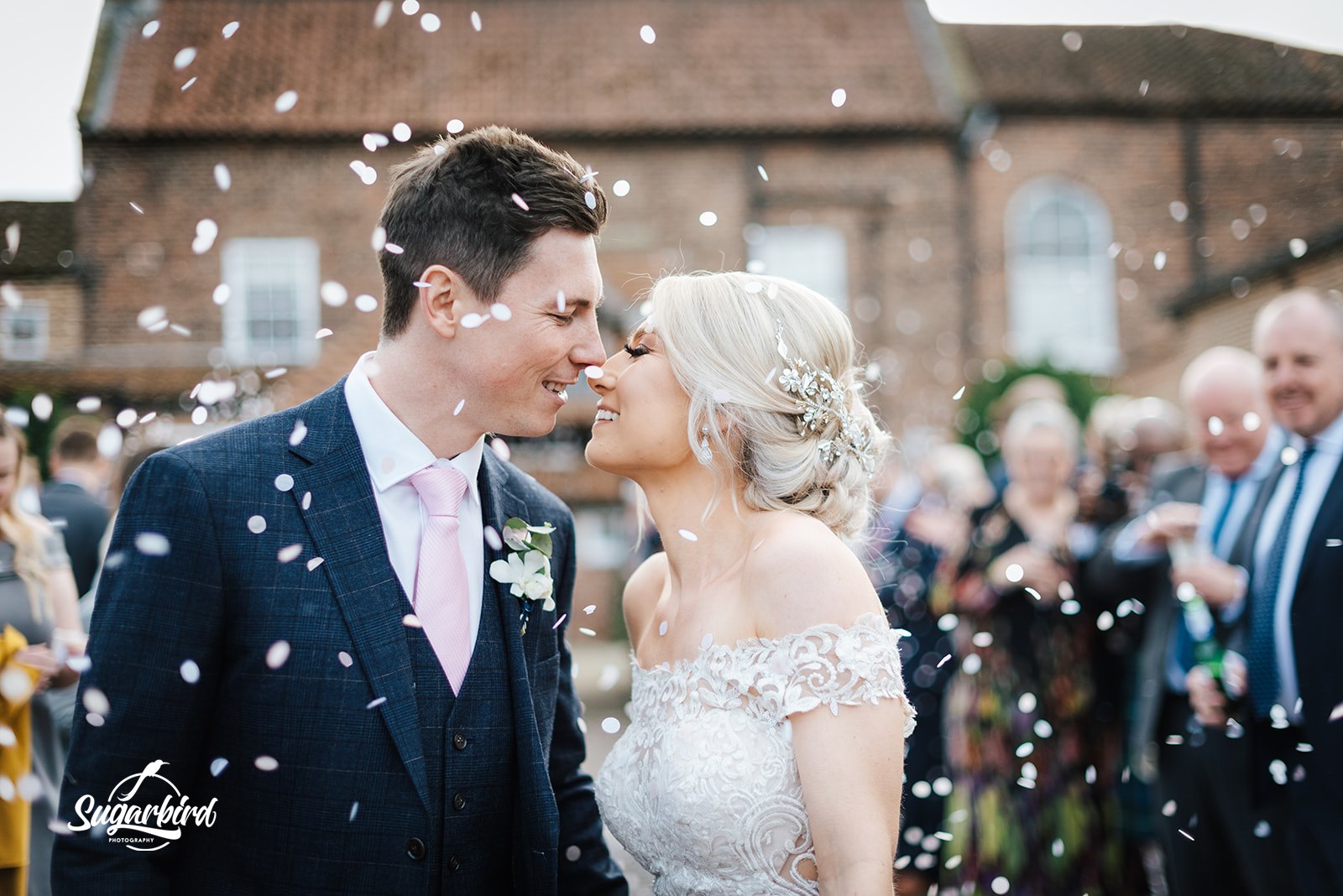 We transformed the Barn from ceremony to reception space and each table was finished with a beautiful floral display created by Allie at Wild Floral Couture. The blossom tress now framed the top table and each guest's place setting was a little Disney themed name tag. The most delicious looking wooden dessert stand was set up which was overflowing with chocolate brownies, Eton mess, individual white chocolate cheesecakes, and Limoncello trifle. What a feast for the eyes!
Before long, it was time to reveal the barn and for guests to take their seat. Malcom spoke so highly of his daughter, gushing at how proud he and Danielle's mum Deborah are every day and remembering how determined she was as a little girl. Danielle is kind, intelligent, thoughtful and most definitely the spreadsheet Queen. Danielle and Ben are the perfect match, and Ben has fitted in with the Lockwoods from day 1!
Ben's speech began with a special birthday wish for his Grandma and Danielle's Grandma and presented them with little cakes and an impromptu 'Happy Birthday' sing song. Ben thanked his parents for all of their support, with a special mention to his dad who taught him that it's ok to cheat on the Rugby field, as long as you don't get caught. Ben agreed with Malcolm that he and Danielle are the perfect team, Danielle even prepares his toothbrush before bed! Danielle is beautiful inside and out and Ben said he falls in love with her more and more every day. He had a little surprise for his Disney loving bride, and performed a version of 'Be Our Guest' from Beauty and the Beast, except he had re-written it to tell the story of their romance, which was both extremely funny and very touching.
Ben's Best Man was his school friend Rob who had sneakily stuck hilarious childhood photos of our Groom under each table and everyone loved finding them and laughing together, mostly at Ben… Rob said our Science teacher Groom never takes life to seriously, is contagiously happy and absolutely loves dancing, so we were all looking forward to watching him tear up the dancefloor later on.
Danielle and Ben shared their first dance to 'Can You Feel the Love Tonight' and danced the night away with the help of their band 'Lizzy and the Crescendos' who were fantastic.
Congratulations Mr and Mrs Shore and we just know you will live happily ever after!
Suppliers on the day…
Photographer
Caterer
Videographer
Trees
Flowers
Band/ DJ
String Quartet
Cake and Desserts
Janet Thornton- thorntonj524@aol.com
Make Up
Hannah Atter and Holly Harper   hannahatter_mua@hotmail.com
Hair
Hannah Taylor 07534284702
Paula at Reflections