The sun was shining and the birds were singing as Charlotte and Andrew woke on their wedding day and we couldn't wait for the celebrations to begin. Their ceremony was being held in the wedding barn and it looked stunning. Their florist Roseanna, who actually got married at Hornington 2 years ago, decorated the chandeliers with beautiful eucalyptus which filled the barn with a lovely aroma. Huge blossom trees framed the end of the aisle, where Andrew waited for his Bride.
Charlotte, a teacher, took over the West Wing with her bridesmaids as they got ready for the big day. Our Bride looked absolutely stunning in her gown with intricate waist belt detail and train. Charlotte's Grandad Trevor, who had sadly passed away recently, had contributed to his Granddaughter's dress which made it even more special. Her bridesmaids wore dove grey halter neck gowns, and the shade was picked out perfectly from the beautiful bouquets which were composed of roses, silver thistle, Veronica and Astrantia.
Charlotte walked down the aisle, arm in arm with her mum to the song 'Will and Anna' from the film Notting Hill. The moment Andrew saw his Bride for the first time was so special and it was so clear just how excited the pair were to become husband and wife. During the ceremony, Charlotte's mum read a fantastic poem she had written titled 'Ode to Love'-
He never leaves the seat up
Or wet towels on the floor
The toothpaste has the lid on
And he always shuts the door!
She's very clean and tidy
Perfection is pursued
Leave your things out at your peril
In a second they'll be moved!
He's a very active person
That's why he looks so slim
She likes mostly lazy days
Not going to the gym!
He romances her and dines her
Home cooked dinners and the like
Risotto, paella, pasta or fish
Never a Deliveroo in sight
She's thoughtful when he looks at her
A smile upon his face
Will he look that good in 50 years
When his hair is not in place?!
He says he loves her figure
And her mental prowess too
But when gravity takes her over
Just remember you said "I do"
She says she loves his kindness
And his patience is a must
Of course she thinks he's handsome
Which in her eyes is a plus!
They're both not fully perfect
But who are we to judge
He can be pig headed
Whereas she won't even budge!
All that said and done
They love just being together
Join with me in wishing
This fine day will last forever
He'll be more than just her husband
He'll be her very best friend
And she'll be more than just his wife, She'll be his soul mate – till the end.
Once our pair had said 'I Do' they walked back down the aisle together as Mr and Mr Robson to 'Better Together' by Jack Johnson. Making the most of the lovely weather, prosecco and bottled beers awaited everyone on the front lawn and the wonderful Colour Blue performed acoustic tracks which everyone loved.
While the guests soaked up the sunshine and Charlotte an Andrew were whisked around the grounds by their photographer, the brilliant Sarah Beth Photo, we turned the barn from dreamy ceremony space into the most beautiful reception. Blossom trees framed the top table and each table was named after villages in the Yorkshire Dales including Malham, Burnsall, Grassington, Hawes and Settle. Their table plan was a huge map of the Yorkshire dales and on each table sat a phot of Charlotte and Andrew taken by the sign for each village which was lovely. Their cake was made up of a tower of chocolate covered strawberries from The Barn Bakery.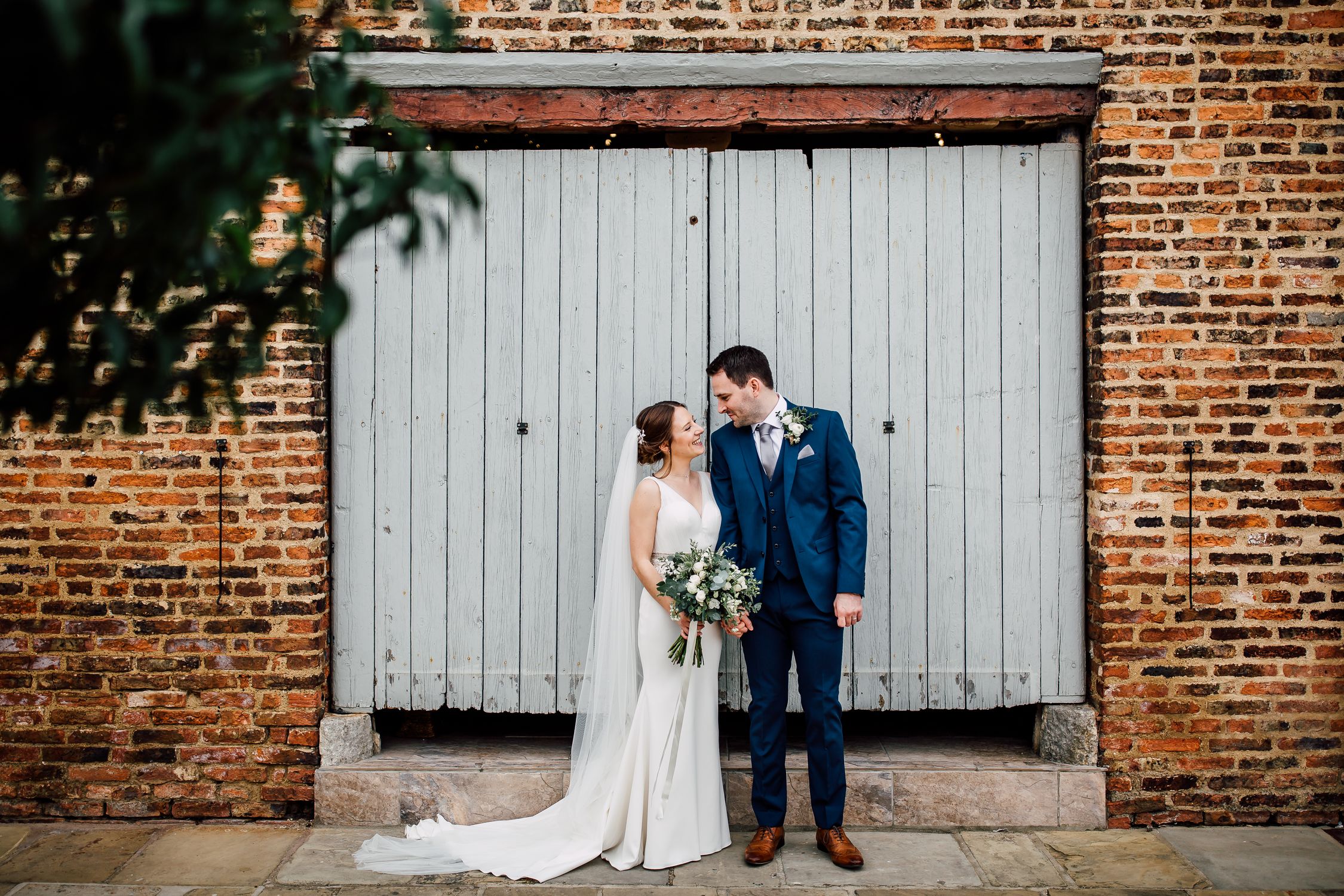 Before long it was time to re-enter the Barn and enjoy a fabulous three-course meal by Taste Cuisine who were fabulous and received such high praise from bride and groom for the delicious food on their wedding day. They started with Salmon or ham hock, moved on to slow braised shin beef with mash in a rich beef jous, and finished off with warm chocolate brownie and sticky toffee pudding. Oh my.
Our Groom Andrew thanked all the guests for coming and said that he and Charlotte were so lucky to know them all. We found out that Charlotte and Andrew met when they were 18 and have been together for 7 ½ years, once Andrew had spent 4 years getting Charlotte to go out with him! Andrew thanked his groomsmen- his two brothers Chris and Dave, his new brother-in-law Oliver and his best pals Joe and Phil. He described his wife as a kind, loving and thoughtful person and the most beautiful woman in the world. His favourite thing in the world is getting to see her every day and now, getting to call her his wife.
Andrew's best man Joe descried a good speech like a skirt, short enough to keep things interesting but long enough to cover the essentials. He complimented the Bride and Groom, describing Andy as super cool and Charlotte as looking dynamite in her dress. Joe shared hilarious stories of their years of friendship, in particular a time, while living at Charlotte's house, Andy invited his pals over for pre-drinks before a big night out. Charlotte was horrified to find the house had been totally trashed and was furious with Andy's friends, as she knew her now husband would never have done such a thing. As it tuns out, Andy was the culprit and when questioned, his excuse was 'I was born to be wild…'! Joe was just thrilled that two of his best friends were getting married and he couldn't be happier.
Jonny Ross's Marc and Abi Band were absolutely fantastic, getting everyone up dancing and enjoying the evening. Our courtyard sheep even had a great night, but were feeling a little rough come morning! It was a fantastic celebration and one we are so lucky to have been a part of.
Congratulations Mr and Mrs Robson and we hope you have the happiest of lives together.
Suppliers on the Day
Photographer
Caterer
Cake
Florist
Blossom Trees and props
Band