At Hornington, we are lucky enough to bring people together from all across the world for the most wonderful weekend of celebrations. Our Bride and Groom Ed and Adele now live in America after Ed moved over for work and Adele followed 18 months later. It was such a special weekend where guests from both the UK, Washington DC could meet and celebrate the wedding of their best friends. Adele had worked out that with guests flying in from Singapore, Australia, America, The Netherlands, Scotland and Guernsey, they had travelled a total of 95,000 miles, which is 35x round the world, and 38% towards the moon!
Our bride Adele is originally from Guernsey and her dad Collin, had secretly arranged for Freesias from Guernsey to be sent over to Hornington and placed in each guests' bedroom. The whole place smelt amazing and it was such a lovely, personal touch.
Richard, Ed's dad had also been busy building a beautiful wooden pagoda which took pride of place at the end of the aisle in the Gallery which sat against our twinkling draped wall.
Adele's bridesmaids were dressed in gorgeous raspberry dresses and Adele looked stunning in her full skirted gown finished with a white fur wrap. Their easer themed bouquets were a mixture of white, yellow and rich purple blooms including lemon Minion roses, white anemone, Freesias conveying friendship and Jasmine which are a mother nature bloom fostering external love and sensuality.
During the ceremony, Ed's dad Richard shared a lovely reading-
'Sooner or later we begin to understand that love is more than verses on Valentines and romance in the movies. We begin to know that love is here and now, real and true, the most important thing in our lives.
For love is the creator of our favourite memories and the foundation of our fondest dreams. Love is a promise that is always kept, a fortune that can never be spent, a seed that can flourish in even the most unlikely of places.
And this radiance that never fades, this mysterious and magical joy, is the greatest treasure of all- one known only by those who love.'
When Ed and Adele had said their vows, they enjoyed prosecco and beers before entering the wedding barn which looked amazing. A map of the world seating plan greeted guests and at the back of the barn sat their incredible cake surrounded by brownies and macarons. At the centre of each table sat bunches of beautiful blooms in jam jars and kilner jars filled with fairy lights.
Hog and Apple served a delicious feast followed by speeches, starting with Adele's dad Colin. We were warned that his speech might not be as professional or as inspiring as those to follow, but after living with his wife and three daughters, it's difficult to speak and never gets listened to. Colin presented Adele with her treasured childhood Licorice Allsorts teddy and told us about her passion for boardgames, well winning them, and Harry Potter. Adele is a self-motivated, intelligent woman and he is so proud of her. And despite Ed being a Liverpool fan, he is very much a gentleman!
Ed spoke to his guests from the heart, not needing any notes or prompts. He expressed how humble and grateful he and Adele are for their friends. His friends from DC had gifted him a little badge with a Union Jack and USA Flag design which he wore all day. Ed had moved to Washington alone and the group of friends who took him made sure there was room for Adele in their friendship group when she joined 18 months later. He descried his wife as kind, beautiful, considerate and awful at telling jokes. Ed admires Adele's bravery for moving across an ocean to be with him. Ed's life has been perfect ever since Adele came into it.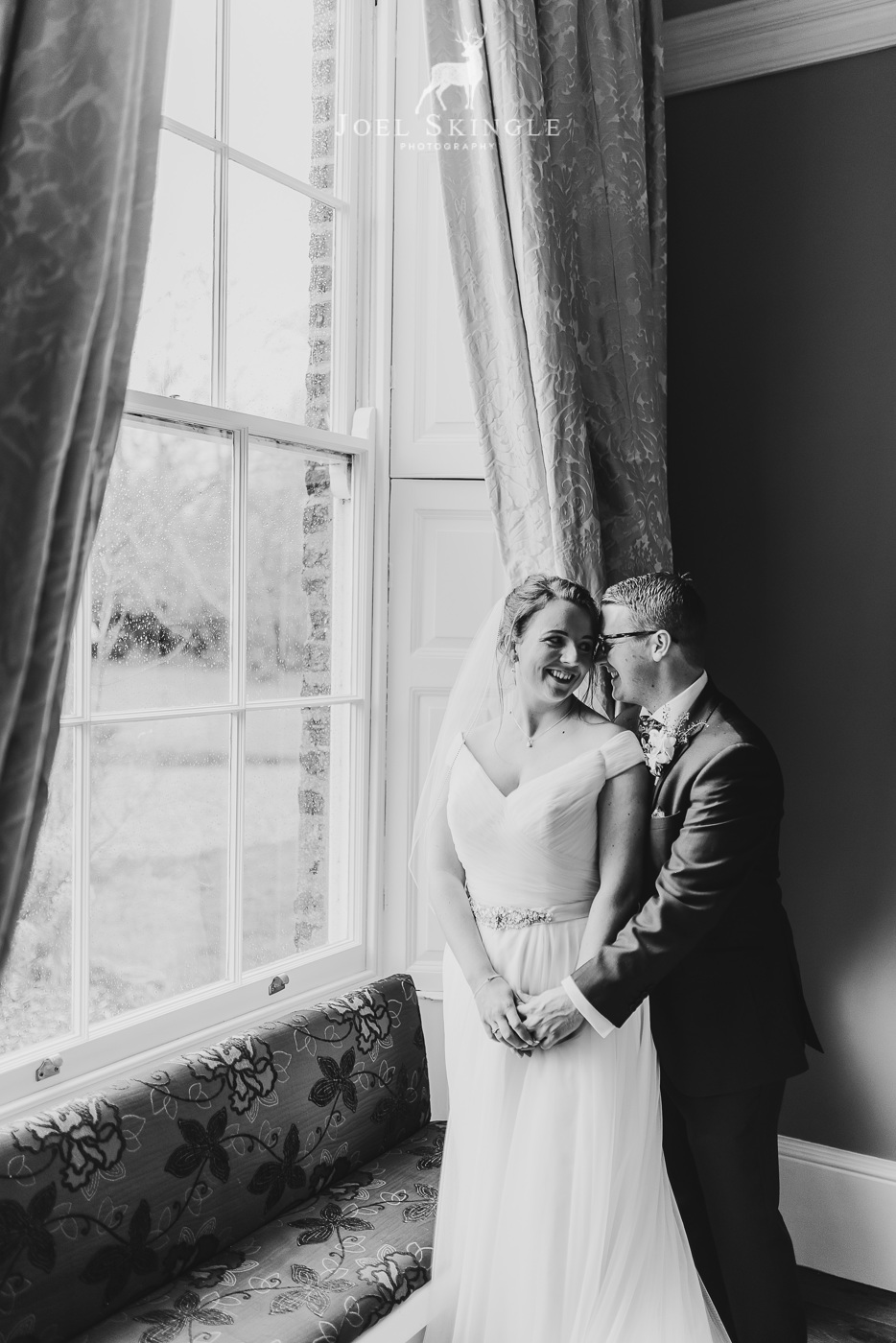 Ed's Brother Sam saw it as his duty to suitably embarrass his younger brother. He shared a hilarious story of a family 5-aside match form tier childhood where Ed ended up in tears. Ed was born on Friday 13th and survived on a limited diet of cheese on toast and pints of milk for a number of years! He might have been an absolute terror as a child but has grown in to a great guy, and a very clever one at that. Sam revealed that it is their parents 40th Anniversary this year and he hopes for Ed and himself, that their marriages are filled with even just a fraction of the love and happiness their parents have shared.
We loved being a part of Ed and Adele's day and wish them all the happiness as Husband and Wife. Congratulations Mr and Mrs Silson!
Suppliers on the day…
Photographer
Caterer
Cake
Hair
Make Up
York MUA
Florist
Band
Transport