When Beth and Will booked their wedding for February 2019, the last thing they expected was glorious sunshine and record breaking temperatures, but that's exactly what they got. What started as a hazy morning, cleared into the most beautiful day. Not only for the weather, but also the wonderful celebration of Mr and Mrs Davis.
Beth and her Bridesmaids took over the Ballroom while Michaela Love Make Up Artist got them ready for the day. Beth looked amazing in her lace gown and understated up-do and her bridesmaids wore gorgeous halter neck silk dresses. Beth and her Dad travelled to Bolton Percy church in the most stunning vintage Rolls Royce which looked right at home in the Hornington courtyard.
Bolton Percy All Saints is our local church, just a stone's throw away, and it is beautiful. Beth met her groom Will at the end of the aisle, framed by an enormous stained-glass window. Once Husband and Wife, Beth and Will made their way back to Hornington where we served prosecco and bottled beers on the front lawn in the sunshine.
Before long, it was time to be seated in the wedding barn. Each table was numbered and accompanied by photos of our Bride and Groom at that age, and on each one sat a candle lantern, surrounded by flowers which Will's mum Bev had created. Will's Dad had hand drawn an artist's impression of every guest which was such a lovely and personal touch.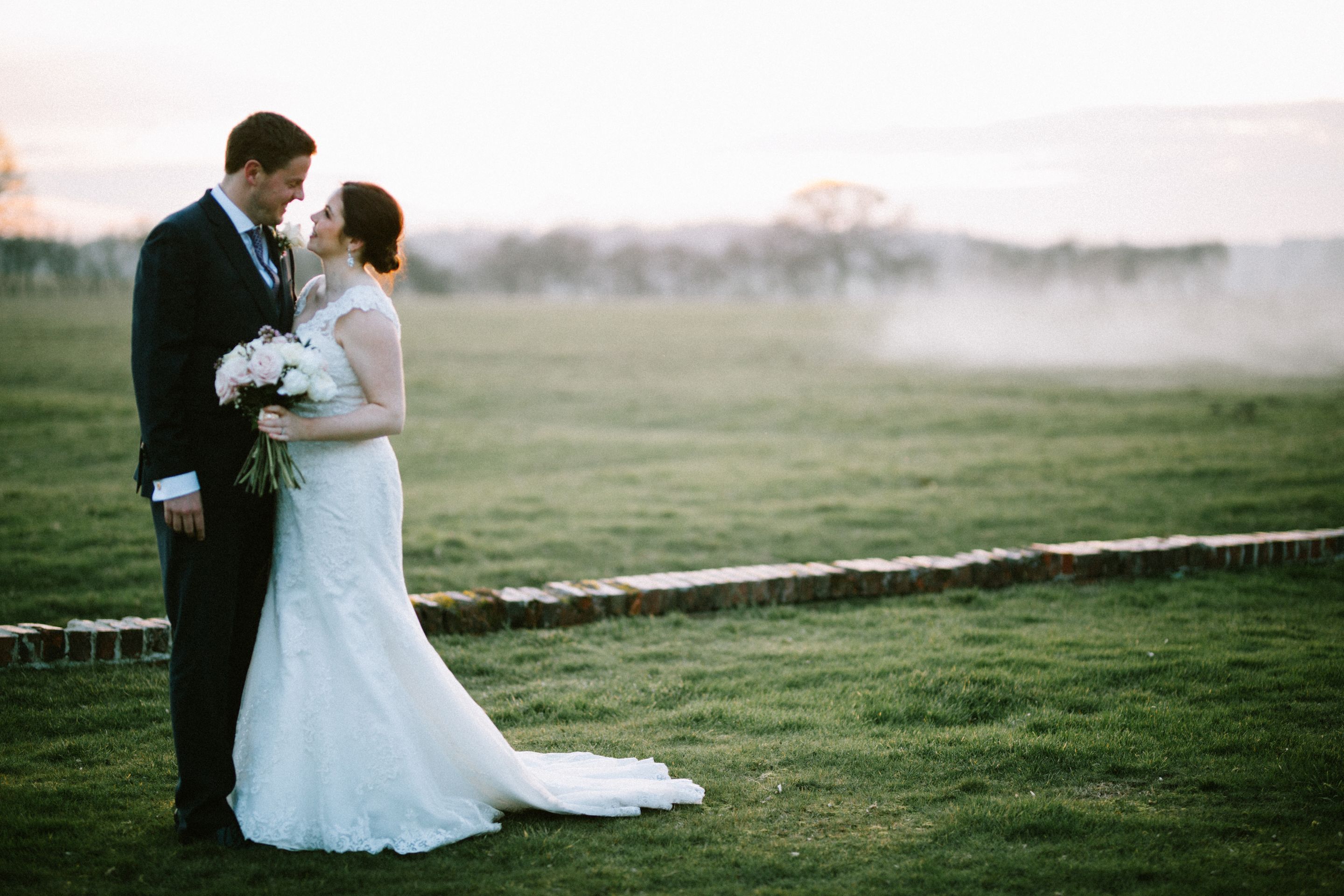 Towards the back of the barn sat two incredible wedding cakes, both made by Beth's very talented mum Jackie! The 5-tiered showpiece was decorated with delicate lace icing and hand made icing flowers and eucalyptus. It had to be reassembled at Hornington after it wouldn't fit in the car! The second cake was a traditional fruit cake to be served with cheese later in the evening. Upon it sat icing models of our Bride and Groom which were surprisingly uncanny!
Poppy Catering served a feast of Beef Wellington and Potato Dauphinoise, followed by a trio of desserts which looked delicious.
Beth's dad Glen's speech was hilarious as he shared funny stories from Beth's childhood. He gushed at how proud he was to walk his daughter down the aisle and how his new Son-in-law is a real credit to his parents, Paul and Bev. Up next, Will thanked his guests for travelling from far and wide to celebrate their special day. He thanked their families for all their help creating the wedding of Beth's dreams. He thanked Beth for all the support she had given him over the past year while he had been planning this wedding… jokingly. Will revealed he was so overwhelmed when he saw his bride walking down the aisle and he had never seen anything more beautiful. Except that drop goal by Jonny back in 2003.
Will's Best Men, Jamie and James took to the microphone and shared stories from their childhood Particularly, how Will ended up joining their group 14 years ago after spear tackling one of their friends at rugby. They both agreed that Beth and Will are a match made in heaven.
Beth and Will danced to Nina Simone's 'Feeing Good', covered by the amazing Northern House Band, who entertained the whole wedding party all evening.
When the new Mr and Mrs Davis left us on Monday, they jetted off on their honeymoon to Singapore after having the best weekend with all their family and friends.
Congratulations Beth and Will!
Suppliers on the day…
Caterer
Photographer and Videographer
Flowers
Annette Sharpe
Cakes
Jackie Devenish (Beth's Mum)
Hair and Make Up
Transport
The Yorkshire Wedding Car Company
Band
Northern House Band (Jonny Ross Music)