Chloe and Jonny met at Huddersfield University nearly 12 years ago. Jonny proposed dressed up as Gomez and Chloe was Morticia. It was a gorgeous sunny February day and our Bride and Groom held their ceremony in the Gallery. Chloe walked down the aisle to 'Real Good Hands' by Gregory Porter. Our beautiful bride looked absolutely incredible with her flower crown and statement red lip. Chloe's dress had intricate lace and bead detailing and a little capped sleeve.
Chloe's mum had been very busy in the lead up to the wedding. She is an incredibly talented lady and had made all the gorgeous bridesmaids dresses and all the groomsmen's cufflinks, bow ties and ties with matching handkerchiefs. Not to menton all the flowers and beautiful bouquets!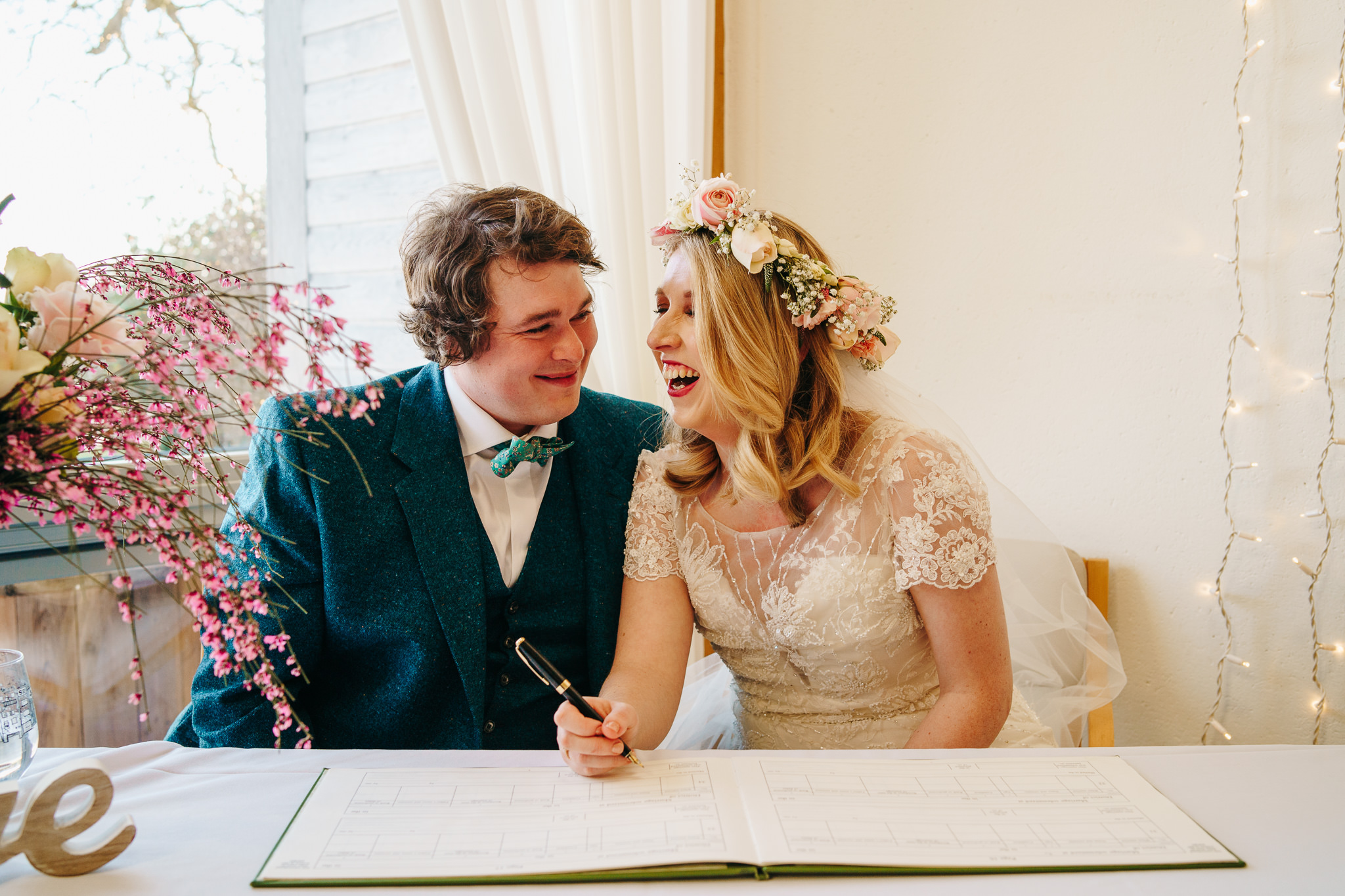 Once the newlyweds had said 'I Do', their guests soaked up the sunshine in the courtyard with prosecco and a real mixture of beers served from our Ha Ha Baah.
Within the wedding barn, each table was decorated with flowers which sat in empty beer bottles, each having a different and exciting story behind where the beer had been drunk. Chloe had hand sewn the table numbers which were presented in embroidery rings and looked beautiful.
Chloe and Jonny are huge foodies and had carefully selected their 4 course wedding breakfast with the help of their amazing caterers Hog and Apple. Each course had a choice of perfectly complementary drinks and guests had a little double-sided beer mat which they turned if they wanted the beer or the wine option. Before the meal began, Jonny shared a little note with his guests-
'A little note about the day to commence!
Dear friends, family and people taller than Jonny.
Welcome to our wedding breakfast. This menu I have curated spent a couple of days writing, cooked it, tweaked it, and brought a beverage match of beer, wine and soft drink to each course, which for those of you that have had the pleasure of a meal at Jonny's know there is normally a "beer to go with it".
For entertainment there will be a music quiz running in the back ground. Sing alongs are encouraged with bonus points on offer'
The first course was Onion Bhajis, Samosa's, Okra fries, onion salad, mango and chilli chutney which was paired with Faith by Northern Monk – the fruity hops and crisp body really stand up to bold spices and providing a refreshing sweetness.
The second course was Roasted Squash, parsnip, onion, swede, saag, pine nuts and pomegranate. Bombay Dazzler by Northern Rock was paired, which is an Indian wirbier made more aromatically spiced with cardamom, ginger and coriander, or a Sauvignon Blanc, which was a fantastic classic from Southern Island New Zealand.
The third course was red wine braised beef cheeks, roasted herb stuffed cauliflower, polenta mash, garlic and herb roasted mushroom. This was complemented by Nut Brown Ale by Sam Smith –  It's bitter notes help contrast the rich, savoury and subtly compliment the sweetness, or a Melot by Bulgaria with its subtle aroma, deep rich stone fruit and subtle spiciness.
And Finally, Chocolate Brownie, blood orange, chocolate sauce, meringue, vanilla, mascarpone. This was paired with a shot of Café patron which added a perfect complementary and contrasting coffee flavour with a cleansing sweet smooth warmth or Wineybeest by Wild Beer – only 500 bottles are produced a year and 3 were consumed to test, verify and to evaluate this pairing by Chloe and Jonny! To top all of this off, our Bride and Groom's cake was truly an amazing work of art with roses and butterflies adorning one side and a snowboarding scene on the other which depicted Chloe and Jonny's love of skiing. This was also made by Chloe's mum!
Jonny's Best Man Jack said of his best mate and skater boy, that he does everything bigger and more elaborate than your standard, as they all found out on the stag.  It's not so much the quantity of floral print, pointy shoes, and deep v t-shirts that he wears, but more and more his habit of ordering a third of a pint at a time and telling us all about it.
Becky, Chloe's Maid of Honour and best friend for 30 years shared memories of their adventures together pretending to be Belle and Kelly Armstrong, rescuing endangered animals, singing Disney songs and putting together musicals and having fun dressing up as sailors, ninjas, tigers and dalmatians. Becky's best memory of all will be the Hen do with Chloe dressed up as Baby from Dirty Dancing. Chloe has grown from being the shy quiet little girl into you're a strong, confident and outgoing woman with plenty of sass and style to boot.
The brilliant Hyde Park Brass Band entered the wedding barn to the surprise of all the guests, and entertain everyone for the evening. Guests were up on their chairs and the dancefloor was full all night! Chloe and Jonny are such a perfect match and we absolutely loved their day.
Congratulations to our Bride and Groom and enjoy you fantastic honeymoon in Hawaii!
Suppliers on the day…
Photographer
Caterer
Hair and Makeup
Band