A superb weekend at Hornington Manor to celebrate the wedding of Elliot and Charley started on Friday morning as friends and family gathered to start the celebrations. Hornington was under a light blanket of snow and everything looked even more beautiful than usual! Saturday was cold and fresh but the whole service, catering, band and the magician made it a perfect start to married life…
Luscious green trees lined our foliage wall backdrop as Charley to walk down the aisle of the chandeliers to a stunning archway and gate. Ivy and Eucalyptus adorned the lights and arch which was perfect to show off the white and yellow floating lanterns suspended throughout the ceiling.
Our groom Elliot and their guests took their places and waited for the arrival of the Bride who had been with her Bridesmaids excitedly getting ready in the Lodge. Charley looked absolutely stunning in her halter neck dress (with pockets!) and an understated up-do.  All bouquets and buttonholes were dried flowers so that Charley could keep them as a momento of her beautiful day.
She entered the wedding barn to 'Wings' by Birdy.  During the ceremony, Charley's mum Carol and Elliot's mum Liz shared beautiful readings about their son and daughter.
Liz shared this reading-
He's not perfect. You aren't either, and the two of you will never be perfect. But if he can make you laugh at least once, causes you to think twice, and if he admits to being human and making mistakes, hold on to him and give him the most you can. He isn't going to quote poetry, he's not thinking about you every moment, but he will give you a part of him that he knows you could break. Don't hurt him, don't change him, and don't expect for more than he can give. Don't analyse. Smile when he makes you happy, yell when he makes you mad, and miss him when he's not there. Love hard when there is love to be had. Because perfect guys don't exist, but there's always one that is perfect for you.
And Carol's reading –
Today will be perfect in every single way, a beautiful fairytale for your wedding day. The theme of your day is to have love and have laughter, and live your days happily ever after. Living happily is what you need to survive, so how does one keep the magic alive? How do you light a spark that never goes out? How does one live without fear or doubt? How do some people manage to keep their love strong? And how do some couples always feel they belong? What do you need to do to stay in love forever? And make each day special and grow fonder together. Well these very questions you must address every day. You must take the time and go out of your way. To always share love and always share laughter, to do whatever it takes to live happily ever after. Here is a recipe I think is a must, so let's begin with always having trust, don't forget it's important to have total respect, to always stay loyal to keep your love perfect. You must communicate each and every day, three special little words you must never forget to say, "I love you" it's amazing how these words make you feel, happy, safe & valued and they will keep your love real. A simple act of kindness goes a long way, blend it with understanding and you can't go astray, don't forget friendship it will help you cope, add a sprinkle of faith and an abundance of hope. Remember your smile, it is beautiful to see. It can brighten one's day and its absolutely free. So, my wish for you both is to always have love and have laughter, and I pray that you will enjoy your HAPPILY EVER AFTER.
Once the pair had said 'I Do', the new Mr and Mrs Roberts walked back down the aisle to "Kiss me" by Sixpence None the Richer. Guests moved to the Gallery and duo from the evening band entertained everyone whilst we served drinks from the HaHa Baah, during the reception. Elliot's passion is clay pigeon shooting, so Charley had used gun cartridges to create their initials in a piece of art that no doubt will take pride of place at home as a reminder of their wonderful day. Their photographer, Elliot's father, captured some beautiful shots of Bride and Groom with their guns on beautifully sunny front lawn.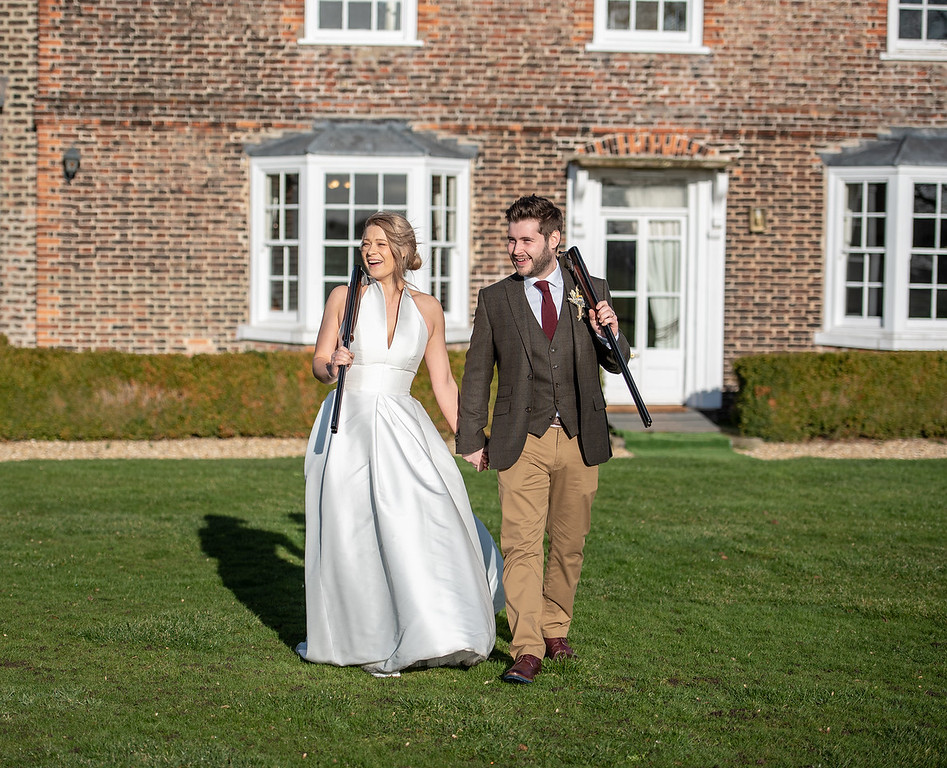 Guests soon moved onto the wedding barn and were welcomed by a wooden seating plan and photo wall which had been lovingly made by Elliot and Charley. Flying butterflies sat beneath each guest's napkin. Charley and Elliot followed in family tradition and organised their room plan around a sweetheart table in the centre of the room purely for the newlyweds to enjoy their wedding breakfast romantically together.
Friends 4 Dinner served up a delicious feast and as evening fell, their band The Fusion Dukes got everyone on their feet. Once they finished playing, Elliot got out his guitar and sang songs to his bride and everyone joined in, which was really beautiful and such a lovely end to a perfect day.
Whilst on Honeymoon around the North of England and in Edinburgh, Mr and Mrs Roberts got a lasting reminder of their wedding weekend at Hornington by getting matching little sheep tattoos!
Congratulations to Elliot and Charley. We hope your wedding weekend was everything you dreamed of.
Suppliers on the day…
Photographer
Elliot's Dad
Caterer
Props
Hair
Videographer
Band