Kylie and Nathan have been together for 3,194 amazing days. They met on the 06/03/2010 and on 06/06/2017 Nathan popped the Big Question on a rainy Tuesday evening, after a bad day at work, at home on their sofa. They have been planning their wedding shindig for 551 days!
It has involved-
7 visits to Hornington Manor (They are basically part of the family…)
7 Dress appointments
102 Invites sent
5 Favour making sessions
34 Trips to Next to buy and exchange all the Groomsmen Suits
23,472 times Mazza (Kylie's dad) has said "We are over budget on this wedding"!!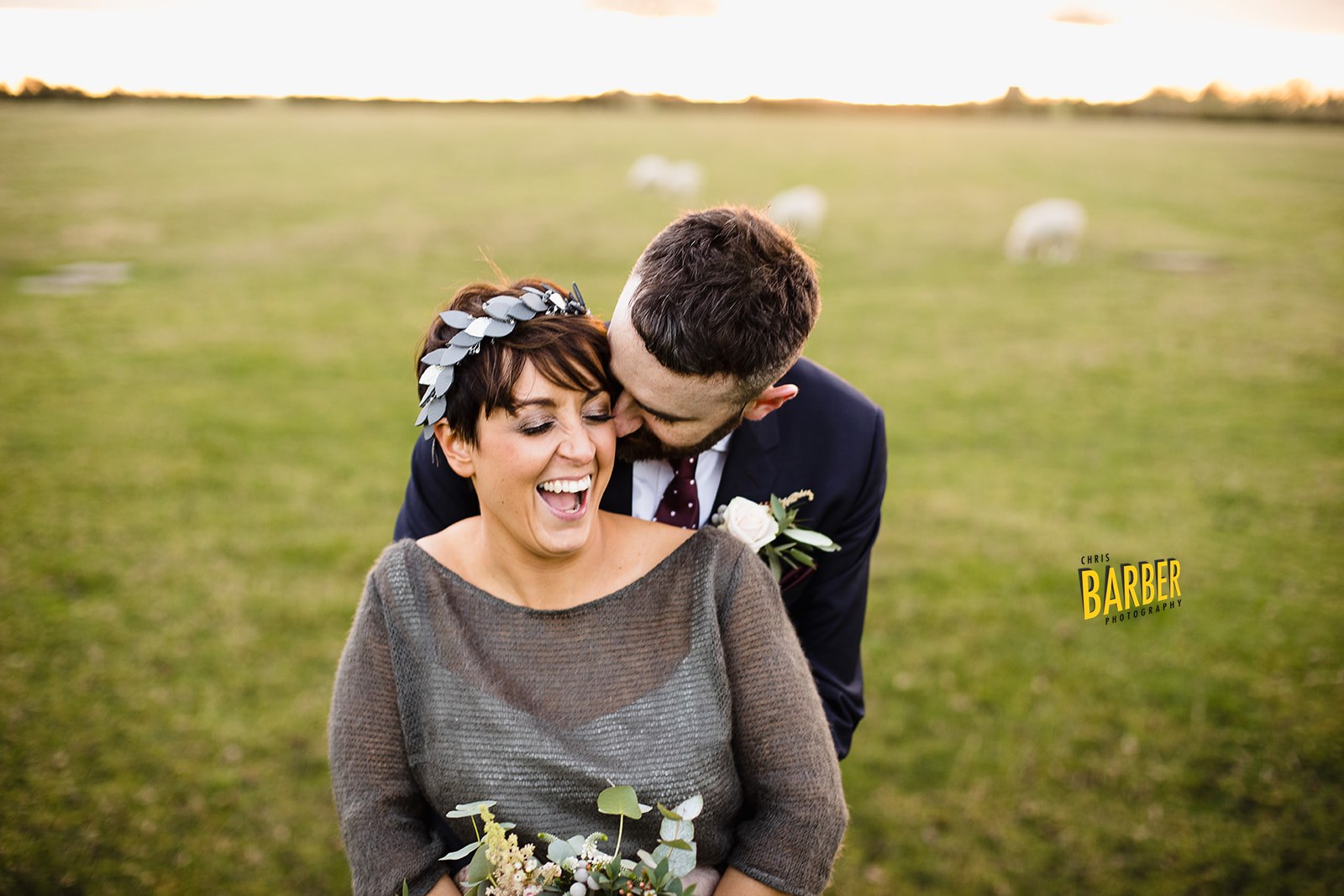 Kylie and Nathan's wedding vision was class personified. Their family and friends had all helped them achieve absolute wedding perfection. The truly talented Father of the Bride Mario had made all the amazing steel works of art which sat on the tables to hold the flowers, down the aisle to hold the candles, and on the ceremony table. Jen, one of Kylie's bridesmaids created all the wonderful flower displays and bouquets.
With Silver Brunia, Waz Flower, Hypnose Rose associated with faith, Veronica and Eucalyptus signalling protection, Astilbe, Quicksand Rose and a fabulous Pink Protea in the centre, representing change and hope. The arrangements were gorgeous and so original. Kylie paid special tribute to her grandparents, sadly no longer with them, with a little pendant with a photograph of them attached to her bouquet.
Kylie looked stunning in her midi length lace gown and wore a head dress of grey and silver laurels, to reflect her family heritage. Her shoes, oh my. The grey velvet beauties were truly a work of art!
The ceremony was held in the Wedding Barn and Kylie walked down the aisle towards her Groom to an acoustic version of Frankie Goes to Hollywood's 'The Power of Love' which was absolutely beautiful. Sam Scherdel, the acoustic guitar, singer and pianist has a fabulous raw talent entertaining all the guests throughout the ceremony, reception and wedding breakfast.
During the ceremony, we heard a reding called 'Union' by Robert Fulghum.
You have known each other from first glance, to this point of commitment.
At some point, you decided to marry. From that moment of yes, to this moment of yes, you have already been making commitments.
All of those conversations that were held in a car, or over a meal, or during a long walk
All those conversations that began with, "When we're married", and continued with "we will"
All those late night talks that included "someday" and "somehow" and "maybe"
All those promises that are unspoken matters of the heart.
All of these things and more, are the real process of a wedding.
The vows that you are about to make are a way of saying to one another, "you know all those things that we've promised, and hoped, and dreamed – well, I meant it all, every word."
Look at one another and remember this moment in time.
Before this moment you have been many things to one another: acquaintance, friend, companion, lover, dancing partner and even teacher… for you have learned much from one another in the last few years.
Now you shall say a few words that take you across a threshold of life, and things will never quite be the same between you.
For after these vows, you shall say to the world, this – is my husband, this – is my wife.
Maggie's reading to her daughter and new Son-in-Law was her version of 'We Go Together' from Grease, which was fabulously funny and awe inspiring as she just stood up and recited free style :-
"You go together like
Rama lama lama Ka ding ka dinga dong
Remembered forever as
shoo bop sha Wadda wadda yippity boom de boom Chang Chang changitty Chang sha bop That's the way it should be Wahoo yeah!
You're one of a kind like
Dip da dip da doo wop bee doo bee doo
Your names are signed
Boogie boogie boogie Shooby doo wop sha bop Chang Chang changitty Chang sha bop You'll always be like one wa wa wa one When you go out tonight and the stars are shining bright Up in the sky above Under the moon you'll dance ,where you will share romance Cos this is really love Rama lama lama ka ding ka ding ka dong Shoo bop sha wadda wadda yippity boom de boom Chang Chang changitty chang sha bop you'll always be like one wa wa wa one You go together like Wop ba ba lu ba and wop bam boom!"
After plenty of prosecco and beer in the Gallery, guests made their way to the wedding barn for the speeches. Each table was named after Kylie's passion for films. Their top table was named 'The Wolf of Wall Street' and guests tables included 'Baby Driver', 'Goodfellas', 'The Man from Uncle' and 'Saving Private Ryan'. We learnt that guests had travelled from far and wide, but the biggest commitment was from the fabulous master of Ceremonies, James Swain, who had travelled all the way from Hong Kong on his birthday!
Kylie's dad, Mario, revealed how 33 years ago the three most expensive words were spoken… 'It's a girl.' As a child Kylie had lovely curly hair and the biggest beautiful smile he had ever seen. He is so proud of the strong, confident, independent woman she is today. He said, "It's an absolute honour to be called your Dad today, but I will always remember you as my little girl".
Nathan spoke passionately of his best mates and very sadly his dear friend who passed away. Kylie and Nathan asked everyone to support them in making a contribution to the charity Mind in honour of Ollie. Over £430 was raised for such an amazing cause.
Nathan's Best(worst) man, Marcus, told us about his loves- PS4, Fantasy football and Morrisons Festival Gateau! The totally scrumptious meal that Hog and Apple served did not include the Gateau, but Marcus presented Nathan with a football shirt with Sir Alex 20.
The Dapper Ushers were made up of Brad, Ryan, Kyle, Michael, Oliver and Lee.
The Beaut Maids were Jen, Katie, Fiona, Anne-Marie, and Hollie.
The little "Limelight Stealers" were the gorgeous Isaac, Reuben, and Ayda.
Kyle and Nathan's first dance was to 'A Dustland Fairytale' by The Killers and guests danced all night long to the Barber wedding soundtrack played expertly by their band Suicide Blonde. The evening was fuelled with plenty of Jager Bombs and lots of pizza served by Pizza Loco in the courtyard, and really, it doesn't get better than that.
Congratulations to the wonderful Mr and Mrs Barber and thank you for sharing your day with us.
We received a lovely thank you email from Kylie and Nathan after they left us-
'Not really sure where to start with the thank yous!!! 
Thank you so so much to you and your incredible team at Hornington. You easily have the best venue around and offer such a relaxed yet intimate setting. 
From arriving Saturday and setting up to last orders Sunday you and your team were unbelievable, you see weddings every week yet you managed to make us and our guests feel like we were the only ones you'd ever met. 
The accommodation is outstanding and makes for a real weekend celebration. 
We will never forget our weekend at your little piece of paradise! 
Thank you again for everything. 
Mr & Mrs Barber xxxxx 09.12.18'
Suppliers on the day…
Photographer
Caterers
Musicicans
Lighting
Florist