Christmas at Hornington is so magical- twinkly lights, glittering baubles and the unmistakable smell of fir trees in the air. Christmas was made only more magical by the celebration of Lucy and Tony's wedding, just days before the Big Man was due a visit. It also came just weeks after our bride and groom welcomed their beautiful daughter Neve into the world, and it's safe to say, she absolutely stole the show.
If you ever need to know how to celebrate a festive wedding without any of the Christmas kitsch, consider this blog your bible. Lucy and Tony's décor was so beautiful, so much so, we really didn't want them to take it down when they left!
Lucy's dad Paul had lovingly crafted large wooden LOVE letters which were entwined with ivy and delicate fairy lights. An ornate mirror seating plan sat in the entrance, along with a twinkling willow reindeer who greeted guests to the wedding barn. Table centerpieces alternated between large glass hurricane vases filled with golden baubles surrounded by dried orange slices, cinnamon sticks and pine cones, and enormous glass pillars topped with the most stunning floral displays curtesy of the incredibly talented Sheryl at Fulford Flowers. Fulford Flowers is the award-winning celebrity florist to Elton John, Celine Dion, ITV's Victoria and the MTV EMA awards, to name but a few. Lucy and Tony's arrangements boasted white roses, signifying love and big blousy white Hydrangeas. The overall effect was breathtaking.
Lucy and Tony were getting married at the stunning York Minster and the bridal party arrived like celebrities, to crowds of people all desperate to see the bride in her dress. The car was a Rolls Royce Silver Wraith, 1948, originally owned by Mr Smith from Smith crisps. It then was used as an Embassy Staff Car in Nairobi in the 50s, and then sold to a museum in America. Cupid Carriages brought it back home and restored it to be part of their luxury wedding cars. Lucy was absolutely stunning in her lace gown, and her bridesmaids, Amy, Katie, Michelle and Elizabeth, looked beautiful in soft grey gowns with fur shrugs.
The newly-weds arrived back at Hornington to a drinks reception in the Gallery, which James Hey piano played festive songs on his white Baby Grand piano. Lucy and Tony joined them, but not before our bride climbed in to the driver's seat of the vintage double decker bus which brought their guests back from the Minster!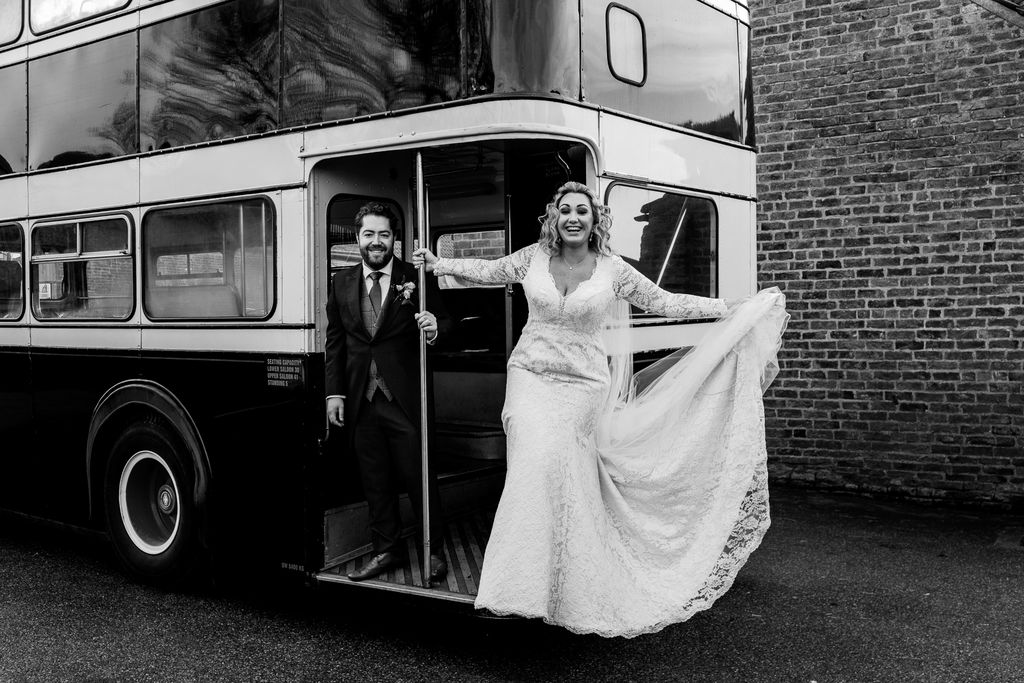 Lucy's dad Paul was first to thank all the guests for joining him and his family in celebrating the wedding or his beautiful daughter and her husband Tony, and he felt an enormous sense of pride looking at them with his granddaughter Neve. Paul told us how Lucy and Tony are made for each other. During their relationship, Lucy went to work in Dubai and Tony came to visit her. When he had left for home, Lucy text her mum to say he hear was broken in two. Unsurprisingly, it wasn't long before Lucy came home too! Tony has good morals and values and said to Paul when he asked for permission to marry his daughter, that even if she said no, he still wouldn't want anyone else.
Tony thanked guests who had travelled far and wide to celebrate with them- as far as Switzerland and Australia. He thanked his Ushers for organising his stag weekend in Malta- it was fantastic, from what he can remember… He gushed at how beautiful his wife looked and reminisced about the crazy year they have had. Luckily Lucy has had plenty of practice looking after a big baby for the past 6 years! Tony said he was so lucky to have such a beautiful, well behaved baby girl who has changed their lives for the better.
Tony and his Best Men, Dave, Rob and Alistair are best friends and have all been each other's Best Men, with Tony being the last to get married. The joked that he only picked 3 Best Men because he was lazy and indecisive, not just because he couldn't possibly pick a favourite! How can anyone not realise that 3 Best Men is 3 times the abuse and embarrassing stories! The trio presented Tony with 'This is Your Life' and shared some hilarious stories from Tony's childhood and their friendship.
Before Lucy and Tony shared their first dance to Maria Carey's 'All I Want for Christmas is You', our bride and her dad treated their guests to an incredible father-daughter dance which started with 'My Girl' and went into and amazing mash-up of tracks and a dance routine that had been rehearsed to perfection! Before long, all the guests were up on their feet, with the help of the Newfangled Jesters who were fantastic. Their photographer John Steel captured the whole day from start to finish and we have used his beautiful images in this blog.
Huge congratulations to Tony, Lucy and their little girl Neve. We hope you had a fantastic first Christmas as the Burtons, and we hope to see you all again soon!
Suppliers on the day…
Photographer
Florist
Hair and Makeup
Transport 
Caterer
Lighting
Photobooth
Band