David and Tilly are the most wonderful, fun loving, gorgeous couple. Their day was full of laughter, from start to finish, and sharing their special day was such an honour.
On the morning of the wedding, Tilly and her Bridesmaids took over the West Wing while they had their hair and makeup done. Tilly had a surprise delivery of two huge boxes, and inside were beautiful 'Wedding Day' balloons which Tilly loved!
Tilly looked absolutely stunning and was soon ready to meet her Groom to say 'I Do'. Sadly, Tilly's dad Howard had passed away, and her uncle Mike had the pleasure and great responsibility of walking his niece down the aisle. There wasn't a dry eye in the room as our beautiful bride made her entrance to 'I Giorni' by Ludivico Einaudi. David's face when he saw his bride for the first time was magical.
The wedding barn looked beautiful, with festoon lights and paper lanterns across the ceiling, candles lining the aisle and gin bottles filled with fairy lights sitting all across the back of the barn.
During the ceremony, their friend Sarah read a piece originally by the poet John Cooper Clarke, adapted by the arctic Monkeys and today brought to life for Tilly and David.
I wanna be yours
I wanna be your vacuum cleaner, breathing your dust.
I wanna be your Audi, I will never rust.
If you like the hockey pack, let me be your centre back,
Tilly drinks the shots, I wanna be yours
I wanna be your raincoat, for those frequent rainy days
I wanna be your uber, when you want to get away.
Let me be your (Cara) Llama, take away any drama
I don't care,
I wanna be yours
I wanna be your electric metre, I will never run out
I wanna be the electric heater, you'll get cold without
I wanna be your setting lotion, hold your hair in deep devotion
Deep as the deep Atlantic Ocean
That's how deep is my devotion.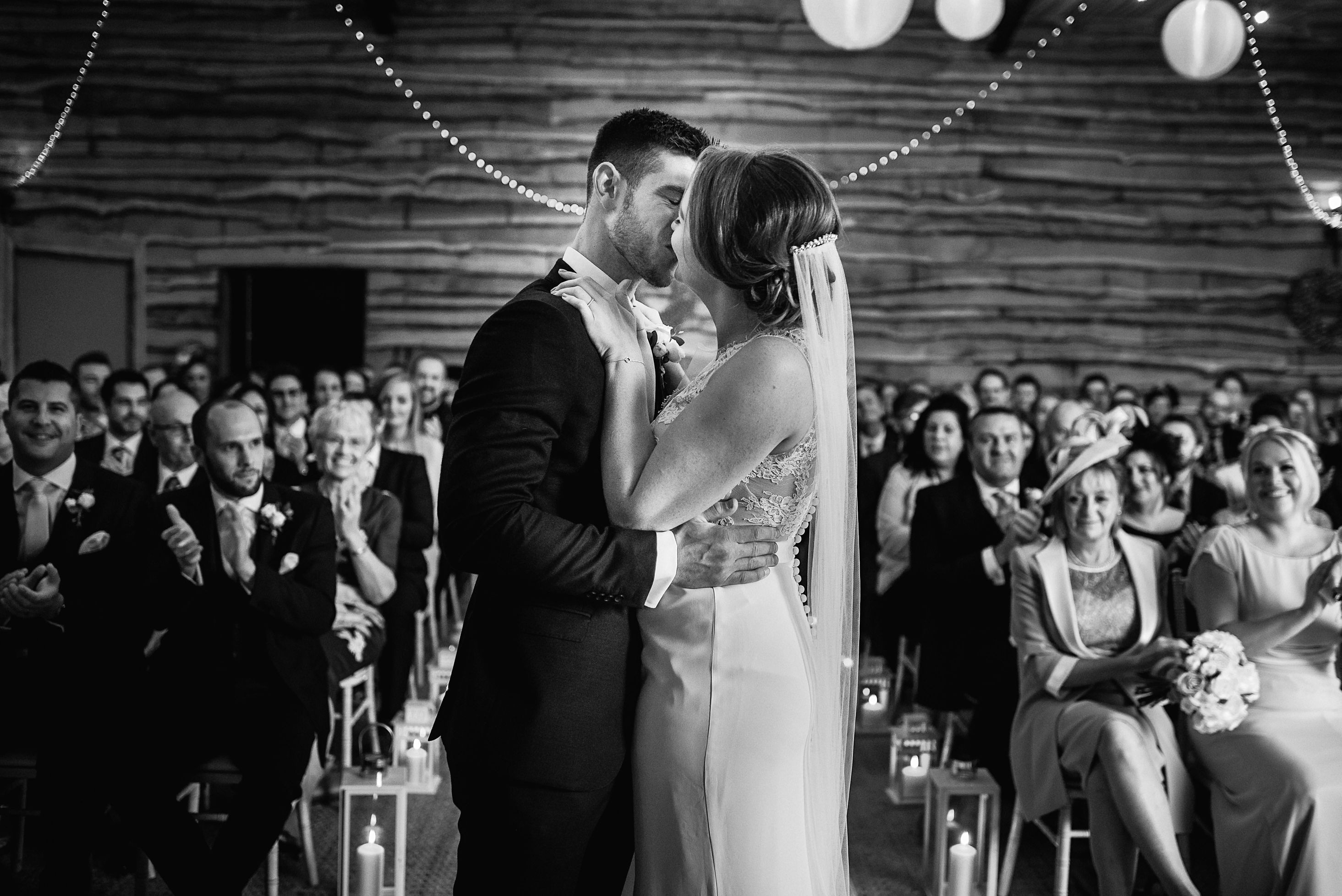 When it was time to re-enter the barn for the Wedding Breakfast and speeches, it had been totally transformed. Each table had vases of beautiful white Hydrangeas sat on top of soft grey table linen. David and Tilly's incredible three-tiered cake by Poppy Pickering took pride of place and was soon joined by Tilly's gorgeous balloons!
Tilly's uncle Mike said it was such an honour to give her away. He fought back the tears walking down the aisle, and he was so grateful she wasn't taller than him in her heels! Then, Tilly's mum Anni surprised everyone, not least her Daughter, by making a speech. Anni told us that no one would have expected her to stand up and say a few words as she was incredibly emotional and nervous. She said that if Tilly's dad had been here today he would have made up anecdotes that he couldn't remember and would have been so proud of the confident woman and beautiful bride his daughter had become. Anni told us all about Tilly's hen do in the dales, walking alpacas in her wellies- it was the best weekend ever.
Tilly's mum welcomed David to the family and revealed that before Tilly and David met, Tilly's mum had asked her to find someone who could use an electric drill. Anni and David first met when he came round with his electric screwdriver and fixed her door! The pair are a perfect match as they both turned up to their first date, which was in March 2012 with 2ft of snow outside, in wellies!
The hardest thing for David when writing his speech, was that he couldn't rehearse it with his biggest critique- Tilly! He thanked Anni and Howard for raising such an incredible woman in his Wife, and apologised to his mum and dad for all the aggravation he has caused them over the years, which is evident in their grey hair! He thanked his Best Men, Karl and Gav for an amazing stag do which he loved, and more importantly, survived.
Tilly and David met on a night out in York and David gushed that he loved her from the moment he saw her. Fast forward 4 years and he was about to ask Anni for her blessing. In hindsight, asking on April Fool's Day wasn't the best idea, but she thankfully said yes. And after a weekend away in Edinburgh, so did Tilly.
Gav and Karl were up next, and they made sure they were reading the correct 'Tilly Approved' draft of their speech! Karl first met David at high school when they were 14 and Gav met David playing Hockey at Uni. He shared a special memory of a night out which involved 4 bottles of beer, 3 wines, 2 pints and a shot. Gav had never seen so much liquid come out of a human before, or since. They revealed that on Daivd's stag, they played a game of 15 questions and David only got 2 right about his future wife- her favourite holiday destination and David's worst habit. This turned out to be not listening, would you believe…! Tilly on the other hand achieved a perfect score! Gav and Karl said David is one of the best lads they know and they couldn't wish for a more perfect bride for their best friend.
After a delicious feast by Friends 4 Dinner and plenty of shots, guests partied the night away and had the best time celebrating their wonderful friends. In truth, no one wanted it to end, and neither did we.
Congratulations David and Tilly and thank you for sharing your incredible day.
Photos by Andy Gaines Photography.
Suppliers on the day…
Caterer
Photographer
Cake
Music
Lights
Photobooth