When Helen and Olly arrived with friends and family in tow on Friday, it was all hands-on deck transforming the Wedding Barn and Gallery for their weekend of celebrations. Olly set to work hanging paper lanterns across the dancefloor and putting up the beautiful copper backdrop he had lovingly made to sit behind the cake. From it hung copper geometric shapes made from paper straws which we thought was genius and looked incredible!
Once this was complete, Olly and his friends started work in the Gallery which was transformed with strings of fairy lights and gorgeous copper hoops which hung from the mezzanine level. Over in the wedding barn, Helen's mum Jane and sisters Claire and Sarah were busy putting together the floral arrangements and table centerpieces. On each table sat an array of tiny test tubes within golden frames, housing one or two beautiful blooms. The table plan was a copper frame with a table for each of the 11 years our Bride and Groom had been together. A photo of the pair from each yea was attached and it was lovely to see how Helen and Olly had changed over the years.
Welcoming the guests to the barn was a display made from wooden wine crates, supplied by Helen's sister who works for Majestic wine. The wedding cake also sat on one of these crates. Once everything was set up, Helen and Olly could relax and get ready for their big day!
The ceremony was being held in the wedding barn. Olly waited patiently for his bride to arrive while Helen was putting the final touches to her perfect bridal look in the West Wing. Her gown was absolutely stunning with gorgeous beaded belt detailing and button down back. During the ceremony, Helen and Olly read out their own vows, promising to support, push, inspire, and above all, love each other. They vowed to be understanding, share in each other's' goals and dream, and trust in each other completely.
Guests enjoyed reception drinks in the twinkly Gallery while their saxophonist played in the background, and before long, it was time to re-enter the barn for the speeches.
Helen's dad Dave, having lived with his wife and 3 daughters for the past few decades, said that being able to speak for a few minutes uninterrupted was a whole new experience for him! Dave gushed how he was an oh so proud father of an oh so beautiful bride. Seeing as Helen and Olly had been together for 11 years, Olly has been an integral part of their family for such a long time. Love blossomed between the two after their college prom, and their union has gone from strength to strength ever since.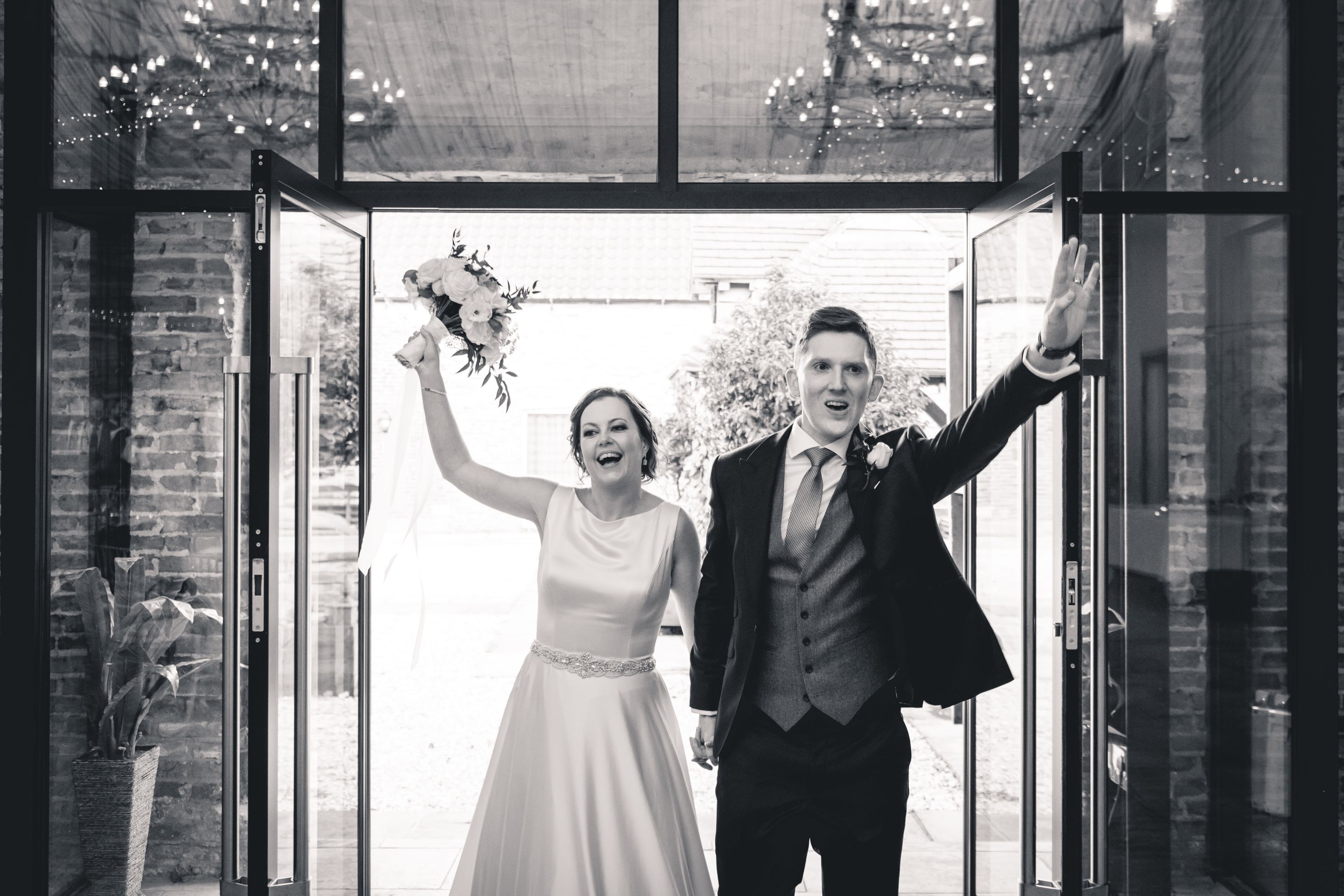 Helen's sisters and bridesmaid Alicia spoke of how Helen is so kind and thoughtful, and how her and Olly are the ultimate power couple of 2018- so perfectly matched as they are both super intelligent and driven. Claire said Helen is the best big sister anyone could ask for, and Sarah said if helen is even half as good as a wife as she is as a sister, she knows the pair will have a perfect marriage.
Olly described his wife as beautiful, glowing, confident and one classy lady! They met aged 17 at college and it was actually Helen who asked Olly on a date, and he is extremely glad she did! After 11 years together, Olly has seen Helen grow into the most amazing woman and he can't wait for the next 11 years, and more, together.
Helen thanked Olly's parents Pam and Mike for raising such an incredible guy in Olly and she is so grateful she has gained such a wonderful family, and she is now officially a Coen. She thanked her own parents for their unconditional love and support, and hoped that she always have and always will make them proud. She thanked her bridesmaids for not being phased over the past 2 years of meticulous wedding planning, and a special thanks to her sisters who are intelligent, thoughtful and beautiful women. She described her husband Olly as such a strong and vital part of her life. His belief in her has never faltered and Helen has always been so honored to stand by his side. She thanked him for finally asking her to marry him!
Toby, Olly's brother and Best Man described himself as the best man, best brother and best person to deliver to home truths about our darling doctor, Olly! As youngsters their main aim was to hurt each other as much as possible without causing any visible harm and getting in trouble by mum and dad! Growing up, Olly used to be a bit of a geek and would always have his head in his favourite science books, and his weekends were spent sitting around the camp fire with his friends from Scouts!
Helen and Olly's first dance was to This Will Be (An Everlasting Love) by Natalie Cole, and we truly think it will be.
Congratulations Mr and Mrs Coen!
Suppliers on the day…
Photographer
Musicians