With the first flurries of Autumn snow we celebrated the first birthday of Isaac Render and the wonderful wedding day of his mum and dad, Catherine and Elliot.
Catherine and Elliot chose our gorgeous Gallery in which to say their vows in front of their nearest and dearest. Our beautiful bride, who wore the most amazing lace culotte jumpsuit, walked down the aisle towards her husband to be to the 'Maps' by Yeah Yeah Yeahs. Throughout the ceremony, little Isaac made himself known and just wanted to be included in his mum and dad's nuptials. Elliot held him and the pair said 'I Do'. It was lovely seeing the family together at such a special moment.
There were some beautiful readings during the ceremony. Felicity read 'The Wonders of Today' by Larry Chengges-
If you can always be as close and happy as today.
Yet be secure enough to grow and change along the way
If you can keep for you alone, your love as man and wife,
Yet find the time to share your joy, with other in your life.
If you can be as one, and walk through marriage hand in hand,
Yet still support the goals and dreams that each of you have planned.
If you can dare to always go your separate ways together,
Then all the wonders of today will stay with you forever.
Paul then read 'Union' by Robert Fulghum
You have known each other from the first glance of acquaintance to this point of commitment.
At some point, you decided to marry.
From that moment of yes, to this moment of yes, indeed, you have been making commitments in an informal way.
All of those conversations that were held in a car, or over a meal, or during long walks – all those conversations that began with, "When we're married", and continued with "I Will' and 'You will' and 'We will' – all those late night talks that included 'someday' and 'somehow' and 'maybe' – and all those promises that are unspoken matters of the heart.
All these common things, and more, are the real process of a wedding.
The symbolic vows that you are about to make are a way of saying to one another, "you know all those things that we've promised, and hoped, and dreamed – well, I meant it all, every word."
Look at one another and remember this moment in time. Before this moment you have been many things to one another – acquaintance, friend, companion, lover, dancing partner, even teacher, for you have learned much from one another these past few years. Shortly you shall say a few words that will take you across a threshold of life, and things between you will never quite be the same.
For after today, you shall say to the world – "This is my husband and this is my wife".
Catherine and Elliot chose to share their own personal vows where they promised to love each other tenderly, support each other with their strength, walk with each other in sorrow and joy, facing life together, wherever it may take them.
Once Mr and Mrs, our newly weds walked down the aisle hand in hand to 'Wouldn't it be Nice' by the Beech Boys and led their guests into the Manor where they enjoyed prosecco, bottled of beer and delicious canapes.
The wedding barn looked beautiful with fairy lights and huge DANCE letters supplied by Event Light and Sound. The tables were decorated with candles and vases of beautiful green foliage. We absolutely loved Catherine and Elliot's seating plan which came in a huge frame and sat on an easel. Guests sitting at each table were listed informally using their nicknames and it was a lovely personal touch.
Miss Friday arrived to set up the beautiful wedding cake and dessert bar which was to serve to most delicious selection of puds later in the evening.
Best Men Rich and Dozey were the first to make a speech. Rich said Elliot had asked him to keep it as short as possible and as the good friend that he is, he was happy to oblige. However, he feared Dozey might be the better friend as he wasn't planning on saying a word! The pair joked about how Elliot is so tight, he wakes up every morning and checks under the bed, in case he might have lost some sleep! Rich described Catherine as beautiful, with a fantastic sense of humour and Elliot is a very lucky man to be marrying her. And joking aside, Rich just knows that Isaac will grow up to be a smashing young man, just like his dad!
Elliot thanked all their guests, especially those who had travelled from as far as Australia and Ireland to join them on their special day. He thanked both his and Catherine's family for all their help and continued support. And finally, he addressed his beautiful wife, saying himself and Isaac have so much to thank her for, and Catherine truly is his soul mate.
Shortly after the speeches, Bears Pantry served up a mouth-watering Spanish Tapas selection including Chicken and Chorizo Empanadas, sweet potato patatas bravas, spatchcock chicken, Shawarma lamb shoulder, and Bear's Famous slaw! It was a feast fit for kings and utterly delicious.
As evening fell, it was clear to see how loved Catherine and Elliot are by all their friends and family and how thrilled each guest was to be sharing their special day. The night was spent singing, dancing, laughing and celebrating the marriage of two wonderful people, and it couldn't have been more perfect. Thank you to Gary Simpson for capturing the day so beautifully and sharing his images with us for this blog.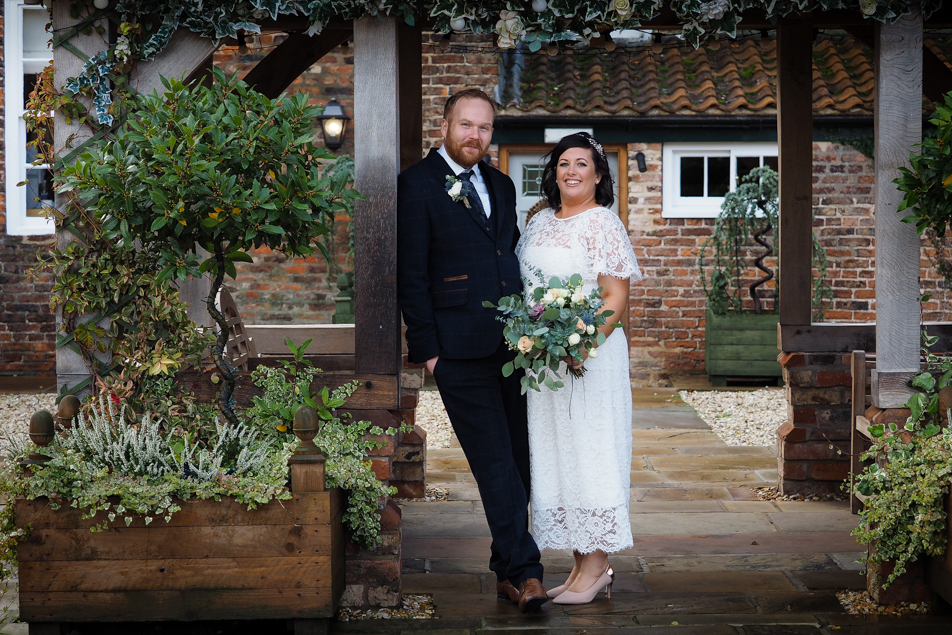 Suppliers on the day…
Photographer
Caterer
Hair
Make-Up
Flowers
Lights
Cake and Dessert Bar
Evening Food
DJ
Bobzilla