Sometimes we just want to relive a wedding again and again- Sally and Peter's was a perfect example. Despite having the most stunning weather ever in November, on Friday night the heavens opened, so they decided to hold their ceremony the following day in the wedding barn, just in case!
Sally's mum had lovingly made twine rings decorated with white flowers which hung for our wooden framed screens and lining the aisle were glass candle lanterns. Bunches of eucalyptus adorned the chairs which filled the barn with an incredible fresh scent and matched Sally's gorgeous bouquet.
Peter and his Groomsmen were extremely dapper, and waited patiently for Sally and her bridesmaids to arrive. Sally looked absolutely stunning. Her gown suited her perfectly with gorgeous lace detailing and a flowing skirt with beautiful train.  Her bridesmaids wore the same shade of taupe but each dress was slightly different and they all looked amazing.
Peter had painstakingly created playlists for each part of the day and Sally walked down the aisle to 'You Send Me' by Sam Cooke. Sally's dad was so proud to be arm in arm with his beautiful daughter and it was lovely to see.
During the ceremony, Sally's Bridesmaid Kaye shared a lovely poem by Mike Garry called 'We Have Everything Today'.
Tonight I just want to paint pictures of you, write poems and songs and novels… all about you.
I'm gonna hold you up so high, you're gonna need a spacesuit.
I wanna walk down the avenues and streets of this town with you by my side… Wake up with you every morning… Fall asleep with you every single night.
I'm gonna carve your face into the side of the rocky mountain sides, then write your name across an empty beach at low tide… Letters ten feet tall and five feet wide.
I love to speak your name aloud simply cos' I love the sound… And it feels like I'm kinda calling you, it feels like I'm kinda talking to you, it feels like I'm trying to break through from across this tide…
I tell you what… Let's live beyond the confines of this world. Let's forget every single thing that we've learnt. Let us dictate how this world must turn.
Let's re-map and re-shape the context of each day.
I tell you what… let's redefine our life, your life, my life, and the fine time… and we will build.
We'll build a mountain for us both to climb. We'll build it higher than they've ever been built before.
And when we reach the top and we look and we see all that we own and all that we survey… we're gonna give it all away… cos we've got love.
So we have everything today… we have everything today. 
After Sally and Peter had become Mr and Mrs, they walked back down the aisle together to the Beatles' 'To Get You Into My Life' and their guests joined them in the courtyard for confetti showers! Reception drinks were held in the Ballroom and we opened our HaHa Baah to guests. Our Hornington's Horny Hemp beer went down a treat!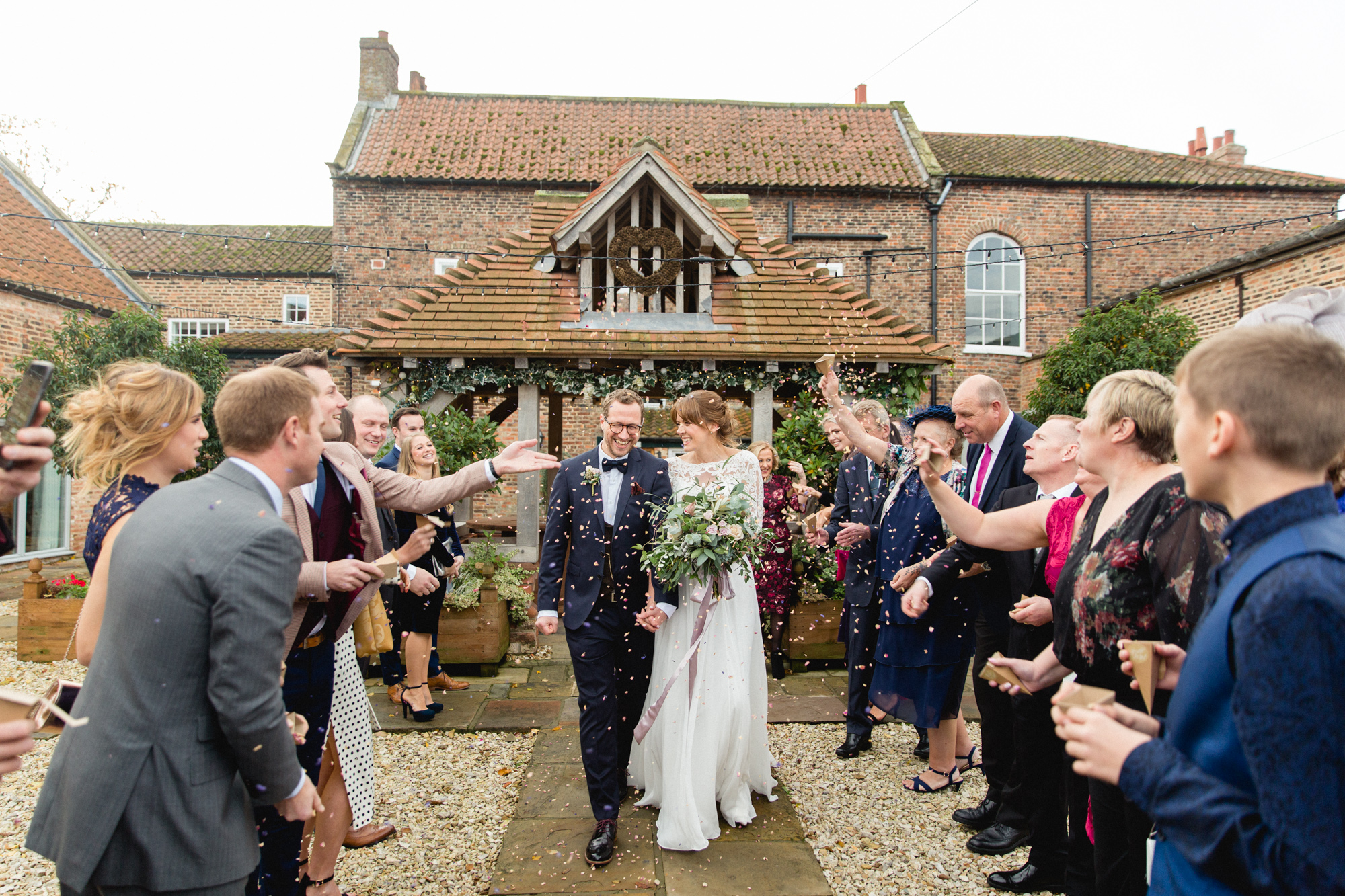 Back in the wedding barn, we had transformed from ceremony to reception and could put the finishing touches to the table centerpieces- the alcohol! Huge silver bowls were filled with ice and alcohol specifically selected by Sally and Peter for each guest which was a lovely touch. Their cake was decorated with more stunning flowers and foliage and tiny little succulents which were also picked out in Sally's bouquet.
Guests left gifts and cards in stacked vintage suitcases and signed their guestbook which took the form of a personalised old hard backed book, filled with Sally and Peter's memories together including tickets from holidays and music gigs they have been to.
Hog and Apple served a delicious choice menu including Sea Bass and Belly Pork, finished with the most incredible chocolate mousse pudding.
Peter, known amongst his friends a Pierre, thanked all their guests, especially those who had travelled from as far as California and London to be there. Peter described Sally as a beautiful person, both inside and out, with an incredible zest for life and adventure. They met 5 years ago and got engaged in Las Vegas. We learned that Pierre was taken to Madrid on his Stag and Sal lived her best life in Ibiza on her Hen, with plenty of prosecco and pool parties. To his bride, Peter finished by saying that they do have everything today in each other, and it feels amazing.
Peter's Best men had put a LOT of time and effort into their speech and had prepared a slideshow, opening with baby photos of both the Bride and Groom. What followed was a hilarious compilation of Peter's best moments including some dodgy dancing and that time he threw up in the kitchen sink… Their speech came to an end with clips with messages from all of their friends. Sally's friends easily described her as the most beautiful bride, the most lovely and bubbly person who will make an incredible wife as Mrs FB. Peter's friends hilariously found it a little harder to think of anything nice to say about our Groom, but joking aside, admitted he is the kindest most loyal and optimistic friend who is proper, belly laugh funny.
Sally's sister Katie described their family as always being so close and the following quote summed them up perfectly- 'There is no better friend than a sister, and no better sister than you.' There are so many reasons that Katie loves her sister so much, including but not limited to her famous mud pies, how she makes up her own words to songs, how she always wanted to be a Morris dancer growing up and her undying love for Mary Poppins, Grease and Dirty Dancing. Katie couldn't think of a better person than Peter to be joining their family. Peter is 'Practically Perfect in Every Way' and Sal, well she is simply 'Supercalifragilisticexpialidocious'!
As evening fell, the fire pit in the courtyard was lit and the Whiskey and Cigar Bar was set up under the lychgate. Guests roasted marshmallows on the fire and made delicious smores while snuggled under blankets. The Brilliant Jimmy and the Jets entertained guests all night while Hog and Apple made sure everyone was refueled with pizza and hotdogs! The night was full of love, laughter and lots and lots of dancing and we absolutely loved it!
Congratulations the first and brand new Mr and Mrs Featherstone-Barrett, Sal and Pierre.
Suppliers on the day…
Caterers
Cake
Band
Photographer
Lighting/dance floor
Florist
Wedding/Bridesmaid dresss:
Stationary/ Vinyl signage
Hair
Make up