On a beautiful warm and sunny October day, our Bride and Groom, Sadie and Ben, were preparing for the best day of their lives. Sadie looked radiant, and her Dad said she glowed with happiness, in her beautiful gown which was the first one she tried on in the shop. She went on to try 8 others but simply knew that the first dress was "The One", even though the style was everything she thought she didn't want!
While making her way to the courtyard where she would meet her Groom for the ceremony, Stuart one of our pet lambs from earlier this year at Spring time, desperately wanted to wish the bride good luck before she walked down the aisle. He made such a fuss bleating as she walked past that the bridal party had to stop for photographs with him, whilst poor Ben was waiting in the lychgate! A harpist played Sadie down the aisle beautifully as all the guests were mesmerised.
During the ceremony, we heard some beautiful readings by both Ben and Sadie's mums.
'If you don't mind
I'd like to join you by your side, where we could gaze into the stars
And sit together now and forever
For it is plain as anyone could see, we're simply meant to be'
'You can give without loving, but you can never love without giving. The great acts of love are done by those who are habitually performing small acts of kindness. We pardon to the extent that we love. Love is knowing that even when you are alone, you will never be lonely again. And great happiness of life is the conviction that we are loved. Loved by ourselves. And even loved in spite of ourselves.'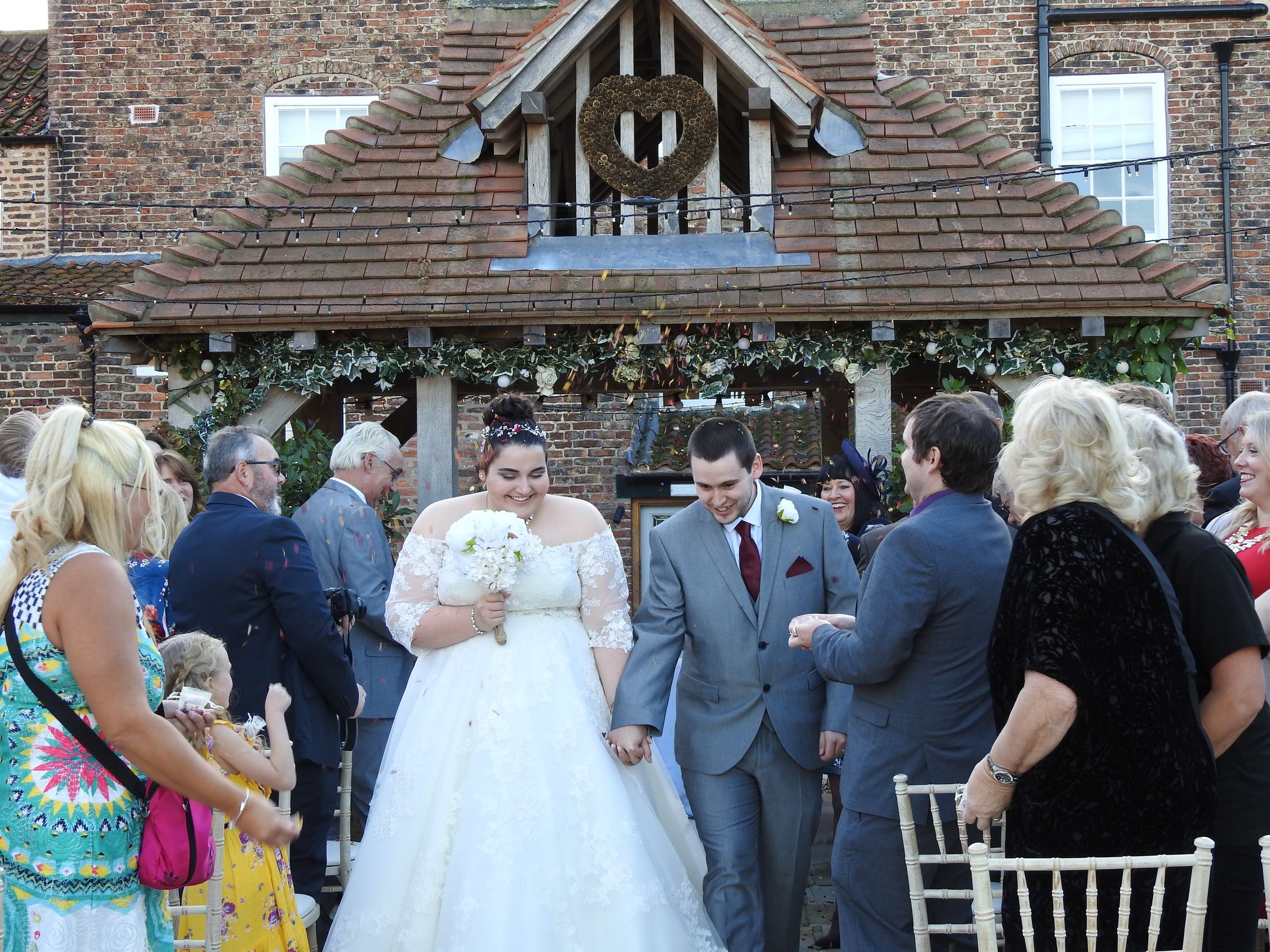 Sadie's bridesmaids looked stunning in claret red gowns which complemented the autumnal colours in the wedding barn. Brilliant orange and red leaves on the tables were highlighted the pillar candles in kilner jars as centre pieces. Ben and Sadie must have royal standards as their three-tiered wedding cake was similar in style and design to that of Princess Eugene's!
Once seated in the wedding barn, Sadie's dad Brian had written a lovely poem for his daughter, as he didn't like speaking. He talked of the second born love of his life and how he couldn't believe how quickly she had gone from little feet and Sesame Street to a beautiful wedding gown!
Sadie's Maid of Honour Jenny spoke emotionally of how Sadie had always been there for her and could always be counted on. Jenny said it makes her so happy to see Ben and Sadie together.
Ben's Best Man and brother Adam told us how Ben had worked so hard in his career to become a Biomedical Scientist, however in his childhood he had a promising start as an actor in the school play 'Oliver'! Adam is so proud of his brother and was thrilled to welcome Sadie into the family.
On behalf of himself and his brand new wife, Ben thanked all of their family and friends (who are more like family) for sharing their special day. He thanked the whole Hornington Team for our help and hard work, which was lovely. A special thanks went to Peter, Ben's Uncle who was also photographing their wedding- guests were told to get their photo taken as soon as possible as Peter had vowed not to have a drink until he has captured everyone!
Ben's dad had sadly passed away, but was certainly there in spirit- Ben had carried his wedding ring in his suit pocket all day.
Ben spoke so highly of his beautiful wife Sadie. He knew it was meant to be when they had both received the same video game for Christmas. Without discussion, the pair found themselves playing the same game, in the same room, one on X-Box, one on PlayStation! Together they have shared amazing times together and he cannot imagine his life without her. Over the past 3 ½ years Sadie and Ben have been living together, they have only spent 4 nights apart, 3 of which are made up from Sadie's hen-do and the night before the wedding!
At one point, 8 children all ran in to the courtyard excitedly as a turtle dove had fallen from our Servant's Quarter kitchen. We gathered the poor little frightened bird and released it into the orchard. It was quite apt really as our gift for Sadie and Ben, was a beautifully hand painted vase with turtle doves on.
Celebrations continued throughout the evening to a backdrop of rock music, with Bowie a particular favourite of our Bride. Soon enough Ben and Sadie had changed out of their wedding wear and into their comfy clothes so they could really let their hair down and dance the night away!
It was a pleasure to host Sadie and Ben's wedding weekend and from all the Hornington Team, we wish you a lifetime of happiness!
Suppliers on the day…
Catering
Wedding Stationary
White Cottage Weddings of York
Cake
DJ and Magic Mirror
Photography
Peter Williamson (Ben's Uncle)
Harpist
Jessica Louise via Alive Network
Hair
Make up
Rebecca and team
Wedding Dress
Bridesmaids' dresses
Rings
Tresor (Crete)