Why have just one day of wedding celebrations when you could have two? This is exactly what Tony and Sarah thought when they booked Hornington for their dream wedding. Sarah and Tony decided to hold their actual wedding ceremony on the Tuesday, surrounded by their absolute nearest and dearest who were all staying in the Manor. The sun was shining and Tony, his Best Man Troy and their family and friends waited patiently for Sarah to make her way down the aisle, arm in arm with her dad, followed by her beautiful Bridesmaids and little girl.
Sarah looked absolutely stunning- her blush pink gown was adorned with intricate lace and sparkle detail and her plaited updo was perfect with the Bardot style neckline of her dress. Sarah and her Bridesmaid's bouquets were lovingly made by their very talented friends Kerry and Sally. Sarah's sister and Bridesmaid Carley read out a beautiful passage during the ceremony.
'He's not perfect. You aren't either, and the two of you will never be perfect. But if he can make you laugh at least once, causes you to think twice, and if he admits to being human and making mistakes, hold onto him and give him the most you can. He isn't going to quote poetry, he's not thinking about you every moment, but he will give you a part of him that he knows you could break. Don't hurt him, don't change him, and don't expect for more than he can give. Don't analyse. Smile when he makes you happy, yell when he makes you mad, and miss him when he's not there. Love hard when there is love to be had. Because perfect guys don't exist, but there's always one guy who's perfect for you.'
Once the ceremony was complete, guests made their way to the front lawn where they sat in the sunshine and enjoyed drinks served form our Ha Ha Baah. The children played lawn games and Michael Mulholland serenaded the guests until it was too dark for him to see his guitar! The afternoon was glorious and everyone changed out of their wedding outfits into shorts and t-shirts for a relaxed evening of eating, drinking and being merry! Taste Cuisine served up an amazing BBQ feast which went down a treat, and there was such a lovely atmosphere.
The following day, it was time for the second part of the wedding celebrations. Sarah and Tony transformed back into Bride and Groom (what a fab way to get the most out of your wedding dress!) and welcomed more friends and family to Hornington for reception drinks on the front lawn. After lashings of prosecco and Peroni, guests made their way to the wedding barn which was absolutely stunning. The table cloths were a subtle pink velvet, which complemented Sarah's dress perfectly, and the centerpieces were stunning copper towers, topped with the most incredible floral displays curtesy of Natasha Jane Events. Each guest had a little 'Drink Me' bottle as a favour which was a lovely touch. The table plan, as provided by friends Kirsty and Jim, was a beautiful ornate mirror which sat on a gorgeous antique looking stand, and welcomed guests as they took their seats.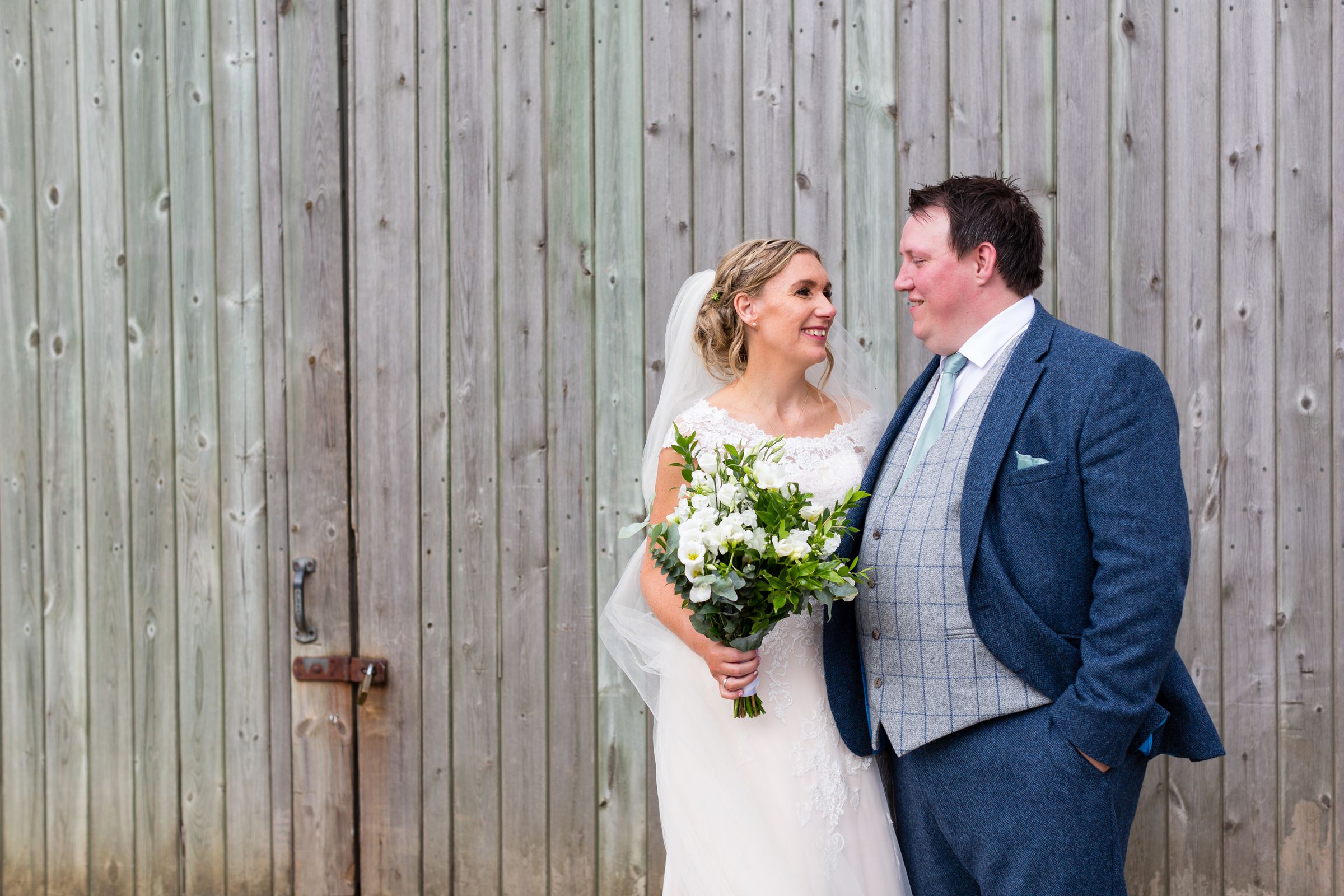 The speeches were first and Tony thanked Sarah's parents for their daughter, who he knows will be the most fantastic wife. He thanked his parents for the wonderful cake make lovingly by his mum, and on Sarah's behalf, for creating such a wonderful human!
He thanked his ushers for an incredible Stag do in Dusseldorf and confidently stated that there was nothing his Best Man Troy could say or do during his speech that would embarrass him more than the stag!
And most importantly, he thanked his beautiful wife Sarah. He had to try very hard to catch her but they are the most perfect pair and complement each other so well. Tony said he couldn't be any luckier to have the best person by his side for the rest of his life.
Soon is was time for Best Man Troy to take centre stage with a speech he had planned down to the finest detail! He strutted his stuff to 'Here Comes the Hotstepper' as he made his way to the projection on the back wall. His speech was packed with hilarious photos of groom 'Tosh' and the gang, and brilliant evidence of the Stag Do (to be exact, Tony dressed as Elsa from Frozen, complete with wig- although they had to cut the arms off the costume to make it fit!) He told us how Tony and Sarah met way back in 2006 in Jake's Bar in Leeds and it just so happened to be Sarah's birthday. She spotted Tony at the bar and asked if he might buy her a drink, to which he replied 'I don't buy drinks for girls who ask!' Luckily the pair hit it off and the rest is history!
As the group tucked in to their wedding breakfast, Hannah Rockcliffe sang and played piano beautifully.
Evening fell and the party began! The children were being entertained by Cheeky Chops Childcare in the Gallery so the adults could really let their hair down. The Soultones band were brilliant and got everyone up and on their feet!
We had such an amazing couple of days celebrating with Sarah and Tony and making sure their wedding was everything they had dreamed of. We wish you all the happiness for the future and hope you will come back and visit us again soon!
Suppliers on the day…
Photographer
Caterers
Flowers
Hair and Make-up
Musicians
Creche