Josh and Georgina had booked their dream wedding at Hornington over two years ago but shortly after, moved to Essex, so all of their planning and preparation was done across country!
Their beautiful wedding was held in September, just as Summer gave way to Autumn and the ivy on the Manor began turning from lush green into vibrant red. Their photographer Jamie McElderry captured their day perfectly and we have featured his images on this blog.
As so many of our Brides and Grooms do, Josh and Georgina fell in love with Bolton Percy All Saints church, and can you blame them, it is stunning! On the morning of their wedding, our Bride to be spent the morning being pampered in the West Wing. Georgina chose a simple and classy pony which showed off the neckline of her gown perfectly.
Before she left for church, she was presented with a beautiful gift from her dad, of a stunning Swarovski crystal bracelet which came with a little surprise in the box- a photo of them both when Georgina was a little girl, with the message 'I loved you first' on the back.
Josh awaited his beautiful bride at the church and Georgina arrived ever so slightly fashionably late which is absolutely ok when you're the Bride! After the ceremony was complete, the new Mr and Mrs Tarn made their way back to Hornington in a gorgeous vintage cream VW camper van decorated with blooms and personailsed ribbon.
The wedding barn looked amazing! Georgina is an interior designer so we always knew her vision would be executed perfectly. On each table sat a beautiful geometric candelabra entwined with ivy. Each place setting was marked with tiny wooden names of each guest and on the top table sat stunning white orchids which tied in perfectly with Georgina's bouquet. behind the top table were 3 hoops decorated with beautiful blooms, which looked stunning against the rustic brick of the barn.
The amazing Barn Bakery provided two stunning desserts- a beautiful cake cascading with flowers and macarons, and an incredible initial cookie cakes decorated with fresh fruit and tiny meringues.
The new Mr and Mrs Tarn danced to Ella Eyre's 'I Came Here for Love' under a huge confetti cannon surrounded by their loved ones.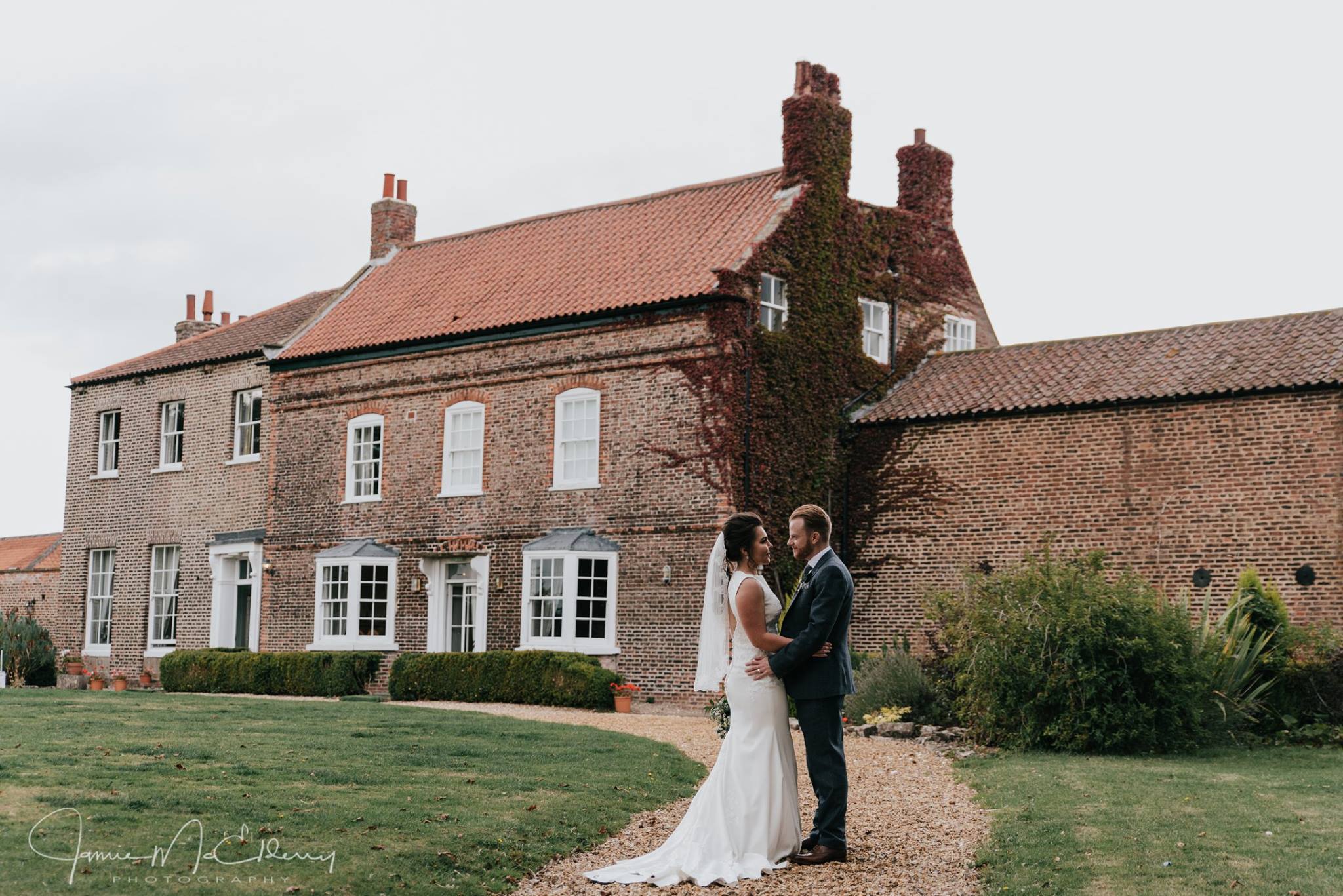 Huge congratulations to Josh and Georgina who jetted off on their honeymoon to the Maldives on leaving us after a whole weekend of celebrations! We wish you a lifetime of happiness.
Supplers on the day…
Photographer
Caterer
Hair
Makeup
Florist
Julia Mitchinson
Cake
Band
Youns Souls (Jonny Ross Music)
Wedding Car