After the recent storms from Hurricanes Helene and Florence, the sunrise on the morning of Matt and Anna's wedding was truly spectacular. The colours perfectly matched the vivid reds, pinks and soft ambers of Anna's wedding bouquets.
These beautiful blooms also adorned the archway framing the rolling countryside on the front lawn, where Anna and Matt chose to say their vows. Anna watched from the West Wing as her guests and husband-to-be took their seats. Anna looked absolutely stunning. Her gown was beautiful and she was absolutely radiant. Anna and Matt's dear friends Dan and Danny were the first to walk down the aisle and made everyone laugh as they skipped down in a Morecombe and Wise styled comedy sketch, throwing confetti as they went. Anna walked down the aisle to 'So Close' from the movie Enchanted, arm in arm with her dad.
During the ceremony, Dan read an extract from the Owl and the Pussycat, Zoe read an extract from Winnie the Pooh and Katie shared the flowing reading-
"You can give without loving, but you can never love without giving.
The great acts of love are done by those who are habitually performing small acts of kindness.
We pardon to the extent that we love.
Love is knowing that even when you are alone, you will never be lonely again.
And great happiness of life is the conviction that we are loved.
Loved for ourselves. And even in spite of ourselves."
After the ceremony, an ice cream van was waiting in the courtyard and served amazing canapes of sweet loveliness and such a fun start to the wedding breakfast.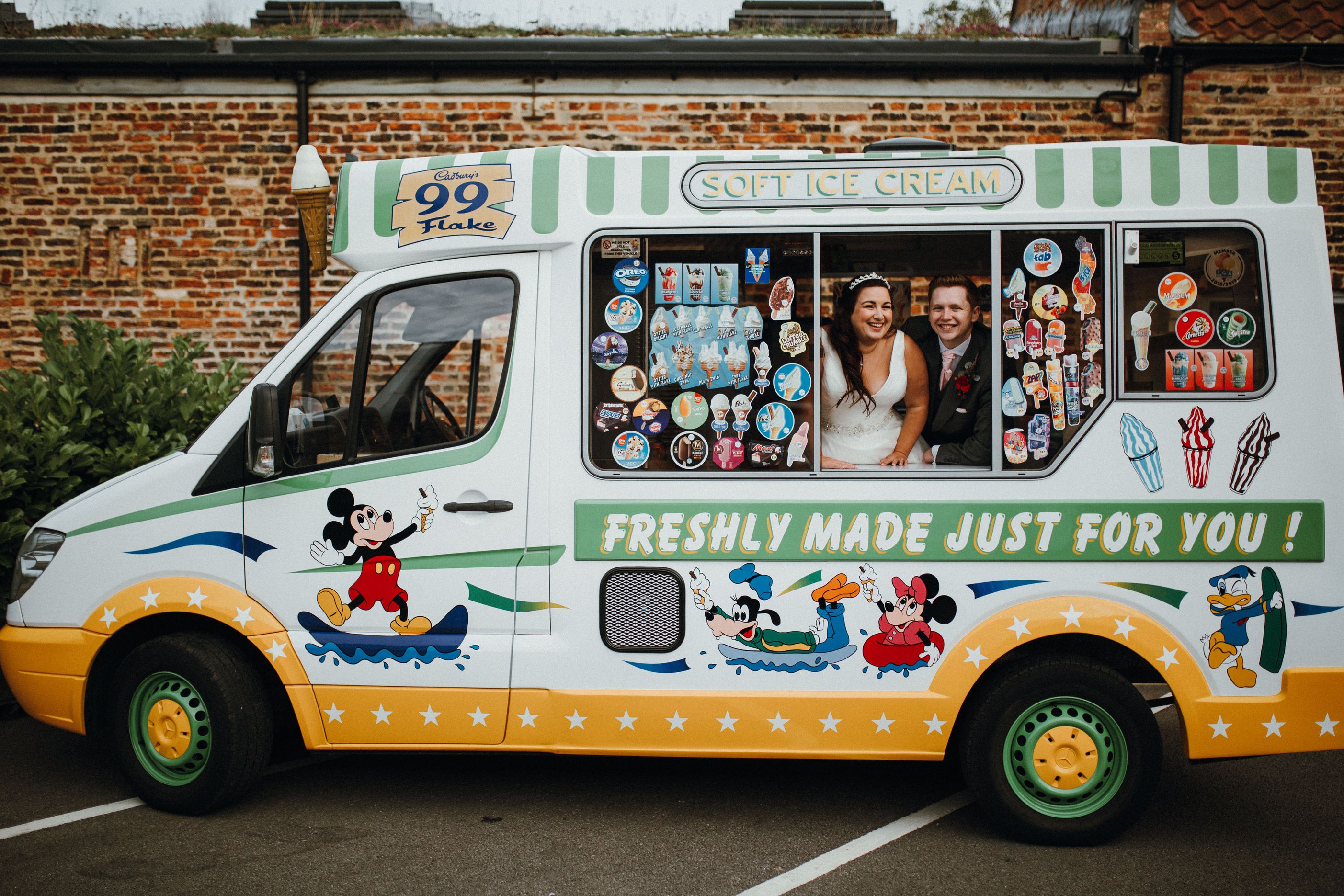 The wedding barn looked beautiful. Gorgeous twinkling fairy lights lit up the dancefloor accompanied by huge, rustic light up LOVE letters. Each table was named after a different city the pair had visited together and their seating plan listed all their guests in alphabetical order, with a tiny illustration of the famous landmark from the particular city their table was named after. It was a lovely idea and something we haven't seen before!
Anna's dad spoke beautifully about his lovely daughter and the kind of person she was and is today.
He wheeled out a shopping trolley with a gift for his new son-in-law which was a giant bag of Yorkshire Tea and said that Matt may need the trolley for Anna a little later on in the evening! Anna's dad revealed some unspoken truths of a family holiday in Sweden, when Anna had discovered alcohol for the first time…
Matt started his speech with wonderful words of his beautiful wife and soul mate, words reminiscent of Zoe's reading from during the ceremony- "If you live to be a hundred, I want to live to be a hundred minus one day so I never have to live without you".
Matt knew it was love instantly, having spotted Anna at University, his next encounter was in York when Anna nearly ran him over. Matt and Anna started dating on this very day 4 years ago, so when they came to Hornington Manor and their special date was free, they knew they had to book.
Matt presented his Best Man Danny, Groomsmen Chris and Lukas, father and father in-law with a lovely commemorative hipflask.
Anna made a speech in which she thanked her best man Dan who she met 10 years ago at theatrical college, and Emma and Sophie her bridesmaids. Best Man Danny spoke of his friends who bounce off each other with charisma and wit, and who bring out the absolute best in each other.
After cutting their beautiful naked wedding cake, Matt and Anna's first dance was to 'Bless the Broken Road'. Anna's dad said that he would buy a drink for the person that could guess what film this song came from! Any guesses?
As evening fell, guests partied the night away and stopped only for fish and chips in the courtyard and a turn in the photobooth! Huge thanak you to Leah Lomardi fro sharing her stunning images of Matt and Anna's day.
Huge congratulations to Matt and Anna, who are both such wonderful people and deserve all the happiness in the world.
Suppliers on the day…
Photographer
Ice Cream Van
Florist
Make Up and Hair
Cake
Catering
Lighting and Sound
Evening Photographer and Photobooth
Evening Music