When we talk about Hornington being a DIY venue, Bride and Groom Amy and Chris took this, and really rolled with it for their wedding back in August. Amy's dad had been very hard at work for months and months before the wedding, lovingly cultivating gorgeous flowering plants, and timing it meticulously so they were all in beautiful bloom for the big day. The back wall in the wedding barn was lined with potted flowers and various gin bottles filled with hydrangeas.
Chris and Amy's love of gin was incorporated into table plan, with each table being named after a different bottle of gin, with matching bottles at the centre of each table. The gin bottles and hand decorated mason jars filled with the most stunning, delicate flowers sat upon wooden boards crafted by Amy's dad from her grandma's shed when they dismantled it. Their cake was so unusual, but boy, was it delicious! It was a four-tiered glittery caramel rice crispy masterpiece and we could have eaten the whole thing!
Their guestbook, lovingly made by Chris, was a gorgeous wooden framed wire structure with names of each guest pegged to it. They had to replace their name tag with a polaroid photo taken on the day which was a lovely touch. Amy and Chris' beloved dog Bramble had his photo and paw print on there too!
It was a beautiful August day and Amy was getting ready with her bridesmaids in the Manor while Chris and their guests took their seats for the ceremony in the courtyard. Amy looked absolutely stunning in her lace gown. And her bridesmaids sparkled in the sunshine. The ceremony was lovely and their brilliant photographer Mark Newton captured the whole thing beautifully. Thank you for sharing your gorgeous images!
Guests moved onto the front lawn for beers in the sunshine, and delicious canapes from Annika's Apron. They went on to serve afternoon tea in the wedding barn and it was wonderful!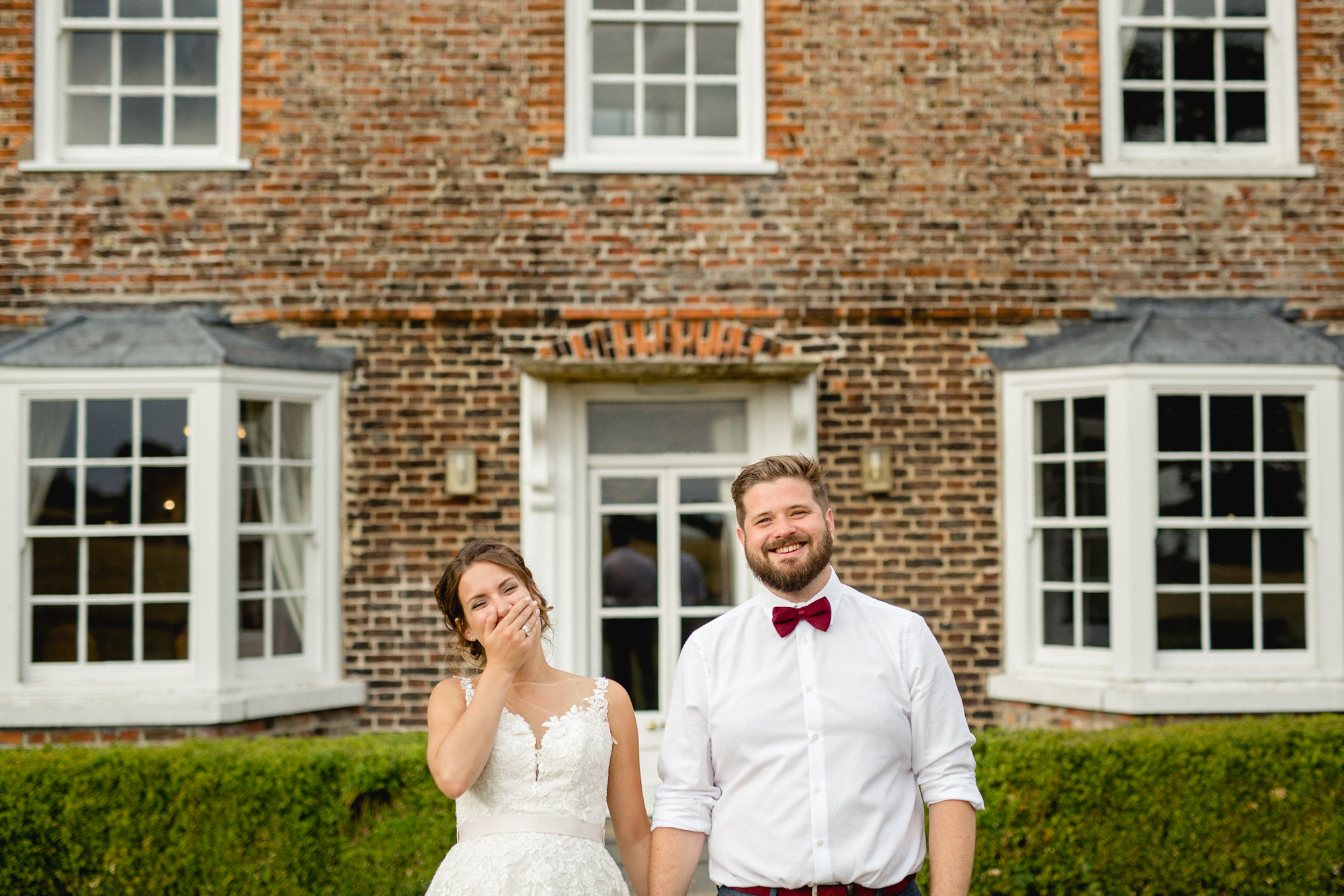 During the speeches, Amy's Dad welcomed guests who had travelled from all over the world to celebrate his daughter and new son-in-law's special day. They had lit a candle for any loved ones who could not attend but were there in spirit. Chris kept his speech short but sweet, so as not to lose anyone's attention! He should never forget his anniversary as it is now the same date as his Brother's wedding- Nick and Lauren. Chris described his bride as loving, thoughtful, and most importantly, fit!
Chris and his Best Man Nick met over 20 years ago at primary school and have been the best of friends ever since! They even went to university in Newcastle together.
Amy and Chris had set up a DIY photobooth outside in the courtyard with their camera on a tri-pod on self-timer- It was a real hit with the guests!
As evening fell, El Kantina set up in the courtyard, serving delicious nachos, burritos and enchiladas! Their band, Jackson Kay, entertained the guests all evening and you couldn't stop the dancing! 
Chris and Amy are such a wonderful couple and we loved being part of their day. They were kind enough to drop us our very own mini rice crispy wedding cake (which didn't last long, let me tell you) and some beautiful homemade shortbread as a thank you which was so lovely.
We wish Mr and Mrs Warnett the happiest of futures together.
Suppliers on the day…
Photographer
Hair Stylist
Make Up Artist
Elise Wood (family friend)
Caterers
Band