Laura and James had been planning their dream wedding at Hornington for at least 2 years, so we were all very excited when their date came around and they arrived to set up for their special day!
Both Laura and James are huge film fans and they incorporated their shared love into their day fantastically. Firstly, each table was named after one of their favourite films, including Jurassic Park, Harry Potter, Guardians of the Galaxy and Greece. The centerpieces were made up of props from each film which Laura and James had sourced from far and wide- the glasses on the Harry Potter table came from China and they were actually prescription lenses! Along the back wainy board wall, beautiful film posters matching up to each table had been expertly hung by Laura and James' friends and the flowers on each table were sat in little popcorn cartons which was such a lovely touch.
The film theme didn't end there. Unbeknownst to James, Laura was walking down the aisle to the 'Imperial March' from Star Wars and as an extra surprise to Laura, her stepfather Lionel walked in to greet her on the morning of the wedding wearing a Darth Vader mask!
James and his friends had a very important job the day before the wedding- putting together the enormous wooden pallet structure which was to sit at the end of the aisle in the gallery. It was a struggle fitting it through the doors but once we got around that issue, it looked absolutely stunning and was decorated with bunches of beautiful flowers.
During the ceremony, Laura Grandfather read out a beautiful poem he had written for the bride and groom and he just about managed to hold back the tears!
'Today is a day you will always remember, the greatest day in anyone's life.
You will start off the day just two people in love, and end it as man and wife.
It's a brand-new beginning, the start of a journey, with moments to treasure and cherish.
Although there will be times when you both disagree, these will surely be outweighed by pleasure.
You'll have heard many words of advice in the past, when the secrets of marriage are spoken,
But you know the answers lie inside, where the bond of true love lies unbroken.
So live happy, forever, as lovers and friends, it's the dawn of a new life for you,
As you stand there together with love in your eyes, from the moment you whisper 'I Do'.
With luck, all your hopes and your dreams can be real, may success find its way into your hearts.
Tomorrow can bring you the greatest of joys, but today is the day it all starts.'
Laura and James had written their own vows and they were just beautiful to hear.
Guests made their way to the front lawn and formed a long confetti walkway for the new Mr and Mrs and everyone enjoyed pimms, beers and cava in the sunshine.
When guests made their way into the wedding barn, it was time for the speeches and Lionel was up first. He kicked off his speech with a game of higher or lower and asked everybody to stand and join in. Hands on head for higher, and hands on bums for lower. Seeing as Laura and James love films so much, he based his questions on the big screen as well as Laura and James' relationship. One question was how many days have the newly-weds known each other and the answer was 1958 days! The overall winners were given a box of chocolates and it was such a fun way to kick start the speeches.
Lionel described Laura as his beauty, his pleasure and his pride and said she looked absolutely stunning which we wholeheartedly agree with. As a surprise, Lionel presented Laura with a number of framed film posters which captured certain moments in her life including 'Love Story' for when she met James, 'Baby Face' as James has been blessed with youthful looks, and 'Magnificent 7' which represented the Stag do in Germany.
Finally, and most importantly, the last poster was extra special. The first film Laura saw at aged 2 was Disney's 'The Little Mermaid' and as a momento of their special day, Lionel had had a custom poster of the Little Mermaid made with Laura and James' names and their wedding date. He presented it to Laura as she has always wanted to be a mermaid and now she is.
Laura spoke a few words and thanked all their friends and family for celebrating their special day with them. In a time-honored tradition, she presented Lionel with a pint of Guinness to toast to Lionel's beloved friend Shane who had sadly passed away and who was dearly missed. Laura spoke of how her and James first met at an event at the Natural History Museum and she saw a Navy-blue vision from across the room. After much time and wine later, she gained the courage to speak to him and the following day Laura planned on messaging James saying it was lovely to meet you and I hope you had a great night. But James messaged her on Facebook first saying it was lovely to meet you and I hope you had a great night! Fast forward to today and Laura is so proud to be James' wife and inherit his amazing family. She also didn't think it was possible to find someone her own family love so much.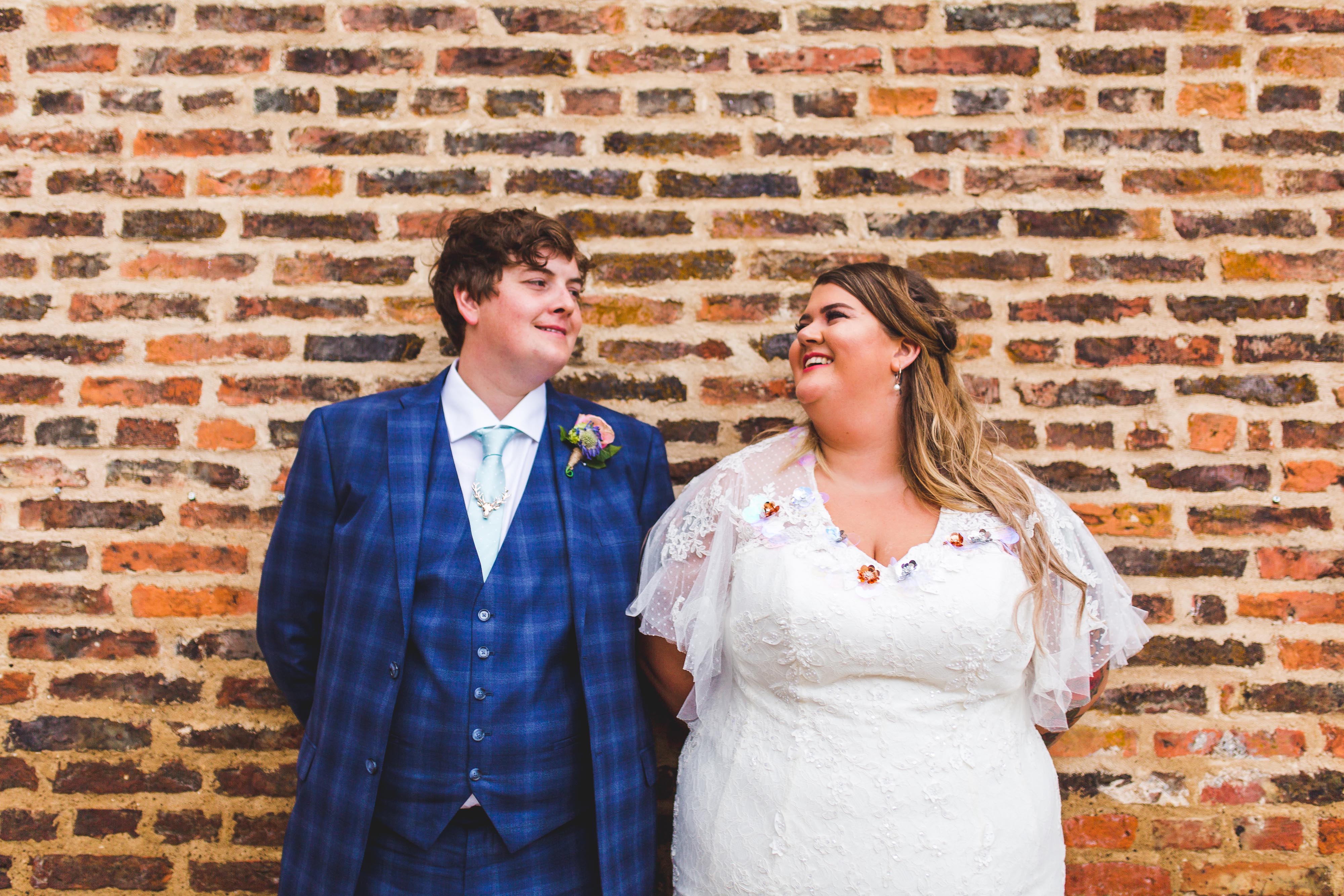 James spoke lovingly of his new wife Laura, and how she reminds him every day that life is meant to be lived. Their love in unequivocal, their friendship rock solid, and their future set in stone. It is James' honour to call Laura his wife and he thinks she is the most beautiful princess of them all. 
As evening fell, Duke's Pizza set up in the courtyard and Bliss Booth entertained the guests with their magic mirror all night long.
It was such a fantastic evening of celebrations and we are so thrilled to have been a part of it. Laura and James, we wish you all the best for your future together and we know you will both live happily ever after.
Suppliers on the day…
Photographer
Cake
Photo Booth
Evening Food