Emma and Rob's wedding was an absolute dream. Whisked away to Bolton Percy All Saints Church in a beautiful vintage bus were all of Emma's nearest and dearest and patiently awaiting his Brides arrival was our Groom Rob.
Emma and her Bridesmaids took over the West Wing on the morning of the wedding. The Bridesmaids were dressed in gorgeous duck egg blue gowns with lace details and Emma's lace gown with delicate back detailing was truly stunning.
The newlyweds returned in a beautiful vintage Rolls Royce and went straight through to the front lawn where we had Hornington 75 gin cocktails at the ready, along with a mixture of lawn games and perfect Instagram posing spots! Their photographer Chris Milner captured some stunning shots of the couple around the Hornington Manor grounds and he was kind enough to share them with us for this blog.
The wedding barn looked amazing- Emma, Rob and their friends and family had spent so much time and effort planning and executing every detail. Each table was named after streets in and around York which had sentimental value to the couple, and their table plan was a map of York, with each street marked on it. The centerpieces were beautiful and put together by Ducks and Daffodils. Each table had a little bucket with some question cards for the guests to fill out asking for date ideas and what the pair should call their dog which was a lovely touch. The signposts for the day were hand crafted by Rob and their guestbook was a beautiful wooden board with their initials painted on. Their gorgeous cake, baked by Miss Friday sat proudly at the entrance and greeted guests as they arrived!
When all the guests were seated, it was time for the speeches. Emma's dad was up first and, being a pilot, he addressed the room as if they were all passengers on his flight! He said his daughter looks like a true princess and revealed how he was under strict instruction not to embarrass Emma, but once he got on to the dance floor, he couldn't promise anything. He has heard of a new dance move called 'Flossing'…
Emma's favourite things consist of Gary Barlow, Tom Hanks and Mini Eggs. Her dislike is spiders (we are with you on that one Emma!). He then spoke about Rob, his new son-in-law. His main likes are cricket, hockey and golf. Emma's dad spoke of how Rob is such a decent, caring, honest guy who had found the perfect young lady in his daughter and he is so proud. He presented Rob with a get out of jail card, just in case- a bag of mini eggs!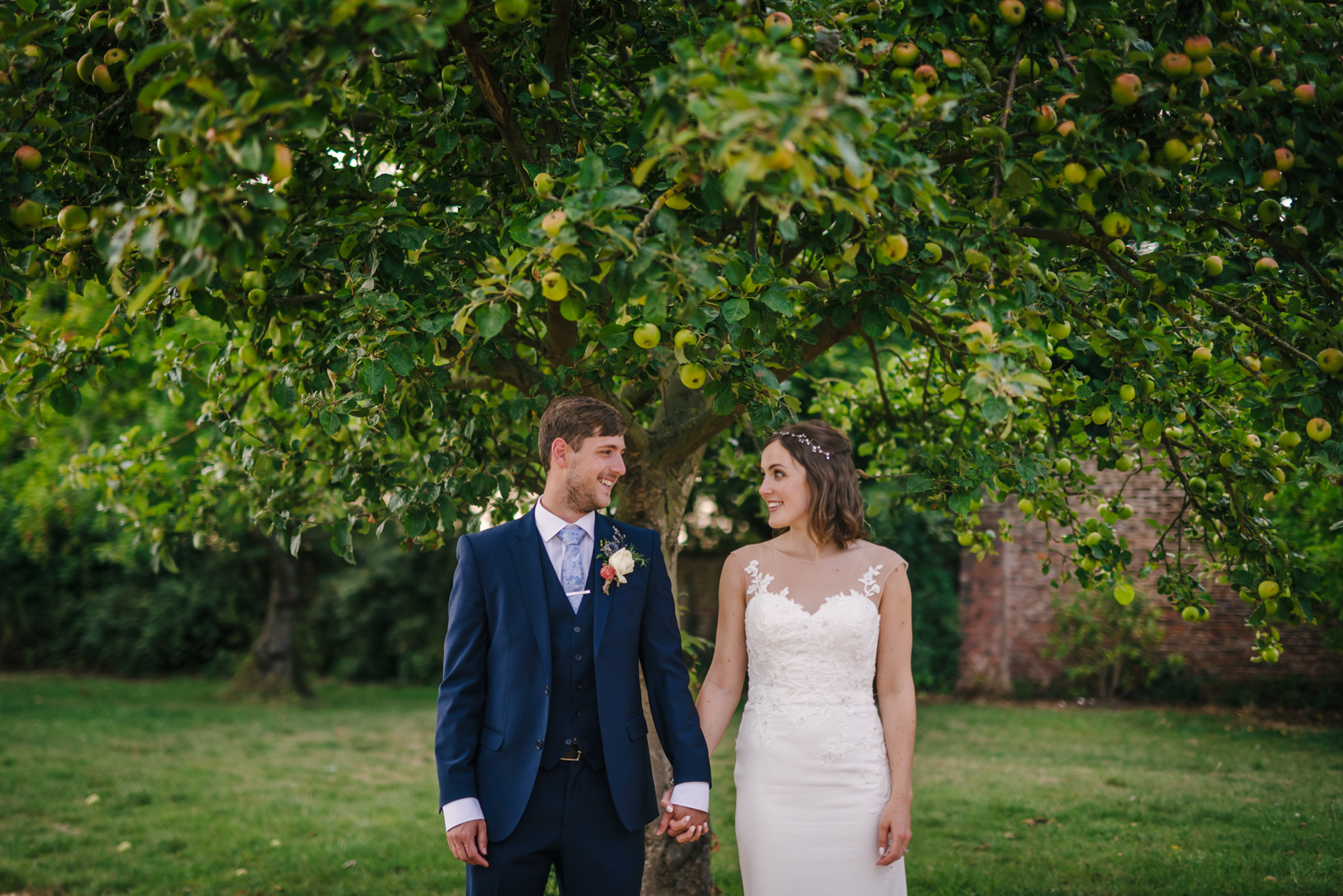 Rob was next and he revealed how the pair met in the Student's Union- Emma was playing snooker when he spotted her. They met up again in the club at the end of the night and Rob managed to get Emma's number after convincing her he wasn't interested in her best friend and now bridesmaid Jenny!
What people may not know about Emma is that she may be super organised at work, but she is terrible at loading the dishwasher! Lucky Rob has mastered this skill so the pair are obviously meant to be! Rob said he couldn't believe that he now gets t call Emma his wife.
Rob's Best Men read out one of Rob's old school reports and revealed that at school he was presented with a bar of soap for swearing during a football match. Rob has acquired a passion or the gym as an adult, but was disappointed when he found out Emma could bench more than him! Rob's best cricket pals welcomed Emma into the cricket family and presented her with a team apron!
Friends 4 Dinner served up a feast and Jonny Ross Music entertained the guests all evening with a live band an DJ set from the amazing DJ Danny. In the courtyard, beer pong had been set up and an intense tournament began!
To refuel, Friends 4 Dinner created the most incredible, mouth-watering, eye popping DIY dessert bar with mountains of cakes, brownies, marshmallows, mini donuts, summer berries and ice cream. It was such a fantastic evening and we are so thrilled to have been a part of it!
Congratulations to the new Mr and Mrs Stevens!
Suppliers on the day…
Caterers
El Kantina (Pre Wedding Meal)
Photographer
Cake
Florist
Lights
Band/ DJ