Grace and Tom created the most wonderful party weekend to celebrate their wedding and even though we loved coordinating their day, we wished we were guests! Grace and Tom make such a perfect couple and it's no surprise that they are so loved by all their friends and family.
Preparations began on Friday and their florist Twisted Willow adorned the courtyard and wedding barn with stunning floral displays. Each table was decorated with a selection of plants and herbs in terracotta pots. Their table plan was a huge wooden frame with photos of each guest pegged across the centre and given our Bride and Groom's initials, there were giant balloon 'G n T' letters which created the back drop for Tom and Grace's sweetheart top table.
Grace's dad Steven had painted a wonderful heir loom for Tom and his daughter; a beautiful picture, of Tom, Grace and their beloved dog Bertie, which was used for their invitations, order of service, and displayed proudly for all to admire!
Grace looked stunning and went off to Bolton Percy church in a wonderful vintage Citroen driven by Kiss me fabulous rides. When the newlyweds returned from church, they moved on to the Front Lawn where they enjoyed miniature minted lamb and wensleydale crumbles, slow roast pork belly, spiced apple compote and black pudding puree, skewered salmon with harissa dressing and yoghurt dip, pesto arancini with salsa verde, prepared and served by the amazing Hog and Apple. Guests enjoyed pimped prosecco and ice-cold beers from Hornington's Ha Ha Baah in the sunshine.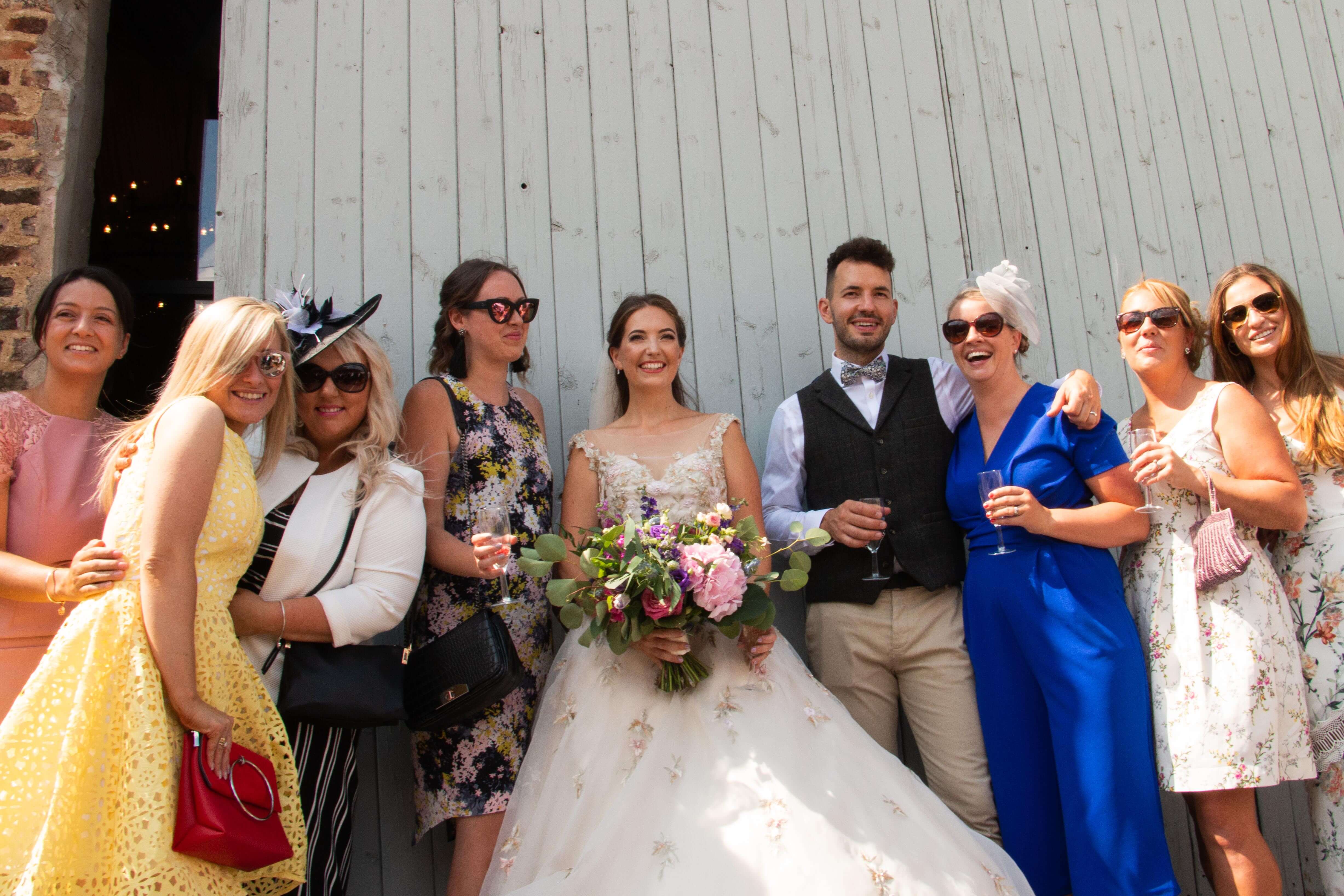 Speeches took place in the barn and Tom's Best Man Kirk stole the show with his very own version of carpool karaoke filmed with all of Tom's nearest and dearest and projected in the wedding barn! They chatted about Tom and the funny memories they all shared and sang along to some catchy tunes. When asked to describe his uncle Tom in 3 words, Tom's nephew said without hesitation- 'Funny, caring and stupid!' Kirk even picked up Tom's beloved dog Bertie who rocked away to 'Who Let the Dogs Out' in the car!
After the speeches and the wedding breakfast, guests moved into the Papakata tipi on the front lawn and the party really got underway with the help of Hyde Park Brass who danced everyone around the front lawn, and Mix and Twist who set up a pop-up bar within the tipi. Viva la Booth set up their photobooth with the gorgeous brick of the Manor as the backdrop and the photos looked amazing!
With Sunday Brunch served in the wedding barn by Friends 4 Dinner and an afternoon of games and music on the front lawn following the stunning wedding day, Grace and Tom's dream wedding weekend was complete.
Huge congratulations to the Bride and Groom and we wish you all the happiness in the world together.
Suppliers on the day
Caterers
Duke's Pizza (Friday evening)
Friends 4 Dinner (Sunday breakfast)
Photographer (Photos featured in this blog taken by the Hornington Team)
Videographer
Florist
Transport
Yorkshire Heritage Bus Company
Wedding Cake
Tipi
Photobooth
Band
Bar