We have been absolutely blessed with the most perfect wedding weather this year, and long may it continue! Amy and Stuart's wedding a few weeks ago was another perfect sunny weekend and they set about on Friday turning the wedding barn into the reception venue of their dreams!
There was no doubt the ceremony would be taking place outside and Amy and Stu wanted to say their vows under the beautiful Lych Gate surrounded by their nearest and dearest! As we set up for the ceremony, bride and groom took over different wings of the Manor and preparations were well underway! Amy and her Bridesmaids were being pampered by hairdressers and makeup artists in the West Wing Ballroom, accompanied with a glass of fizz of course, and Stu and his Groomsmen took to the Servants Quarters with a little Dutch courage in their personalised etched whiskey glasses! Each bedroom had a photo of the guests staying in it as youngsters, rather than a name tag, and it was such a lovely personal touch.
Amy's Bridesmaids, the three Vickys, Katie and Anita, had their hair styled in delicate up-dos finished with springs of gypsophelia, while Amy was bridal perfection with flowing blonde curls. Amy's dress was to die for. The intricate lace and sparkling beading on the bodice was stunning and it suited Amy perfectly.
Amy met her Groom under the Lych Gate and their ceremony was beautiful. The pair's friend Emma read a beautiful poem called 'On Your Wedding Day'-
Today is a day you will always remember,
The greatest in anyone's life.
You'll start off the day just two people in love,
And end it as Husband and Wife.
It's a brand-new beginning and the start of a journey,
With moments to cherish and treasure.
And although there'll be times when you both disagree,
These will surely be outweighed by pleasure.
You'll have heard many words of advice in the past,
When the secrets of marriage were spoken.
But you know that the answers lie hidden inside,
Where the bond of true love lies unbroken.
So live happy forever as lovers and friends,
It's the dawn of a new life for you.
As you stand there together with love in your eyes,
From the moment you whisper 'I Do'.
And with luck, all your hopes and your dreams can be real,
May success find its way to your hearts.
Tomorrow can bring you the greatest of joys,
But today is the day it all starts.
Once the ceremony was complete, guests too to the sunshine of the Front Lawn and enjoyed refreshing ice-cold beers and prosecco. Amy and Stuart had hung a picture frame from one of our trees and it was the perfect spot for photos! Canapes from the fantastic Hog and Apple were devoured and there was such a lovely atmosphere, and everyone was so excited for what was to come!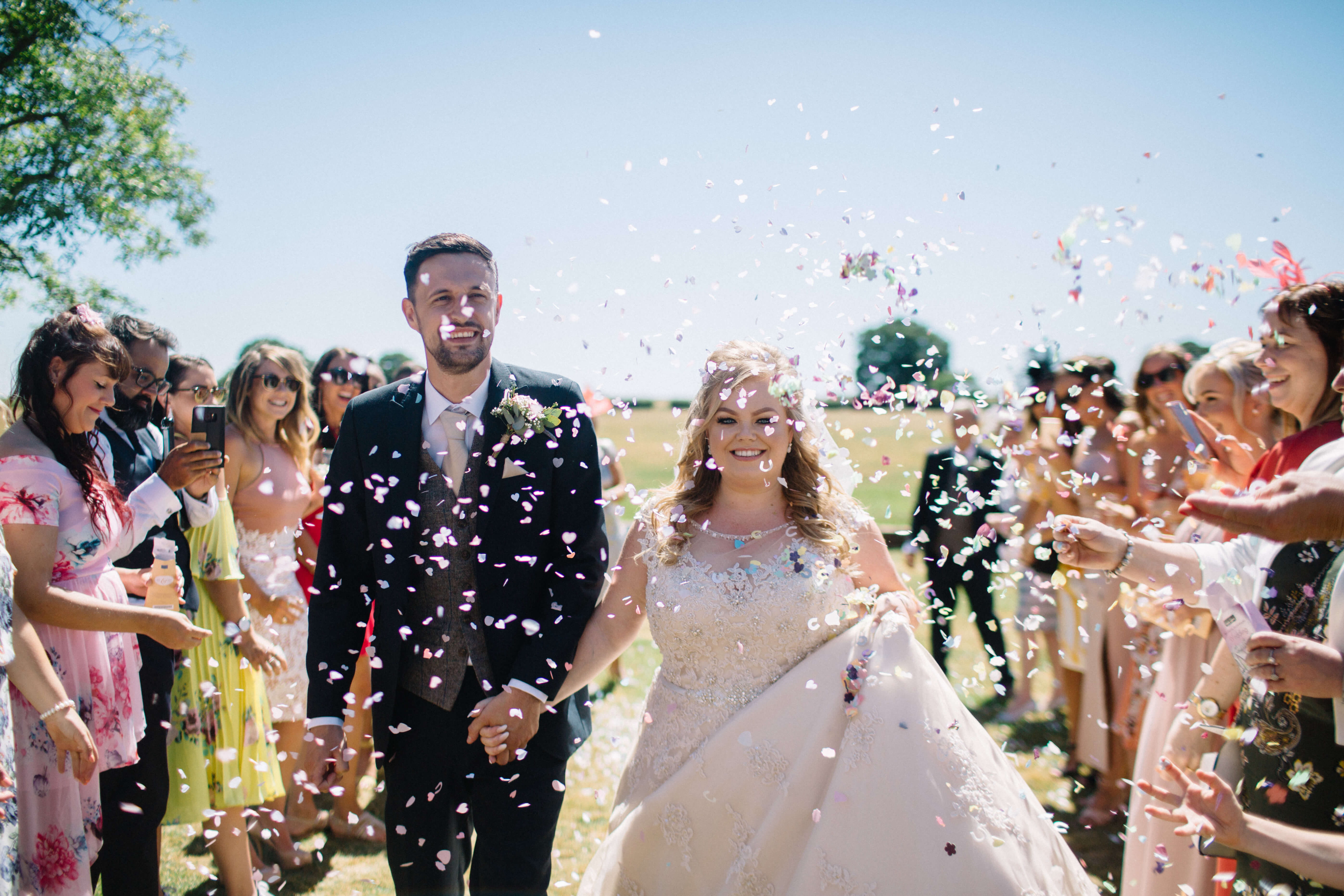 Inside the barn, everything had come together perfectly and it looked amazing. Huge light up LOVE letters illuminated the dance floor and their stunning cake by Dottie B's Bakery sat proudly, all 4 tiers of it! due to the glorious sunshine, the cake had to be cut before the speeches! each guest had a tiny bottle of limoncello as a favour and rustic wooden disks sat at each guest's seat with their name on.
During the speeches we learnt that guests had travelled all the way from New Zealand to celebrate Amy and Stu's wedding! Stu's Best Man Pete had been best friends with Stu since year 7, almost 20 years ago! Stu told us how he ad Amy met 10 year ago at work. He gushed over how she is the most happily infectious and contagious person in the world. He said the more he heard Amy laugh, the more he wanted to make her laugh, and he was so happy he could now spend the rest of his life with her.
As evening fell, a white twinkling dancefloor was set up in the middle of the barn and the whole night was literally centered around dancing, singing and having an amazing time!
Huge congratulations to the brand new Mr and Mrs Taylor and we wish you all the happiness in the world.
Suppliers on the day…
Florist
Lighting
Catering
Photographer
Videographer
DJ/ Dancefloor/ Light-up Letters
Cake
Dottie B's Bakery
Makeup
Hair