At Hornington we are suckers for every single love story we are so lucky to be a part of. For Rachael and Craig, theirs began when they met in the library,and in Craig's words, they have been head over heels with each other since that moment.
 The pair were getting married in the stunning All Saints Church in Bolton Percy, surrounded by their loved ones, and we were so excited to wave off Rachael's bridesmaids in the sunshine as they left for church in the most beautiful vintage car from the Yorkshire Wedding Car Company. It shortly returned to pick up our Bride and her dad Kevin. Rachael was stunning in her gown, and she was beaming from ear to ear, so excited to marry Craig!
During the service, Rachael and Craig's friends Matt and Vic readout an amazing poem they had written-
A wedding day is a special time
Full of stories form the heart
But the path was long on the journey here
So let's take you back to the start
 Our story begins with the leading male
a young stable boy who lived down south
a part time model with ambitions and talent
but also a very big mouth. 
One day not long after his last exam
he declared to his best friend
'I must find my true love in a faraway land
before my good looks come to an end'.
Meanwhile many miles away
in another kingdom of our nation
the princess in our story
was celebrating her sixth form graduation
With perfect grades across the board,
She searched for a uni of the right calibre
In the end she chose Newcastle
Mainly because of Mr Challiner
 So she packed her bags in her Corsa
Excited for what the future might bring
Hoping for a 1stclass honours degree
And a prince with a diamond ring.
Our story now takes us to a faraway place
Way up in the north of the land
where the locals speak kind of funny
and the girls always appeared tanned
 This magical place, known as the Toon
is where our princess met her knight
it wasn't long before sparks flew
embracing a love they couldn't fight.
Finally, after weeks of chasing
when at times he thought he'd lost her
the princess agreed to drinks and a date
so he splashed out and took her to Costa
A few years later with degrees in hand
the happy couple moved south to the Big Smoke
the reason was to start their careers
but secretly he'd had enough of northern folk!
Their life as a couple began to flourish
and the relationship grew deeper each year
they are never too far from a Michelin star
and they love a red wine or craft beer.
What makes our happy couple
Such a perfect team
Is the way they aim for the stars
Never afraid to pursue their dream.
Their love and laughter is infectious
they're loyal, brave, and kind,
bound together in their zest for life
and off course a glass or two of wine.
Their story is one that you all now know
and we're privileged to be taking part
it's not often we get to pause and reflect
on two people who share the same heart
 Our time here has now come to an end
but for you it's the start of a new chapter
and all of us are in no doubt
you'll go on to live happily ever after!
When the newly weds retuned, we welcomed their guests on the front lawn with glasses of prosecco, Pimms, and bottles of ice cold beer at the ready, which was just what the doctor ordered in the glorious sunshine. Lawn games entertained the guests while The Northern Violinist played beautifully. England were playing in the quarter finals of the World Cup at the exact time of their reception drinks, and we could hear celebratory whispers spreading when England scored!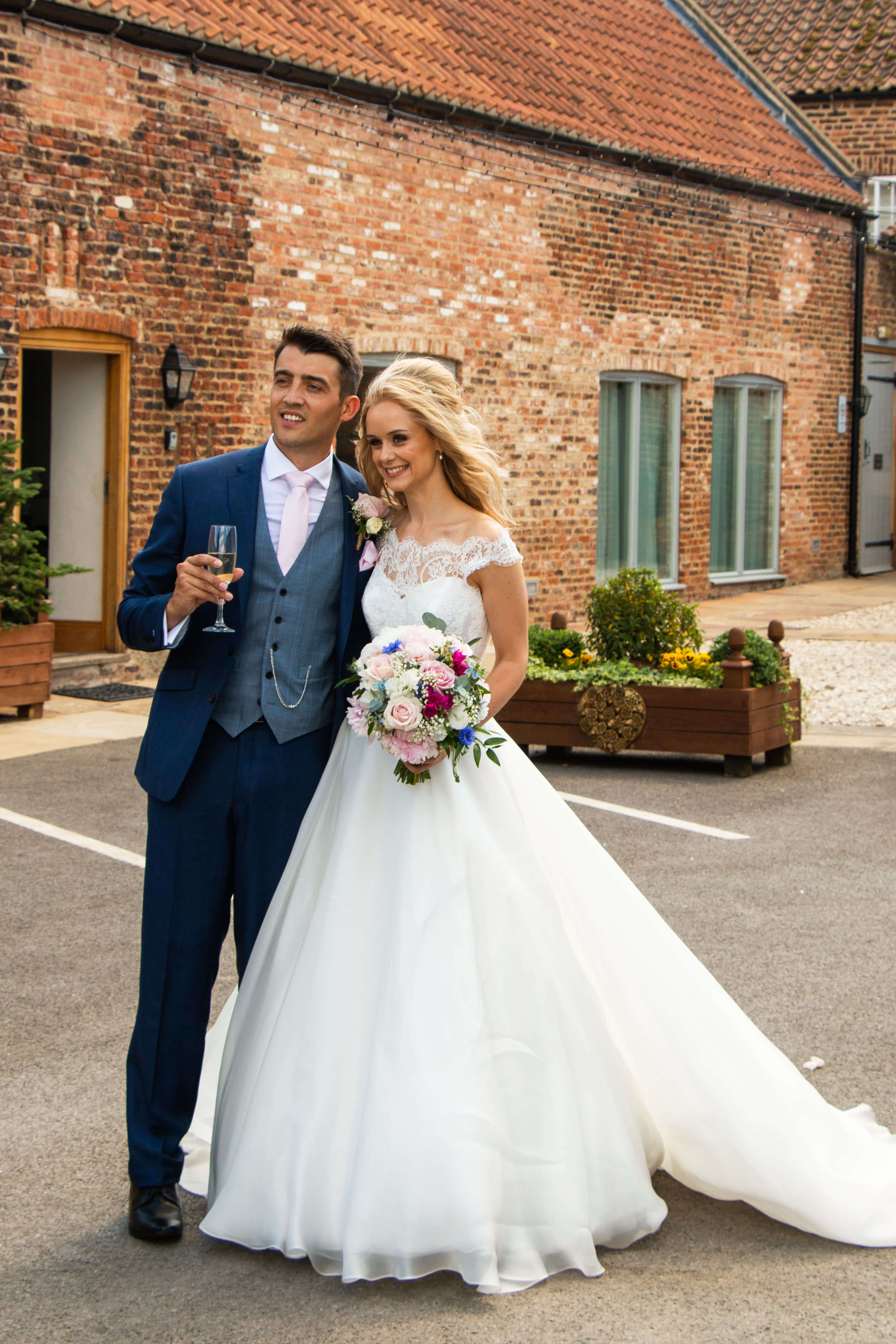 After the England victory, it was soon time to be seated in the wedding barn for a delicious meal from Friends 4 Dinner and speeches. The barn was absolutely beautiful, decorated with twinkling fairy lights on the dance floor, and on each table sat huge candelabras with winding ivy and beautiful blooms. Rachael and Craig's wedding cake from Blush Cake Company was a work of art and looked so beautiful against the fairy light back drop.
At each guest's place setting was a postcard with photos of them with the Bride and Groom and a lovely message on the back thanking them for their support and friendship.
When the new Mr and Mrs made their entrance, the whole wedding party were on their feet, waving their napkins in the air which was amazing to watch! Rachael's dad was first up and he told us how he had googled the responsibilities of Father of the Bride on the Wedding day, and the first was to get her to the church ion time. He knew there was no chance of this happening- he still couldn't get his wife anywhere on time after 35 years! He revealed he couldn't remember the first time he met Craig, as he had been around and part of their family for so long! In football terms, Rachael signed you a long time ago and there is no potential for transfer! He asked Craig is he knew how lucky he was to marry his daughter who looked so beautiful and made him incredibly proud. Rachael and Craig are a perfect match because they are both loyal, kind and determined.
Craig thanked the Browns for welcoming him into their absolutely mental family, and he will never forget his first Christmas as the only southerner bringing a touch of class to the celebrations! (The whole wedding party boo'd!) Craig promised Kevin and Katharine that he would care for, protect and love their daughter for the rest of his life. He thanked his mu, Linda, and step-dad, Steve for all of their continued love and support. Friends of Rachael and Craig had travelled from all over the world to celebrate their special day, including Australia, Canada, Turkey, San Francisco, Austria and Spain.
He joked about his Stag do in Portugal and how his personal highlights were getting his make-up done in the duty free at Stanstead airport, and being hit over the head with a fire extinguisher!
Craig also thanked us at Hornington for our help in planning their dream wedding.
About his wife Rachael, Craig gushed of how after 11 years together, they make the best team and Craig is the happiest man in the world. The pair have been on some amazing adventures together around the world, but Craig is certain that their marriage will be the best adventure.
Craig's Best Men, Ronald and Justin, have known Craig since primary school and opened their speech with a prayer for football and Gareth Southgate. It was a frightening moment when Craig realised the most important day of his life had clashed with his wedding day! But jokes aside, Rachael is such a positive influence on Craig and they love her for it.
It was such a beautiful evening and the newly-weds had organised a cocktail hour in the courtyard. We set up a cocktail bar, serving Rachael's choice of a Cosmo and Craig's choice of a Dark n' Stormy, and a gin bar with a mixture of gin and tonics for the guests to enjoy. Craig and Rachael cut their stunning cake under the Lych Gate which was such a lovely idea.
An amazing vintage car-turned-photobooth from Photo-Crazy set up in the courtyard and York Pizza company arrived to serve the most delicious stone baked pizzas all evening. Func on the Rocks band brought the house down and everyone had such an incredible time.
On Sunday, we helped Rachael and Craig had set up a hay bale bowling alley, table tennis and badminton on the front lawn. With drinks flowing and food served by the amazing Smokin' Blues, it was the perfect post wedding celebration.
We want to thank Rachael and Craig for choosing to hold their wedding weekend here at Hornington and we are sending you both all our love and best wishes for your future as Mr and Mrs Mundy.
Suppliers on the day…
Photographer
Videographer
Hair and Make up
Cake
Florist
Caterers
Lighting
Transport
Yorkshire Heritage Bus Company
Musicians
Photobooth