Our gorgeous Bride and Groom Sally and Luke live in London so they relied a lot on their lovely parents to scout out suppliers and work out how to make their wedding dreams a reality! Sally and Luke had only visited Hornington in the winter so it was even lovelier that the weather was just glorious all weekend!
When the pair arrived on Friday morning, Keith from Event Light and Sound was busy putting up all their gorgeous fairy lights and DANCE light up letters in the barn. Sally had asked Keith if he could find white lace lanterns to hang from the lights as she had seen it on Pinterest and fell in love with the idea. Keith managed to get some for her and they looked fab! The fairy light wall on the dancefloor was beautiful and the barn looked so sparkly!
The final touches were to be added on Saturday morning so Sally, Luke and their loved ones enjoyed the evening in the sunshine and Homegrown Hospitality arrived to serve them a delicious BBQ on the front lawn.
The big day arrived and everyone woke to a Full English breakfast cooked and served by Friends for Dinner in the Manor- what a perfect start to the day! While everyone started preparing for the celebrations ahead, the wedding barn was taking shape. Lindsey from the Barn Bakery arrived with her stunning 3-tiered cake brushed with gold leaf, topped with beautiful peonies and the most amazing golden macarons! But the deliciousness didn't stop there! Lindsey had also brought her custom donut wall which was fully loaded with hand finished donuts and the stuff dreams are made of.
Sally and Luke's florist Mint & Moose put the finishing touches to the centerpieces and the top table, and each guest was gifted heart shaped cookies with L and S initials, homemade by Luke's mum Sheila and a Yorkshire Tea bag. Outside the barn doors sat a copper pipe table plan lovingly made by Sally's dad Steve.
Sally and Luke's ceremony was taking place in St Mary's Church in Birkin, which dates back 1000 years, and guests had travelled on lovely vintage busses from York Pullman. As they arrived at Hornington following the ceremony, we greeted them with prosecco and ice cold bottled beers on the front lawn, where the Brass Monkeys were playing in the sunshine. Sally had decorated a gorgeous wooden ladder as a 'Pimp your Prosecco' station and it went down very well with the guests!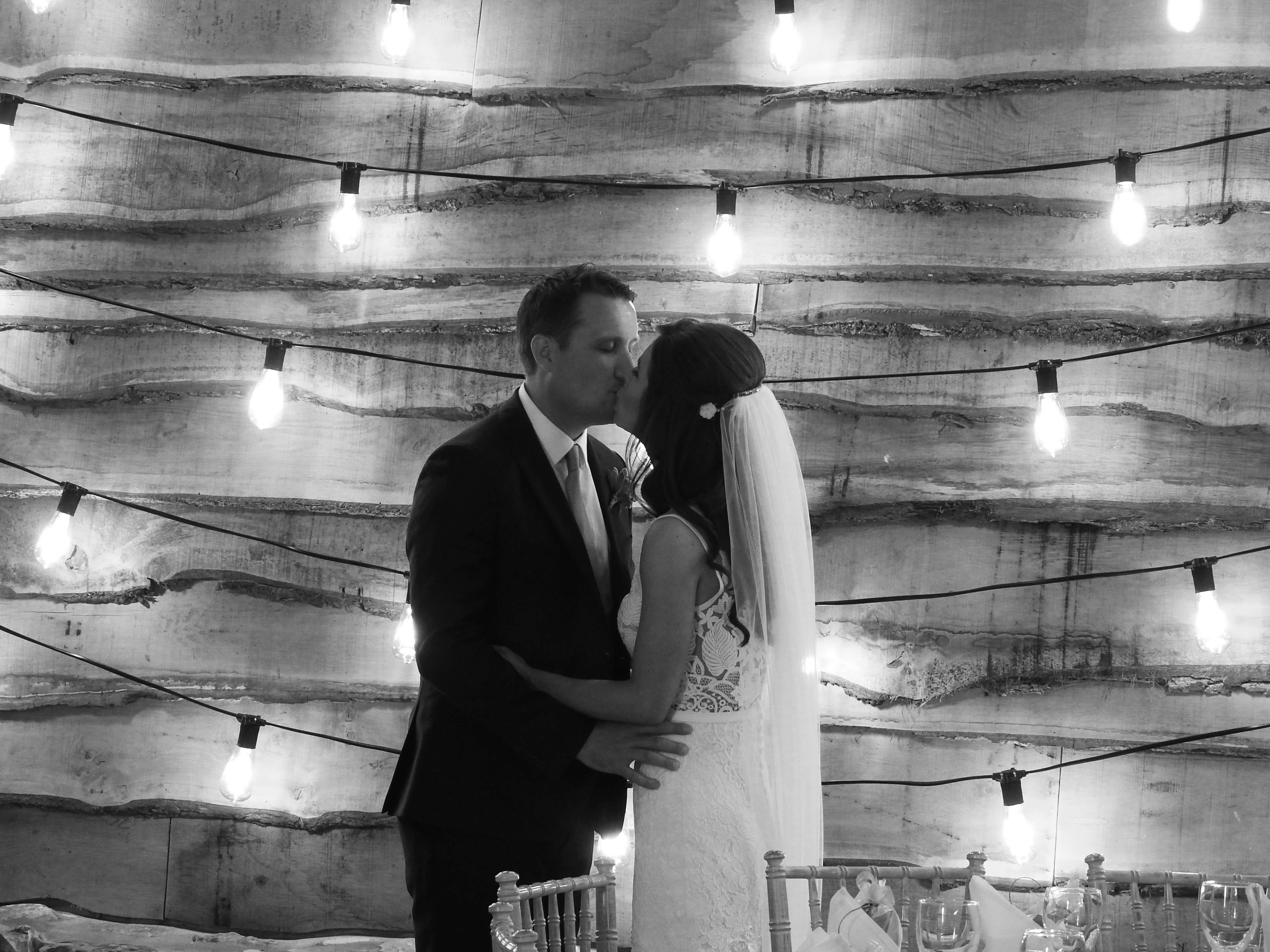 Soon it was time for the speeches and everyone made their way to the wedding barn. Steve, Sally's dad was first up, gushing at how proud he is of his daughter and how beautiful she looks. He welcomed guests who had travelled from Monaco, Sweden, Denmark and America, not forgetting those who had travelled from the south of England, who he greeted with 'Ehy up, welcome t'weddin'! We discovered that Sally had enjoyed 3 hen dos! One in London, one in Leeds and one in Barcelona! Steve joked how Sally's mum Mary was brought back to him like a ragdoll, and all she could manage to say was 'Steve, the wheels have come off'!
He thanked himself for Sally's love of travel, as when she was a baby he used to take her out in her pram to settle her, and he wore the wheels off the first one! Sally and Luke met when Sally moved to London, and they have since made a beautiful life together there. Luke was the first boyfriend she had brought to meet her parents, and Steve gushed how Luke is a credit to his parents Graham and Sheila. Sally and Luke's marriage is set to stand the test of time as both sets of parents are approaching their 40-year anniversary! All a dad wants is for his daughter to be cared for and looked after, and he knows she has met the right man in Luke.
Luke thanked his parents for being such wonderful examples to him, and he has certainly inherited his practical skills (or lack off!) from his dad! From his mum he inherited her artistic flare, as Luke is now an editor with a keen eye for detail and a whizz in the kitchen! Sally's dad's practical skills are now the yin to his yang. to name but a few, Luke has so far broken Steve and Mary's iron, washing machine, both showers, managed to dent Steve's car bumper while being a passenger, and broke off the key in their front door!
Luke met Sally in a bar in Clapham and he knew he would marry her as soon as he saw her. Luke is only truly happy when he's with Sally.
Luke's Best Man Piers was up next. He revealed how he realised he was quite luck when writing his speech as there is a LOT of material! He decided to structure his speech by running through the different eras in Luke's life.
1-      Lukey. Born in Surrey, a handsome, popular, sporty and academic boy. However, in 1998 his life changed forever as 2 attractive women from the Pony Club Camp were interested in him! In response to this he drank vodka until he was sick, passed out in the graveyard and missed his chance with both girls. Not only that, but he was also banned from the Pony Club Camp.
2-      We are now introduced by the next era- Pukey Lukey. Ranging from 16-24, Piers had endless stories but to summarise, a pile of sick was never too far away. Change was necessary.
3-      Meet Lujay. He was looking good, rode a BMX, worked in Soho and frequented fashionable bars in W1. Lujay was not having success with the ladies, but at age 28, a great love arrive din his life. Tinder.  It was everything he had been searching for! But the only match that really counted was Yorkshire lass, Sally.
4-      The final era is Luke. He is smartly dressed, well mannered, he can drink without vomiting, and what Piers can only assume as a sponsorship with Ralph Lauren has begun! Luke with Sally is the best Luke, and Piers is so proud! He asked guests to raise a toast to Luke, and Sally, and Tinder!
After the amazing speeches, it was time to eat! Hog and Apple served a feast of mini fish fillets and sauté potatoes, with a pea and mint puree, mouthwatering beef with all the trimmings, and all topped off with their delicious sticky toffee pudding!
As evening fell, a photo booth from Mimi Events was set up on the mezzanine and the Superspokes band and DJ Ritchie Barrow entertained the wedding party all evening.
It was such a gorgeous day from start to finish and so clear how loved Sally and Luke are by all their friends and family. Thank you for letting us be a part of your special day and we hope your day was everything you dreamt of!
Suppliers on the day…
Lighting
Photographer
Cake
Florist
Caterers
Homegrown Hospitality– BBQ on Friday night
Friends 4 Dinner– Breakfast on Saturday
Entertainment
Brass Monkeys– Reception drinks
Ritchie Barrow- 07828394571
Photobooth