If you don't believe in the Hornignton Manor Microclimate, just ask any guest at Louise and Craig's wedding. They dreamt of holding their ceremony under the Lych Gate but in the days leading up to their wedding weekend, the heavens were forecast to open all day. We Even on Saturday morning, the forecast wasn't looking good, but we all held out until the very last moment, and lo and behold, it stayed fine and the wedding ceremony was outside after all! Louise and Craig were thrilled, and even more so when, what can only be described as a torrential downpour, stared just as all the guests took their seats in the wedding barn for wedding breakfast! Call it what you want, but the microclimate is real!
In contrast, it was lovely and sunny when Craig, Louise and their wedding planner Charlotte arrived to start preparing on Friday. Charlotte set about making confetti cones and Craig and Louise prepared the rooms in the Manor for when their loved ones arrived. On Saturday morning the whole room came together. A huge L ad C made by Louise were displayed by their cake which was a work of art! The tables had a subtle copper theme, running from the centerpieces, to the cutlery and the embellished feathers at each guests' place setting. Their circular table plan, made by Charlotte hung against the brickwork and looked amazing.

Louise and Craig had been hard at work in the run up to their wedding, baking macarons and infusing sloe Gin and Whiskey for each guest as favours.
As Louise and Craig said 'I Do', their friends Claire and Becky read out a poem they had written about the lovely couple. Some of our favourite verses were-
'He's always on his PlayStation, leaves his clothes on the Spare Room bed,
Eats giant bags of onion rings and is happiest when he's fed.
She loves her trashy programs and always has to be right.
She likes the finer things in life, and wishes he wasn't so tight!
…
They're both not wholly perfect but who are we to care,
That he is far too laid back, and she has ginger hair!
He'll be more than just her husband, he'll also be her friend.
And she'll be more than just his wife, she'll be his soul mate till the end.
All that said and done, they are a perfect fit.
So here we are today to say Good Luck… now get on with it!'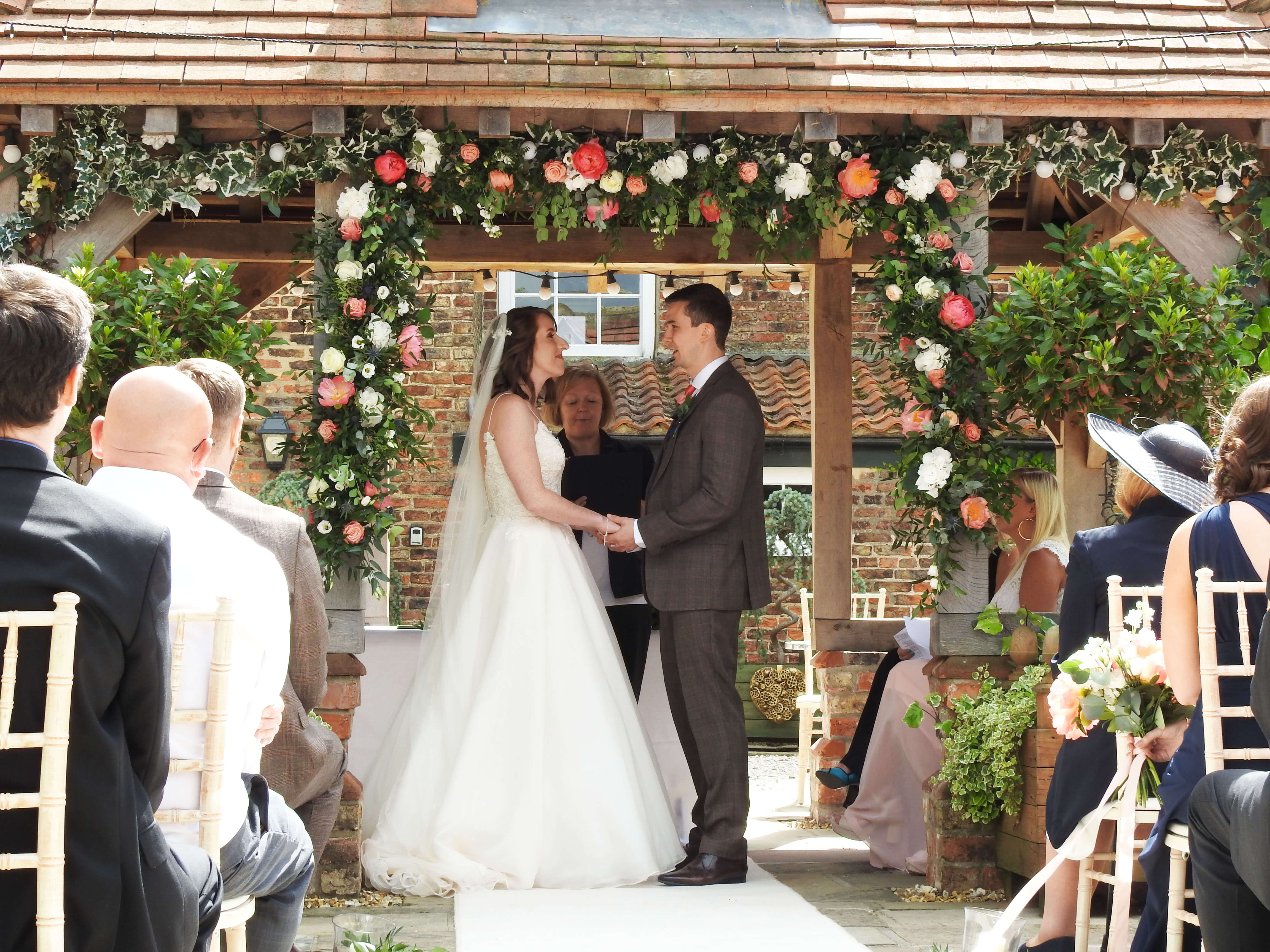 Guests enjoyed refreshing Gin cocktails for their reception drinks and soon made it into the wedding barn just in time for the rain! Their caterers Bear's Pantry served a beautiful selection of Tomahawk Yorkshire Rib Eye steak, Flat Iron steak with Chimichurri and spatchcock chicken which was to die for! For pud, they all enjoyed chocolate and peanut butter tarts, and passion fruit frangipane. Just wow!

It was soon time for the speeches and Craig's brother was up first. He shared with us some memories of the two of them goring up and Craig's many head injuries after jumping up and down in their beds and running really fast into the radiator (we presume accidentally!). Craig's other Best Man Dave was next. The pair had been friends for 15 years and revealed Craig's questionable dress sense, distinctly remembering a green cardigan that he used to wear constantly, before Louise cut it up!
Craig started by apologizing to everyone for clashing with the World Cup! He thanked Louise's mum Pamela for accepting him into the family. He joked at how Louise's Dad was a drinker and Her mum is a feeder! To thank Pamela, Craig said he would have got her some flowers but looking around the rooms, the florist has prepared enough so just help yourself! He thanked his wife Louise and read out a lovely description of her based on the meaning of her name- a Renowned Warrior!

As evening fell, the party really began. Charlotte popped a photo frame in the Lych Gate for guests to pose behind with props, and a glitter station was set up in the barn. Pizzas and ice pops were enjoyed by the guests as they danced the night away in celebration!
We want to thank Craig and Louise for sharing their special day with us and we with them the most amazing honey moon in Sri Lanka and the Maldives, and an even more amazing life together as Mr and Mrs Dobson!
Suppliers on the day…
Wedding Planner
Charlotte Spain- Redamancy Wedding Design
Photographer
Caterer