Before every wedding, there is distinct buzz of excitement and anticipation in the air. The best day of our couples' lives is about to begin and all their favourite people are there to share it with them. For Jaymini and Matt, the excitement and anticipation was doubled, because ahead of them were two incredible celebrations, back to back, which would fuse two distinct cultures and traditions and create a weekend they would never forget!
The first sign of things to come was the beautiful marquee which sat proudly on the Front Lawn. A central bar was the hub and either side were tables and chairs and the gorgeous Mehndi night decoration, hired from 1SW Events.
Hindu tradition states that the mother of the bride does not see her daughter until she walks down the aisle, and it was lovely that Jay and Matt had incorporated this into their traditional English wedding ceremony. Matt waited patiently for his bride under the Lych gate, which had been decorated with huge milk churns bursting with blooms by the incredible team at Stems designs, who were also transforming the wedding barn and marquee. Jay's gorgeous bridesmaids, dressed in lilac lace gowns led the way, while Jay followed, arm in arm with her father. She was breathtaking and absolute bridal perfection.
Once the pair had said 'I Do' their guests enjoyed chilled prosecco and bottled beers in the Courtyard while Jay, Matt and their nearest and dearest were whisked away around the grounds for photos by the fantastic Bhavna Barratt.
Before long, guests were seated in the Wedding Barn and enjoyed a delicious wedding breakfast by Friends 4 Dinner and a surprise poem written by Matt's mum, Maria. She had never intended to read it during the celebrations, but her daughter had insisted and we are so pleased she obliged! Maria was kind enough to share her poem with us-
I remember, that day in December,
The day that you were born.
A brother for our daughter dear,
A gift from God to end the year.
A baby boy, our bundle of joy
Clothes for boys and lots more toys!
You loved your sleep, I believe you still do
With stories at bedtime, not one, but two.
You loved to go swimming with Daddy and me
On Sunday mornings when the pool was quite free.
Holidays were always exciting for you
You searched through the brochures and informed us what we must do!
A definite techy from a very young age
You purchased your mobile before they were all the rage.
A computer "we must have", with internet too
To play Sink Sub Pro and Leander, to name but a few.
Your school days, they flew by, examinations too
In all your achievements, You've made us so proud
And remember your graduation, when Mum shouted so loud.
A Son , a Brother and now a Husband as well.
A man to be proud of, do you think we should tell…..
Of all the worries you gave us, but that's part of God's plan
When he gave us our baby that turned into a man.
Mathew, we love you and wish you a life
Of goodness and happiness as
You take now your wife.
Be strong and have courage to live out your life
With Jaymini beside you as husband and wife.
Maria had been very busy as she had also made the first of 2 beautiful cakes to be enjoyed over the weekend! As evening fell, the wedding party changed into the most gorgeous, colourful and embroidered Saris and Sherwanis and moved into the marquee on the front lawn for the Mehndi Night.
Henna artists began painting the most intricate designs, ready for the Hindu ceremony the next day. Guests enjoyed delicious Indian cuisine, wood fired pizzas from the Pizza Guy and mouthwatering bitesize goodies from Miss Friday. Their DJs, Evallance UK, were family friends and had a full weekend of entertaining in front of them! They kicked it off in style with a real fusion of music genres, which had everyone on their feet, dancing the night away.  Guests took part in a traditional regional dance involving wooden sticks which was amazing to watch!
Saturday morning arrived and preparations were well underway to transform the Wedding Barn for reception number 2 and to set up the Mandap on the front lawn. There were flowers everywhere, and as guests started to take their sears in the June sunshine, the scene was exploding with colour! Matt made his way to the Mandap and was greeted by Jay's parents. Here the two families embraced to represent the beginning of a new relationship. Matt was lead to the Mandap by Jay's parents where he took his seat and we all waited with baited breath for Jay to make her entrance!
Arm in arm with her brother and sister, Jay appeared from the West Wing and looked absolutely incredible. Her deep red and gold embroidered Indian wedding dress was glistening in the sun and her make-up, by the amazing Jaineesha MUA was stunning. In Vedic scriptures it is stated there is no greater gift than offering a daughter's hand in marriage. Jay's father placed her hand into Matt's symbolizing the pledge of love, fidelity and security he is making to her. 
Next the priest tied a knot between the bide and groom's garments to represent their union, and the sacred fire was lit which served as a witness to the vows between Matt and Jay that followed. Matt lead Jay around the fire three times, taking a vow each time, and on the fourth time, Jay lead Matt around the fire. Soon after, Matt and Jay took seven steps and sacred oaths to symbolize their journey through life together. Matt then put Sindoor in the parting of Jay's hair to show she is now a married woman.
It was such an amazing experience to be a part of and so lovely to see Hornington immersed in Hindu tradition.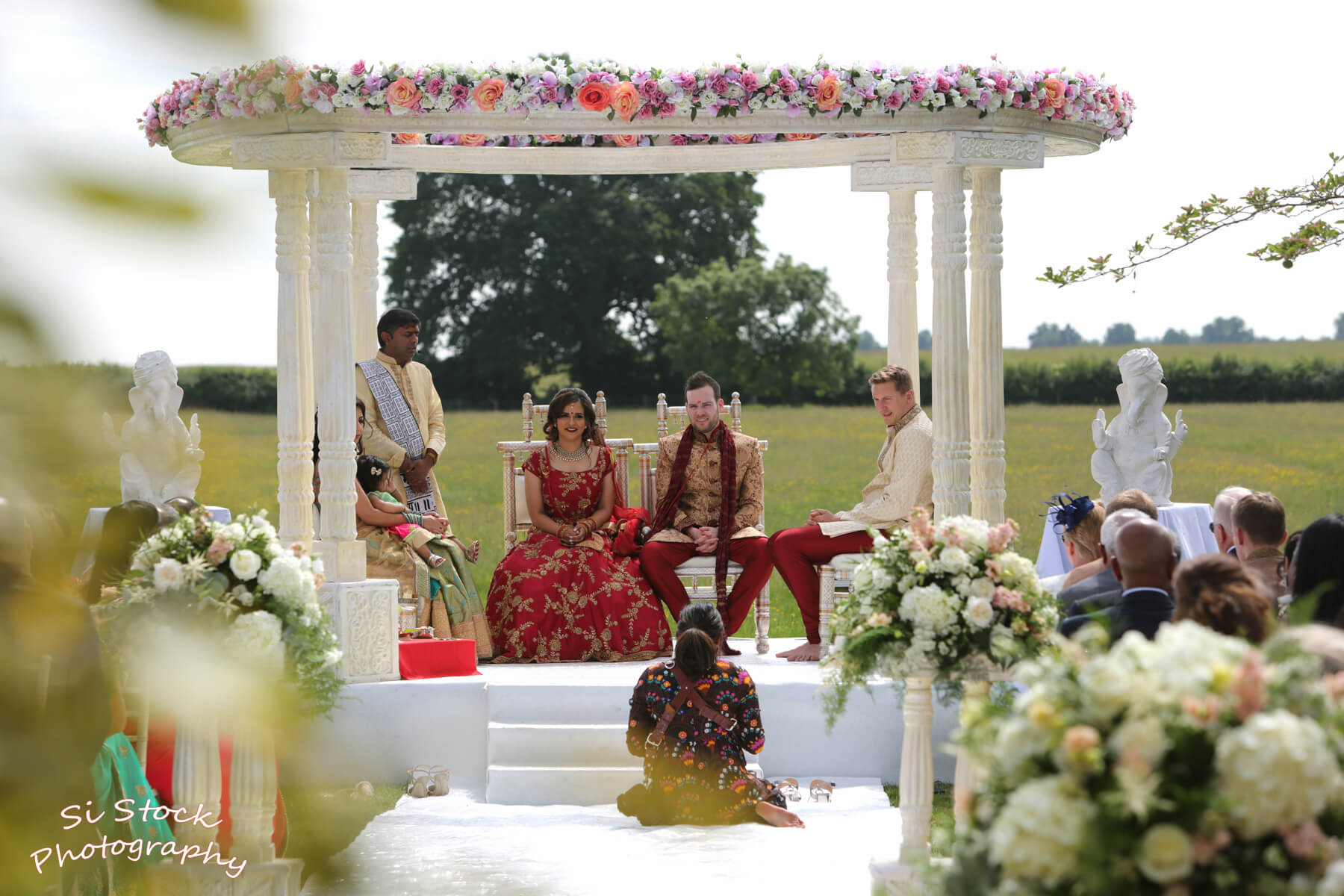 The wedding party soaked up the sunshine on the Front lawn and listened to acoustic tracks played by Marcel and Matt who had travelled all the way from London especially for Matta and Jay's wedding.  Guests were soon seated in the Wedding barn ahead of an amazing Indian feast from Apna Khana. The barn looked so beautiful, absolutely bursting with gorgeous blooms from Stems Design from floor to ceiling! Each guest was gifted a miniature bottle of Limoncello.
Jaymini's dad was the first to make his speech and he spoke incredibly emotionally of how proud he is of everything Jay has achieved and believed her full potential is still to come. He praised the newly weds for bringing 2 cultures together in the best way and he knows that Jay has fond her partner and soulmate for life in Matt.
Matt opened his speech in Guajarati which was a huge success and everyone cheered! Matt was so thrilled at how they had managed to incorporate elements from both his and Jay's backgrounds into their Anglo-Indian wedding, but he was very disappointed he didn't make his entrance on elephant! He thanked Jay's parents for raising such a beautiful, talented, driven daughter, and for giving her way to Matt- perhaps a little too willingly! Matt couldn't thank his parents enough, and after 35 years of experience, he asked his dad Richard for the secret to a happy marriage. The answer? Compromise!
 He spoke of how he and his Wife Jaymini had met over 5 years ago while working in Portsmouth. To impress Jay, Matt told her he knew all the cast of TOWIE, which back in 2012 was the hottest reality show going! By the time he came clean about his fib, he had already won her over. A few years later he proposed on the Amalfi Coast and the rest is history. 
Matt and his Best Man Howard met at Uni while Matt studied Accountancy and Howard studied Law. We heard stories of drunken nights out they have shared over the years, including those form Matt's stag do in Marbella!
As evening fell, Matt and Jay's DJs were amazing at getting everyone on the dance floor and played an eclectic mix of Eastern and Western pop, encouraged a dance off between the boys and the girls and made sure everyone had just the best time.
Nobody wanted the weekend to end, including us! We enjoyed every minute of the celebrations and we couldn't be happier for the new Mr and Mrs Sheppard.
Suppliers on the day…
Marquee
Florist
DJs
Band
Photographer
Make-Up
Caterers
Decoration
Cake
Bride outfits