What we love about being in the wedding industry, is that every weekend we are lucky enough to see the hard work and preparations that have been taking place over the past few years come together in the most beautiful way. Our Brides and Grooms and their families and friends set about crafting and collecting and sewing and baking and gluing and cooking and arranging and painting and framing, and it truly means the world to everyone involved because their loved ones are about to celebrate the best day of their lives and being a part of that is so important.
Last weekend we celebrated the wedding of Emily and Alex, and we were so excited to find out what beautiful and meaningful things had been created especially for their big day. We definitely weren't disappointed.
Emily's dad, Allen, is a master carpenter and had designed and created some gorgeous pieces for his daughter's special day, and all linking back to Emily's hometown of Dolphinholme. The card box was originally marked out with tools that once belonged to Emily's Great Grandad Francis. the very same tools that were once used on the original Spitfire which Francis was involved in making. The saws used to cut the wood belonged to Emily's Grandad Joe and Great Uncle Brangwyn. The ash timber was grown in Cumbria and turned by Emily's dad in Dolphinholme. His handywork didn't stop there. Allen had hand crafted a beautiful and intricate fountain pen for his daughter and now son-in-law to sign the wedding registry with.
Emily's mum, Jean, had hand thrown each ceramic pot at the centre of each table at the Wall Garden Studio in Dolphinholme. They sat upon pieces of beech timber which had grown in Wellington Wood in Dolphinholme and were cut and carved by Emily's dad Allen. The table names were designed and created by family friend Gill Bird who is a lace artist. Gill also made the beautifully intricate lace flowers sat within the floral display on the top table.
The wedding ceremony was held outside and Emily and Alex looked so blissfully happy. Emily was gorgeous in her fishtail lace gown that was sparkling in the beautiful sunshine. When guests came into the Wedding Barn they sat on tables named after different destinations Emily and Alex have travelled to across the world, including New York, Bali, Iceland, Paris, Thailand and Barcelona.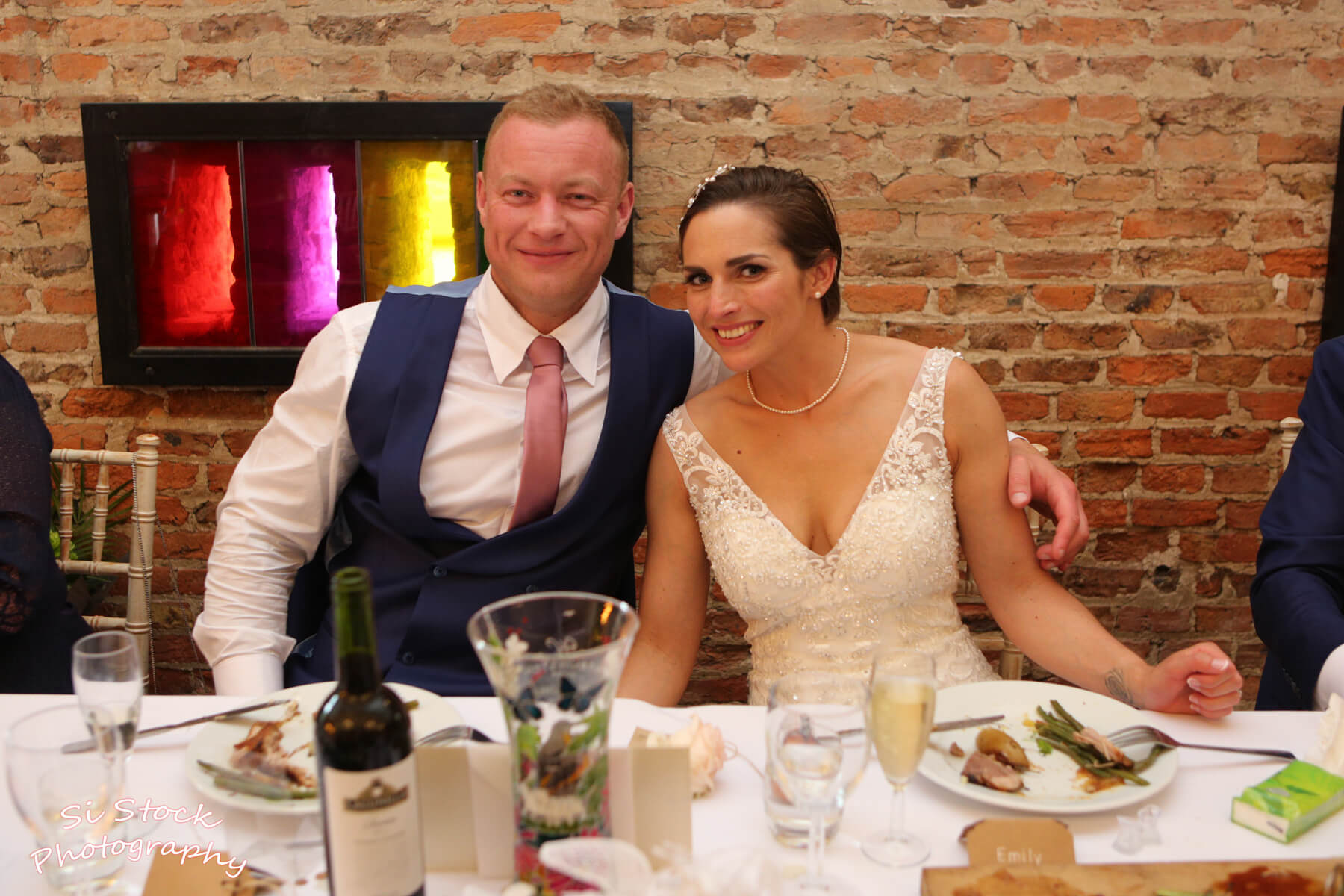 Bears Pantry served up the most delicious wedding breakfast which began with sharing platters of charcuterie and cheese, followed by Pork Belly with 'Proper Crackling'! Emily and Alex's three tired buttercream iced cake was topped with tiny figurines matching our Bride and Groom. Each guest was treated to a little box of macarons made by master patissier Florian Poirot.
Both Emily and Alex have a thing about Superheroes and Emily was presented with the Superhero book she had made when she was a youngster. During the speeches we learnt that Alex phoned Jean and Allen while they were holidaying in Madeira to ask for their daughter's hand in marriage. Alex's best man Ed shared stories of how he and Alex had met at the gym 6 years ago, a passion that both Alex and Emily now share.
We were told during the speeches that love makes for a happy marriage, and when you can still gaze across a crowded room at your other half and get butterflies in your tummy, that's real love.
Congratulations Emily and Alex, and thank you for letting us be a part of your day x
Suppliers on the day…
Photographer
Caterer
Make-up
Hair
Florist
Natasha Coustol Floral Designs
Favours
Entertainment
Ste Marsden