Katie and Tom's big day was always going to be extra special as our very own Simon was asked if he would be their wedding photographer, and he very excitedly said yes! I think you'll agree, his photos are beautiful. Preparations had begun soon after Kate and Tom booked Hornington, over two years ago! So, it wasn't surprising that every detail pf their special day had been thought of and executed so perfectly. The whole family had got involved in crafting and baking to make their day faultless form start to finish.  
On Friday evening, after the barn had been decorated, Katie and her girls had a night in the Manor with some delicious grub, while Tom and the gents headed out to the lovely local pubs in nearby Appleton Roebuck. The morning of the wedding, Katie and her bridesmaids Katie, Laura, Charlotte and Lauren were pampered with hair and makeup on the on floor of the Manor. Katie's dress was absolutely stunning with beautiful sparkly detailing on the waistband and neckline. She looked so beautiful. Katie's bridesmaids were dressed in floaty gowns in different pastel shades which is such a lovely idea.
 Katie made her way to the Church in Kirkby Wharf just out of Tadcaster, and to her patiently waiting Groom Tom, who, dressed in a navy suit, was looking very sharp!
Once the newly weds had said 'I Do', they made their way back to Hornington, where we were waiting with their reception drinks in the courtyard. It was such a glorious sunny day and all the guests really made the most of our outside space and the warm rays.
Soon enough it was time for the big reveal. The barn doors were opened and guests could finally see what Katie and Tom and their families had been working so hard on for the past 2 years! Tom's sister Katie had been hard at work sewing yards and yards of beautiful bunting which decorated the whole barn. She had also made some lovely 'Bride' and 'Groom' aprons for Katie and Tom to wear while they ate, as they are both renowned messy eaters!
Tom's mum had had the beautiful love heart stem champagne flutes engraved for Mr and Mrs Wadsworth, not forgetting the matching cake knife. And speaking of cake, the absolutely enormous 4-tiered, 12 layered wedding cake had been baked by Katie's Aunty Shirley which sat incredibly proudly on the top of a lovely on cask ale barrel. And if that wasn't enough, a 3-tiered pork pie masterpiece was also ready to be eaten!
Tom and Katie's dad had been hard at work making all the beautiful crates which were stacked up displaying more lovely bunting, their personalised wedding Post Box, their guest book and jars of sweeties for their guests to enjoy.
The top table had been decorated with the most beautiful flowers by Claire Slater Flowers, with huge glass pillars framing the table topped with enormous floral displays. Their table plan was decorated with green moss tying the whole them together.
Katie and Tom had the most amazing honeymoon planned, and incorporated their adventure into their table plan. Each table was named after a different location they would be stopping at on their honeymoon, with a short description of what they would be getting up to. Some of the tables included Kilimanjaro; Arusha, where the pair would watch the sunset over the Usa River; The Serengeti, where the newlyweds spend 6 days on Safari; Nairobi were the pair would unwind in the contemporary surroundings; and Mauritius, where Katie and Tom would spend a week in a luxury honeymoon suite surrounded by white sandy beaches. It sounds like absolute heaven.
Katie and Tom decided to do their speeches first because if they had to wait for Tom to finish his meal, they might have to cancel the disco! We learnt how Joe, Tom's Best Man arranged a music festival in Croatia for Tom's stag do.
Katie had arranged for a pair of converse trainers for each of her bridesmaids which she had binged up herself, and these were perfect to dance the night away in!
Friends for Dinner prepared a feast which the guest absolutely devoured, and Katie and Tom's friend Tim Walton sang to his acoustic guitar to entertain he guest before their band from Jonny Ross music got everyone dancing! A a Magic Mirror photobooth by Mimi Events was set up on the mezzanine level and a delicious hog roast was served from the courtyard by F4D to keep the guests going!
Even after the party ended on Saturday, Katie and tom truly made the most of Hornington and threw another party on Sunday. The weather was beautiful so they enjoyed a big BBQ on the front lawn, washed down with alcohol from a pop-up bar they had created on the patio. They had arranged for lawn games and inflatables to entertain the guests as a perfect way to top off their wedding weekend before heading off on the adventure of a lifetime.
It's safe to say, Katie and Tom's wedding weekend was planned to absolute perfection and they had such an incredible time, which is really all that matters.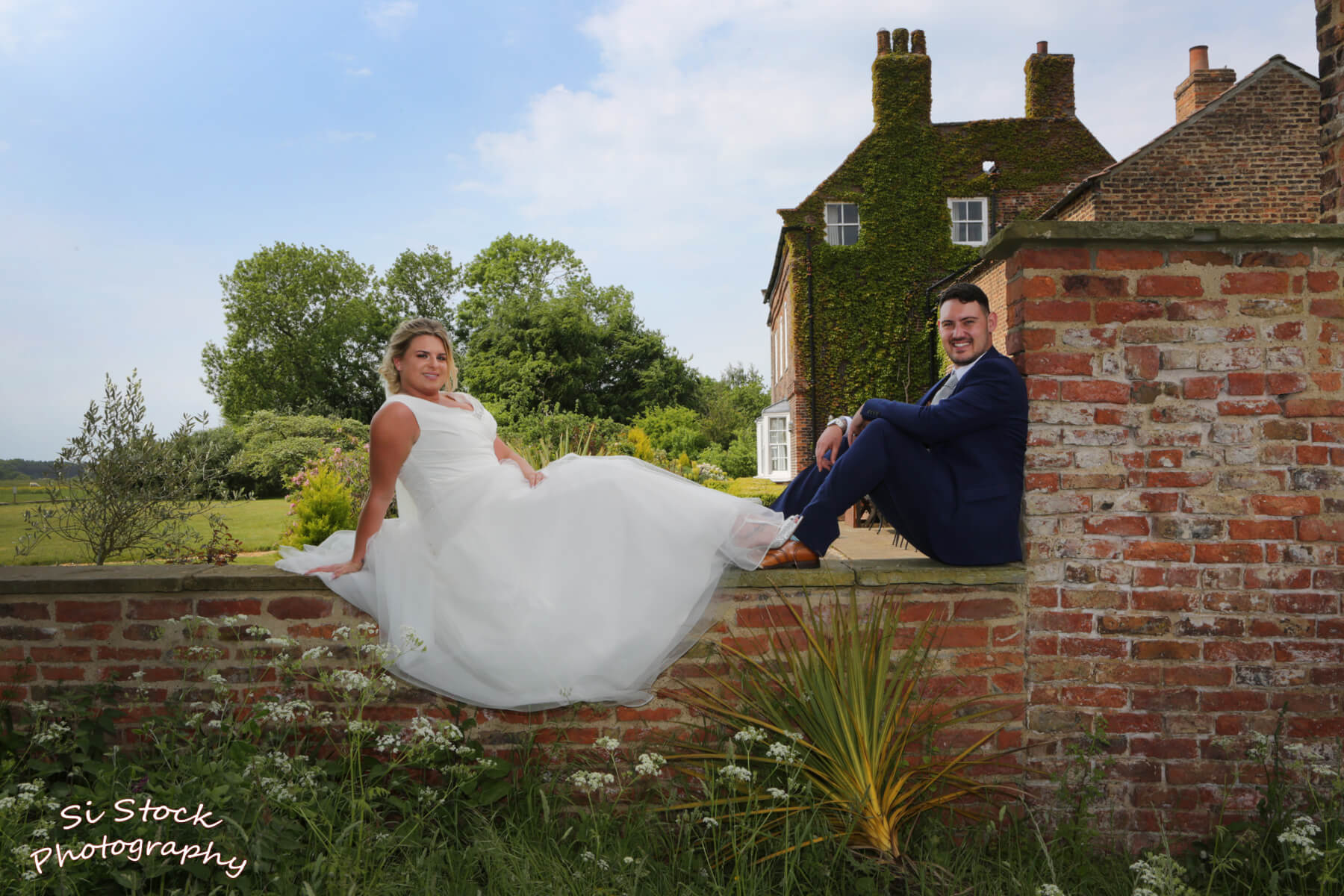 Congratulations to the new Mr and Mrs Wadsworth, you make a wonderful couple and we absolutely loved having you.
Suppliers on the day…
Photographer
Si Stock Photography
Caterers
Music
Tim Walton (Family Friend)
Florist
Hair
Make-up
Lucy Kershaw MUA at Jazz Hair Studios
Props
Transport
Photobooth