While the world tuned in to watch the wedding of the new Dutch and Dutchess of Sussex, Harry and Meghan, we only had eyes for one wedding, and it rivaled any royal celebration!
Olivia and Scott, our gorgeous bride and groom, set about decorating the wedding barn with the help of Olivia's bridesmaids on Friday however it wasn't until Saturday morning, while Olivia and Scott were in the Manor getting ready for their big day, that the barn really took shape. It was the first time we had worked with Donna, otherwise known as the Unconventional Florist so we didn't really know what to expect, and neither did Olivia, as she had given Donna free reign to create something beautiful. And create something beautiful she certainly did!
Olivia and Scott decided on light grey table cloths which were the perfect backdrop to the stunning bright pink and purple blooms filling all kinds of geometric copper and glass jars and terrariums. Peony scented candles sat on beautiful candelabras at the centre of each table, and grapes and pomegranates were hidden amongst the foliage ready for guests to enjoy!
The table plan was an amazing copper pipe frame with hanging table cards- such a simple idea but it looked incredible. Scott and Olivia's beautiful 4 tiered cake was decorated with peonies and roses which really brought the whole colour scheme together. Tiny little cake bites and cake pops from Dil and The Bear were displayed on afternoon tea style cake stands around the cake ready for guests to enjoy.
Our Bride and Groom had made a beautiful palette photo frame collection with photos of each of their parents on their wedding day and lovely images of Scott and Olivia, which sat pride of place on their gift table.
It's safe to say the barn looked incredible, and we couldn't wait for Olivia to see it, as she still didn't know what Donna had created!
When Olivia made her way into the courtyard, she looked incredible. Her off the shoulder gown rivalled any royal wedding dress and her hair and make-up was just perfection. Her gorgeous bouquet was actually growing as the peonies opened up in the sunshine! A little photo of Olivia's Dad Ray as attached to her bouquet with ribbon in the colours of his favorite football team, Aston Villa, to make sure he was close to her on her special day.  Olivia's bridesmaids, Stacey, Anna and Claire wore lovely blush pink off the shoulder gowns with sparkly lace detail. We were in love!
Guests and our Groom Scott left for Bolton Percy Church in double decker busses while Olivia, her mum Denise and her bridesmaids were whisked away in a beautiful baby blue vintage VW camper van decorated with all kinds of bunting and loveliness.
When the newly weds returned to Hornington, we served prosecco, bottled beers and Mojitos on the front lawn while the guests soaked up the sun.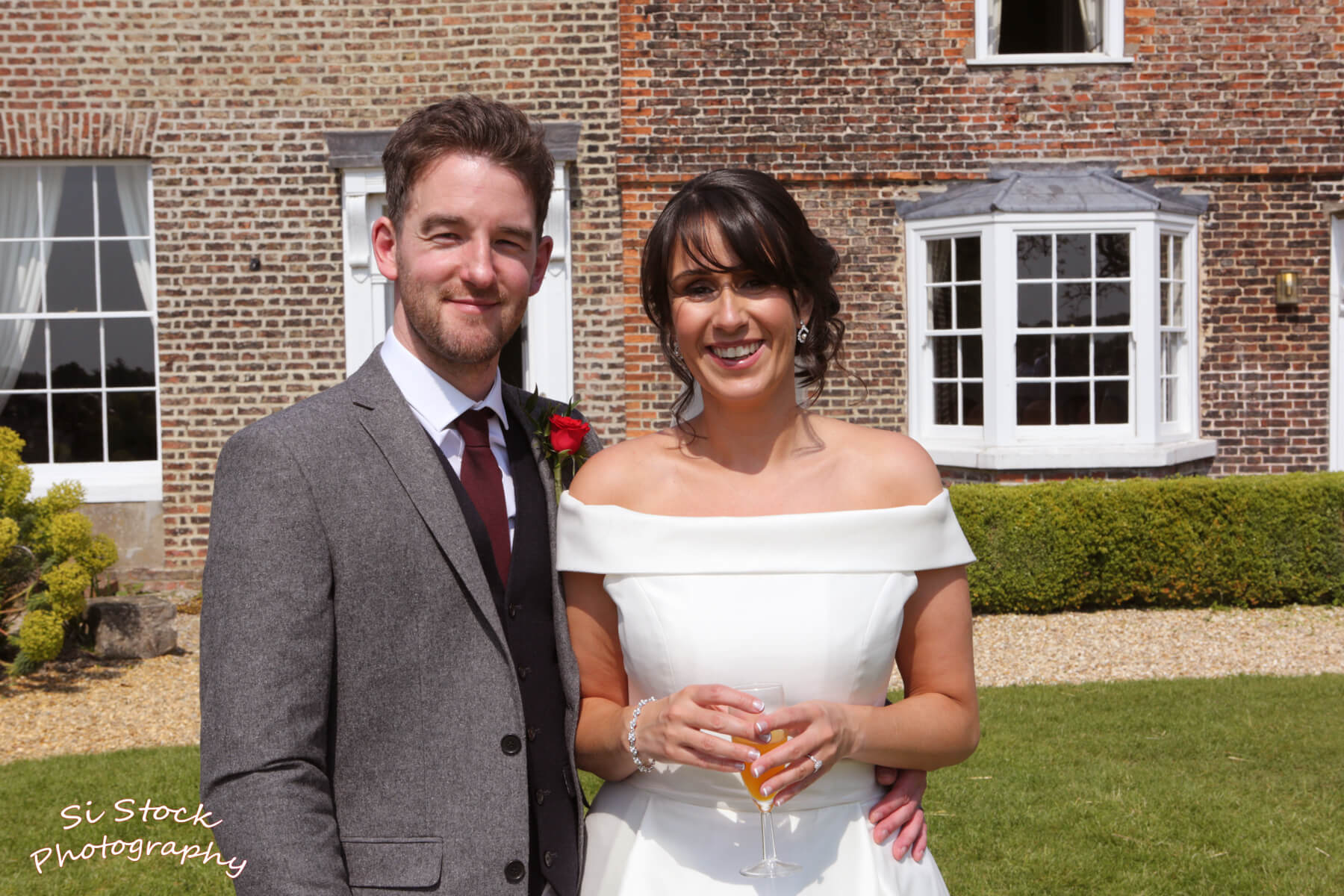 Olivia's brother Matt spoke a few words in honour of their Dad Ray, saying how he would have done absolutely anything for his little girl, who he affectionally called Polly, and Scott's laid back and easy-going nature is just like that of their Dad's, making Olivia and Scott a perfect match.
Scott reminded his guests that no one needs Royalty when you have the Longstaffs! He thanked his beautiful bride for organising every detail of their wedding and told us how he was completely lost for words when she walked down the aisle towards him. The pair met on a night out over 7 years ago and luckily Olivia saw though Scott's cheap Oasis look! Scott was working in Scotland at the time, and with Olivia living in Liverpool, they made their long distance relationship work for 3 years until Olivia and Scott moved to Newcastle to be together.  That was a few years ago but Scott revealed she still has plenty of Scouse in her, and it comes out in force when she is having a tantrum. She had been full on scouse in the lead up to the wedding, and Scott said it was like living with a little angry Cilla Black!
Scott thanked the bridesmaids for taking Olivia on an amazing Hen-do trip to Budapest where they got drunk at an outdoor spa party and rode a prosecco bike through the streets!
While Scott sadly never got to meet Olivia's Dad Ray, he just knows he would have got on with him so well.
Next it was time for Scott's Best Men, Chris and Neil to take centre stage. The trio had been friends for over 20 years and Scott had been Best Man at both of their weddings, so they were safe in the knowledge that their weddings were out of the way! They decided to play a game of True or False with the guests and asked 1 person from each table to stand up and play for their table. Stories involving Scott purposely driving straight past his Dad who had fallen off his motorbike, Scott having a breast reduction and Scott missing out on a festival due to not brushing his teeth properly all turned out to be true, with hilarious consequences! To top off their speech, Chris and Neil had arranged for legends from Scott's favourite football team, Newcastle United, to record video messages for Scott on his big day, which was a total surprise to everyone, especially Scott! Messages from Steve Howey, Alan Shearer and Kevin Keegan were played on the projector and I think I saw Scott welling up, it was so lovely!
Hog and Apple, as always, served up a delicious feast of Ham Hock Terrine with slow cooked poached eggs, an incredible chicken dinner with all the trimmings and mouthwatering Sticky Toffee Pudding and Lemon Posset which was devoured by the guests.
As evening fell, we were all entertained by the Crazy Horses band and DJ Henry Aspden while a photobooth was set up on the mezzanine by Viva La Booth. It was such a beautiful day, from the glorious weather to the floral arrangements to the stunning bride, and we are so luck to have been a part of it.
Congratulations Mr and Mrs Longstaff!
Suppliers on the day…
Florist and Stylist
Donna Hartley-Redfern The Unconventional Florist
Caterers
Table Linen
DJ
Henry Aspden- Jonny Ross Music
Band
Cake
Photographer
Photobooth
Hair
Paula, Reflections
Make-up
Jodie Owen
Stationary
Cake pops