If you were to hand pick a weekend to hold the most beautiful, colourful, and fun filled wedding, you would choose the warmest Bank Holiday Weekend on record, right? Right! Freya and Kabir's summer wedding dreams came true and they created the most amazing weekend of celebrations surrounded by their loved one, and it was spectacular.
For most, organising one wedding is stressful enough, but our Bride and Groom had two to plan, back to back! A traditional wedding ceremony was held on the Saturday, and a fantastic Sikh blessing took place on the Sunday, complete with the exchanging of the garlands, games on the front lawn and a ceilidh band to entertain the guests all evening. When Monday morning arrived, Freya and Kabir couldn't wait for a rest!
On Saturday, Freya and her beautiful bridesmaids left Hornington for the ceremony at Central Methodist Church in Brighouse. Freya looked stunning in her vintage bohemian style lace gown, complete with flowers in her hair. Kab and his Groomsmen were dressed to impress, and their purple paisley ties matched the patterns on their wedding stationary and the hand drawn details on their wedding cake.
Once the newlyweds arrived back to the glorious Hornington sunshine, they relaxed on the Front Lawn where they were served ice cold bottles of beer and thirst quenching Gin and Tonics. Paper lanterns hung from the apple tree which had just come into blossom in time!
The courtyard had been adorned with the most beautiful hand made bunting, made from strips of material cut from shirts, ties and handkerchiefs of all different colours. The Lych gate had been decorated by Freya and Kab's Florist, The Allotment Bride, with huge pink, blue and purple blooms.
Inside the barn, the colourful theme continued! One of our huge photo frame screens had been repurposed as the table plan which looked fab, and around it and the entrance to the barn sat giant milk churns and glass vases filled with summer blooms.
Soon enough it was time to seek out the shade of the barn and enjoy the feast prepared by Fryton Catering Company. Main course saw a huge Venison pie delivered to each table with roast potatoes and all the vegies!
First to take to the microphone was Freya's brother David, wo revealed he had looked to Google for inspiration on what to include in his speech, and read that his was more of a speech to be endured than enjoyed, so warned everyone to strap in! We learnt about Freya's childhood loves of playing the violin, which saw the family move to the Midlands to support, and reading, which has stuck with her throughout her adult life too.
David knows Kab is the right guy for his sister, because she told him so and he had to agree! Freya is very determined and always gets what she wants- but in a good way because so works so incredibly hard. Both Freya and Kab are doctors, and during her 5th year of medical school Freya had a bit of trouble with an exam and it was looking as though she may have had to leave, however she did what it took to prove to them that the exam system was wrong, she retook the exam and then went on to retake the year. She is now an incredible doctor and David is so proud of her for that.
Next it was the turn of Freya's brother Richard. He spoke of his sister's love for Harry Potter and noticed there were a few undeniable similarities with her and the famous wizard- She has a passionate loyalty and strong bond with her friends, she has a love for learning, and not forgetting her fascination with magic! She couldn't wait to go to boarding school as a child and study at her very own Hogwarts. Now Freya works with he magic of medicine every day and transforms lives with this incredible power- Richard is immensely proud of her.
Kab thanked Freya's brothers for their kind words and spoke of the rollercoaster he and Freya had been on over the past few years. They had both worked as A+E doctors in Australia, they had been to many of their friends' weddings, welcomed a number of babies (he would ask his guests to spot the pregnant lady today but there are so many!) and Kab had taken part in the London Marathon this year which is no mean feat! The tough times are made so much easier with his wife's support and Kab is not convinced he could have got though medicals school without his stunning Freya by his side.
He too thanked his parents for their huge support, and especially his mum and gran who had handmade the little jars of Garam Masala for each guest as favours, and their friend Charlotte who had hand decorated the beautiful cake.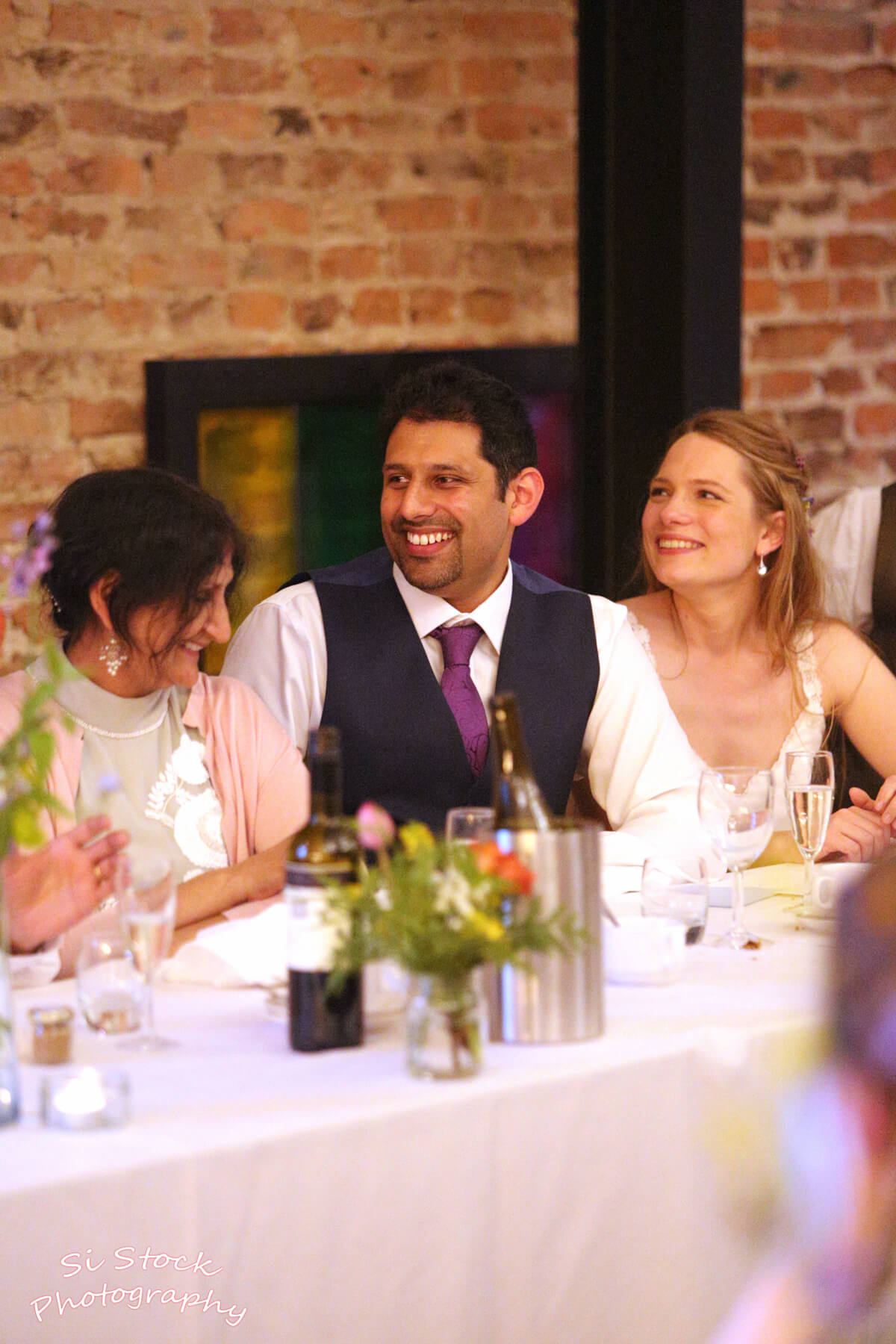 Last but not least we heard from Kab's Best Man Rick. The pair met at Uni in their first couple of days and have been friends for over 10 years. They bonded due to the fact that both Kab and Rick had been born with the mind of incredibly grumpy old man trapped inside a teenage body, and they both were more than happy to sit in the pub and wait for their bodies to catch up! Safe to say, joked Rick, the first night of Kab's Stag-do, his body definitely caught up!
The evening was spent dancing to music from The Black Sheikhs, singing pieces of material soon to become a patchwork quilt guestbook (made by Freya's mum Briony), and having the most beautiful and intricate Henna designs drawn on to their hands ready for the Sikh ceremony the next day.
The barn was a buzz of activity and it was so wonderful to be a part of it. Huge congratulations go to the new Mr and Mrs Nepal and we wish you the happiest of futures together.
Suppliers on the day…
Photographer
Wedding Dress
Florist
The Allotment Bride
Caterer
Wedding Cars
Hair
Make-up
Band
Cake
Caroline Ball (Friend of Bride and Groom)