One thing we don't see very often in the middle of winter is a bright, blue sky sunny day, but that's exactly what we woke up to on the day of Paige and James' wedding! Paige and her lovely bridesmaids were being pampered with hair and makeup in the Manor Dining Room when their stunning bouquets were delivered by Hannah at Love Bird Floristry; luscious green foliage with delicate white and blue flowers. James and his groomsmen were able to put the final touches to their suits with their beautiful button holes.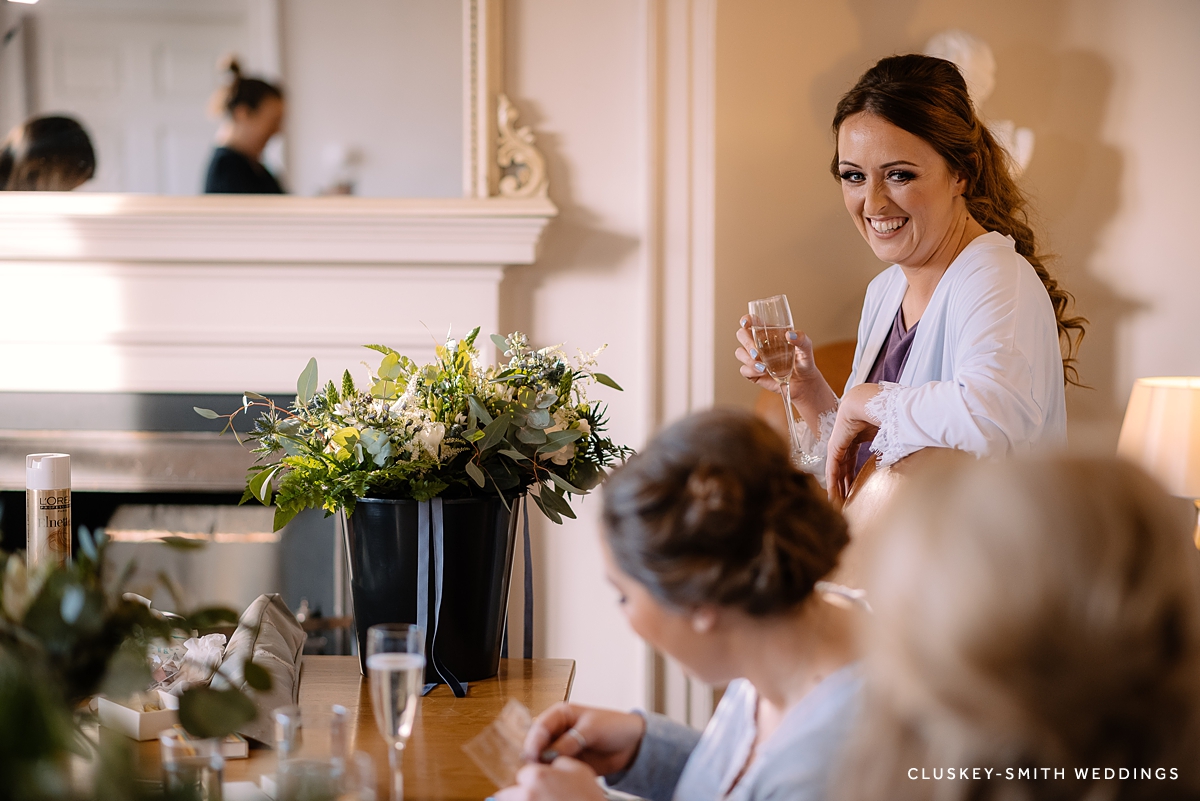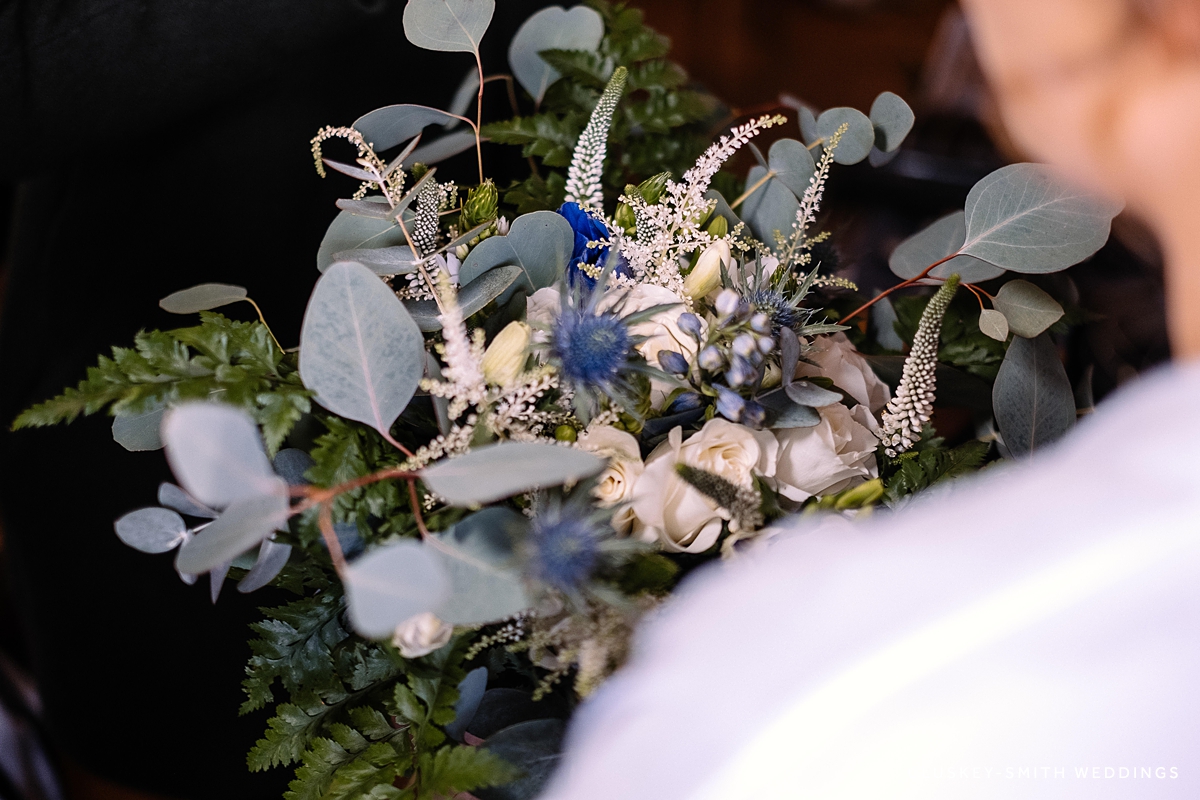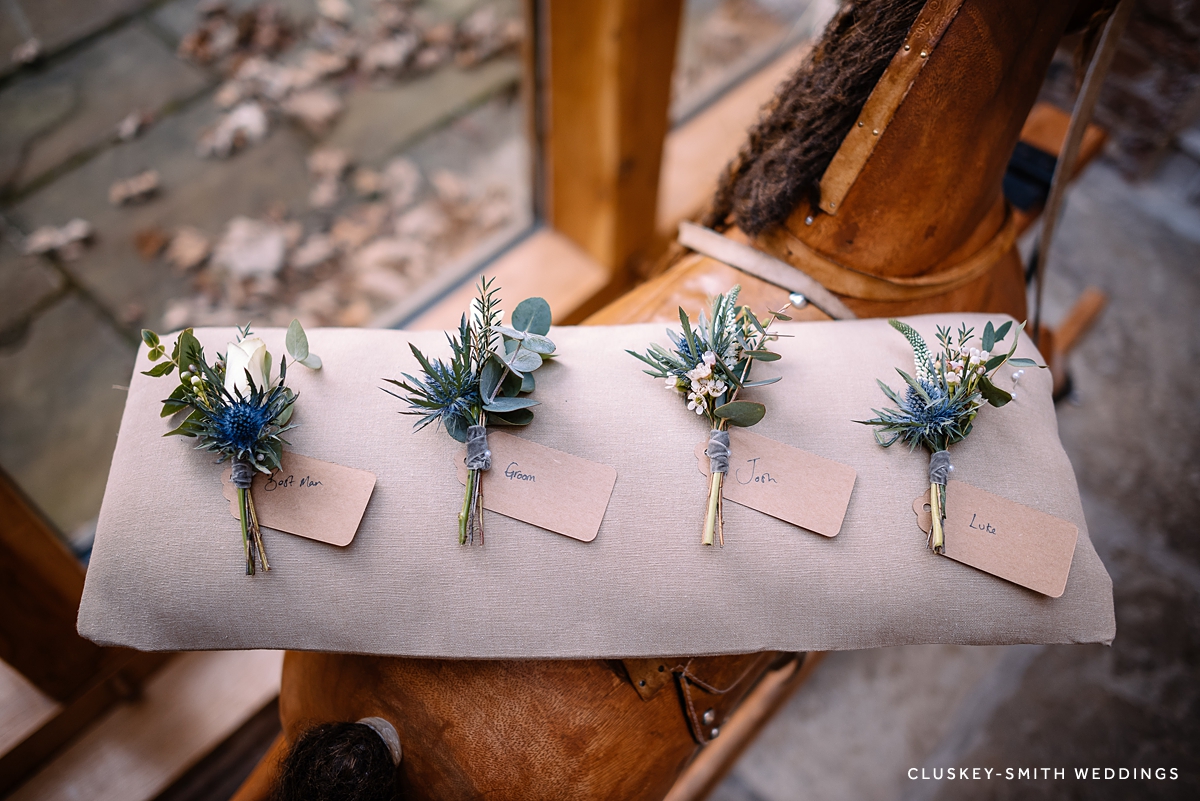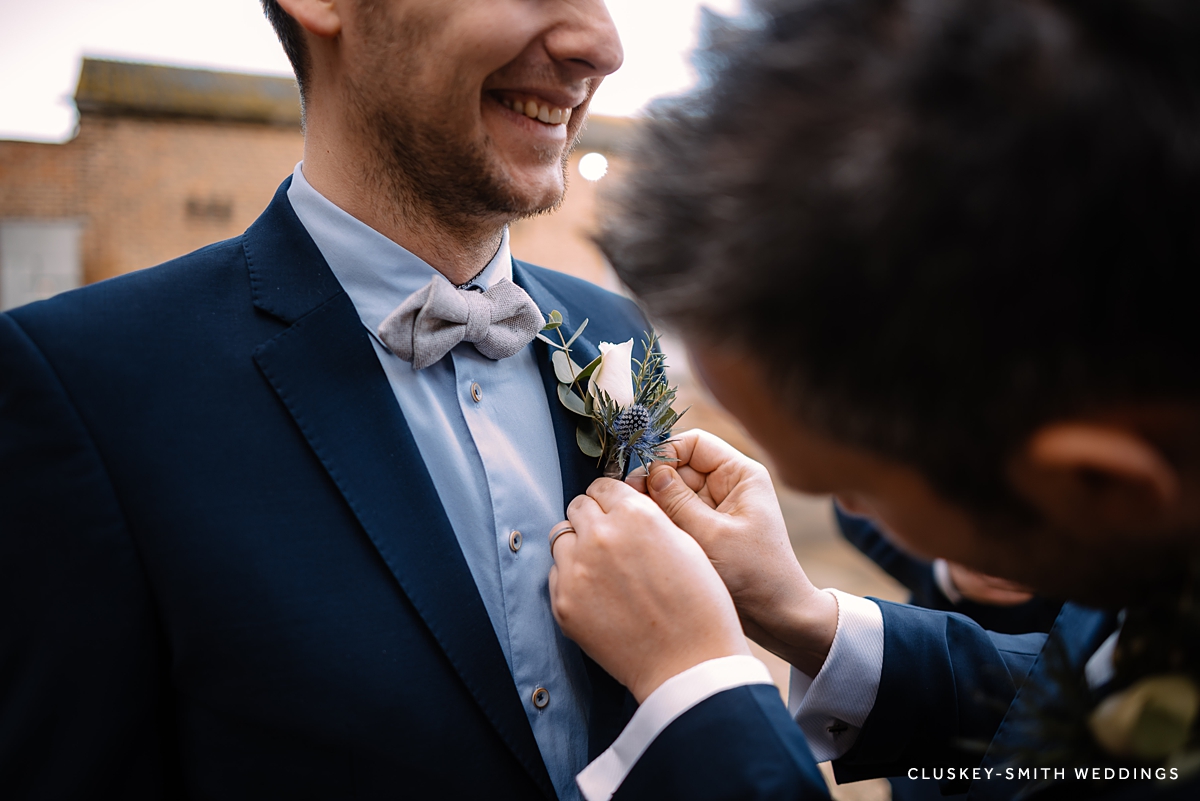 Paige is a nurse, but today it was her turn to be looked after! Her hair was an understated low pony, with tumbling curls and a beautiful beaded hair piece which matched the delicate detailing on her dress. Paige's mum helped her with the final touches- her 'something blue' earrings, and buttoning up her dress, which was the most stunning gown. With capped beaded sleeves, a satin waistband and floaty full skirt, Paige looked incredible.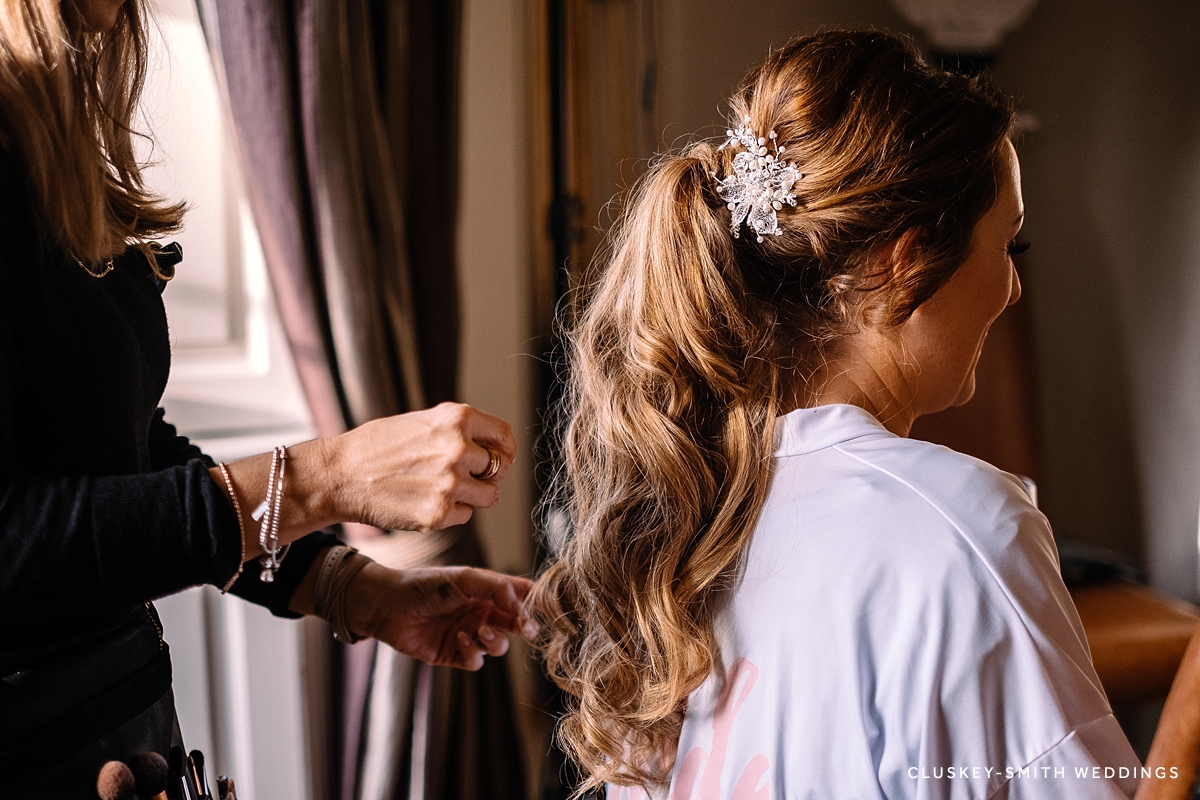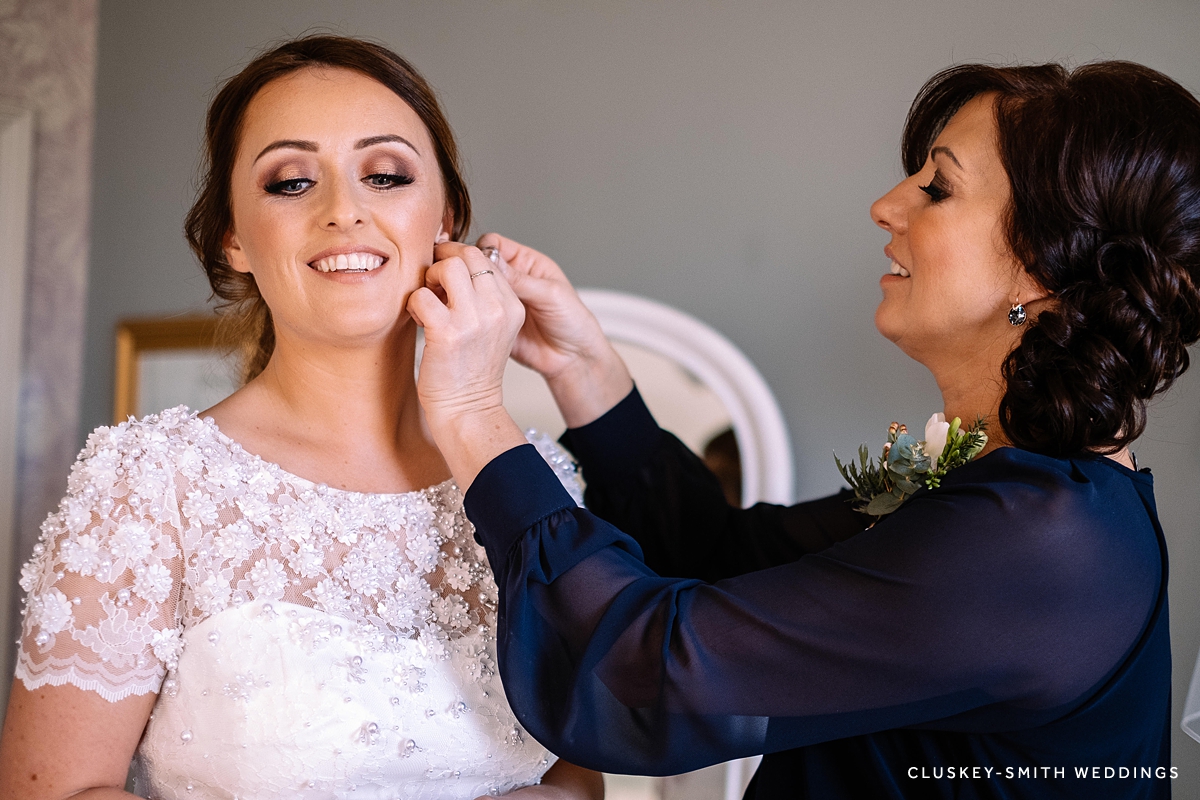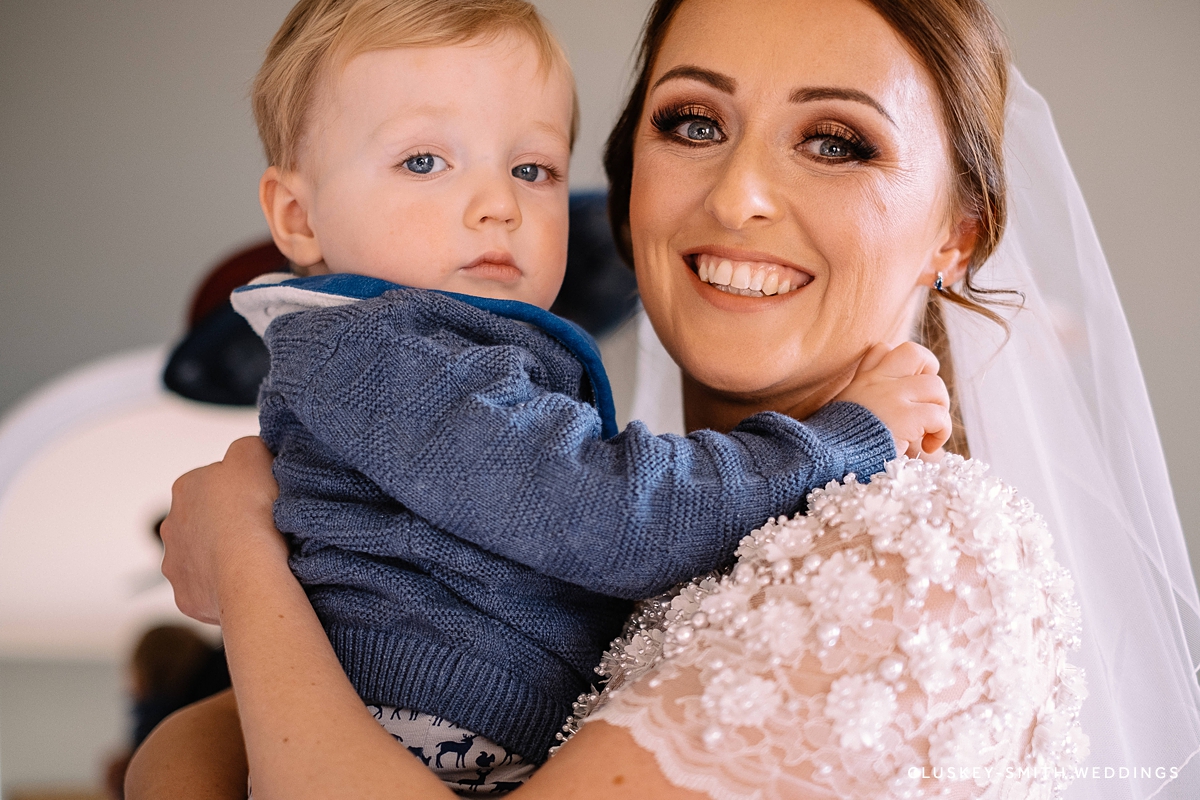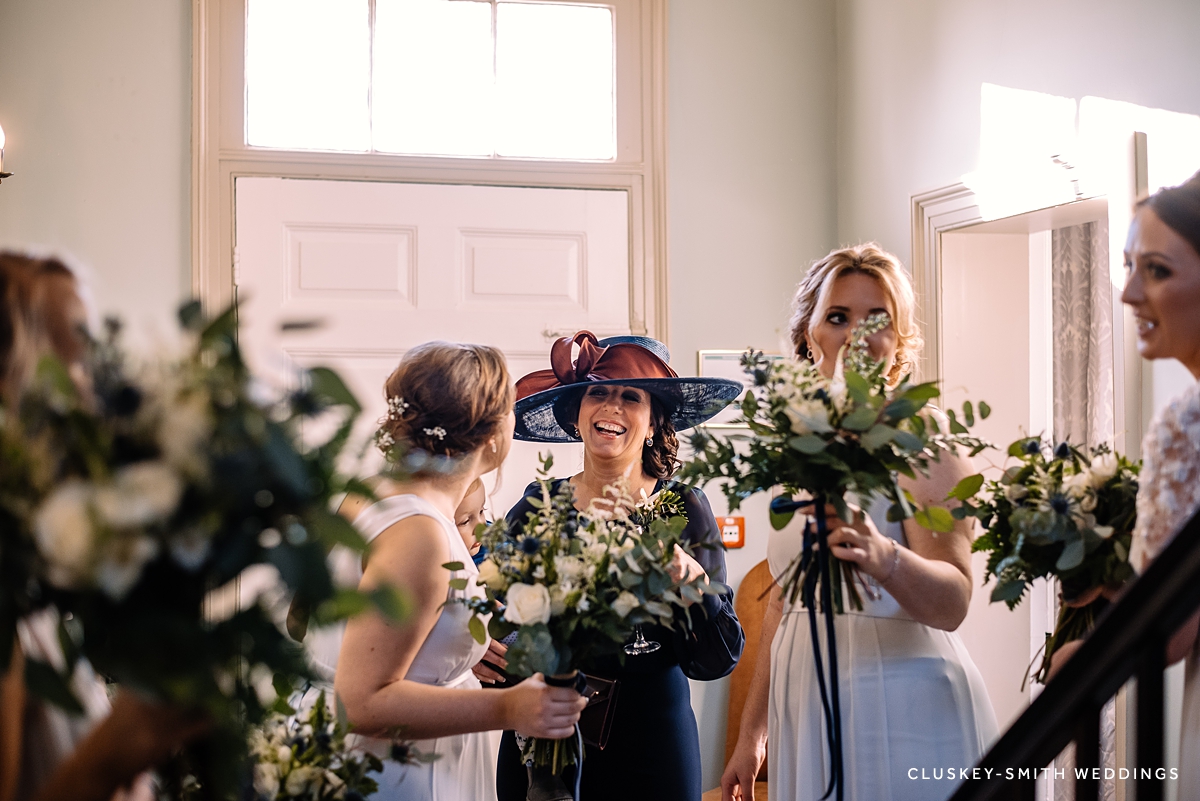 The ceremony was being held in the Wedding Barn, the guests and the groom all waited in anticipation for the Bride to arrive, but first down the aisle, was Paige and James' beautiful little boy Kit who was stealing the show! Paige was given away by her brother who looked so proud!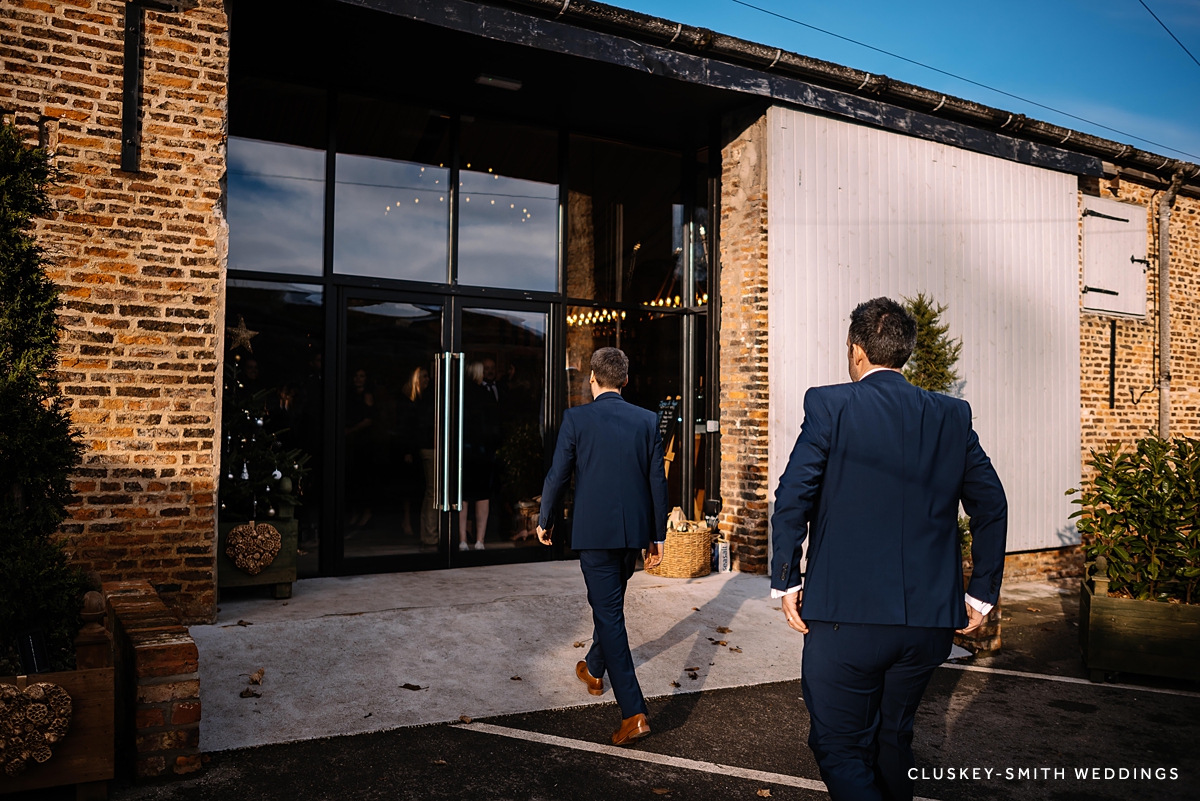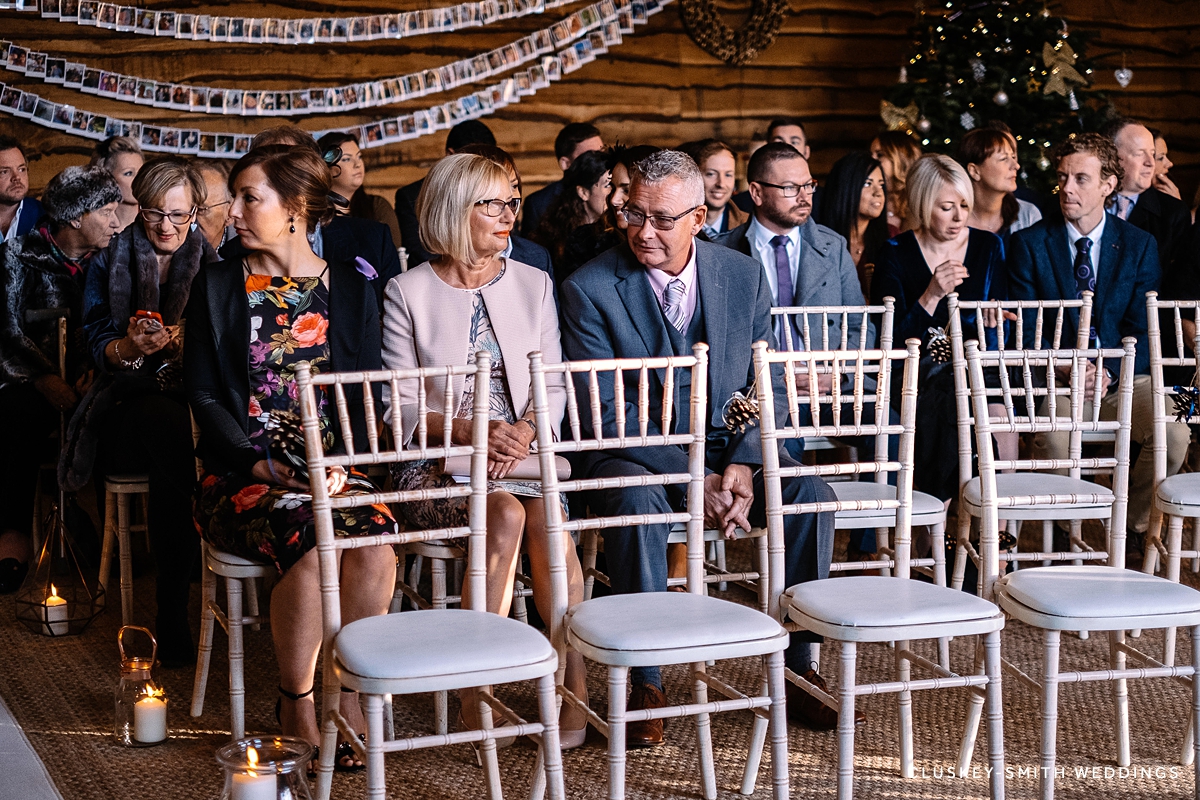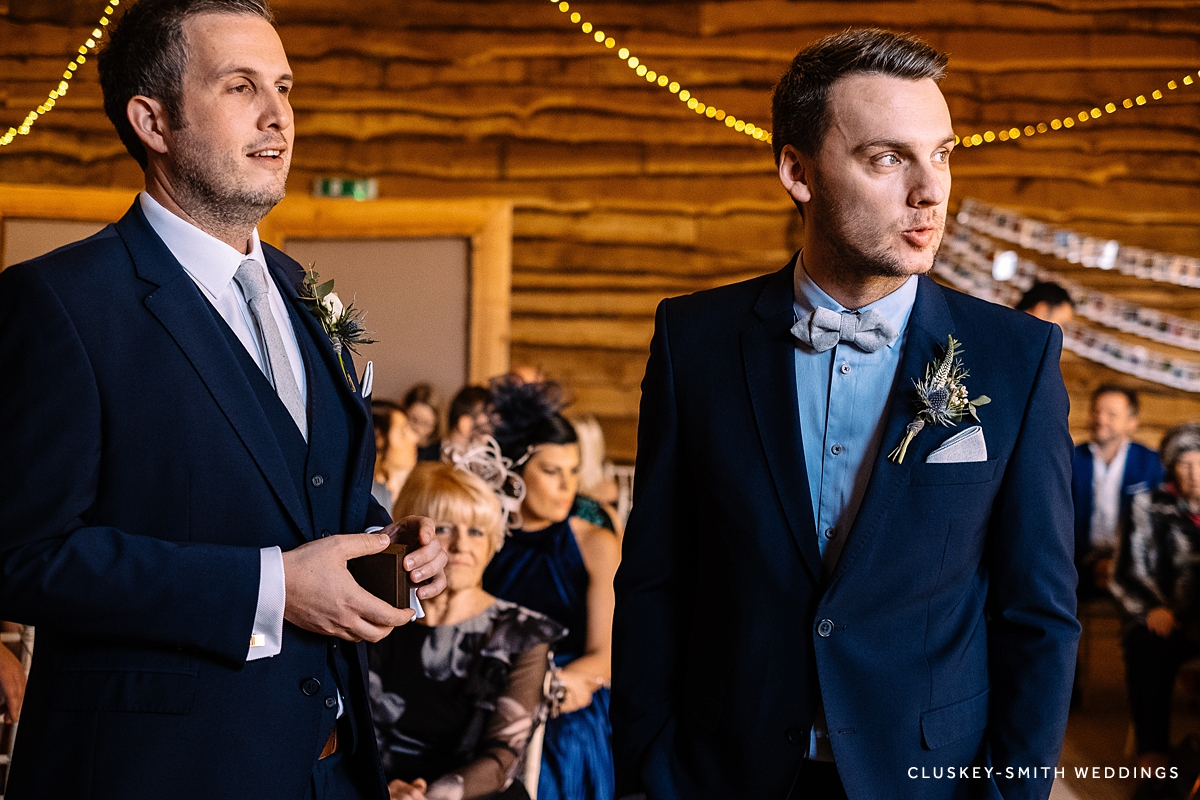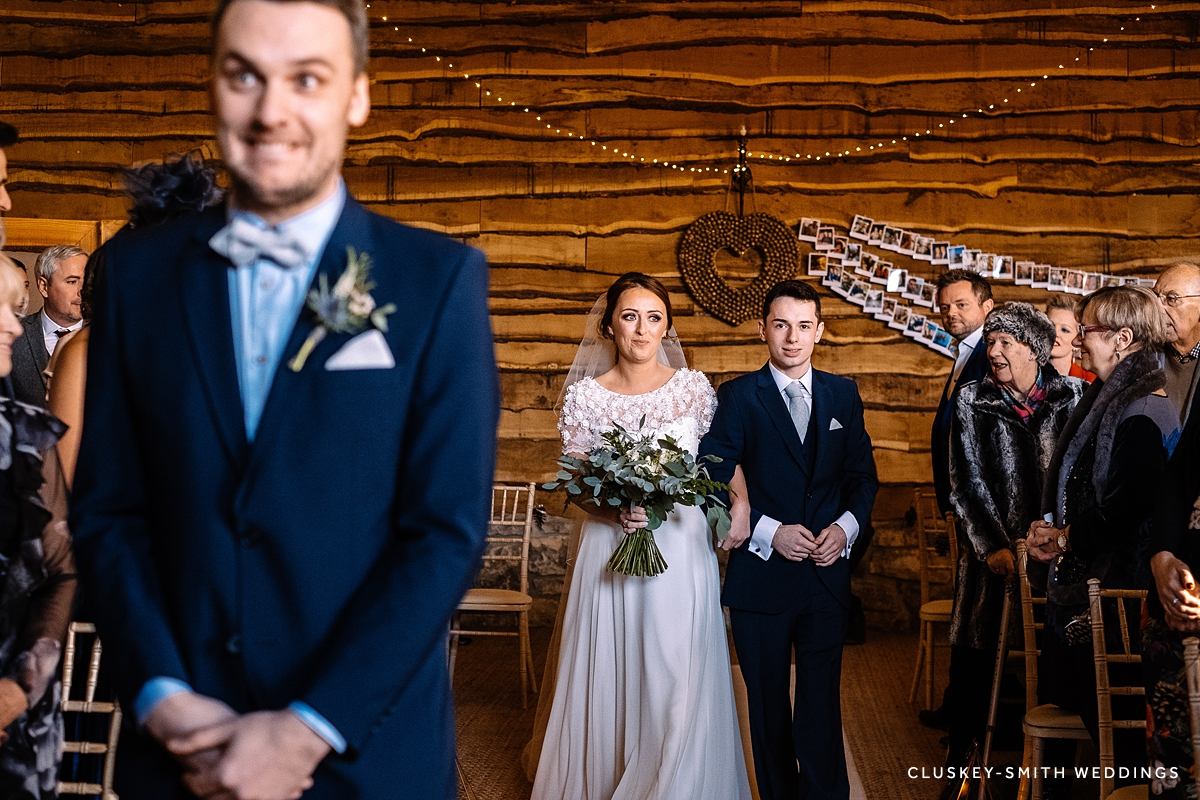 The ceremony was lovely, and included a reading from the couples' friend Amy titled 'A wedding reading by a friend, for a friend.' Amy was kind enough to share her reading with us, and I've included a section below-
'The two of you are now armed with marriage and it is a wonderful thing in which you get out of it what you put in, and I know that the two of you have so much to put in! You have love, romance, passion, support, patience, and understanding, praise and forgiveness to name a few, as well as that little gem, humour, and they do say laughter is good for the soul.
And of course, your son Kit means that there is even more love and you in your lives, as well as noise and nappies.
So, enjoy today and make lasting memories, and as you move forward through life as a married couple, make sure you find time to love and adore each other, the way you deserve to be, and remember this: the only thing more precious than young love, is old love.'
Not to be outdone, Kit was very vocal as his Mum and Dad said their vows!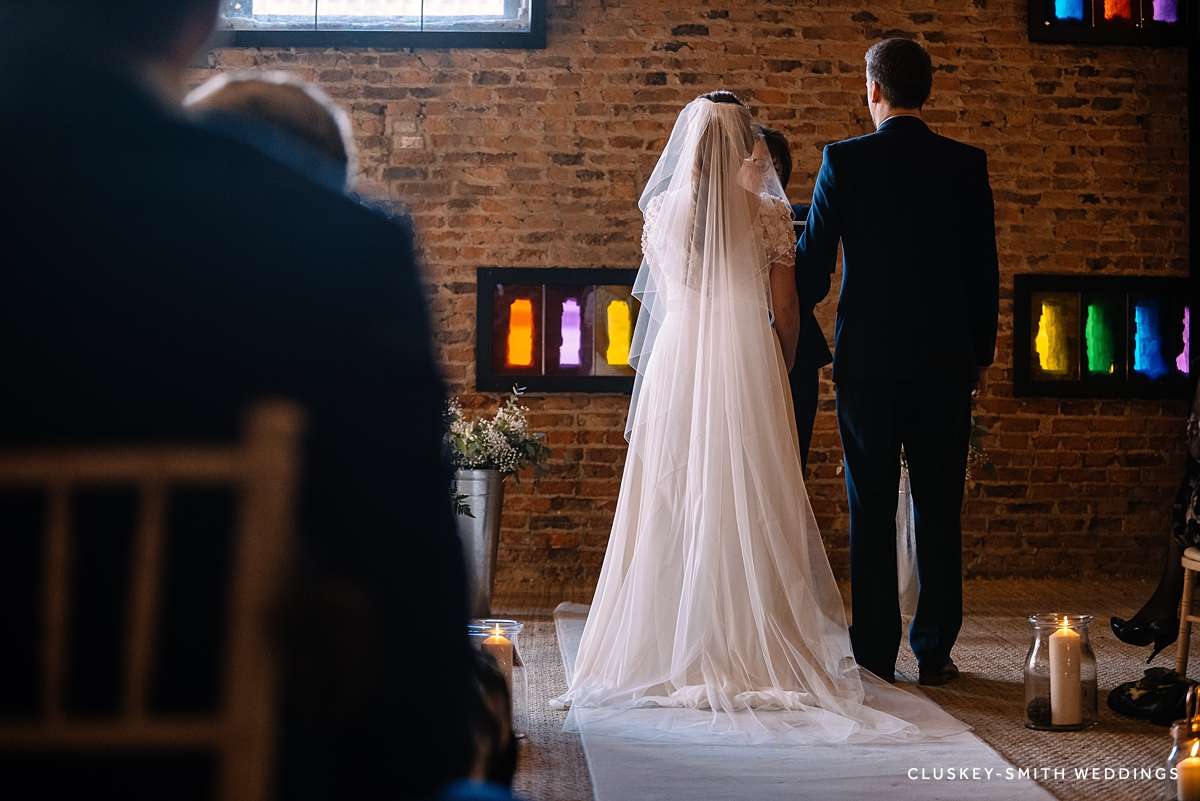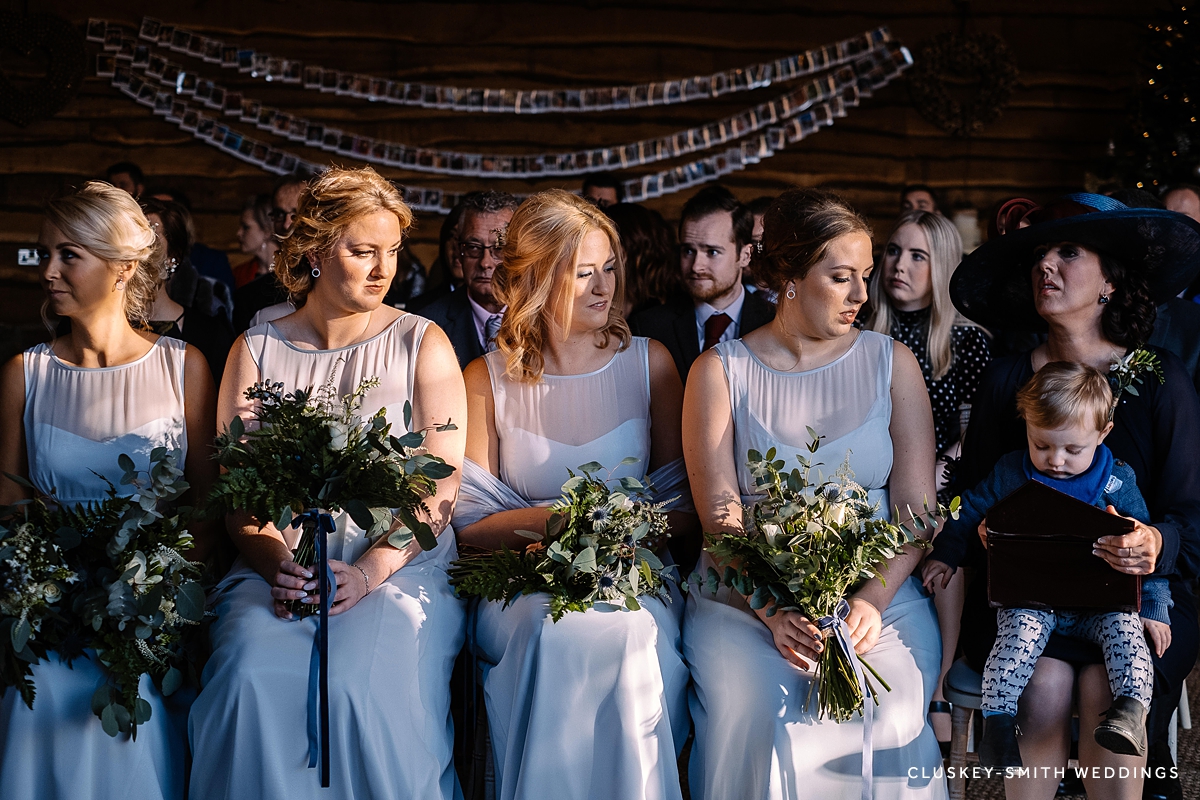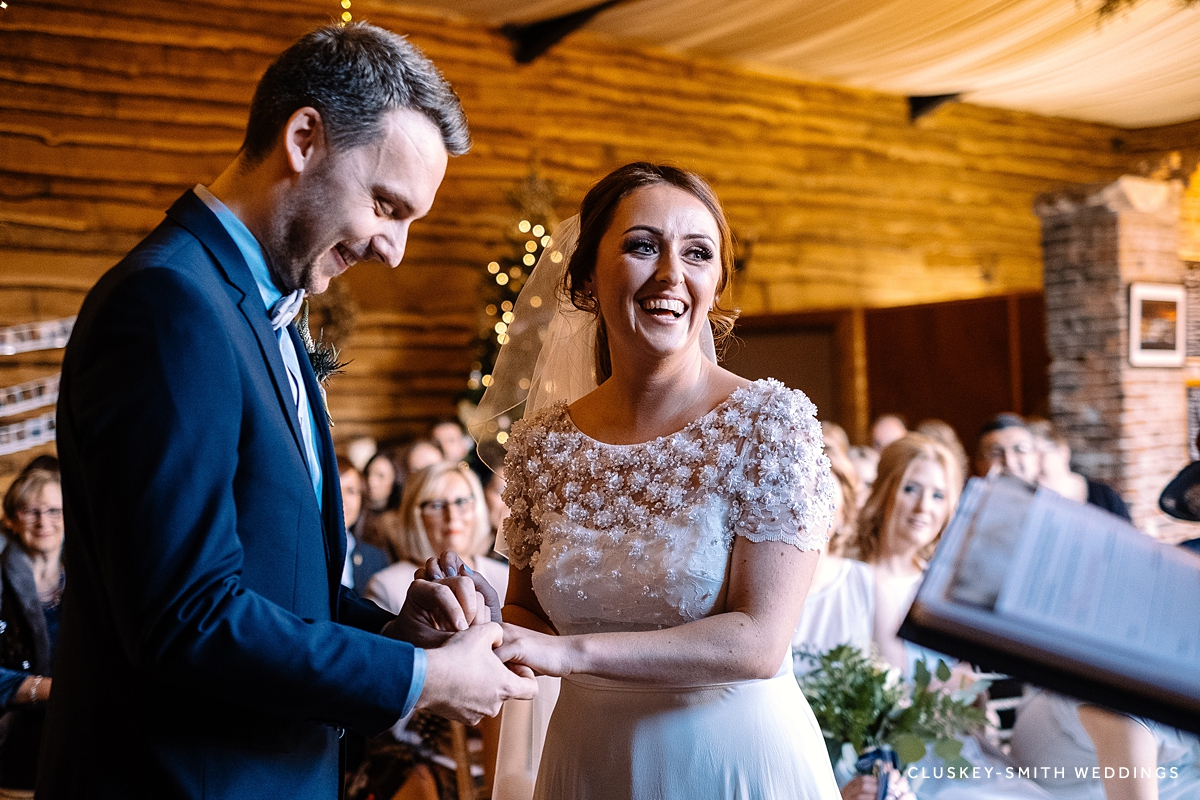 After the ceremony, the brand-new Mr and Mrs led their guests to the Gallery where we had set up a huge Christmas tree in the middle of the room. Canapés were served by the fabulous Homegrown Hospitality while guests enjoyed mixed beers and prosecco. Matthew J Magic wowed with his card tricks and signature Rubix Cube trick, which was a huge hit with everyone, but especially Paige and James!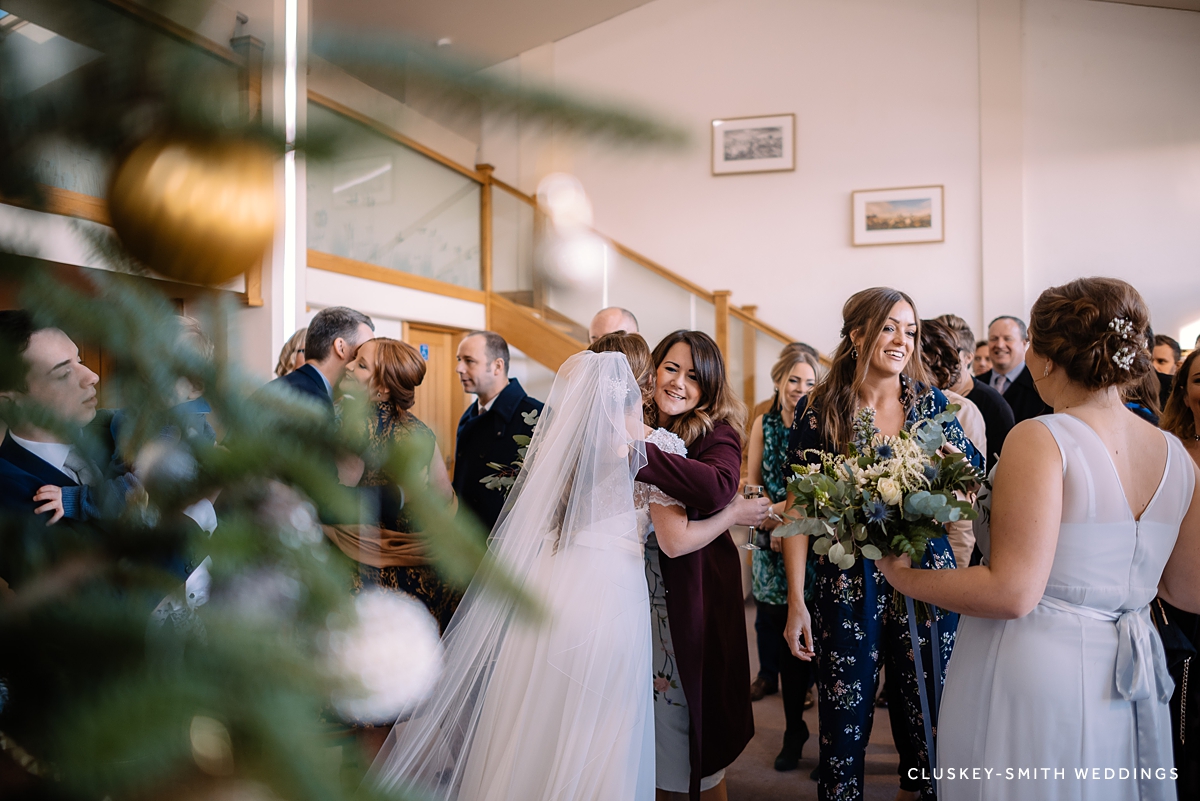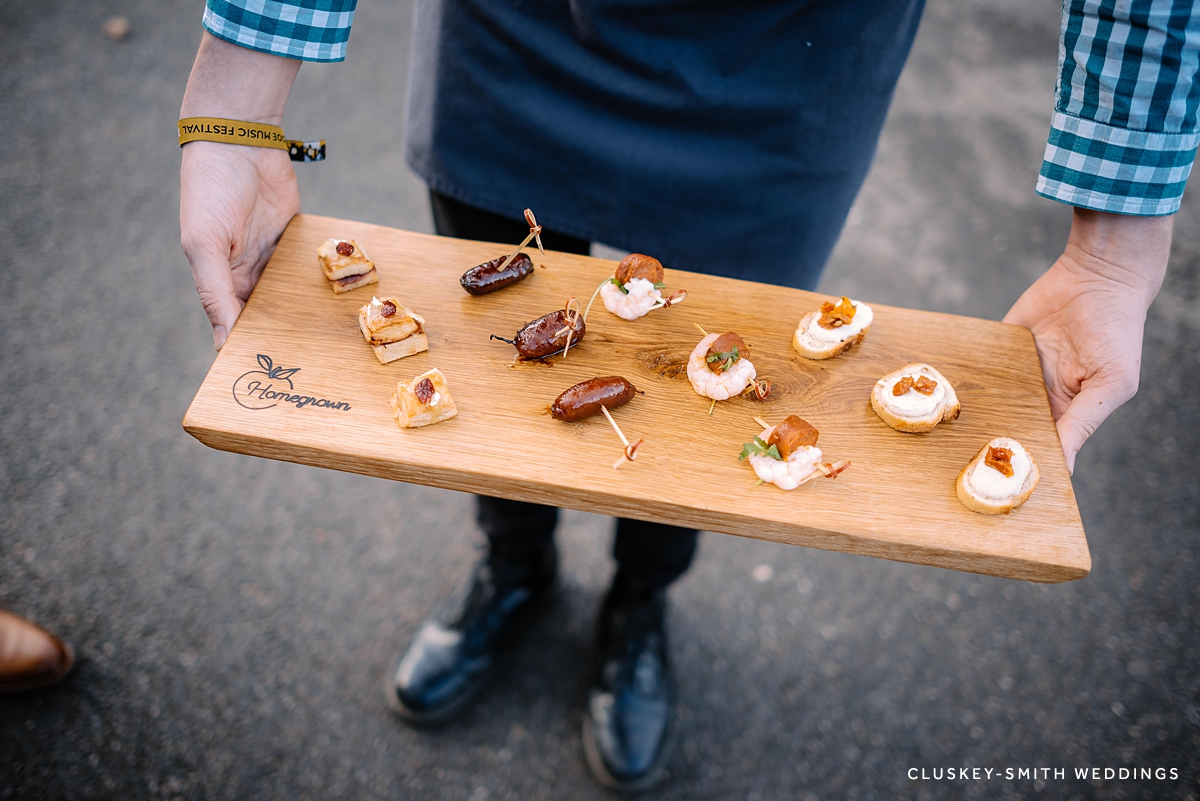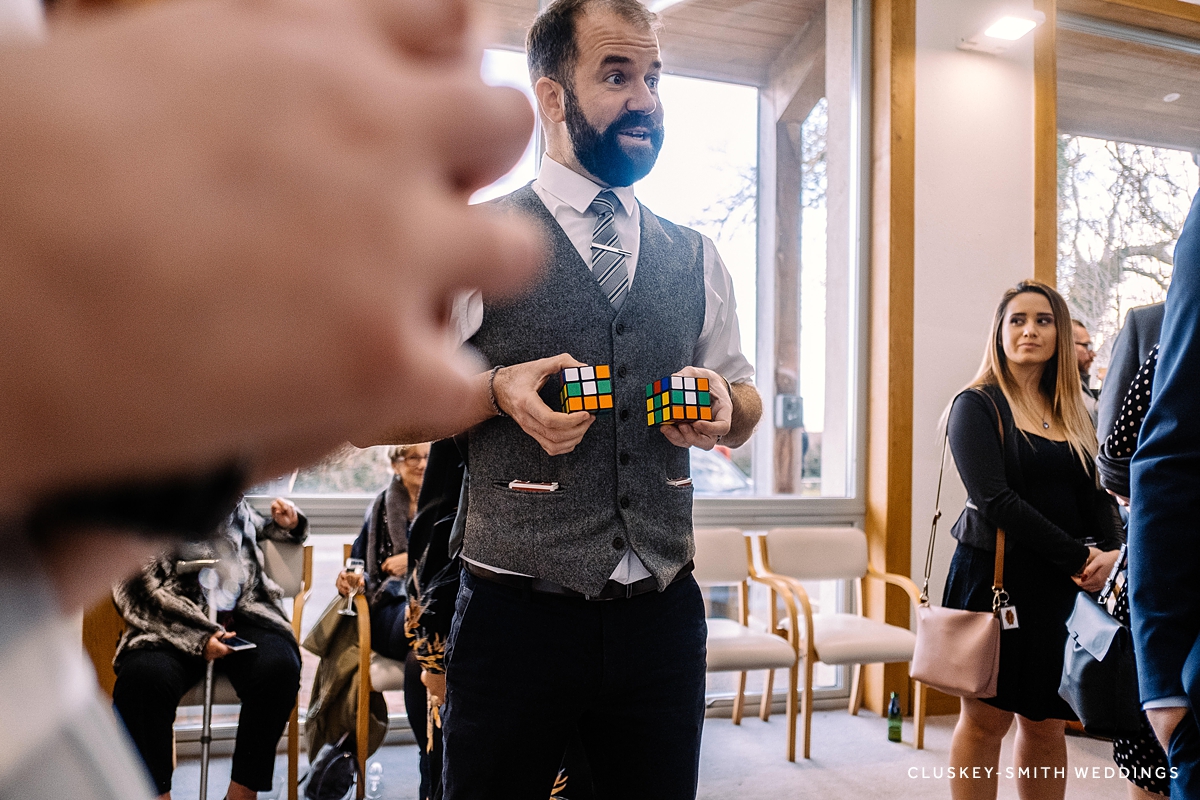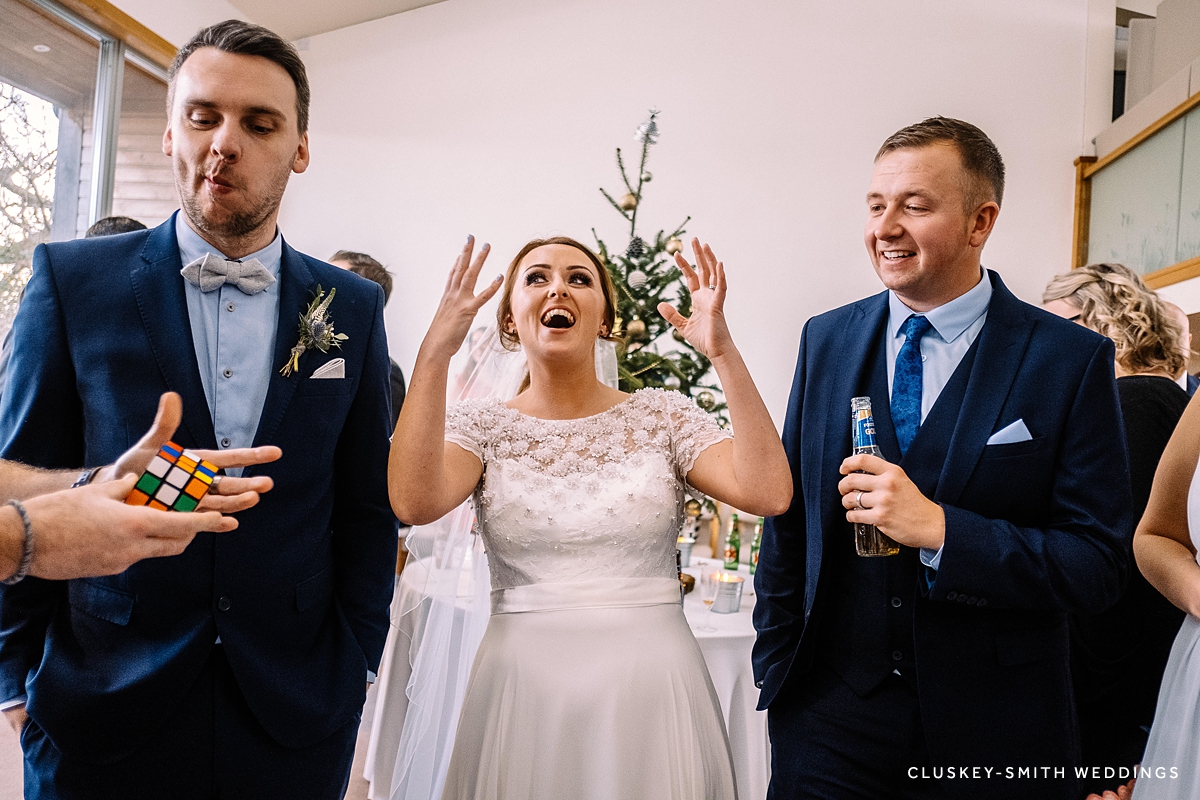 Paige and James' photographers Cluskey-Smith, whose photos we have featured in this blog, were amazing, as I'm sure you'll agree and took some beautiful photos of the newlyweds.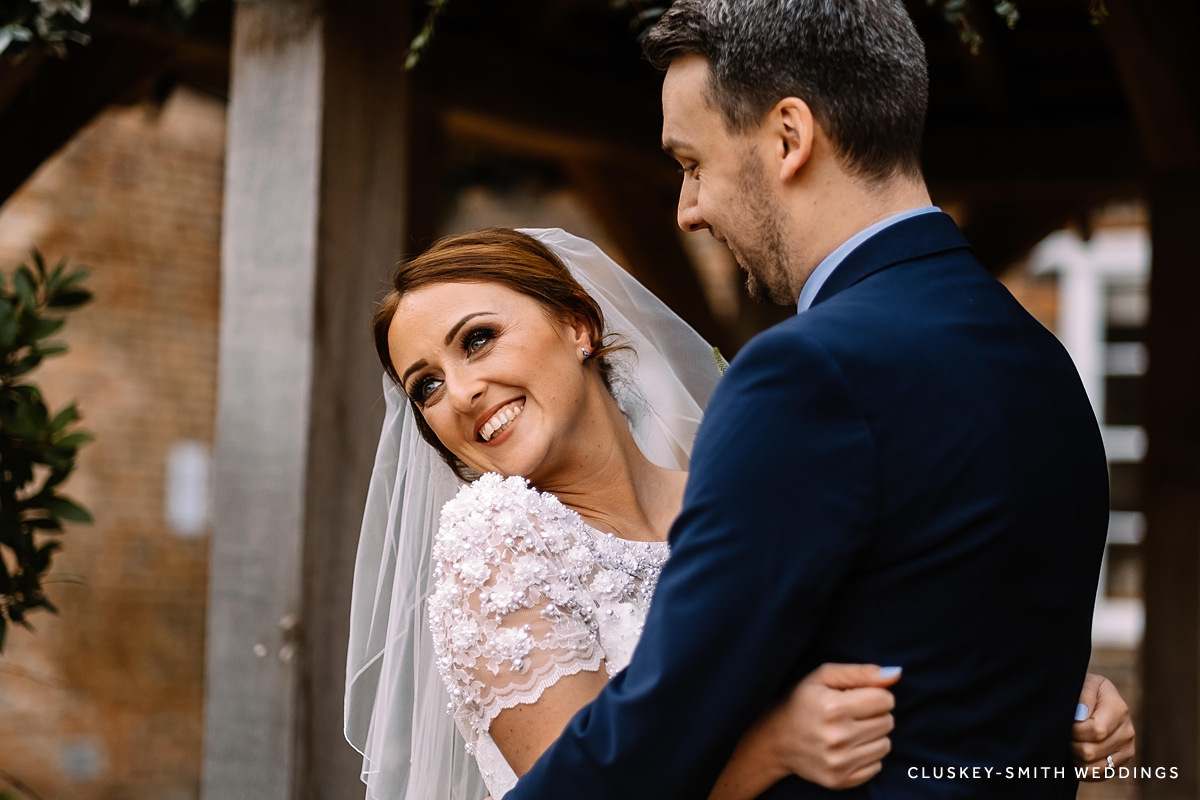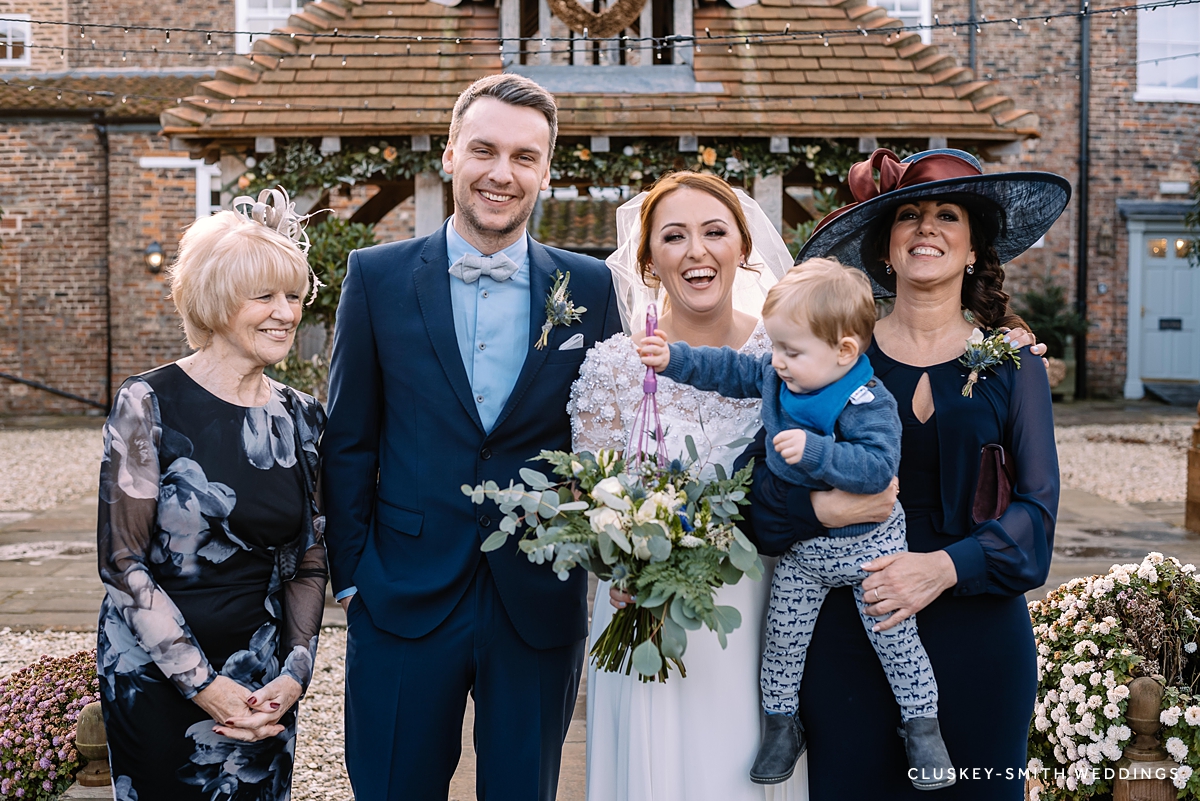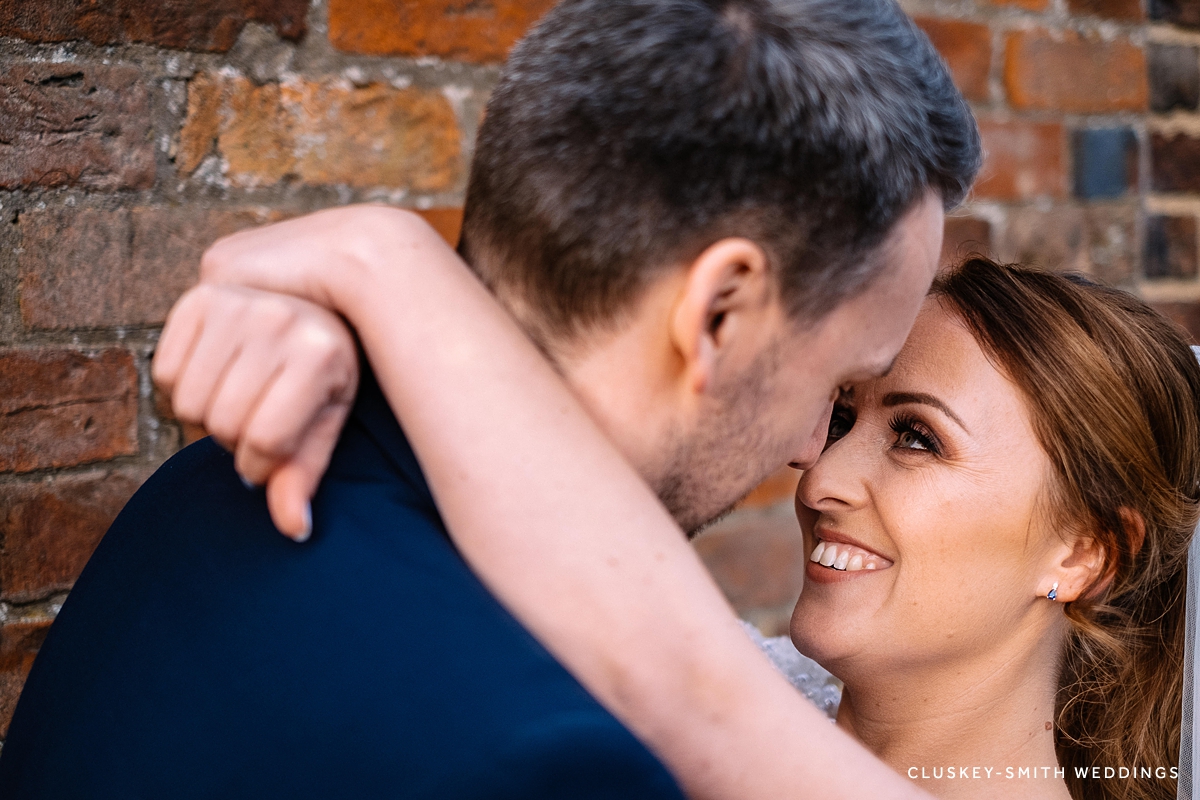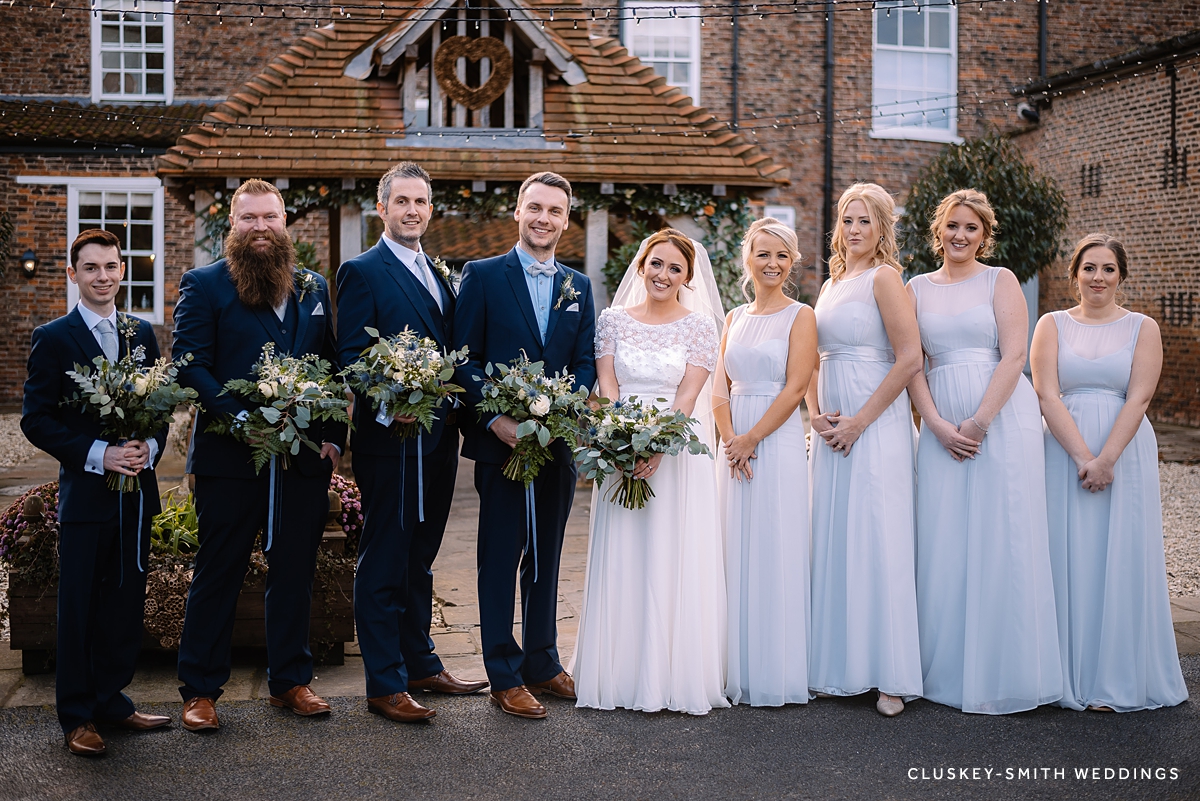 The barn was transformed for the reception and there were some truly beautiful touches. Fairy lights twinkled, hanging between the beams and the chandeliers, which were covered in beautiful green foliage. Their wooden crate box seating plan sat on top of a gorgeous vintage chest, covered in flowers and candles. Place names holders were in the form of tiny glass baubles, and Paige and James created a photo wall with some fantastic pictures of all their friends and family. My absolute favourite detail was the Bride and Groom pine cone cake toppers, complete with tiny top hat and bow tie, and veil!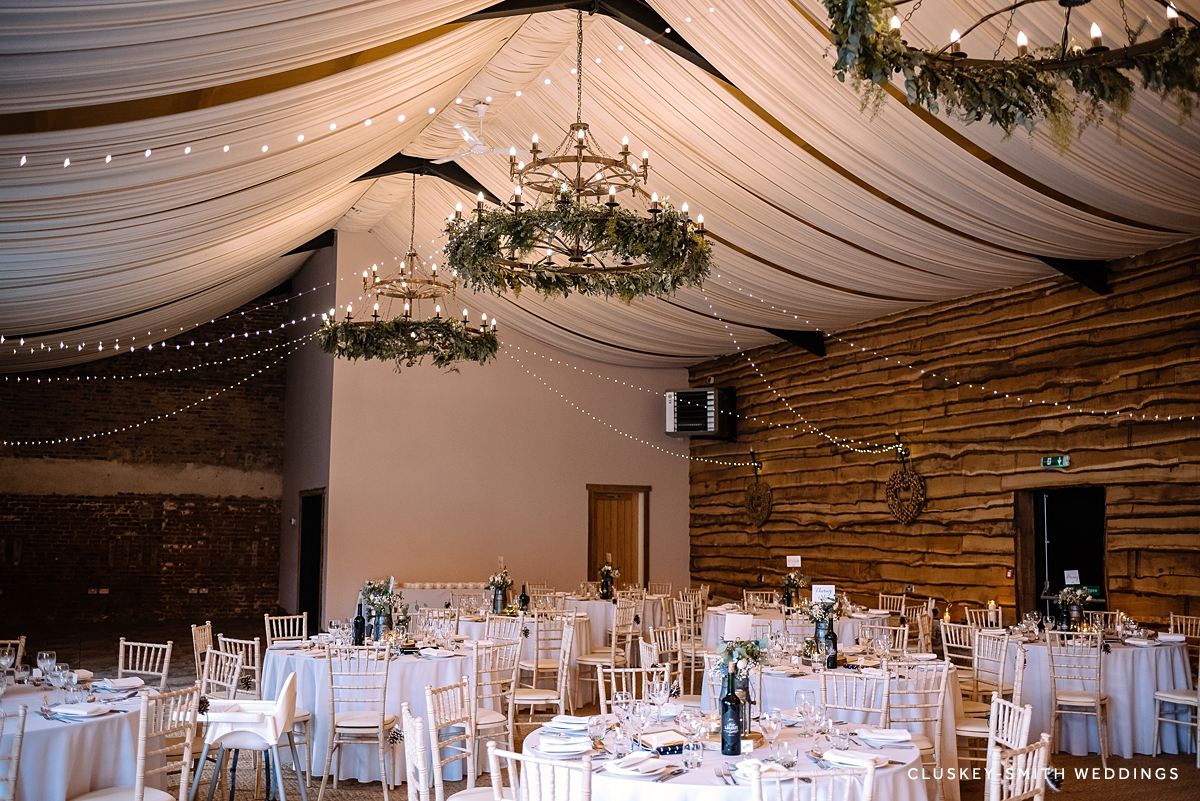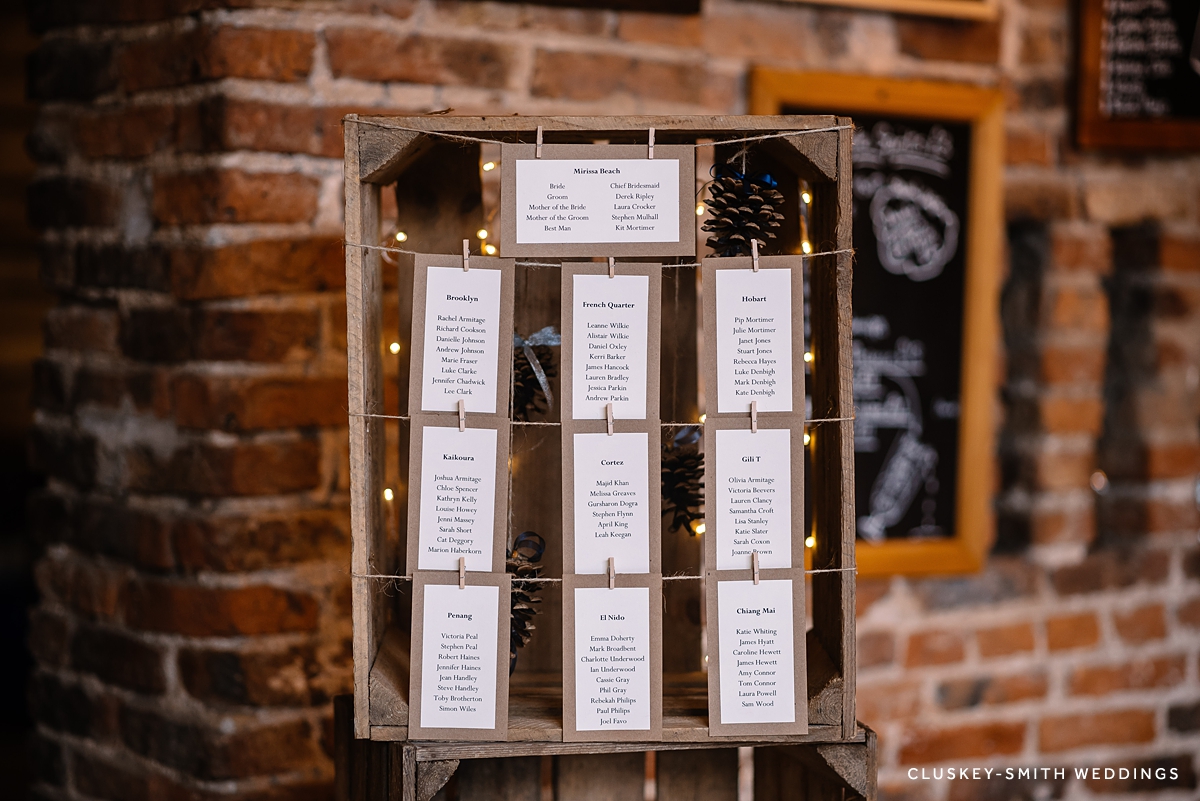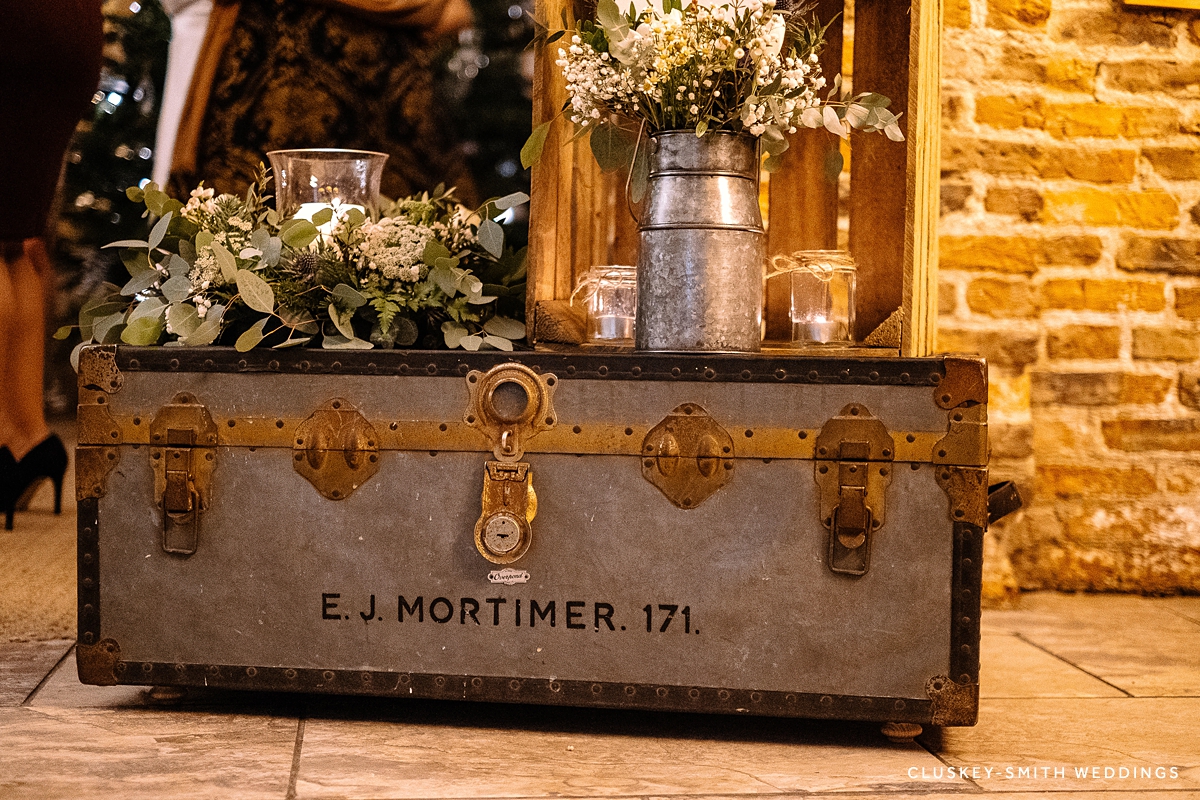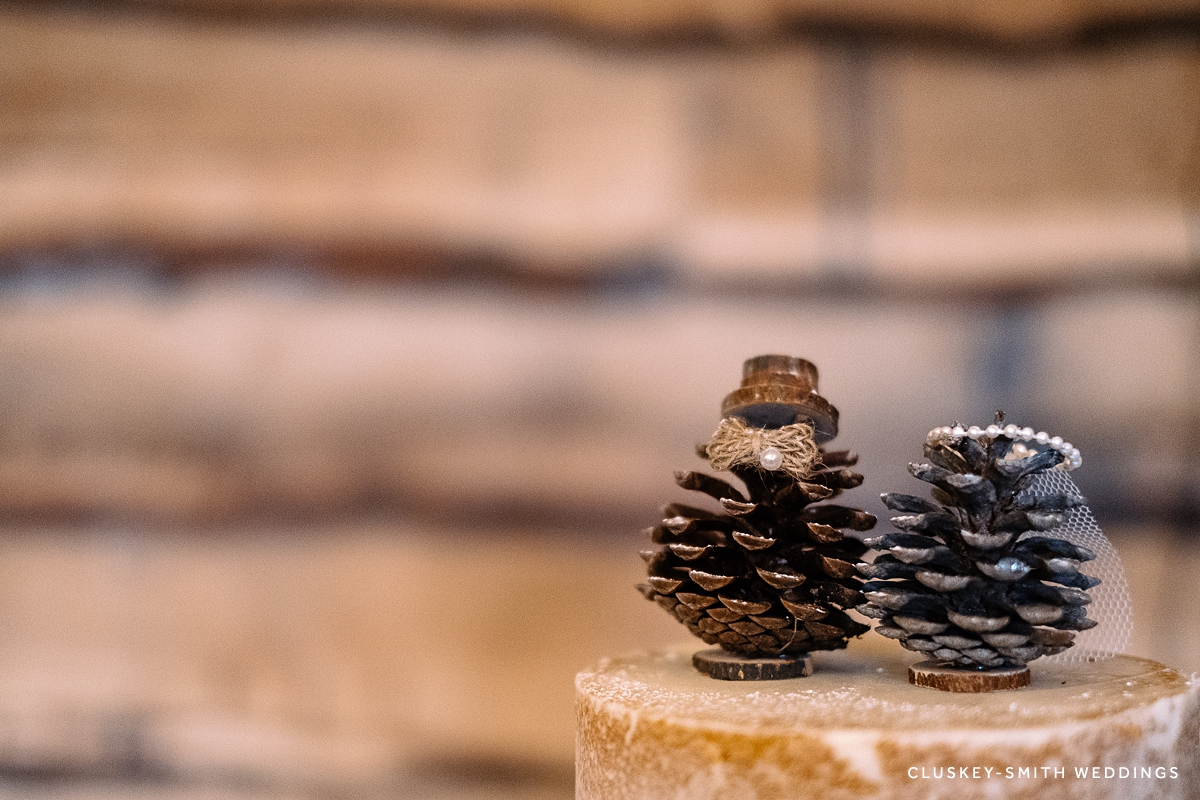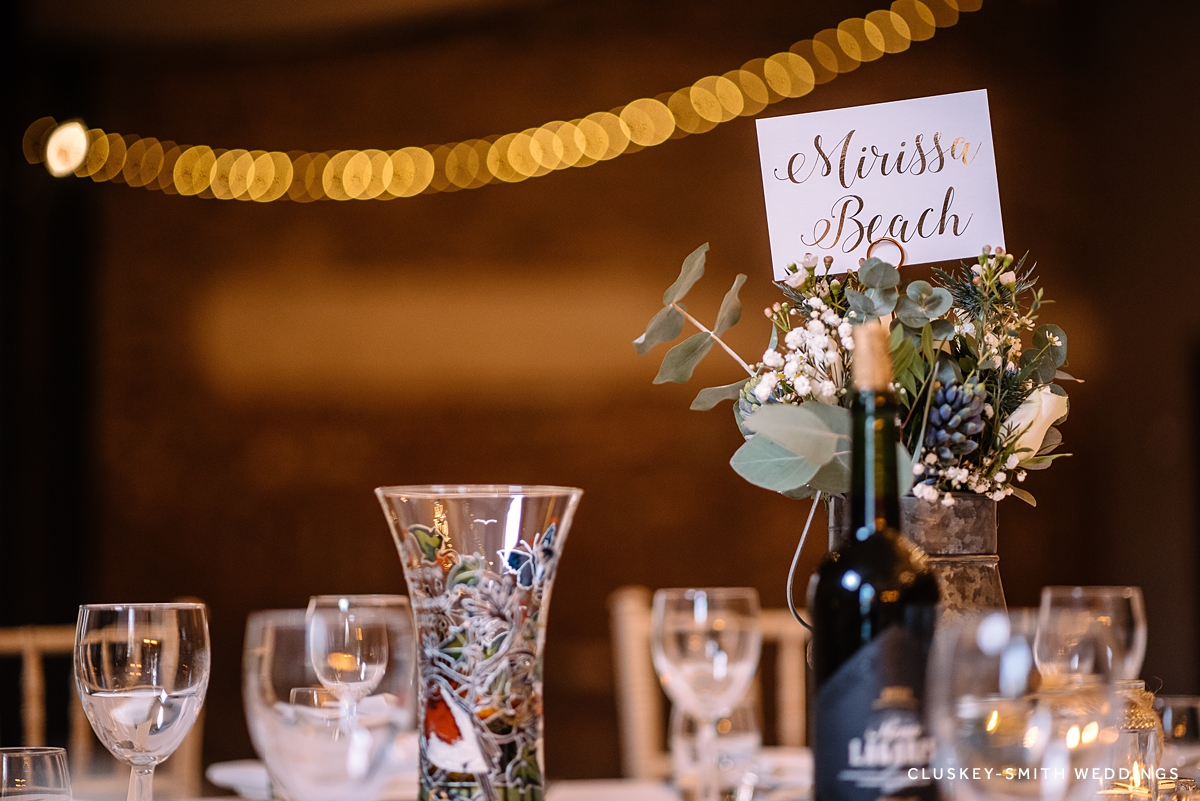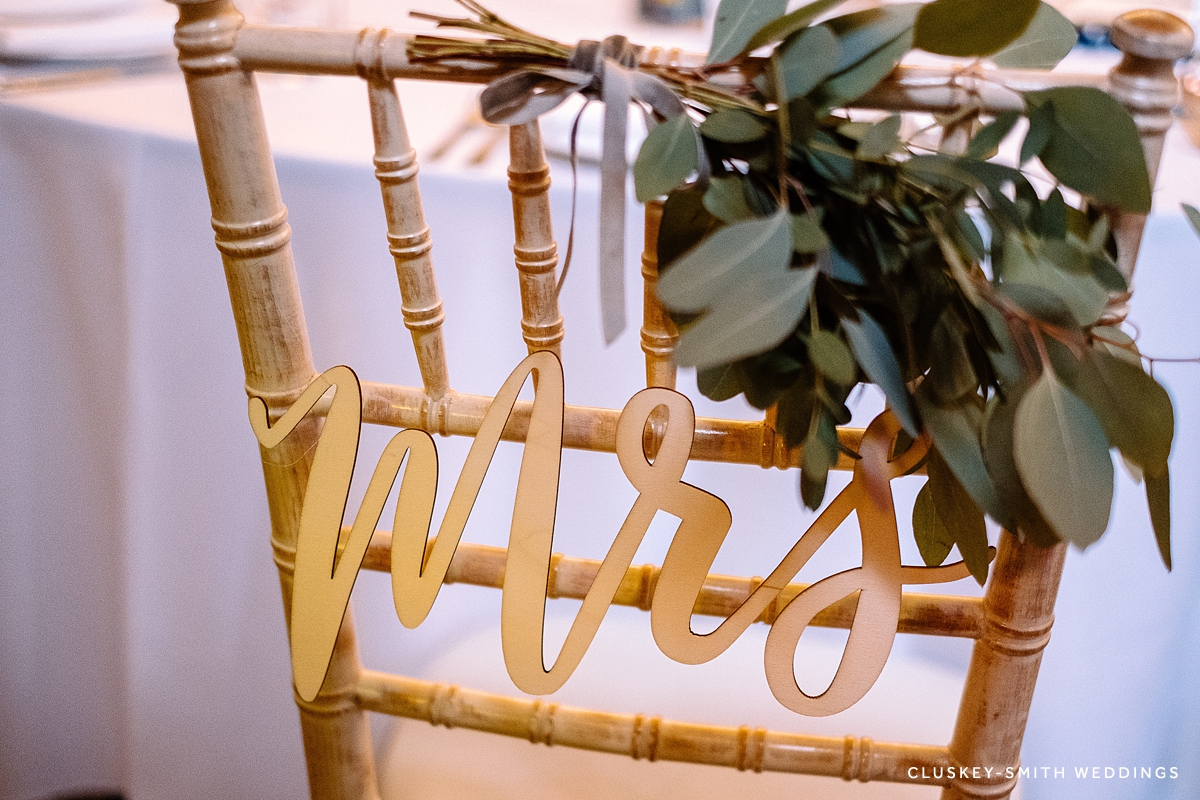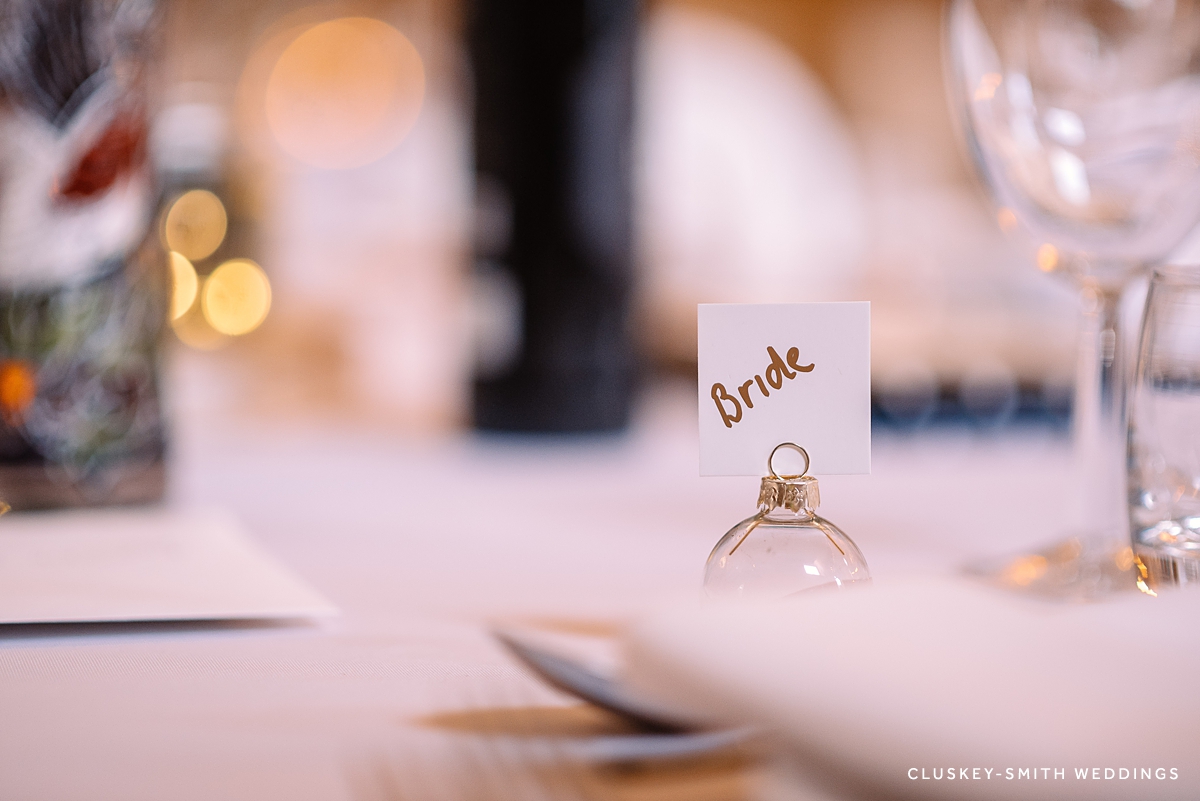 It's safe to say, no one went hungry at Paige and James' wedding! Alice and her team prepared the most amazing menu of 'Hearty Ploughman's' platter, 'Yorkshire Grass Fed Steak and Porter Ale Pie', with Chocolate Brownie and 'Homegrown's Winter Eton Mess' for dessert!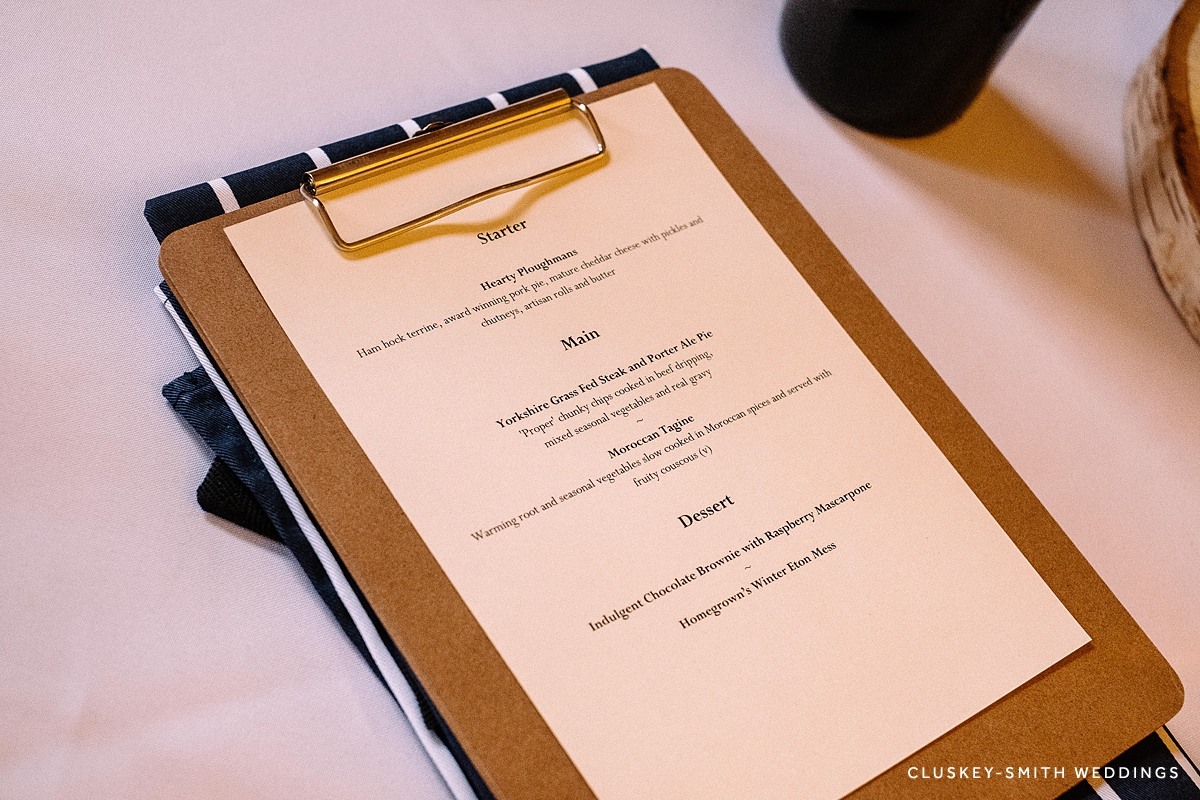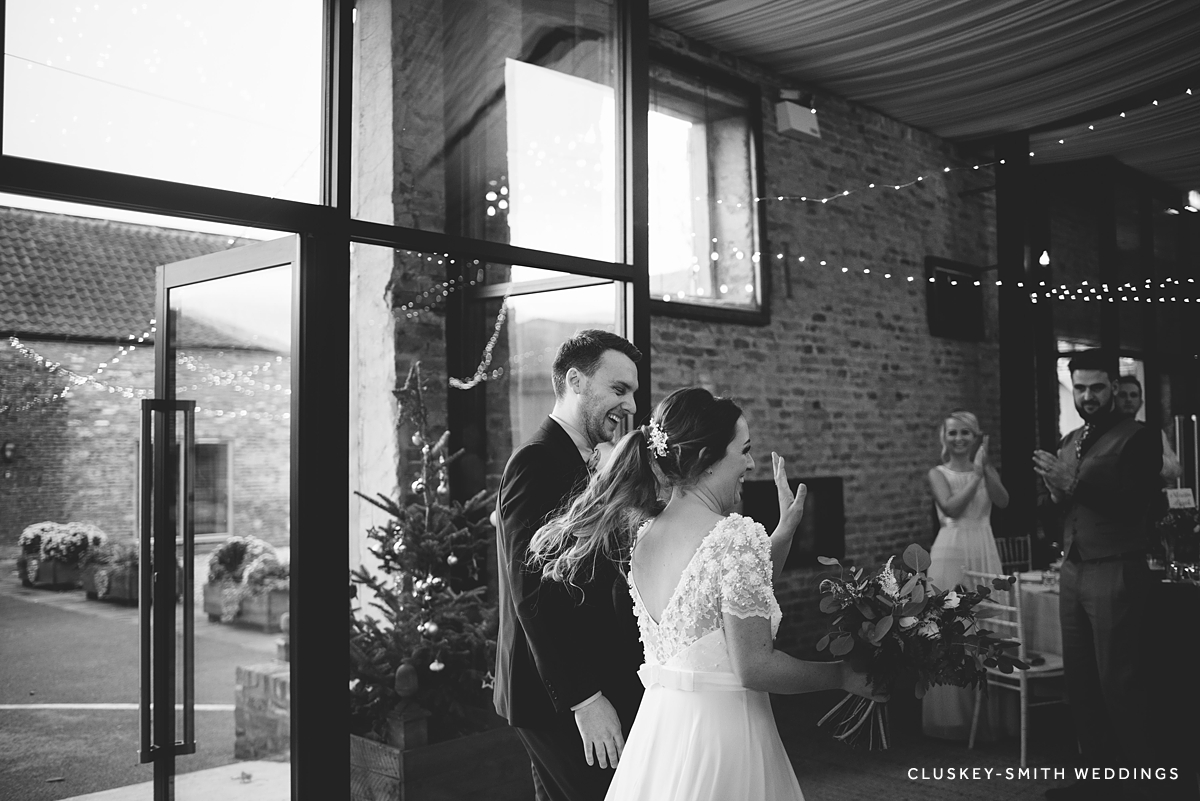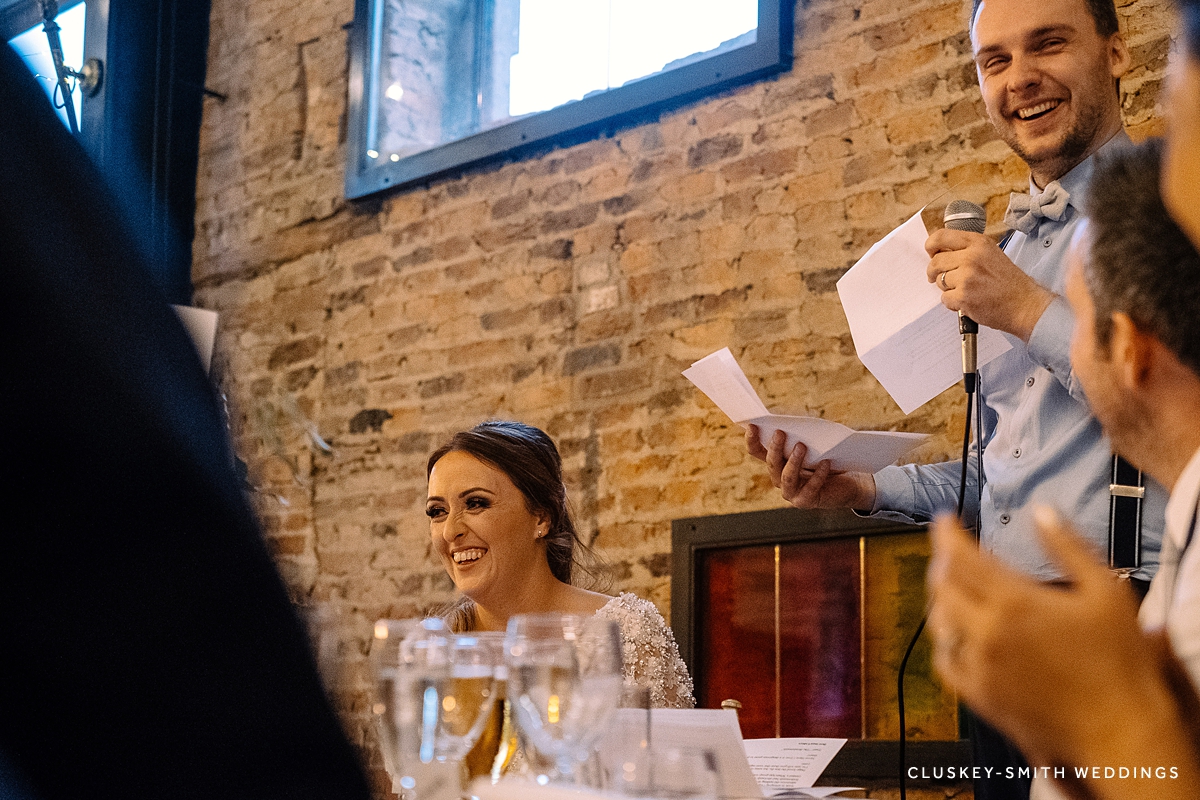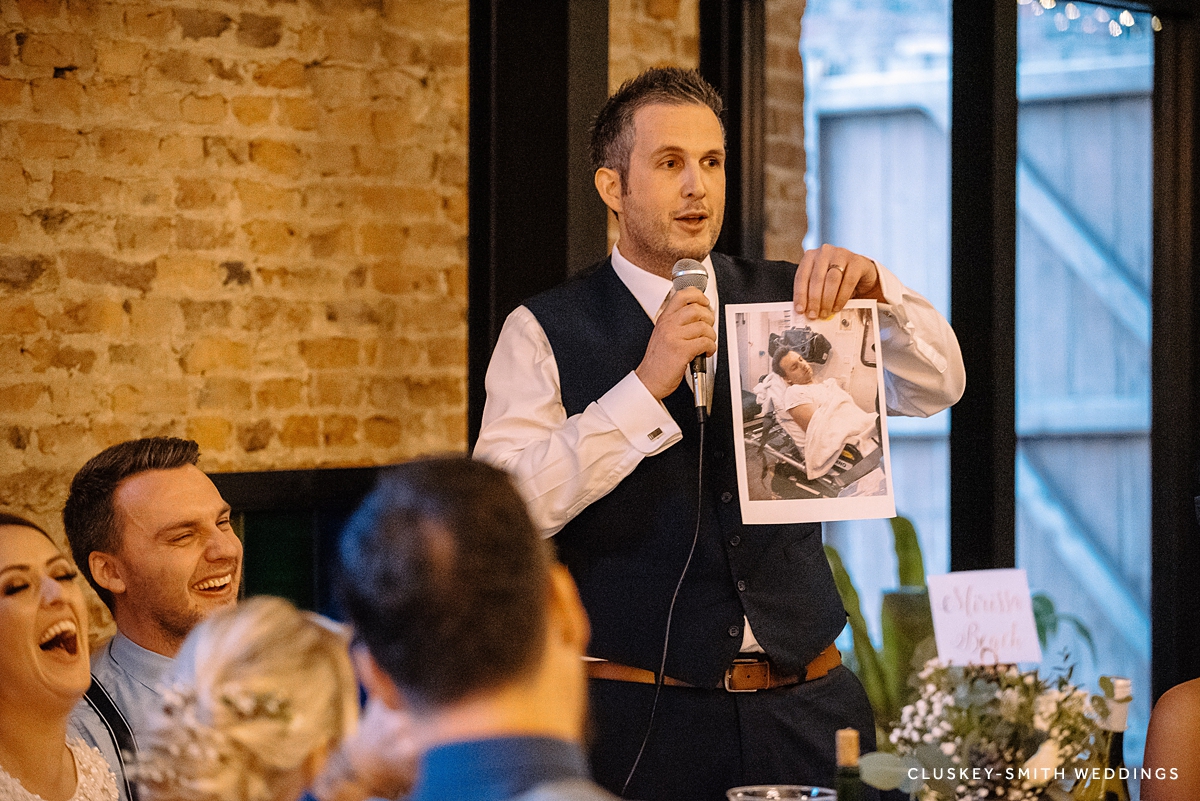 As evening fell, 'The Warning Tones' band entertained the guests inside the barn, while sparklers, a fire pit and Hog Roast kept guests busy outside!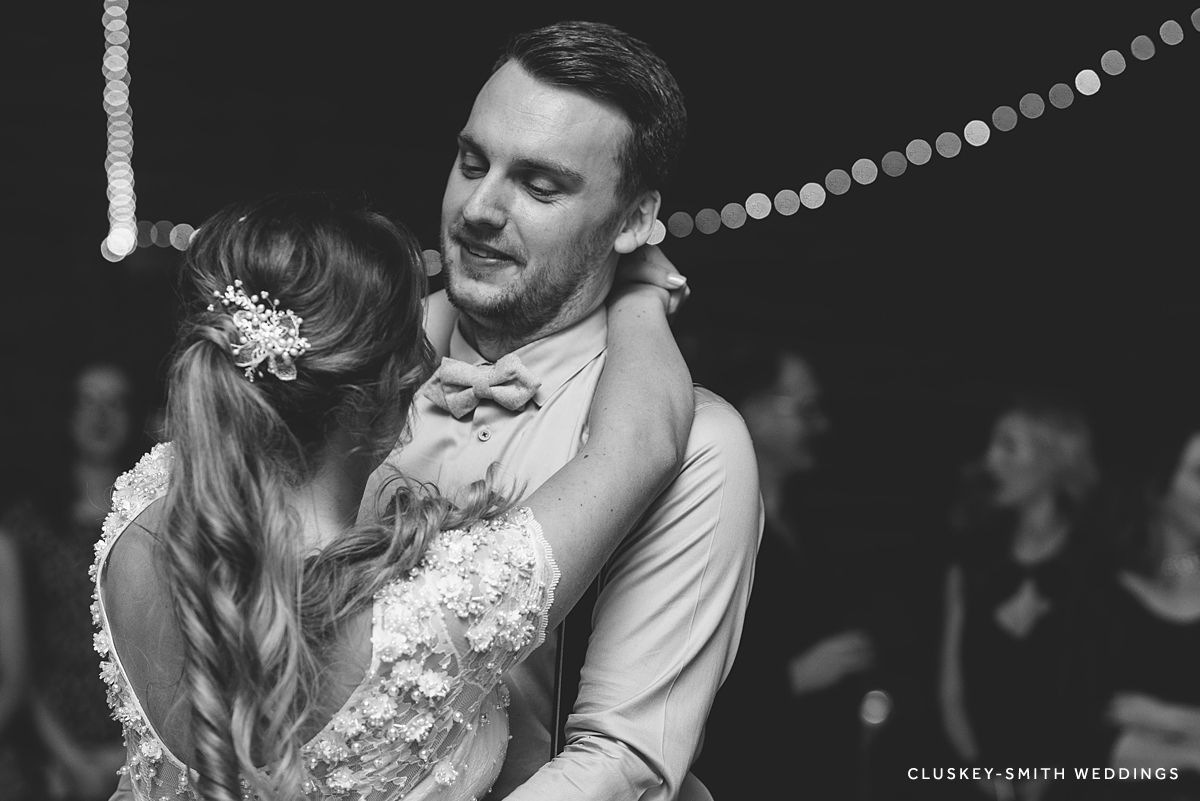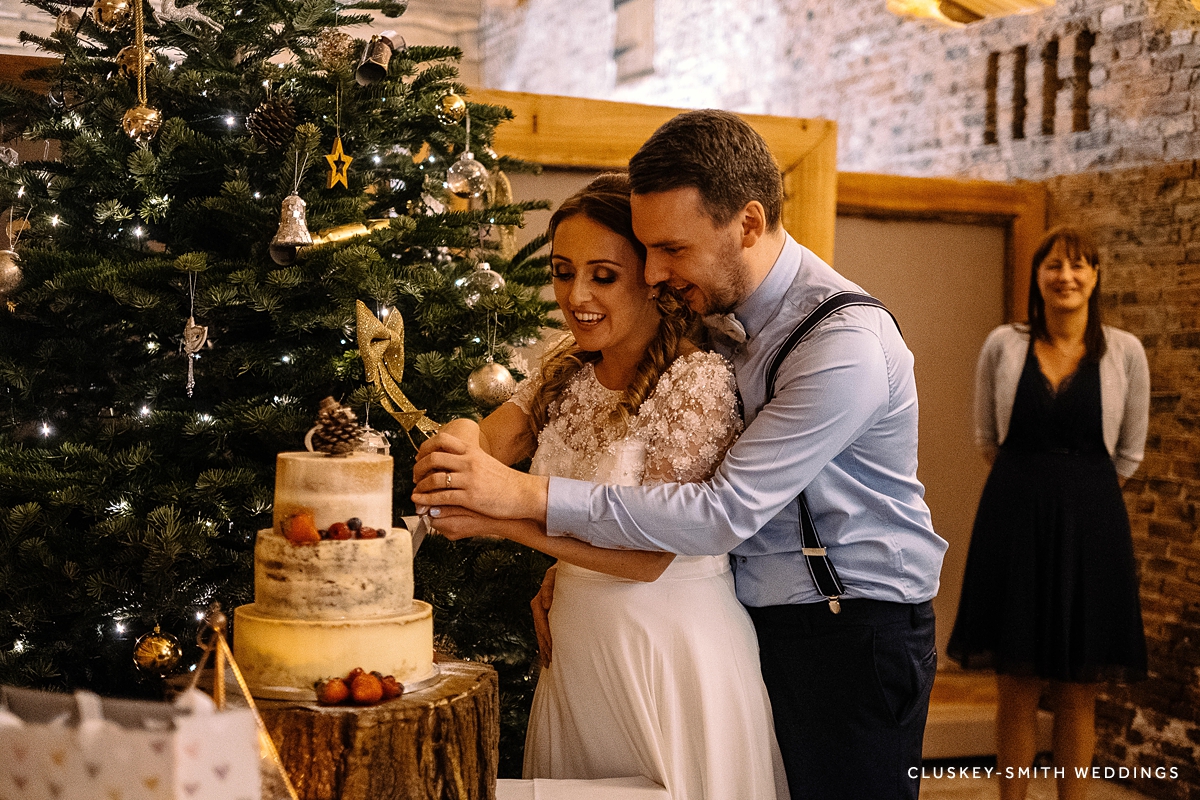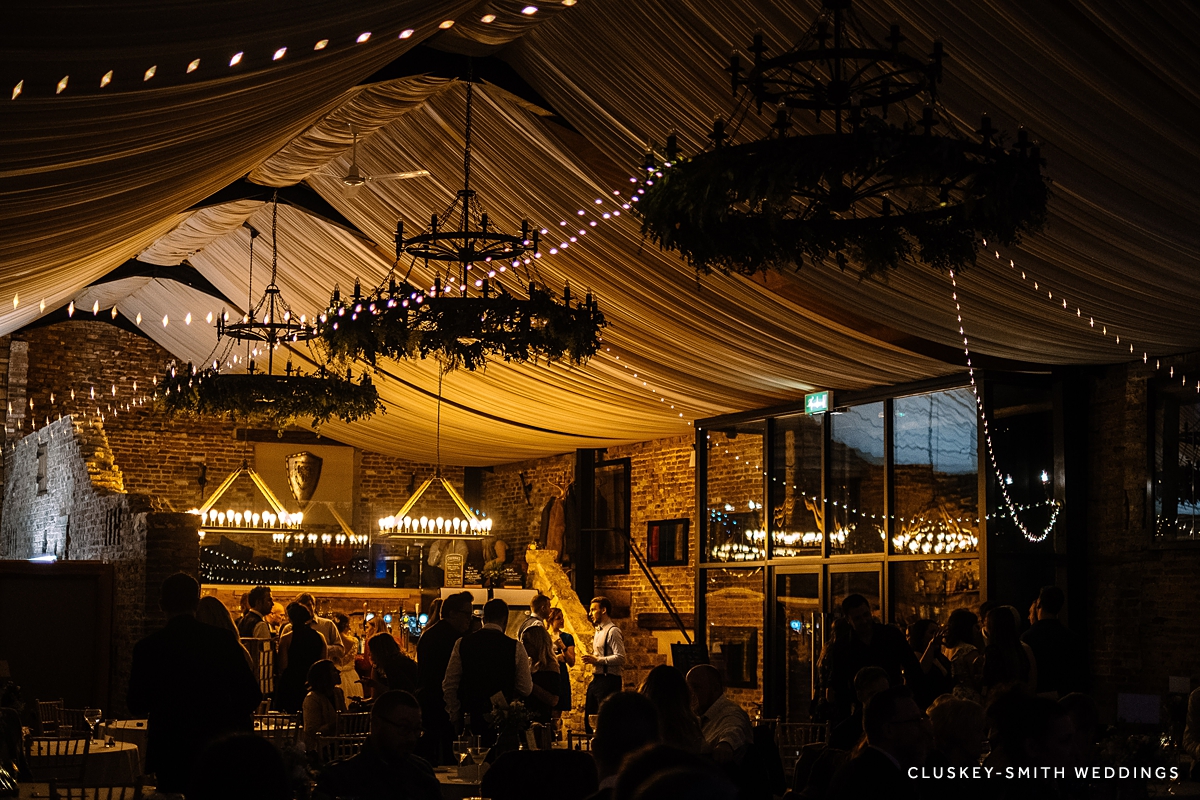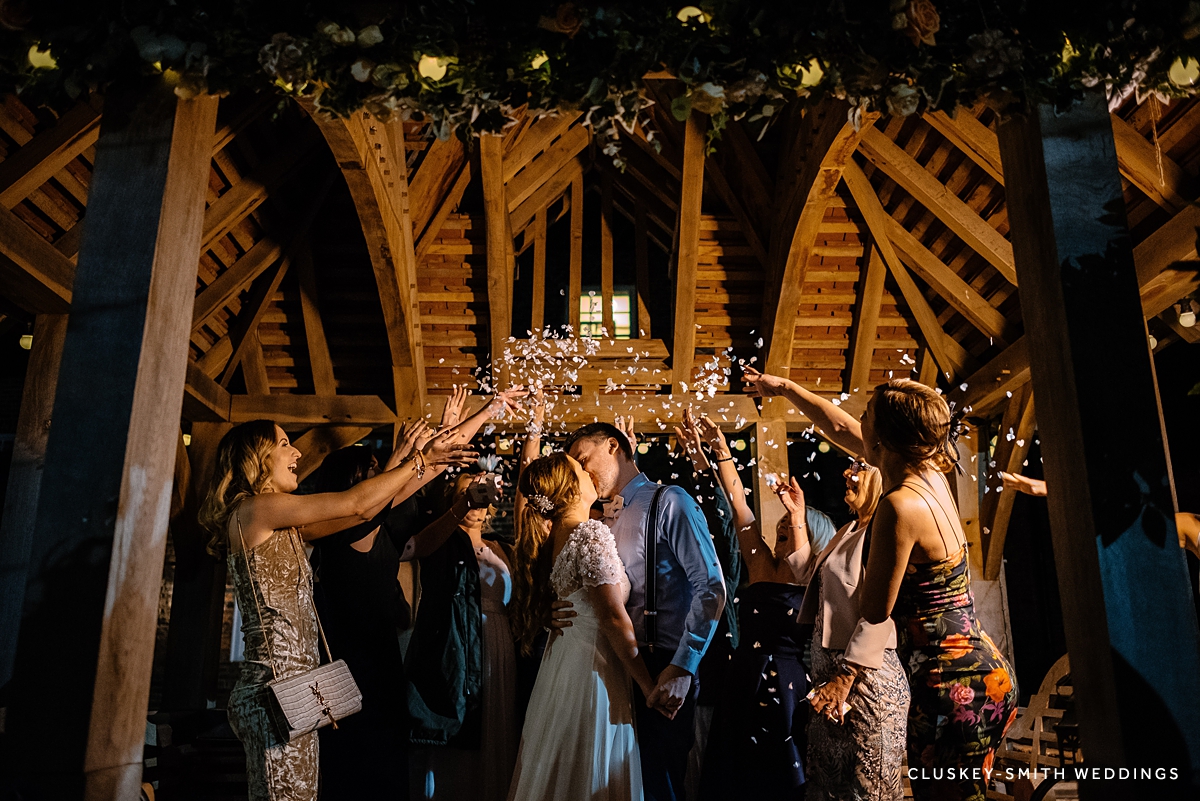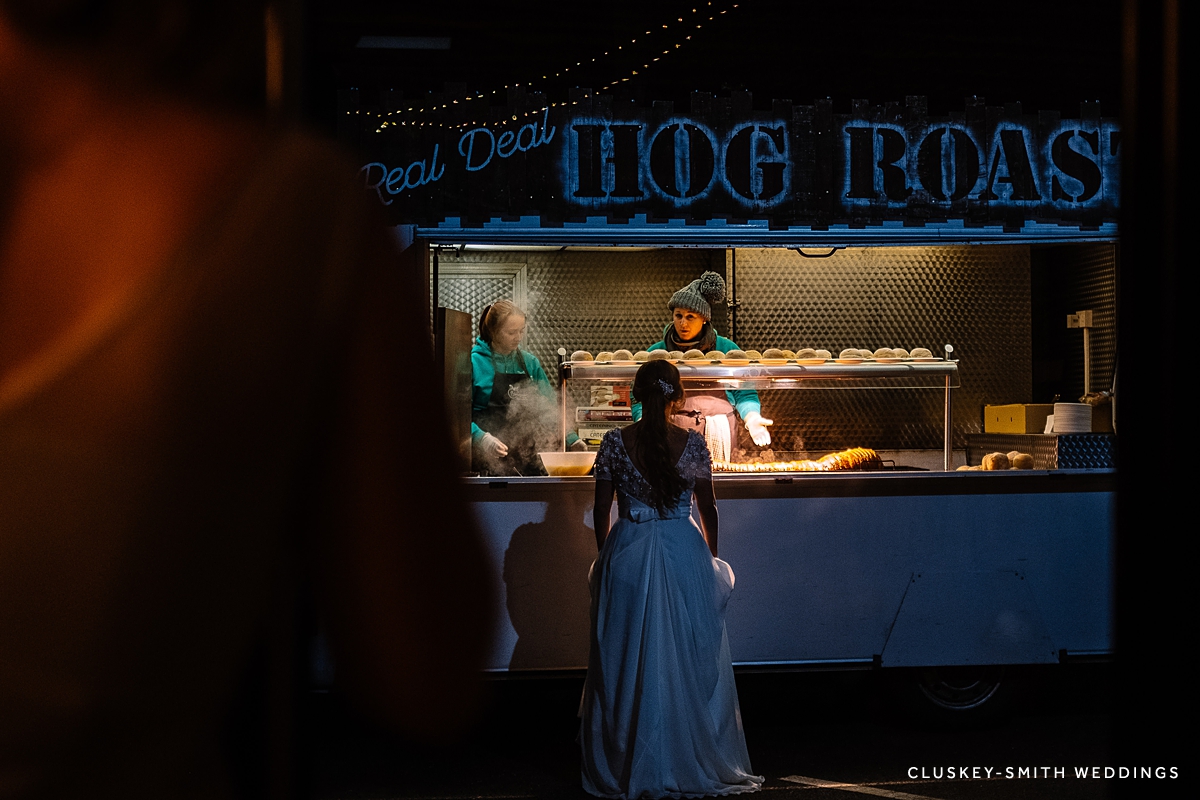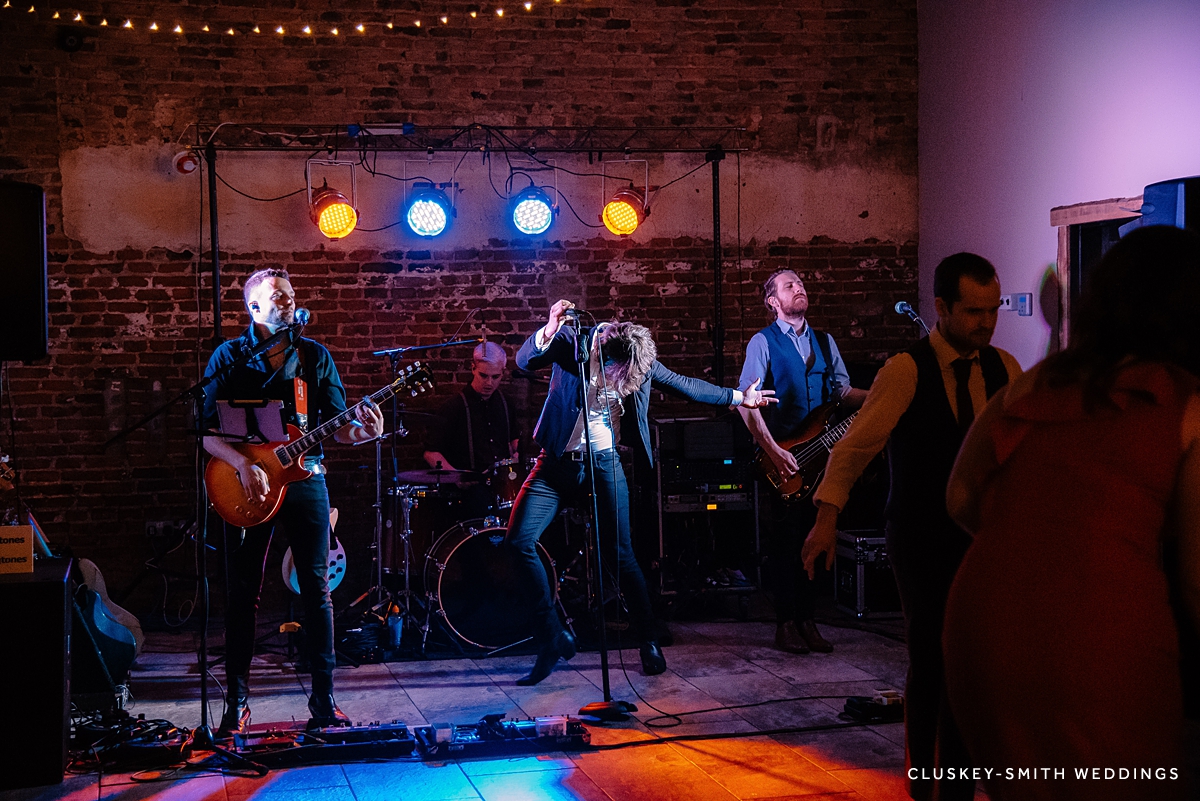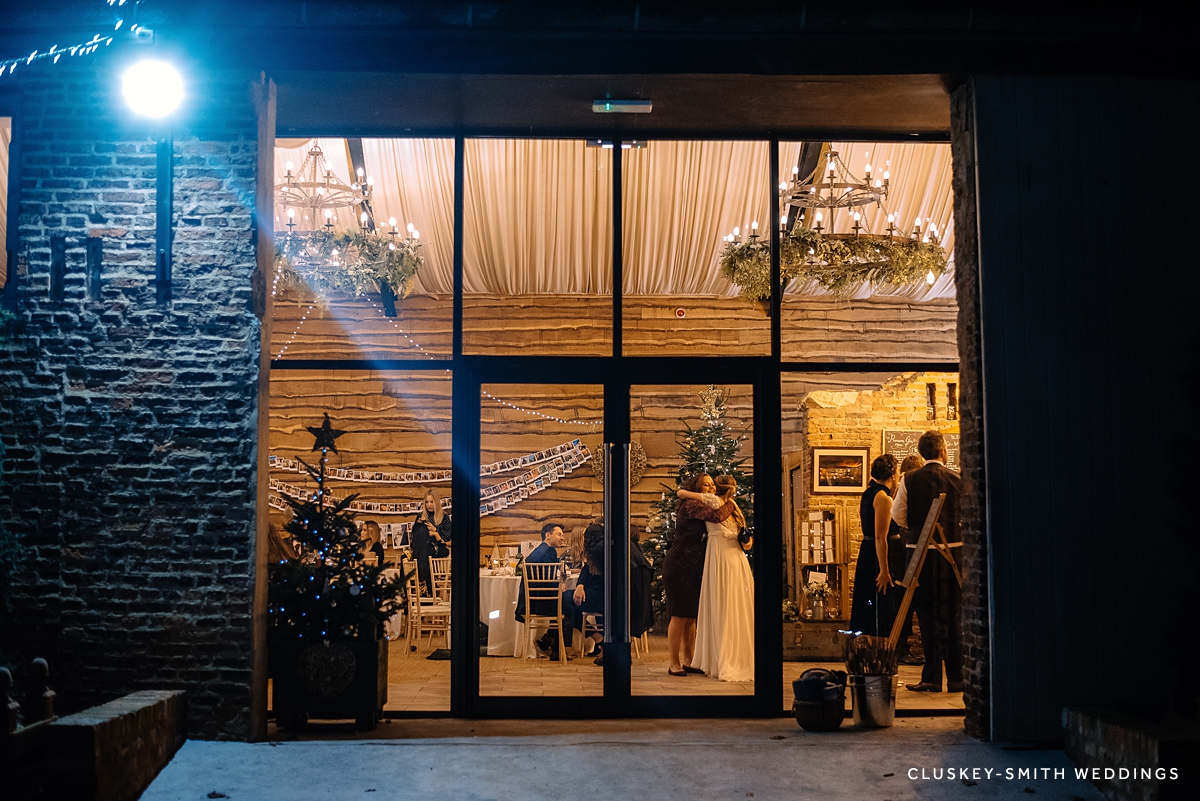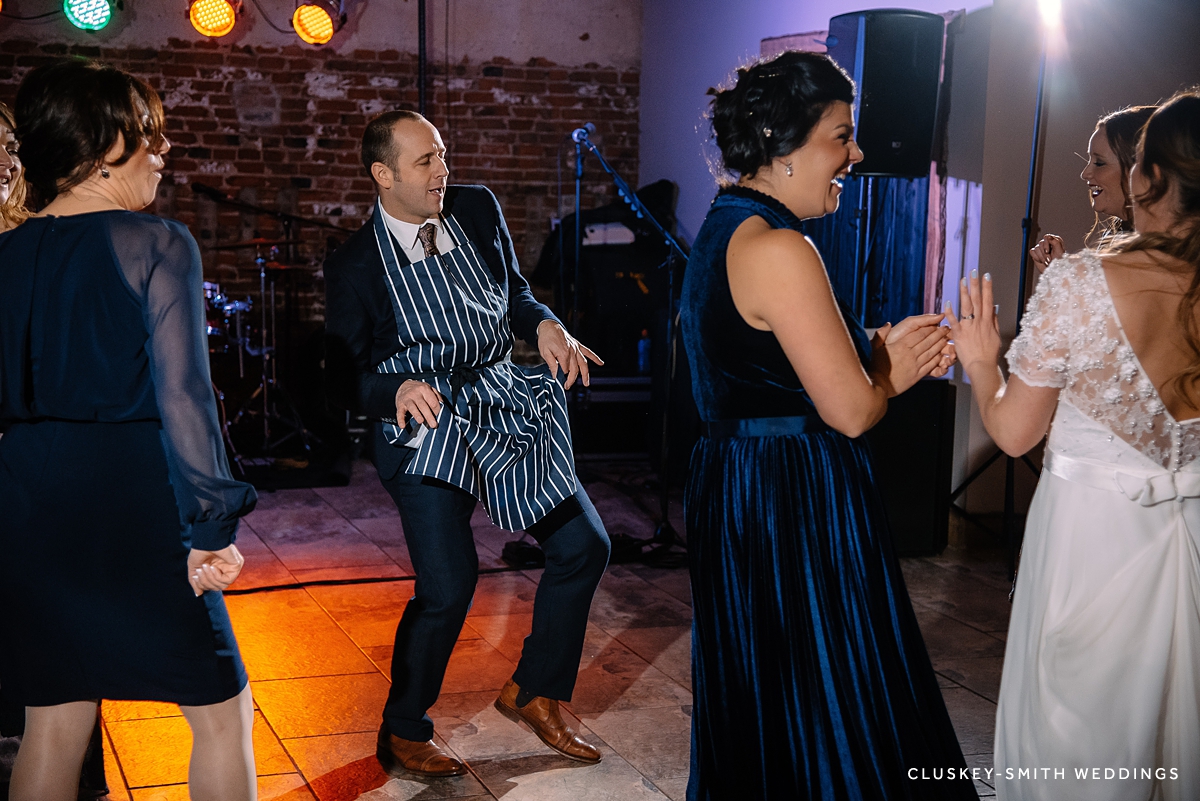 It was such a fantastic celebration. We hope Paige, James and Kit have the most wonderful life together! Thank you for sharing your special day with us.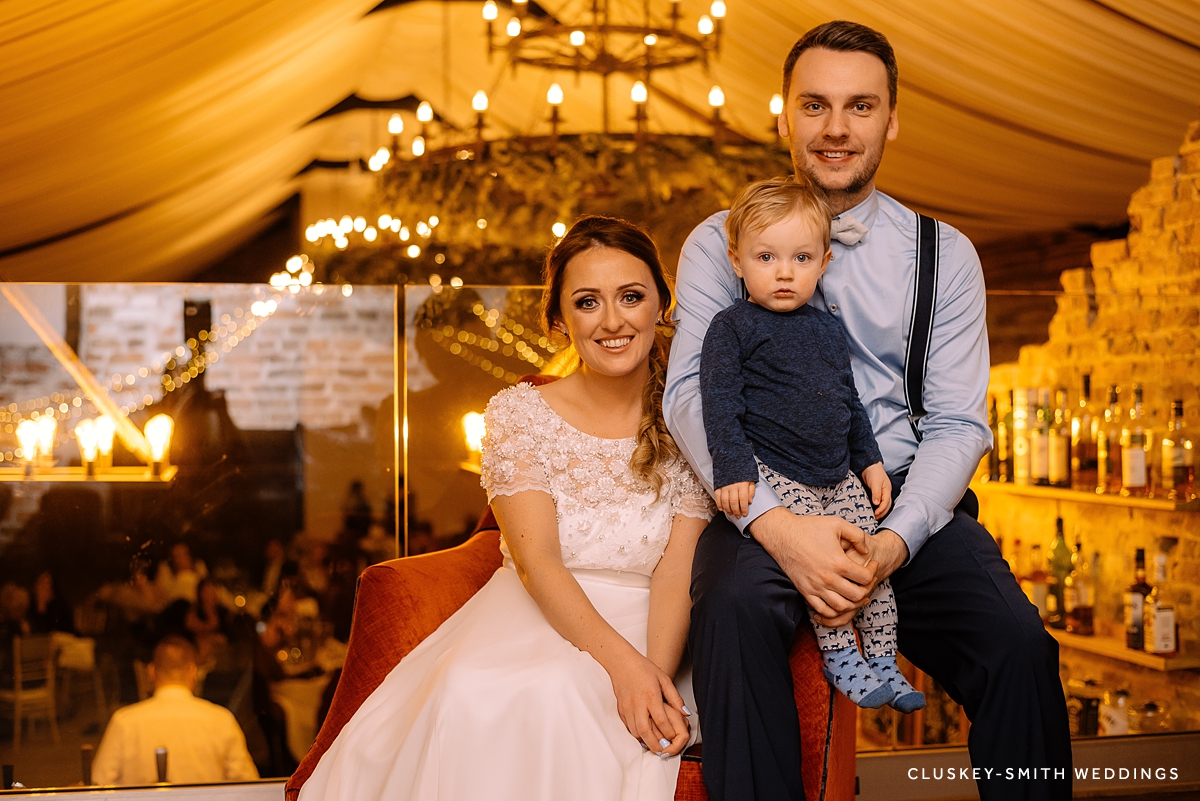 Suppliers on the day…
Flowers
Love Bird Floristry
Hannah- 07738477933
Photographers
Contact: 07747607597 /07511552122
Make up
The Makeup Lounge (Sarah Scott Lee)
Contact: 07768085587
Caterers
Contact: 07759736273
Magician
Contact: 07838 157 044
Band
Contact: 07817536743