Helen, a Physiotherapist and her brand-new husband Pete, an IT Support Specialist held their ceremony in the Wedding Barn and the venue looked stunning. With the help of Owl House Flowers, they had created a huge beautiful wooden archway with an enormous floral display in the centre, as the focal point at the end of the aisle. Festoon lighting was hung across the barn creating a lovely cosy country wedding atmosphere.
Helen wore a stunning ever-so-slightly dusky pink, lightly embroidered lace gown with beautiful sparkles catching in the light. Paired with a beautiful delicate waistband and a full-length veil, it suited her perfectly and Helen looked every bit the beautiful bride. Her bridesmaids wore navy gowns with burgundy shawls, colours which tied in with their bouquets perfectly.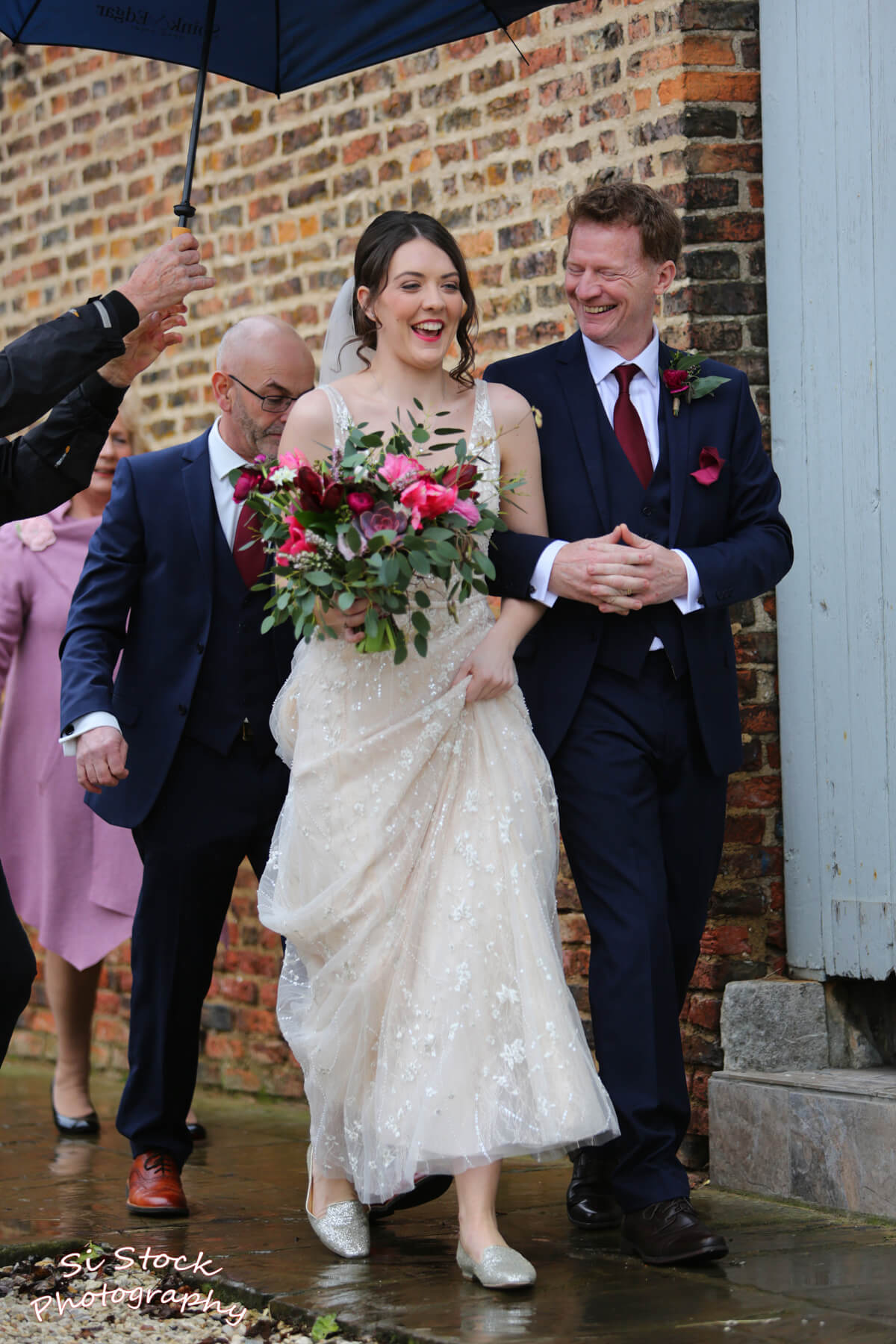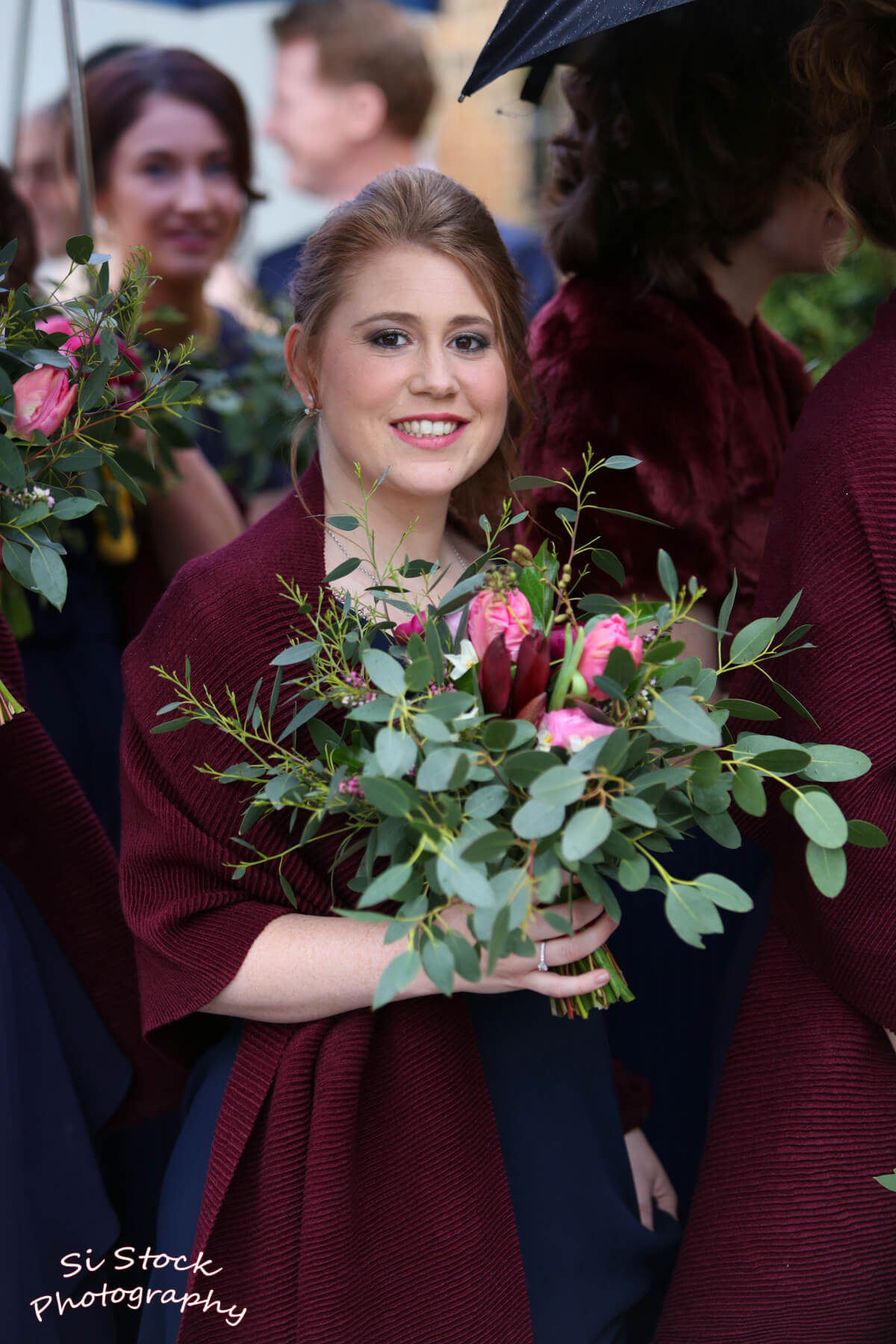 Helen made her way to the wedding barn, arm in arm with her Father Martin. It might have been raining, but it certainly didn't dampen anyone's spirits!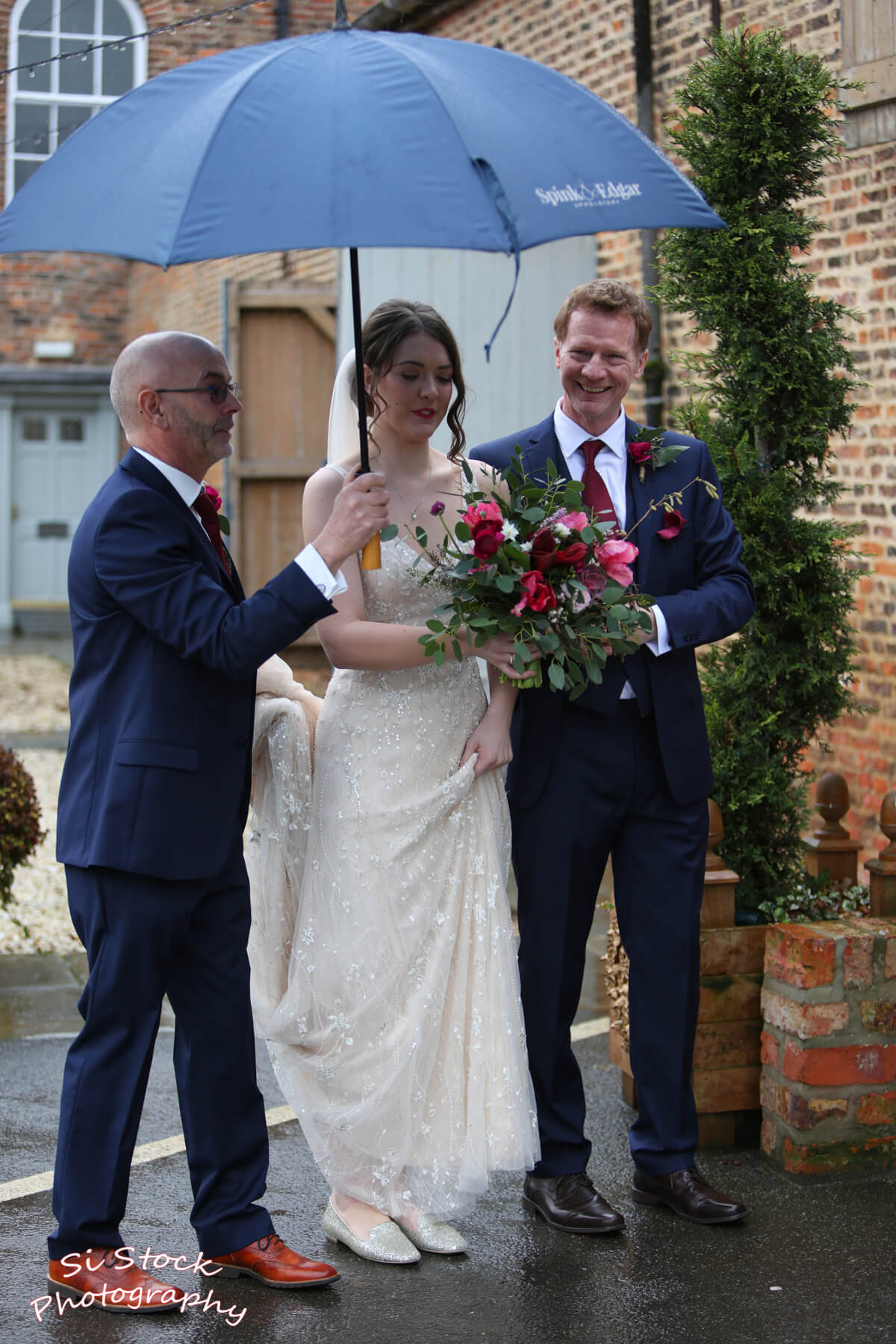 Helen met her Groom Pete, wearing a navy suit and coordinating burgundy tie and pocket square, underneath the flower archway and said 'I Do'! A powerful reading by one of Helen's bridesmaids was shared with us after the ceremony, and we have included it below-
'Love is a temporary madness. It erupts like volcanoes and then subsides. And when it subsides, you have to make a decision. You have to work out whether your roots have so entwined together that it is inconceivable that you should ever part. Because this is what love is. Love is not breathlessness, it is not excitement, it is not the promulgation of promises of eternal passion, it is not the desire to mate every second minute of the day, it is not lying awake at night and imagining that he is kissing every cranny of your body. No, don't blush, I am telling you some truths. This is just being 'in love', which any fool can do. Love itself is what is left over when being 'in love' has burned away, and this is both an art and a fortunate accident.'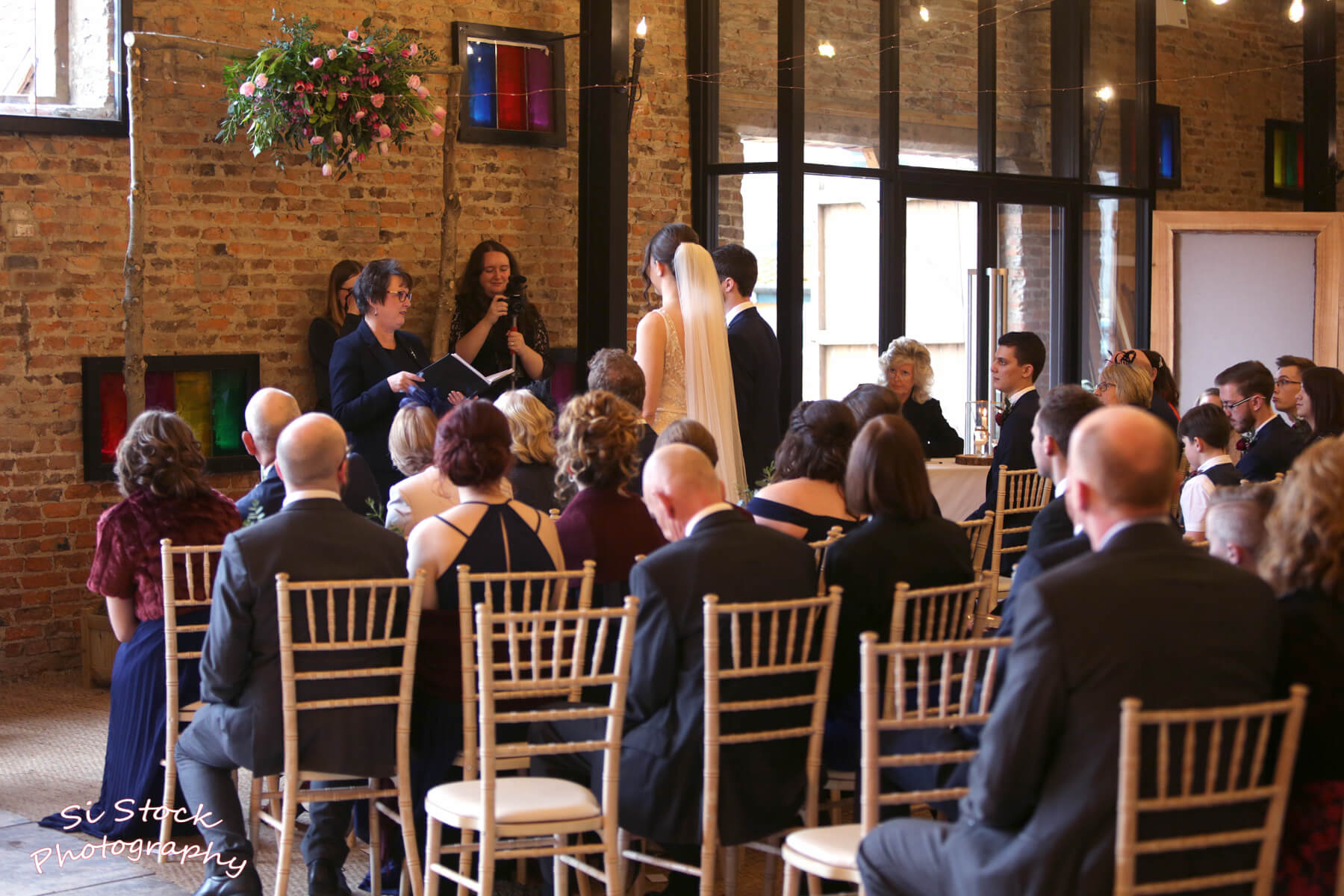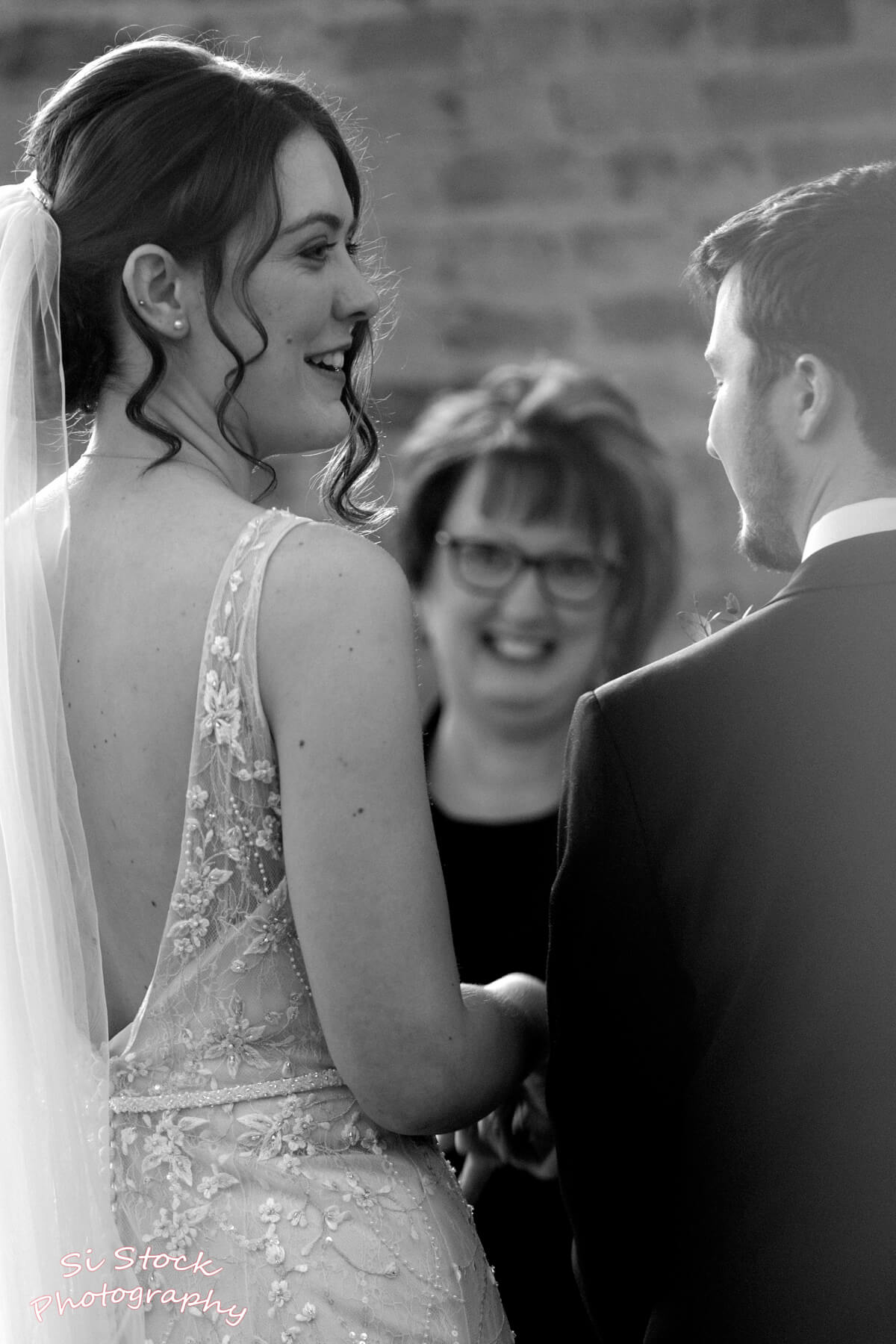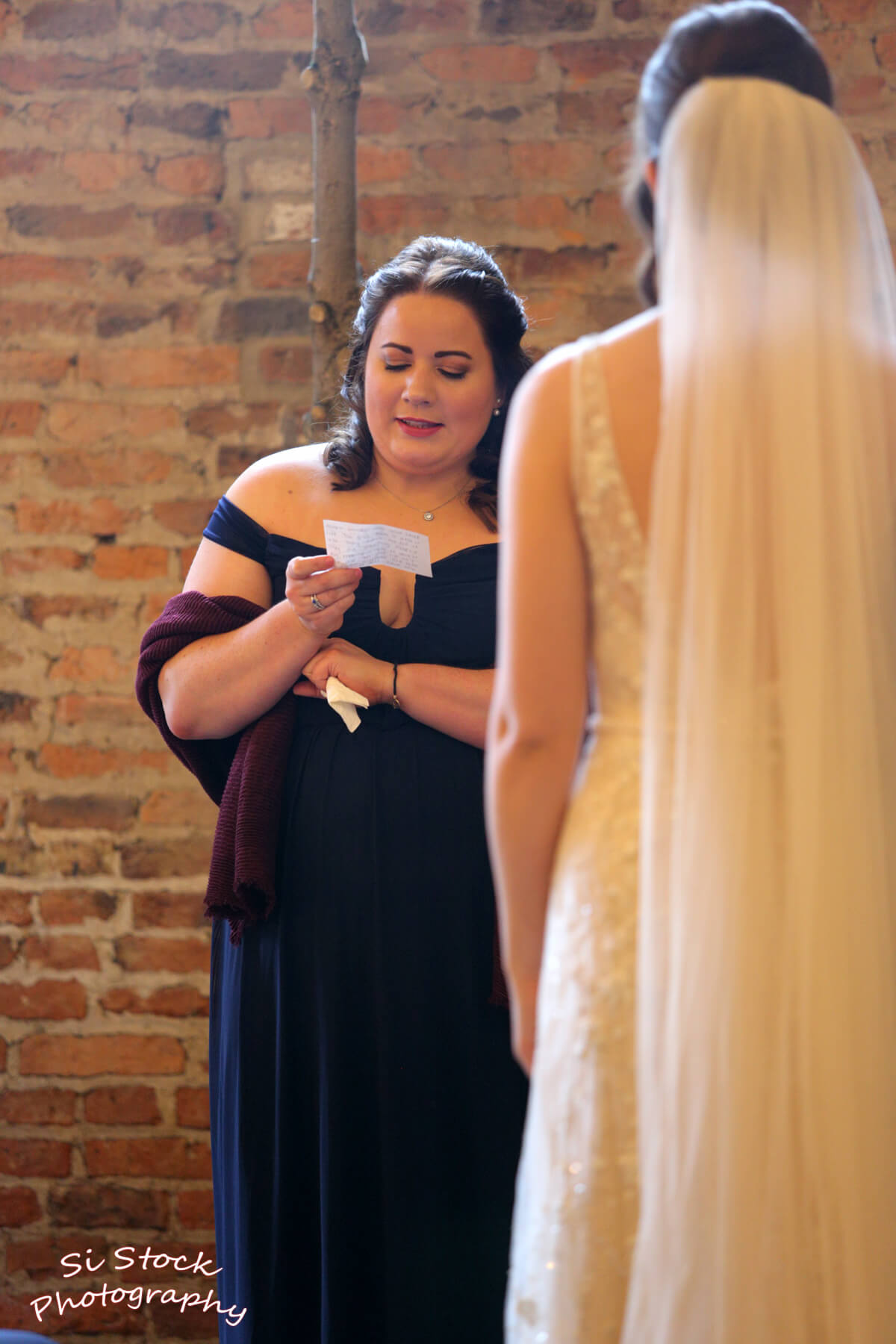 Helen and Pete, the brand new Mr and Mrs walked out to showers of beautiful confetti- dried flower petals of burgundy, pink and navy. It smelt amazing for hours!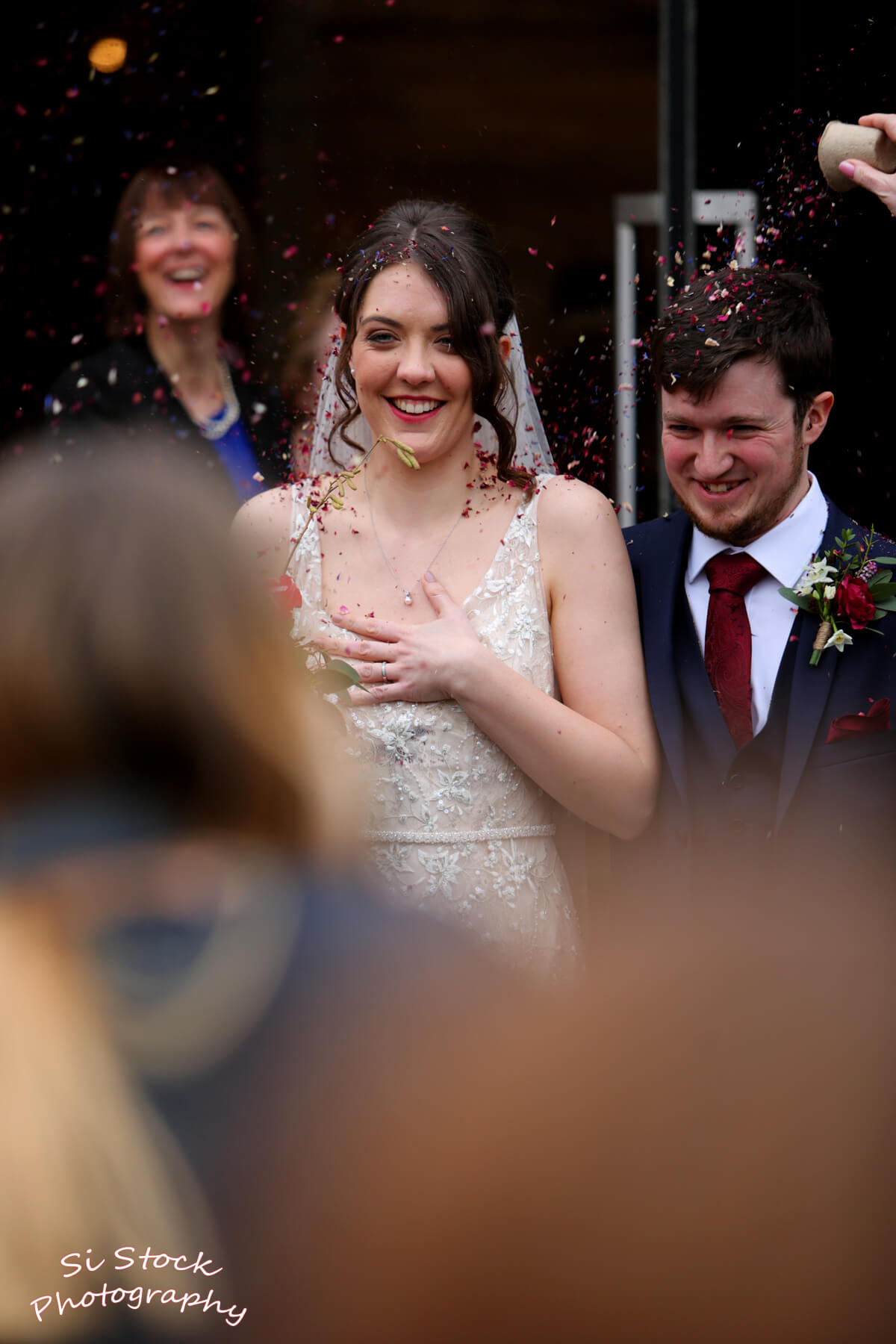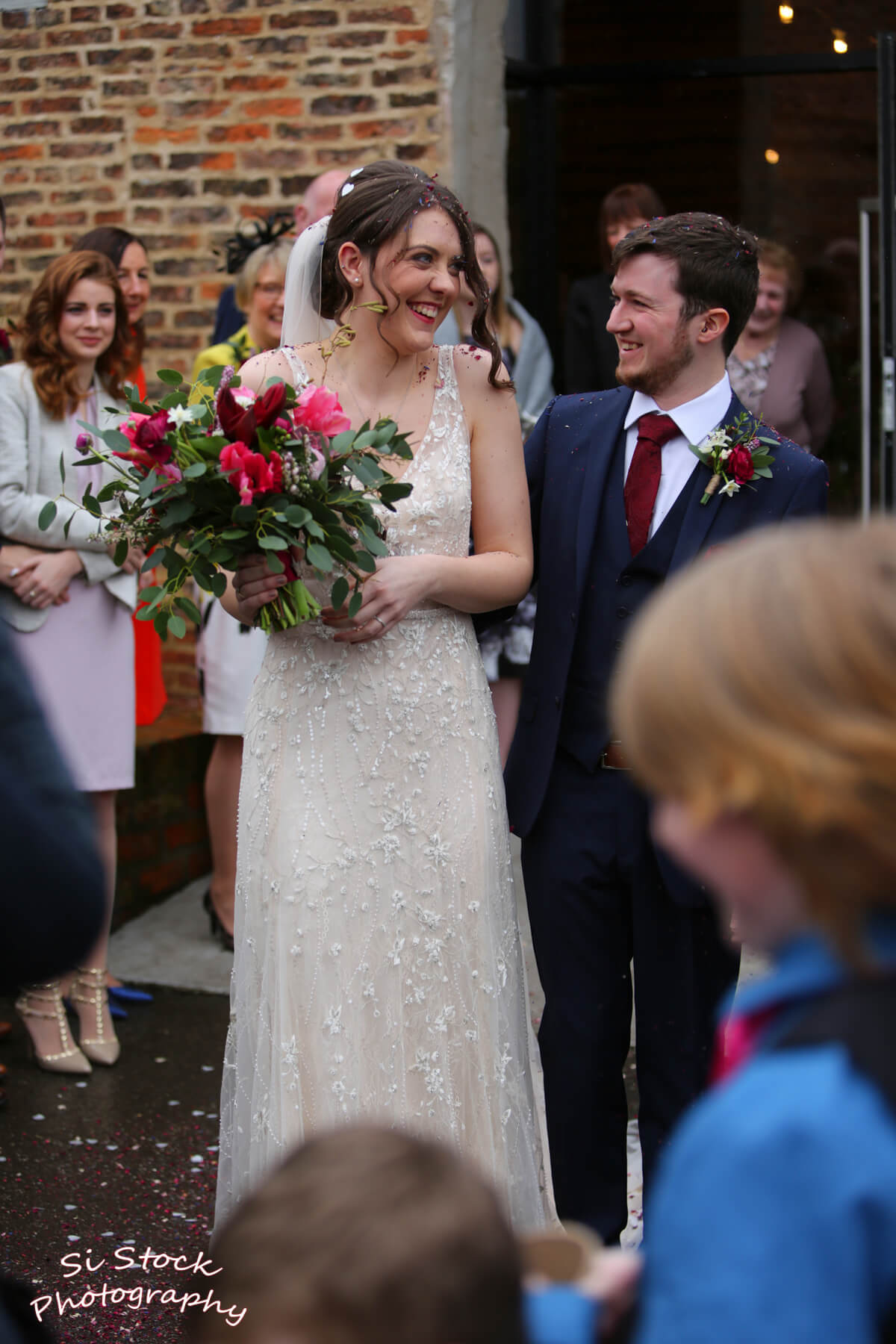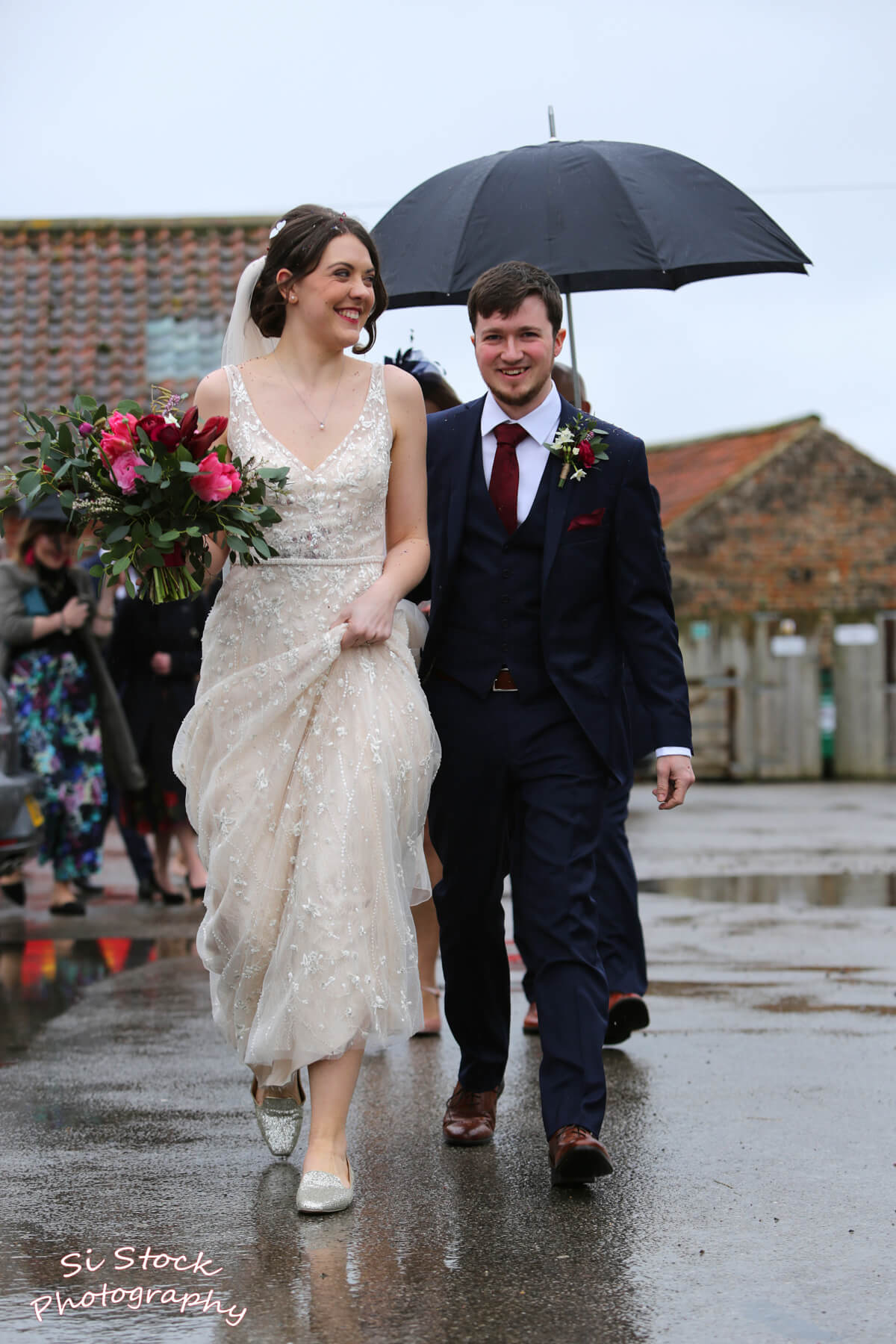 Reception drinks of hot Pimms and mixed beers were had in the Gallery, which was decorated with strings of fairy lights, while Photographer Leah Lombardi whisked the newly-weds away around the grounds (luckily it had stopped raining!). During this time, we transformed the barn from ceremony to reception and set out the tables, chairs and made all the final touches.
Hog And Apple had se the tables with chunky wooden boards at each place setting. Helen and Pete had created Wine and Fizz cork place name holders, with favors of individually wrapped Sarah Nelson's Grasmere Gingerbread. Each table was named after a yeah from Helen and Pete's lives, and their seating plan was a fantastic display of photos of each guest which was so lovely to see. Gin bottles of all descriptions were bursting with beautiful flowers and foliage.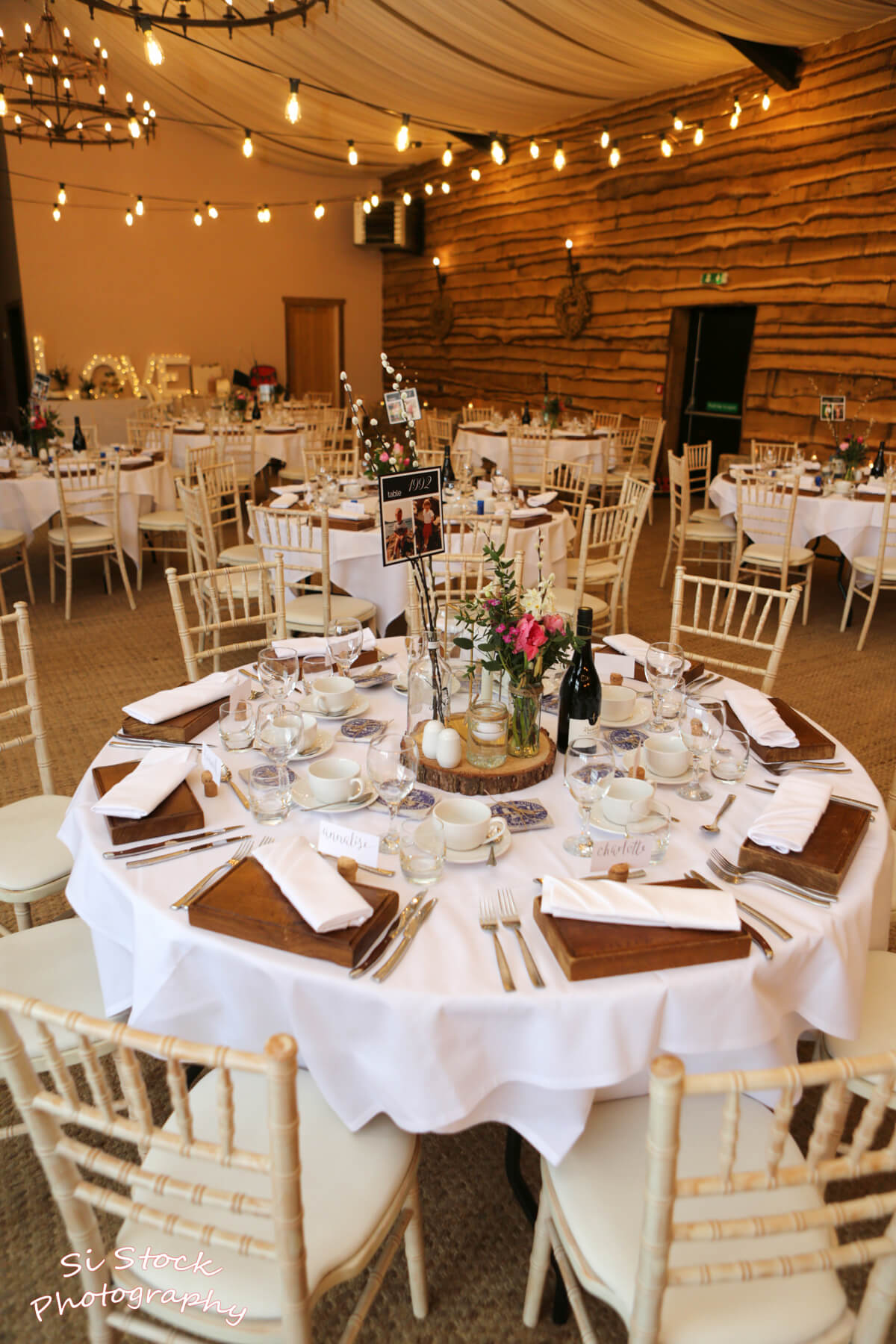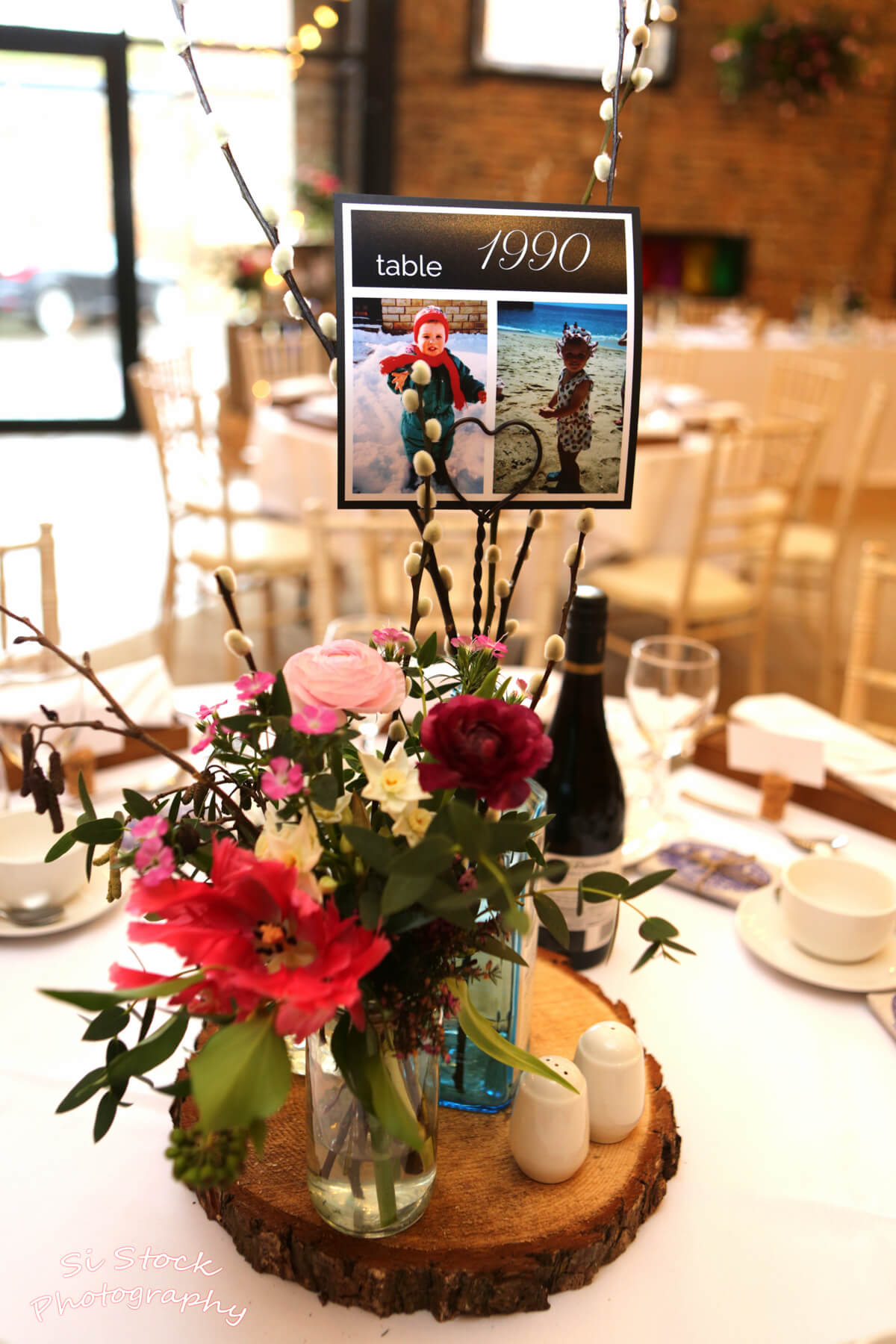 Candles were dotted all through the room, with special attention to the lovely display created for loved ones who sadly couldn't attend. Their cake table showcased the amazing LOVE letters created by Helen's Father, and their delicious cakes, including a four-tiered cheese masterpiece!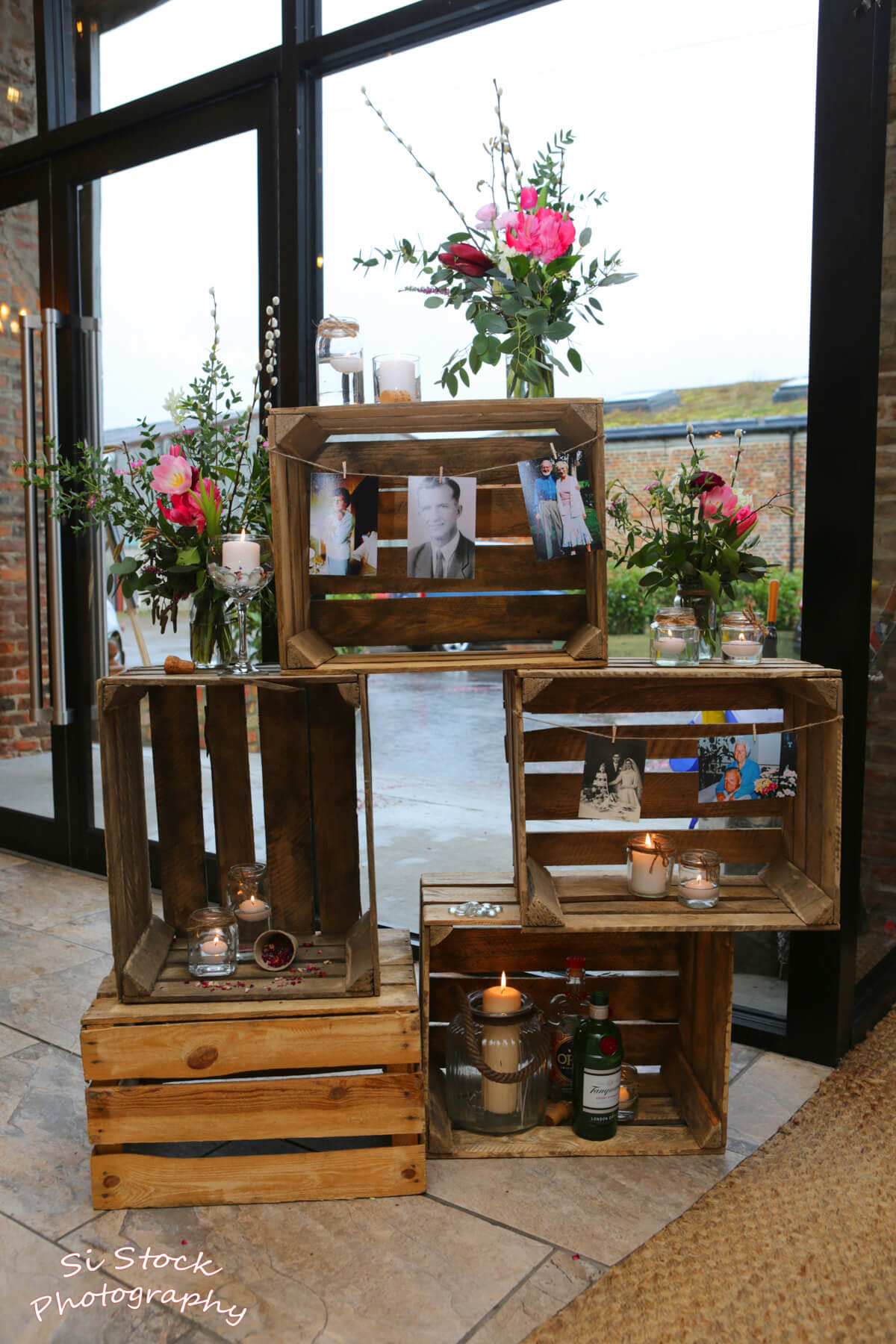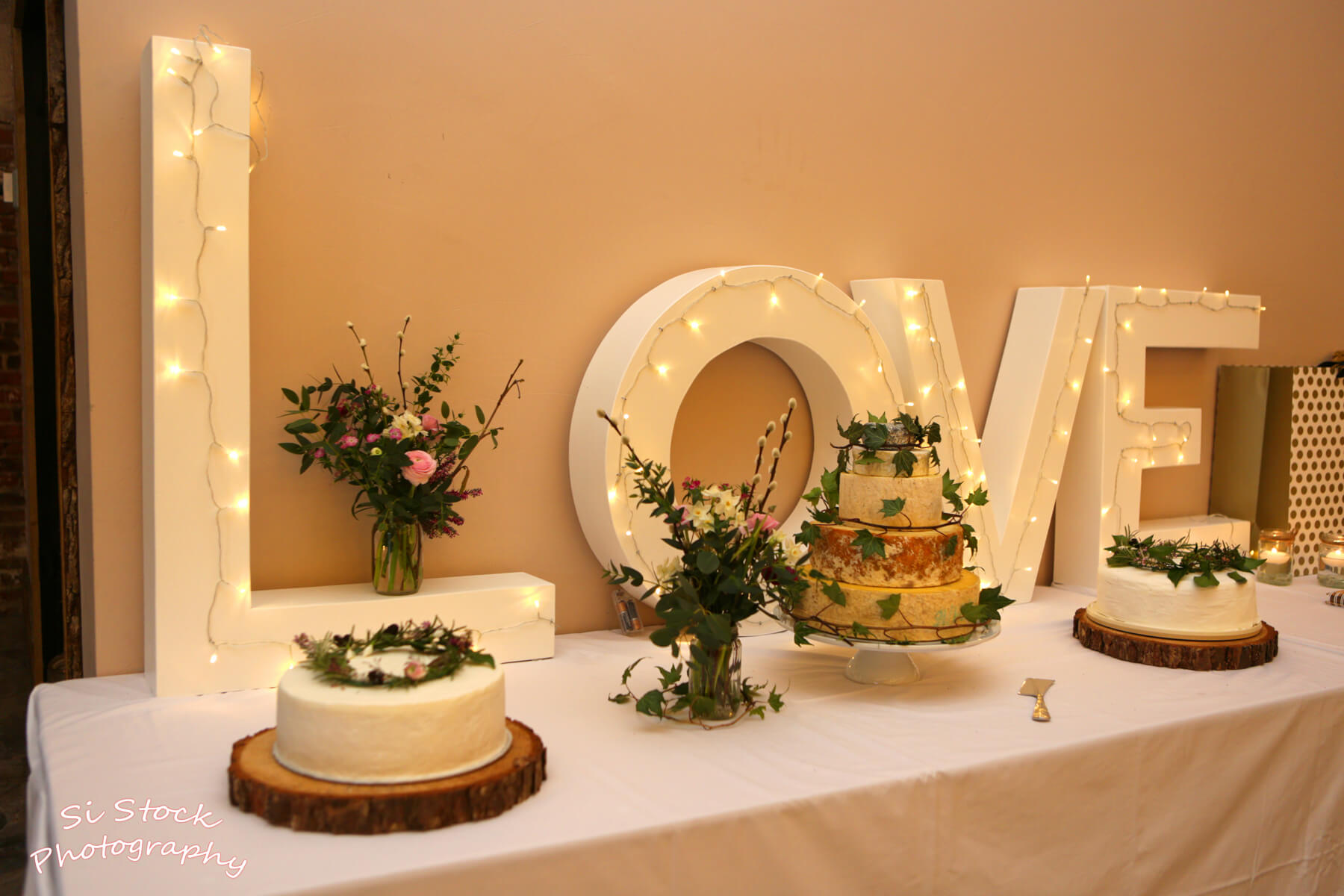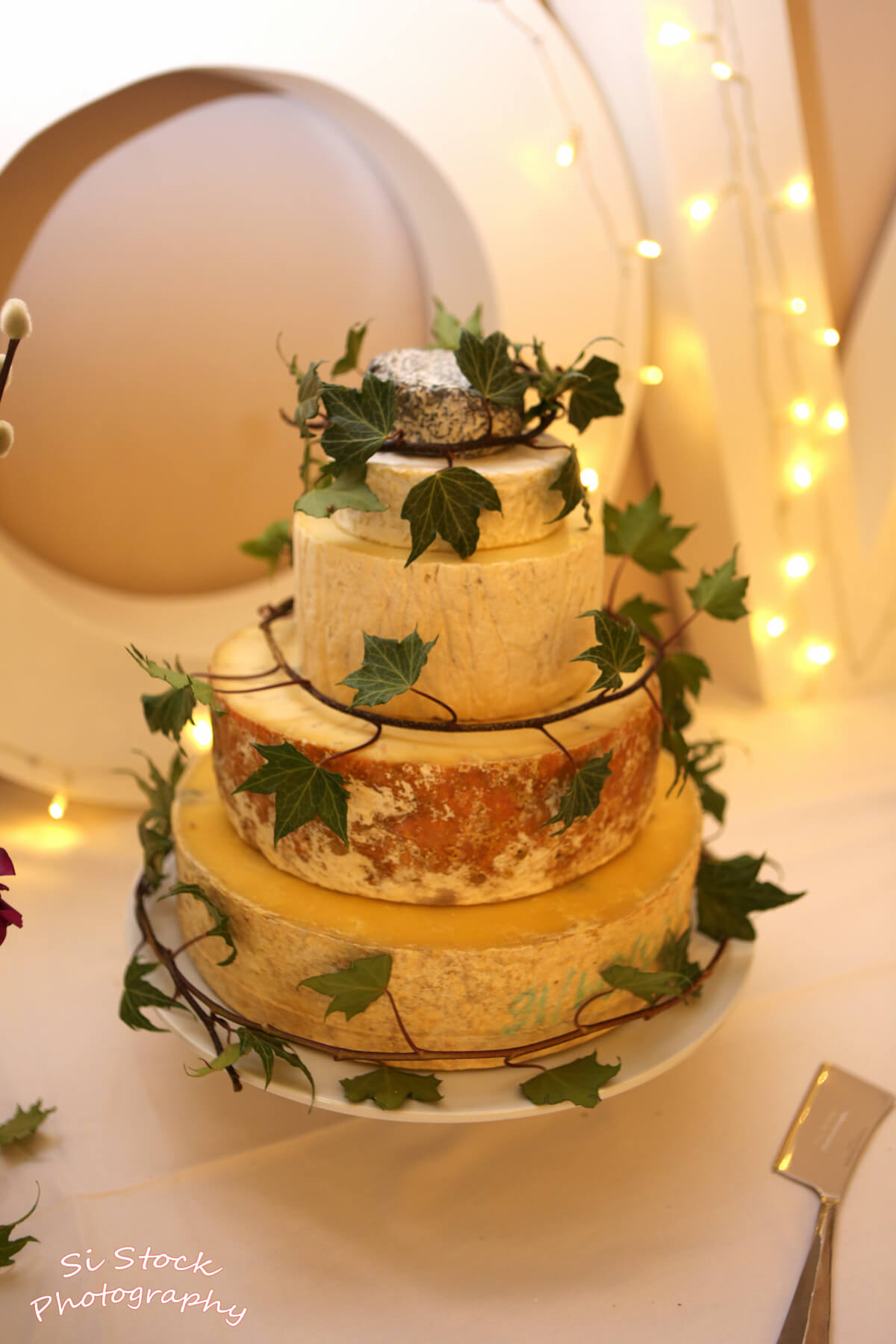 Hog and Apple served up a feast of Antipasti sharing platters, Sous-Vide Beef with enormous Yorkshire Puddings and Dauphinois Potatoes, and Rhubarb Crumble and Custard to finish!
Helen's father spoke of how magical the day was, how beautiful his daughter is, and Pete's unshakable love for her. Pete's Best Man, Michael told us what a fantastic buddy Pete is and how perfect he and Helen are together.
The fantastic Colour Blue from Jonny Ross Music entertained the guests all night while they danced, laughed and drank cocktails.
Congratulations to Helen and Pete, and we hope you have the most fantastic honeymoon in the Maldives.
Suppliers on the Day…
Photographer
Contact- hello@leahlombardi.com
Caterers
Contact- 07496674190
Florist
Contact-07720530192
Band
Contact- 0800 698 1547