We are always dedicated to our lovely brides and grooms but never more so than the wedding of Natasha and Gary. It was super important that we did everything in our power to ensure their day would be one to remember and not because the whole world was in the midst of an epidemic.
The day begins with sunshine and with lilacs and pinks filling the wedding barn, Spring was in full bloom for the exciting day ahead of happiness after the emotions of the last few days of uncertainty of whether the wedding would be allowed to go ahead.
The tables were decorated with glass vases and floating candles and the cake was a stunning grey, marbles effect, 3-tier work of art!
When Natasha stepped out of the Manor, she certainly stole the day with a stunning lace full train and veil. Such a beautiful bride with her hair flowing naturally around her shoulders, she was positively glowing. The luxurious sleek beauty of the classic Jaguar was waiting to take Natasha and her Dad to Bolton Percy All Saints church where Gary was nervously waiting for his Bride. After a beautiful ceremony, guests spilled outside to congratulate the newlyweds before making their way back to Hornington for celebratory fizz and delicious canapes.
Soon it was time for the speeches, and Natasha's dad, also named Gary, spoke of the special bond between father and daughter. He struggled in her early years finding a way to connect with his young daughter because at the time, they lived overseas and his work took him away a lot of the time when she was little. Thank goodness for "Cheney Burger". A cheeky impression of the character made Natasha giggle and their solid relationship was unbreakable.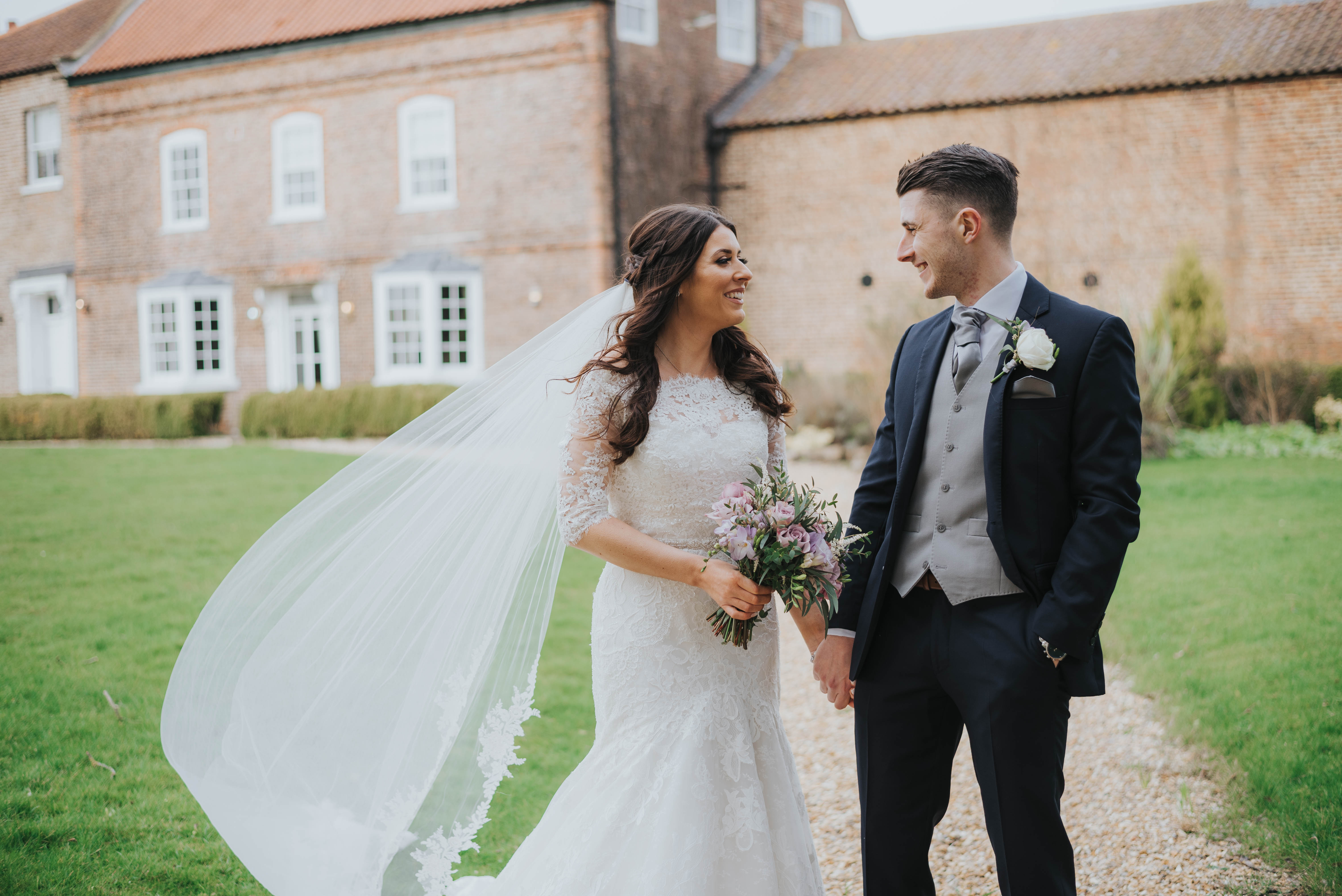 Car sharing was his favourite time with Natasha, when she graduated and they started working for the same company together. They shared such special times together on the journey to work.
Natasha always said that her Dad's name was boring and how he should have had a more exciting name. She had to eat her words when she introduced the man that she had fallen in love, who has a lot in common with her Dad not least the fact that they shared the same "boring name".
Dad's final words of advice to his new son in law was to always whisper those three little words to his wife everyday: "You are right"!
Our lovely Groom Gary was next and told the tale of how he met his 'absolutely gorgeous' wife. 'It was 29th October 2015 when Natasha approached me. I thought it was my wit, my smile that attracted her, but apparently, it was my exceptional ability to spend money on alcohol!'
Gary thanked his mum and dad who gave him an equal balance in his life for which he is truly grateful for, and to his Mother-in-Law Liz who is a wonderful ally to Gary and he is so grateful for the love and support she has shown by welcoming him to the family.
And not forgetting Mia the beautiful little flower girl and the bridesmaids who all looked gorgeous and had done a fabulous job supporting Natasha with the preparations of their wedding day.
Best man Mark announced to the room that we are currently in the middle of an epidemic
"Beautiful woman are marrying average men all over the world every day!"
Having been the best of friends since nursery in 1992. It was in those formative years that Gary had his first experience of girls. It was in the toy kitchen area of the nursery school and a girl kissed him. "He hit her with a frying pan". Gary and Mark are described as inseparable friends and they could be the new Ant and Dec! "One of us has crashed his car and drank too much and one of us has married a woman that now manages his diary"
The finale of the speeches was a wonderful slide show of all the guests and Harry the Dog, that sadly could not be with the happy couple on this wonderful day to celebrate with them, which was a truly memorable.
As evening fell, guests took to the dance floor which was lit by huge LOVE letters, and DJ Danny took the party into the evening celebrations in style.
We are so thrilled to have been able to celebrate Gary and Natasha's day and we wish them all the happiness in the world on their next adventure as Husband and Wife!
The Newlyweds left us a little note before they left: "Our thanks to you for how awesome you and your staff were that weekend. We will be forever grateful. Hornington Manor will be forever important to us, and we hope that we get to spend some time there in the future".
Suppliers on the day…
Photographer
Caterer
Cake
DJ