Jess and Kyle arrived at Hornington and took all the preparation in their stride with an incredible comfortable ease between each other and their guests. Their only wish for the big day tomorrow was that they may, fingers crossed, have their ceremony or reception outside. The wedding barn came to life with the tables named after music festivals that Jess and Kyle had enjoyed with friends.
The day arrived and it was looking promising but possibly a little chilly for the ceremony, so the decision was made to have it in the gallery walking towards our beautiful light wall. However, the weather was fine for photographs, drinks and canapés outside.
Jess looked stunning as she walked down the aisle to "Can't help falling in love". All nerves where dispelled when Little Elio was very vocal throughout the ceremony and exclaimed "Wow" as Kyle was saying his vows. Totally bored with the proceedings, he decided to use the aisle carpet as a runway for his toy trains whilst the newlyweds signed the registrar. Jess and Kyle truly did not mind being "upstaged" by their adorable nephew.
Devane's reading, was spoken through tears and giggles, which was so infectious and made everyone laugh.
'Today is a day you will always remember, the greatest in anyone's life. You will start the day just two people in love, and end it as husband and wife. It is a brand new beginning, the start of a journey with moments to cherish and treasure. Although there will be times when you both disagree, these will surely be outweighed by the pleasure. You will have heard many words of advice in the past, when the secrets of marriage are spoken, but you know that the answers lie hidden inside, where the bond of true love lies unspoken. So live happy forever as lovers and friends, it's the dawn of a new life for you. As you stand there together with love in your eyes, from the moment you whisper "I do", and with luck, all your hopes, and your dreams can be real. May success find its way to your hearts. Tomorrow can bring you the greatest of joys, but today is the day it all starts.'
Dad spoke of Jess being a beautiful person inside and out, his little miss sunshine. She is so laid back and chilled – pretty much as the day she was born. He made us all giggle when he presented Jess with a hand puppet because one of his many memories of Jess was early in primary school when at a parents evening he was told how proud they were that finally Jess does not show her emotions through her hand puppets. 
 Dad spoke with such pride that Jess has found a "Soul Mate" in Kyle who is equally as easy going. They both have inner integrity and such a clear direction in life. Jess however, does have a dark side, which is probably due to the Italian blood running through her veins. Jess has the "Italian death stare" just like her Nona.
Kyle had prepared to say a few words in many languages to welcome all their friends and family, who had travelled across the globe to be here today, from South Africa, Argentina, Belfast. Due to Coronavirus, though, no one will ever hear his perfected Italian and he was quite pleased that he did not have to attempt Sri Lankan. He managed a few words in Spanish and handed his interpreted speech to guests from Argentina.
Starting with a few toasts and cheers to, sadly, cherished family that were no longer with them to enjoy this wonderful day. "Jess's grandad Frank who gave Jess her Yorkshireness and Nonna Domenica who gave Jess her Italianness. Kyle's Grampy Gwyn and Nanny Babs, "who were a great pair and we all have very happy memories of their shananigans". Gone but not forgotten.
He then spoke of his dear Jess. He begin by saying he struggled to put into words his feelings about Jess, so he spoke in numbers. "We have been to 14 festivals, around 100 gigs, 11 countries, rented 1 home, bought 1 flat, bought 1 house, 0 arguments, 0 fall outs, 0 break ups. Since meeting Jess I have made so many of my best memories and look forward to so many more good numbers over the rest of our lives, without adding many bad ones. Jess you are the loveliest person in the world, you are the perfect girl for me, we have so many great times together and that's why I am so proud to now call you my wife".
One of Kyle's best men Rob, spoke of Jess and Kyle being his best friends equally. He went to primary school with Jess and met Kyle around 6/7 years ago. They hit it off straight away and have lovely memories of attending many festivals, trips together and just chatting. "Jess and Kyle make life look so effortlessly easy, but when you walk through life with your best friend it will seem easy".
Ben, Kyle's school friend of 11 years, started his speech by reading a message of good will to our bride and groom from Australia. He then went into a character assignation of his best pal Kyle. Fun Loving, kind, generous incredibly loyal and extremely mischievous. He recalled a time when he had fallen for the "Kyle Rue", when Kyle had stolen his car and the only clue he would give to its whereabouts was "It's not that far away honestly".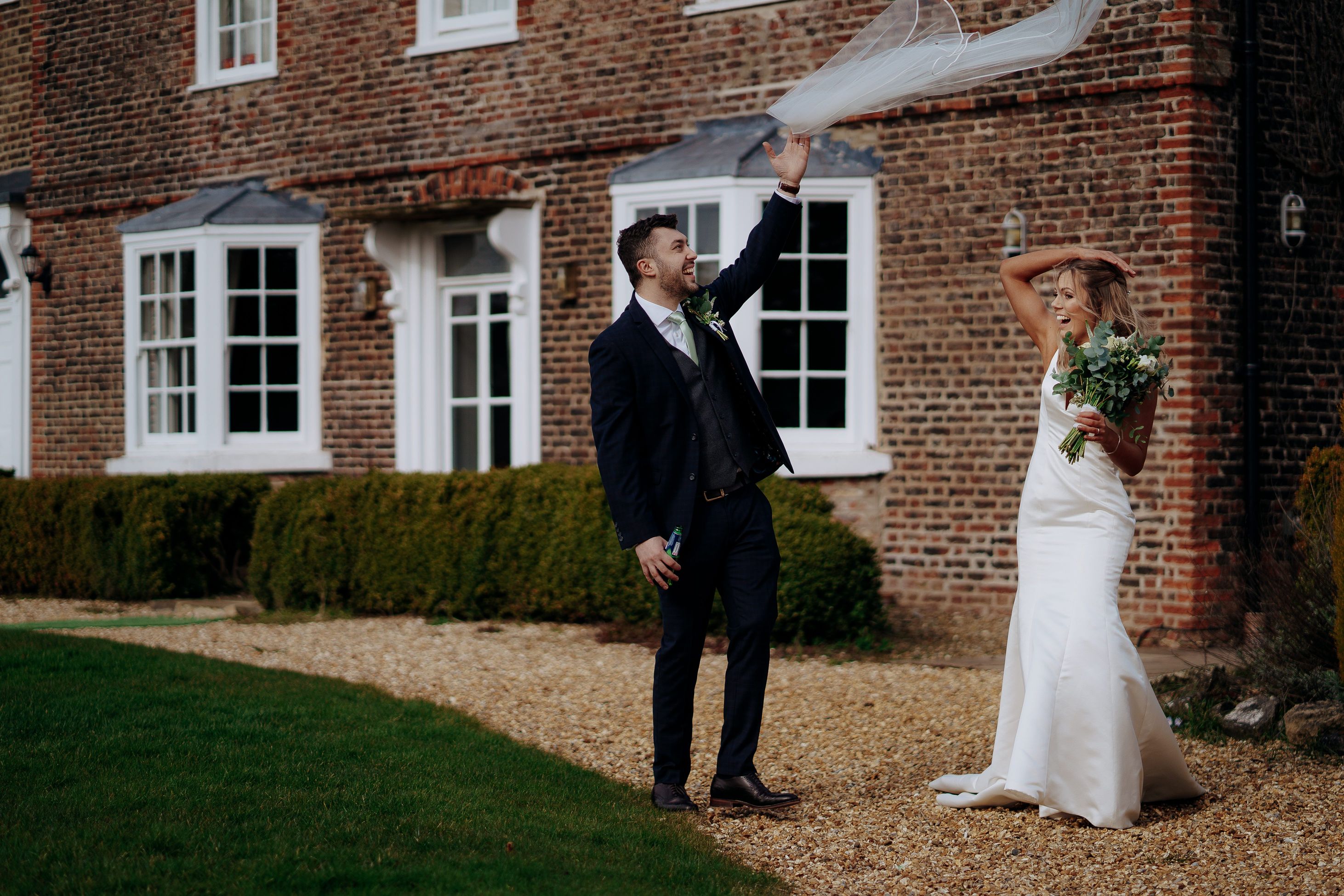 With a final toast to the happy couple everyone agreed the speeches not only were heart felt and filled the wedding barn with the love of this special couple but also very entertaining.
It is an absolute pleasure and privilege to be part of the most important day, so far, for Kyle and Jess but for us here at Hornington Manor it is also so much fun. Thank you to such a lovely relaxed couple and wonderful friends and family.
Suppliers on the day…
Photographer
Caterering
Entertianment