On a gorgeous sunny spring day, our lovely Bride and Groom Andrew and Sarah became Mr and Mrs Barlow. They were to say their vows in the beautiful St Mary's Church in Boston Spa, and that morning, the Manor House was a hive of activity. Andrew and his groomsmen had taken over the Manor, enjoying a glass of fizz in the sunshine and a game of pool to calm to nerves! Sarah and her bridesmaids were getting ready in the West Wing.
Sarah's dress was to die for with the most beautiful beaded bodice and flowing skirt, finished with a stunning veil. Sarah's Bridesmaids Stacey, Katie, Sian, Ellen, Vicky and Kelly wore gorgeous blush pink gowns made by Andrew's mum Joy, which was picked out perfectly from the bouquets.
Once at church, Sarah walked arm in arm with her dad Joe towards her Groom. It was a beautiful ceremony with hymns including 'Shine Jesus Shine' and reading from Corinthians, Chapter 13.
If I speak in the tongues of mortals and of angels, but do not have love, I am a noisy gong or a clanging cymbal. And if I have prophetic powers, and understand all mysteries and all knowledge, and if I have all faith, so as to remove mountains, but do not have love, I am nothing. If I give away all my possessions, and if I hand over my body so that I may boast, but do not have love, I gain nothing.
Love is patient; love is kind; love is not envious or boastful or arrogant or rude. It does not insist on its own way; it is not irritable or resentful; it does not rejoice in wrongdoing, but rejoices in the truth. It bears all things, believes all things, hopes all things, endures all things.
Love never ends. But as for prophecies, they will come to an end; as for tongues, they will cease; as for knowledge, it will come to an end. For we know only in part, and we prophesy only in part; but when the complete comes, the partial will come to an end. When I was a child, I spoke like a child, I thought like a child, I reasoned like a child; when I became an adult, I put an end to childish ways. For now we see in a mirror, dimly,* but then we will see face to face. Now I know only in part; then I will know fully, even as I have been fully known. And now faith, hope, and love abide, these three; and the greatest of these is love.
However it was Sarah and Andrew's beloved Golden Retriever Buddy who absolutely stole the show.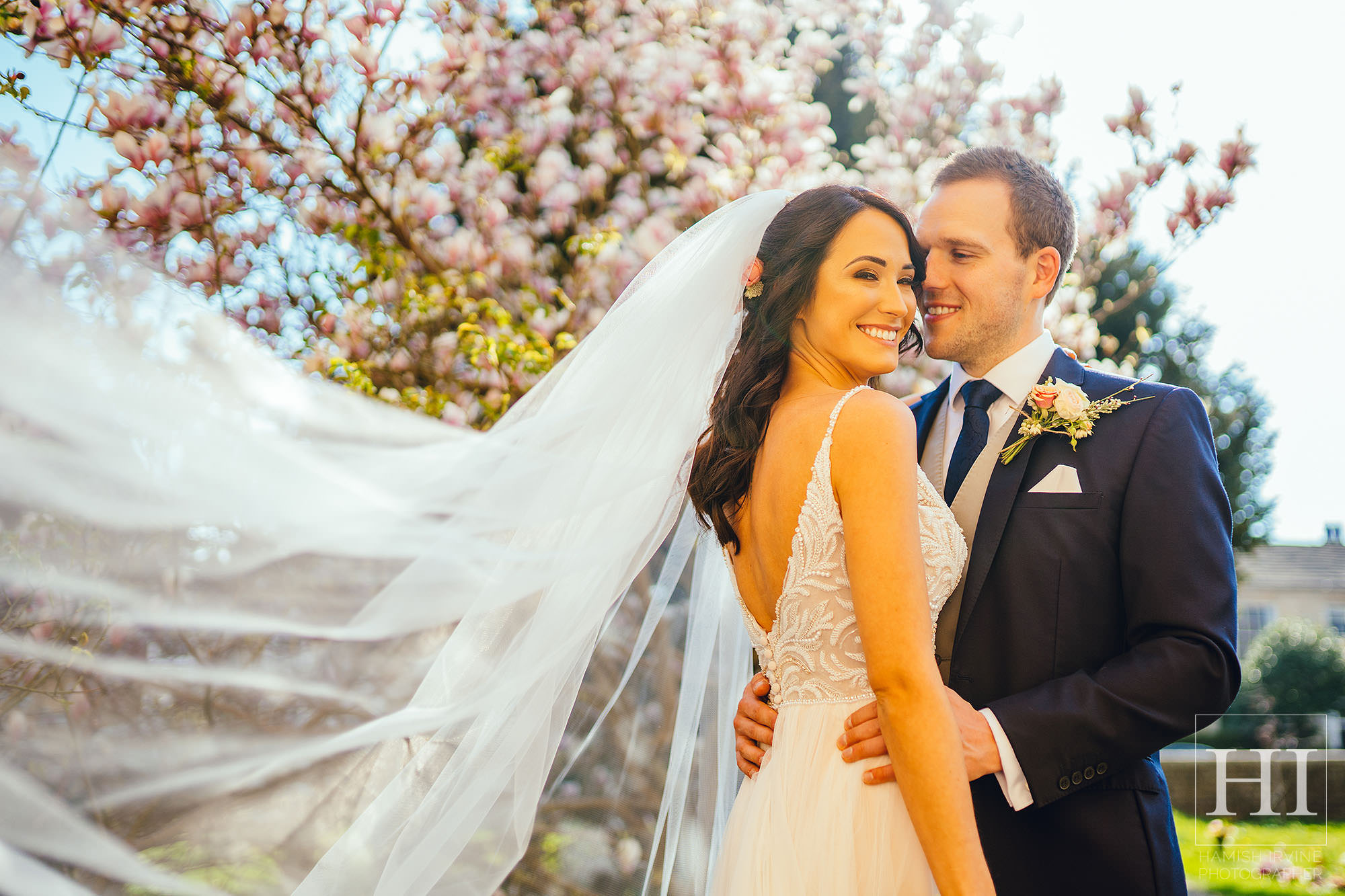 Once the ceremony was over, the newlyweds headed back to Hornington in a gorgeous vintage VW Beetle and guests soaked up the sunshine on the Front Lawn with a bottles of our very own Horny Hemp and prosecco served from the Haha Baah.
The wedding barn looked incredible. The chandeliers were dressed with luscious green foliage and hanging white flowers and grey table cloths were topped with pots of beautiful blush pink and white blooms. Each guest had a little bottle of home-made 'Buddy's Botanical Gin' which was such a lovely touch.
Sarah's Dad Joe welcomed everyone to the wedding of his daughter. He mentioned Sarah's Hen do and how the girls really did know hoe to have a good night- at 9pm in PJs with cups of tea and custard creams, watching Madeline McCann Documentaries on Netflix. Joe shared his early memories of Sarah, in articular one occasion where he was carrying her on his shoulders running down the hill to the shop. He gazed up at his daughter and felt a huge flood of affection, or at least he though he did, until he felt it drip down his t-shirt and it turned out to be a huge flood of something altogether different. Joe said Andrew is a 1st class guy and knows the two of them will have a very happy life together. Sarah's dad finished by reading a beautiful poem he had written for Sarah called 'On Sarah's Wedding Day' which he almost got through without welling up!
Andrew knows that Sarah means the world to her parents but even so, he bets they are so grateful they don't have to live with 'That Face' anymore. He thanked his parents Joy and Ian for everything they do, and a special thanks to his mum for making all the Bridesmaids dresses, the stunning cake and the cheesecake desserts for all 120 guests, which we learned was a bit of a Barlow family tradition. Andrew was bursting with pride to call Sarah his wife and shared some of the fabulous memories they have made together, including the time Sarah decided to book a ski trip for them both but didn't realise you also need ski equipment and passes… the first day ended with concussion and they have never been skiing since!
Best Men Richard, Andrew's Brother, and Chris, Andrew's best friend for 25 years, welcomed guests from Devon, Durham, Wakefield, Australia and our Groom's hometown, Teesside. Richard revealed that growing up, Andrew was a model student and on a family trip to Thailand one year, they were charged a fortune in excess baggage, soon to find out that Andrew had brought all of his schoolbooks with him to revise! Chris knew he was the Best Man Andrew really wanted without feeling obliged to ask… and joked that Sarah was keen to get married as soon as possible before Andrew became full forehead. Chris is an only child, and growing up, both Andrew and Richard were like brothers to him; they were governed by the street lights and their stomachs, and that's something he still lives by today!
Our Bride and Groom shared their first dance to 'I Won't Let You Go' by James Morrison and they all danced and danced and danced until the last song of the night which was 'Wonderwall'.
Huge congratulations to the new Mr and Mrs Barlow and we hope you had the most fantastic wedding weekend and honeymoon in Sri Lanka and the Seychelles!
Suppliers on the day…
Photographer
Caterer
Hair
Make Up
Transport
The Yorkshire Heritage Bus Company
Band
The Wilde Ones- Jonny Ross Music