Our gorgeous Bride and Groom Rachael and Sam live in Australia and planned their dream wedding at Hornington from half way across the world! It truly was a White wedding- Racheal's flowers and table centerpieces were beautiful white roses and gypsophelia from florist Gilly Milton, and the barn décor was white in keeping with their new marital name- Mr and Mrs White!
The ceremony was held under the Lych Gate and it was beautiful. Rachael looked absolutely stunning in her Bardot style lace gown with gorgeous veil, and her bridesmaids wore the most elegant soft grey gowns which fitted perfectly in Rachael and Sam's colour scheme. Rachael walked down the aisle to 'How Long Will I Love You'.
Prosecco and bottled beers were enjoyed on the front lawn where guests were tasked with hooking their names from a pool of water to find out where they would be sitting. Sam and Rachael were whisked around the grounds by their photographer Inspire Images and aren't the photos just gorgeous!
It was soon time for the speeches and Rachael's dad Graham was up first. He spoke emotionally of how his little girl has grown into a beautiful young woman. He revealed that after she met Sam, he never worried about her again as he knows how much Sam loves and cares for her. She is now a Whitey!
Sam thanked all their guests for sharing their special day. Special thanks to the Bridesmaids for keeping Rachael sane, and to the Ushers who are the greatest of lads! Sam and Rachael met nearly 20 years ago but he admired her from a distance for the first 10- not in a creepy way of course!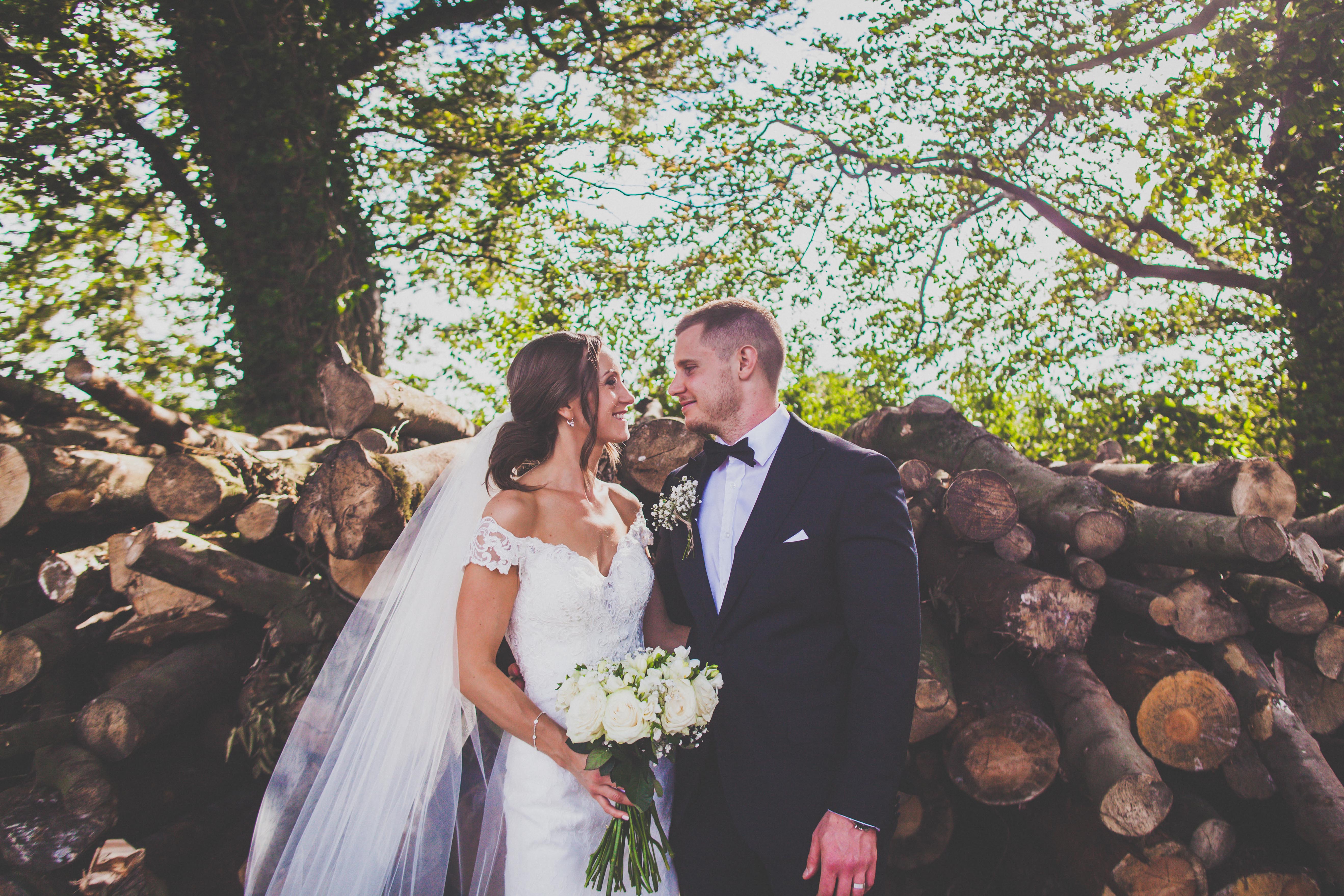 Sam's Best Men took it in turns and said they wished they had been given more than three weeks' notice! They revealed that Sam only has 2 chat-up lines- 1) Have you got a bum chin? And 2) What did you have for your tea? Somehow one of these must have worked on Rachael! They said they had struggled to find bad stories about Sam as he is such a lovely, laid back person. All the Best Men agreed that they miss the pair so much and were thrilled to be part of their day.
The wonderful people at Annika's Apron served up a delicious feast, followed by street food in the courtyard later that night. DJ Danny from Jonny Ross Music entertained the guests all eveningbetween sets from band The Skylarks.
On Sunday, everyone enjoyed a post-wedding garden party on the front lawn which was such a lovely way to end a perfect weekend.
Huge congratulations to the brand-new Mr and Mrs White and thank you for sharing your special day with us.
Suppliers on the day…
Caterer
Photographer
Videographer
Music
DJ Danny- Jonny Ross Music
The Skylarks
Florist
Hair and Make-Up