We are lucky enough to get to know all of our Brides and Grooms really personally throughout the lead up to their wedding, but on this occasion, the beautiful Bride Amy was already a close friend and for that reason, we were extra excited help create and celebrate Amy and Tony's special day!
Amy often visits Hornington as part of her job, however this weekend, the house was filled with friends and family of the Bride and Groom and as soon as the wedding barn was set, the party started on Friday night!
The following day, the sun was shining and Amy and Tony were to say their vows under the lychgate. They had a gorgeous white archway decorated with gorgeous blooms and giant white candle lanterns to frame the aisle and Amy walked towards Tony to Neil Diamond's 'Hello Again', arm in arm with her Dad and surrounded by her beautiful flower girls Ava, Rosia, Jayda and Amelia and Paige boy Harry.
Amy looked absolutely stunning. Her dress was a beautiful fitted lace gown with the most showstopping veil to rival that of Meghan Markle! Her bridesmaids Lucy, Emily and Becky wore gorgeous floor length navy gowns.
After the pair said 'I Do', guests made their way to the front lawn discovered Amy and Tony's seating plan hanging from one of the trees. Their theme was Alice in Wonderland and signs were hung upside down and back to front with directions to each table. Their names included 'It's always Tea Time', 'Have Some Wine', 'I Knew Who I Was This Morning', 'Down the Rabbit Hole', and 'We're All Mad Here'.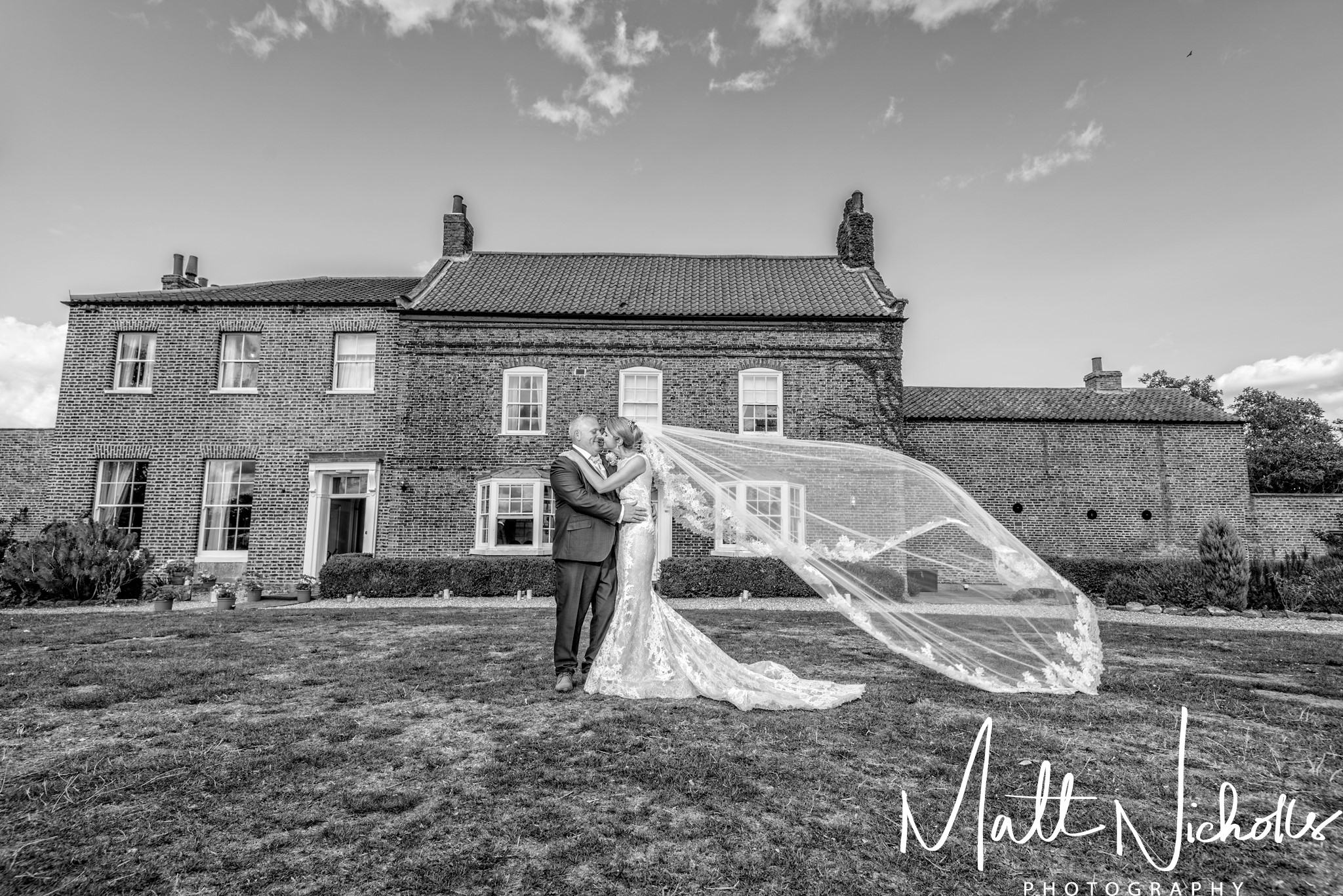 The theme continued in the wedding barn with the absolutely stunning cake which came with a bit of a story! The original cake was ruined in transit and Amy's friend, unbeknownst to Amy, thought there is no way her bestie isn't having the most amazing wedding cake, and took it upon herself to make one from scratch, staying up all night on Friday to get it done. It was a work of art and Lisa is such a talented lady and an incredible friend.  Friends for Dinner served up a feast and once it had settled, it was time for the speeches.
Amy's dad described her as a beautiful woman who will make a wonderful wife, as long Tony doesn't expect her to do the ironing! Tony's brother, best mate and and Best Man Steve described him as a great guy, brother, dad and grandad and took us all back to the day Tony was born- Christmas day 1964. Tony's mum was in labour for 2 days and he was the biggest baby on the ward, to the smallest mother! Things were very different back in 1964- A pint was 10p, a litre of petrol was 5p, the average house price was £3,000 and Leeds United were promoted to the 1st division! Tony had been through various stages of his life, from the George Clooney years, to the Paul Hollywood years, and now the Russel Grant years. Steve described Amy as kind, loving and extremely generous with her time, especially after the many hours she spent in hospital with Tony and Steve when their mum was ill. Steve presented Amy with a little gift of a top made from the 'Smith' family tartan which was a pink and white check. Steve and Tony's Dad, would be looking down on this special occasion with such pride and joy of the wonderful person that Tony is and of his bride Amy.
After the speeches, couldn't resist getting stuck into the lawn games- in particular the tug of war, sack race and three-legged race! As the sun set, the full moon created a stunning backdrop for the evening and allowed Amy and Tony's incredible photographer Matt Nicholls to capture the most breath-taking shots of our Bride and Groom.
Amy and Tony's first dance was to 'All of Me' by John Legend and following this, guests partied long into the night and it was such an amazing evening.
Suppliers on the day…
Photographer
Caterer
The Whole Hog
Videographer