On 19th April we welcomed the wonderful Julia and Rachel from Brides Up North for our luxury open evening in the beautiful spring time sunshine. An amazing range of suppliers were showcasing and they arrived to set up in the wedding barn and the courtyard in the afternoon. The barn was filled with everything from flowers, to dresses, to lighting and props and photographers.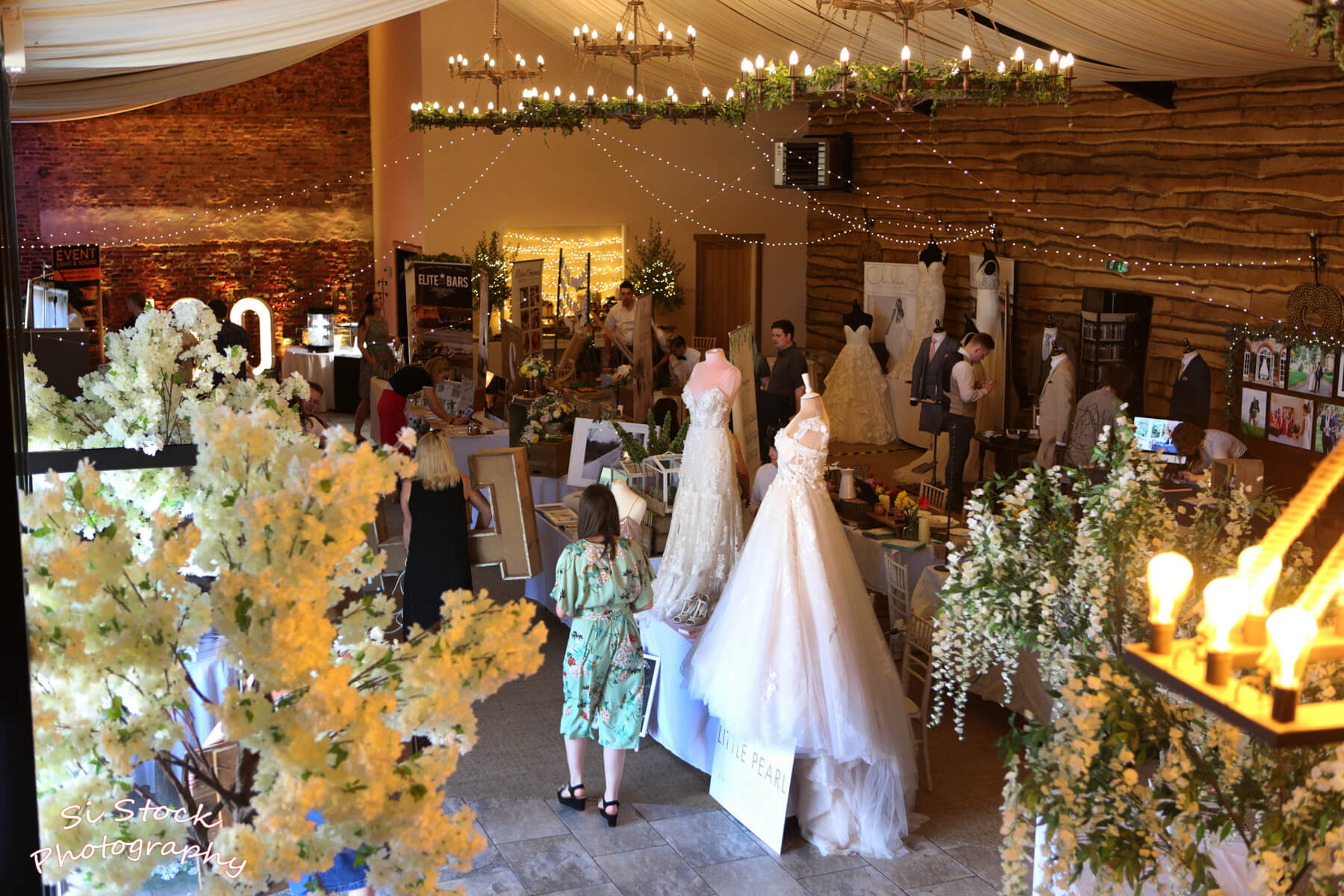 The barn doors were framed by the most stunning blossom trees from Limelight Wedding Trees and outside sat a beautiful vintage wedding car from Limelight Wedding Cars.
Friends 4 Dinner fired up the BBQ under the Lych gate and Smokin' Blues food van and The Outside Kitchen filled the courtyard.
Brides, grooms and their friends and families arrived and the barn was filled with such a buzz! We had amazing live music from Jonny Ross as the soundtrack to the evening, delicious food from a Homegrown Hospitality and Babaganoush, and not forgetting lots and lots of cake! How incredible is the Donut Wall from the Barn Bakery?!
Fantastic photographers like Hamish Irvine, Janet Wareing, Stevie Jay, Dorchester Ledbetter and Lily North showcased their works and videographers Midgely Wedding Cinematography and Plume creative were showing playing films from past beautiful weddings.
The most stunning wedding gowns were displayed from the incredible Chloe Jane Bridal Wear and Little Pearl Bridal, and for the gents Master Debonair had some beautiful suits on show.
Bespoke wedding rings from Luv Olivia sparkled, and photo booths from Mimi Events and Boothomatic entertained the crowds!
Event Light and Sound illuminated the dancefloor and Love Lights the Way showcased their light up letters. Wild Floral Couture created a stunning floral display and Shindig Styling set up a ceremony in the courtyard and set up a stunning reception table complete with candles, foliage and chair décor.
Elite Marquees had a miniature wedding marquee  to showcase their offering and the Wedding Guide UK were offering tips and advice to all Brides and Grooms.
The Hornington manor team were on hand all evening to speak to couples about our venue and doing tours around the manor. It was brilliant to meet so many new couples searching for the perfect venue and for many, it turned out that was Hornington!
Of course, we saw many familiar faces which was lovely. We encouraged all our couples with their weddings at Hornington coming up to come along to meet all the suppliers and get some inspiration, which there was in abundance!
Brides Up North and Hornington goodie bags were given to each couple which, already packed with info and the new edition of Unveiled Magazine, was bursting at the seams once they had been around the barn and seen all that was on offer! 
The event was a huge success and we had such a brilliant time! So much so we've booked in our next one! Brides up North will be back at Hornington in November so keep your eyes peeled for more details on our social media over the next few months!
Huge thank you to Brides Up North for all their hard work pulling off an amazing evening. Thank you to all the wonderful suppliers for showcasing, and most of all, thank you to everyone who came to visit us!
If you have any questions about Hornington Manor, or you would like to arrange a viewing, please contact us on enquiries@horningtonmanor.co.uk.
The full list of our lovely suppliers is below-