At Hornington, you don't just celebrate your wedding day, you celebrate the whole weekend! Zoe and Tom, our gorgeous Bride and Groom got it right a few weeks ago by planning a party in their beautiful PapaKata tent in the courtyard for the Friday evening. Homegrown Hospitality proved the grub, and all of Zoe and Tom's guests had a fantastic night, which put them in the party mood for the big day!
Tom and Zoe met at mutual friend, Alison's, 21st birthday party, to which Tom arrived already very hungover from the night before and more than a little bit miserable. As soon as he saw Zoe, he suddenly became very happy! Little did he know, Alison had actually been trying to set the pair up for some time. It was love at first sight, and fair to say the couple have a lot to thank Alison for!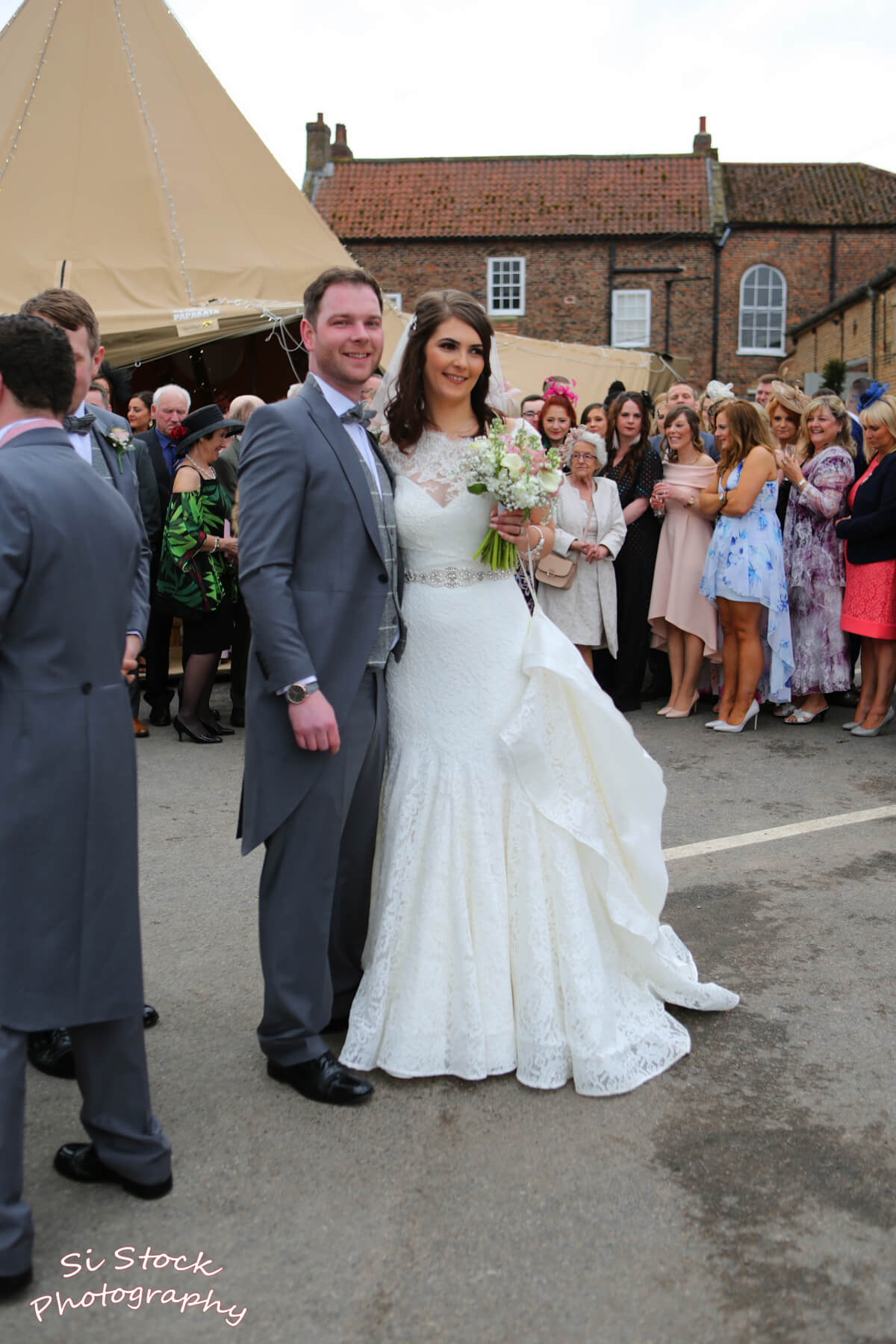 Zoe and Tom said their vows in the Gallery and Zoe's brother Luke read a wonderful poem during the ceremony-
'Yes, she'll marry you, and here's the reason why-
So she can push you out of bed when the baby starts to cry.
And if she hears a knocking and it's creepy and it's late,
She'll hand you the torch and you will investigate.
Yes, she'll marry you, you may not apprehend it,
But when the tumble-drier goes, it's you that has to mend it.
You have to face the neighbour, should the Shihtzus attack him,
And if a drunkard fondles her, it's you that has to whack him!
Yes, She'll marry you, you're masculine and lean
Your house is like a pigsty, you can both help to keep it clean.
That sexy little dinner, that you serve by candlelight
And as she loves the Salmon, you can serve it every night.
It's you who has to work the drill, and put up the curtain track,
And when she gets PMT, it's you who'll get the flack!
So, I do see great advantages, but none of them for you,
And so before you see the light, for God sakes say 'I Do'!
The Newly weds made their way to the tent in the courtyard for reception drinks. Zoe wore a stunning lace fitted dress with a beaded waist band and beautiful capped sleeves. Her gorgeous bouquet, and all the flowers for the wedding were provided by Dutch Nurseries, where her sister and Maid of Honour Kelly works.
A surprise was waiting for them, as Tom's Sister Katie who runs Katie Sweep Chimney Services was dressed in the traditional chimney sweep outfit ready to wish them 'Good Luck'! It is said that 200 years ago a chimney sweep bravely stepped out and stopped the King's horse and coach as it bolted. King George II was so grateful to the sweep for saving his life that he announced by Royal Decree that all sweeps were lucky! Today, seeing a chimney sweep on your wedding day is still a lucky omen and it was just perfect that Zoe and Tom could share this special moment with Tom's sister Katie!
Zoe absolutely loves Disney and there were lovely nods to Disney through the day. Their seating plan was based around Disney classics such as Cinderella, Aladdin and The Little Mermaid, with the top table being named 'Alice in Wonderland'. The fantastic Kendal String Quartet performed as Zoe walked down the aisle and while the guests enjoyed their reception drinks, they had created pieces of music especially for Zoe and Tom, based around the well loved Disney soundtracks.
Zoe and Tom's amazing donut cake was made by Where the Ribbon Ends. We've been dreaming of donut mountains ever since!
Kelly, Zoe's sister was the first to make a speech. She told us how Zoe is her person, and without her, she would be so lost. Zoe is fiercely protective and fiery, but turns into a very tactile and friendly drunk! Kelly welcomed Tom, who she described as a true gent, into the family. In keeping with their shared love of Disney, Kelly read out a beautiful compilation of Disney quotes based on love, friendship and happiness which was so fitting.
Zoe's Dad Tommy took to the microphone and thanked everyone for coming to share his daughter's special day. Special thanks went to his friend Bobby for coming too. Tommy reveleved the name 'Zoe' means 'Life', and this couldn't have been a better fit for his daughter. She is passionate and determinded, and currently studying to become a nurse.
Tom is her rock and he couldn't have wished for a better son-in-law. Tommy told of a family holiday to Disney and they were stood together watching a performance in front of the castle. It was a spectacular show with fireworks and singing and dancing. Tommy looked across at Tom and saw tears rolling down his cheeks! He knew then that he and Zoe were perfect for each other! Before Tommy had walked Zoe down the aisle, she had handed him a note. 'Even when you give me away, I will always be your little girl'.
It was soon Tom's turn to take centre stage and he started by thanking his Parents for giving him a real outdoorsy childhood, and for supporting him through his career choice of setting up a Glamping business. The day was particularly special in Tom's family, as it was also his Grandparents 56th wedding anniversary, and his 1 year Facebook anniversary with his Grandma! That's what you call a triple celebration!
He thanked Kelly for the beautiful flowers, he thanked Alison, not only for setting him up with the love of his life, but also for all the make-up and nails, and he thanked Bronte for organizing the amazing PapaKata tent. but the real start of the show was Zoe. She is his soulmate, his best friend and he loved her from the moment he set eyes on her.
Tom's best man and childhood friend Carl, also asked Tom to be his best man in 2012 so he was now returning the favour! He spoke of their fantastic childhood memories, and reminded us that tractors and narrow bridges don't mix. If you know you know… He said that while Tom may look stern and miserable, he is actually a determined, strong minded, charismatic and balding man. He knew Tom had found the one in Zoe and as a 6 year veteran of marriage, he had a couple of tips for Tom- If you are going shopping, do not return without a present. And, dogs only work in leui of children for so long. He is expecting his 6th puppy this year…
Zoe, Tom and all of their loved ones had such an incredible time dancing away to music from Carly and the Kicks and having their 'Glamicatures' drawn by Ingrid Sylvestre. It was such a beautiful day from start to finish and we are so thrilled we could be a part of it!
Congratulations Zoe and Tom, the new Mr and Mrs Throup!
Suppliers on the day…
Photographer
Videographer
Caterer
Florist
Teepee
Magician
Musicians
Band
Caricaturist