Amy and Tom met on a bus journey in Vietnam, so their favourite place to visit is Nha Trang. It was only right they named their top table after this sentimental location too. Amy is the yin to Tom's yang.
The weather was gorgeous when Amy and Tom arrived to set up on Friday. Amy's best friend and maid of honour Michelle, is actually a wedding planner and helped out hugely with the organising and putting together the final touches. The barn looked wonderful, with beautiful flowers from Leafy Couture decorating each table and an amazing marble effect three tiered cake from Poppy Pickering taking pride of place.
Amy and her bridesmaids got ready together in the ball room. Our bride's dress, from the fabulous Chloe Jane Bridalwear, was absolutely stunning and Amy looked utterly beautiful. Amy's 8 bridesmaids wore gowns in a dusky lavendaer shade, complete with pastel bouquets and chic grey fur shawls.
Guests, some of which had travelled all the way from Australia, Switzerland, Dublin and Scotland, left for church in vintage coaches from York Pullman, and here Amy walked down the aisle, arm in arm with her dad Peter, to meet her groom.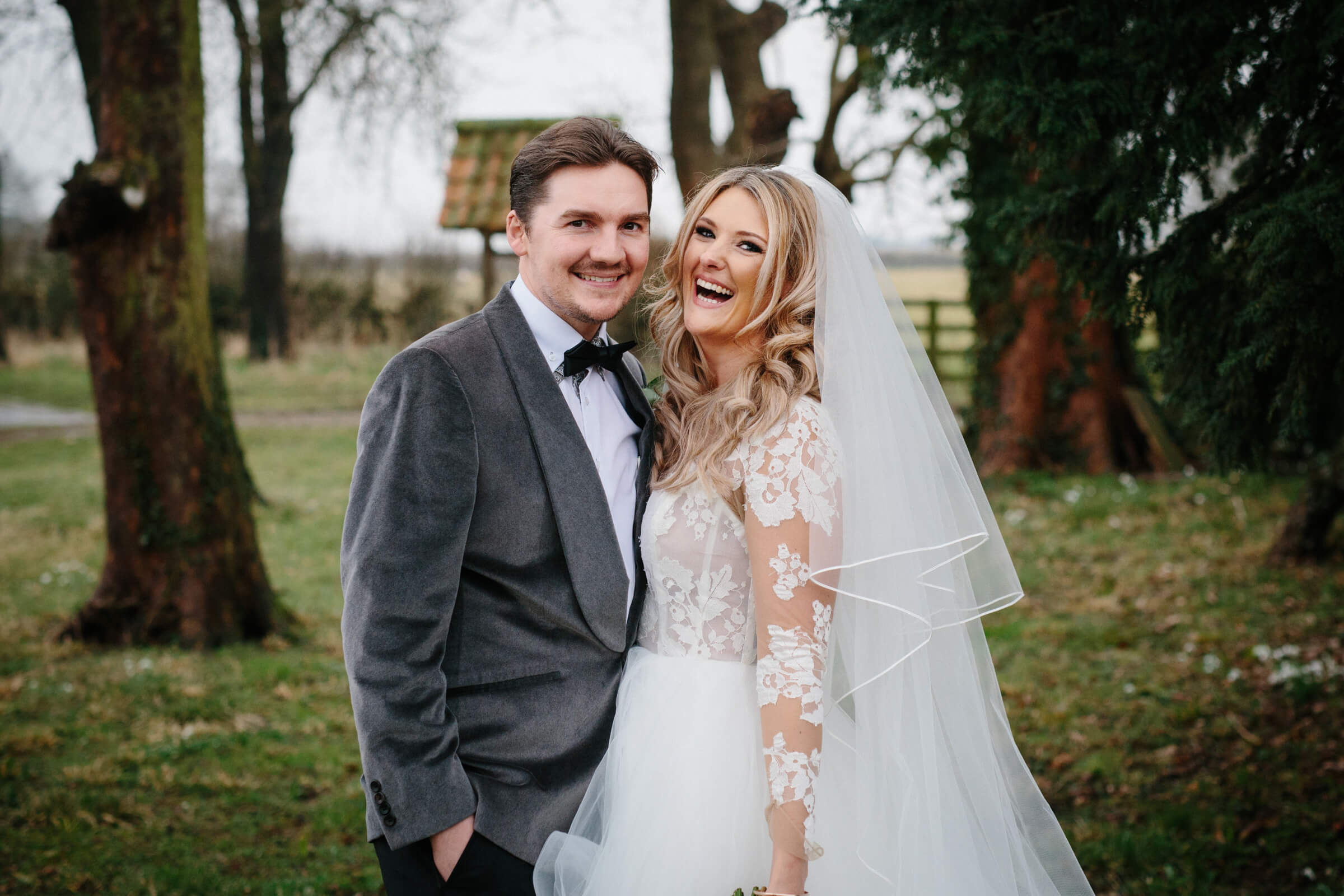 Peter's speech was beautiful as he described what a special treat it is as a father to watch his beautiful, intelligent, caring daughter walk down those stairs in the Manor in her wedding gown. The memory will live with him forever.
Amy and her Maid of Honour Michelle have such a beautiful friendship and this was so clear throughout the wedding day. Amy read a speech at Michelle's wedding and of course Michelle was asked to repay the favour for Amy and Tom. 8 months pregnant, Michelle has asked Amy to be her birthing partner. With Amy being a midwife who has delivered over 200 babies into the world, we can't think of a better woman for the job! Michelle had changed her speech at 2am on the day of the wedding! Here are a few snippets that we really enjoyed-
'So when I asked Amy to do a speech at my wedding I really didn't think it through, so I guess this is pay back!
The Craven Heifer shaped our childhood and is to blame for the people we are today, it became a safe haven and was the beginning of a whole heap of mischief. This is the part where I tell stories of Amy spiking our bottles of water with Archers and lemonade on a Saturday evening shift so we were ready to join the guys after we finished waitressing, or about that time she won a chocolate mud wrestling competition. But then I realise all these stories incriminate me, and my father is sat In the room so Amy, you lucked out this time.
They say girls find a man with qualities that reflect their fathers as we are all daddy's girls, but Amy and I found partners that reflected each other. As we couldn't marry each other, Adam and Tom were the next best thing. I mean finding someone half way across the world that was born on the same day, month and year as me! Just shows Amy's true dedication!
We always joke that if Amy and Adam ever ended up together,  they would have the most fun house, filled with booze, the most amazing food and chilled out atmosphere but it would be a pig-sti. Where as Tom and my house would be the cleanest house you stepped foot in but you wouldn't get feed unless it was a takeaway, and no one would come round as we would always be working!
When filling in my pregnancy book, it says 'Co-parenting?', Adam went and filled in mine and Amy's names! The crazy thought that Amy's will be the first face my little one will see is the most amazing feeling, a moment that not many besties will ever be able to say they have shared. 
She is a force of nature, and Tom, all I can say is good luck! You are both such incredible people and I love you both more than words can say even if you are a southerner.'
Tom's Best Men, Gareth and Nick presented a slideshow of the 4 most important points for a perfect husband. 1) Financial stability : Tom is very thrifty and always escapes his round. 2) Sexy : They had pictures of Amy's perfect men- Patrick Swayze, Johny Depp, Leonardo De Caprio and then Toms image now cannily similar to Bob Hope from last of the summer wine, with his Yorkshire gent outfit. 3) Trustworthy, and 4) Style : Lots of pictures over the years of Tom's Dress sense. The conclusion- Tom is indeed perfect husband material.
The fantastic Hog and Apple served the most amazing meal. For starters, sharing Anti-Pasti sharing platters with Arrancini. For Main, Chateaux Briand with shin Beef Pie, Parsnip Puree and Sweet Potato Dauphinoise. For dessert, guests were treated to Dark Chocolate Cremeux with Salted Caramel and White Chocolate Cheesecake and Sticky Toffee Ice cream served with dry ice. Oh. My. Goodness.
DJ Ziggy from Hi Life entertained the guests all night, and they only stopped for a refuel of Chicken Pad Thai!
It was lovely and bright on Sunday and our bride and groom and their wedding party had a hog roast under the Lych Gate. Everyone said it was the perfect end to a perfect weekend.
Congratulations to Mr and Mrs Pett, and we hope you had a fantastic honeymoon skiing in France!
Suppliers on the day…
Make Up
Hair
Dress
Transport
Photographer
Videographer
Florist
Caterers
Cake
Evening Entertainment