Jenna and Graham are such a wonderful couple and we just knew their big wedding celebration was going to be simply fantastic. Jenna and her bridesmaids took over the Servants' Quarters of the Manor to get ready on the big day. Jenna's fitted lace gown with beautiful train looked stunning on her, and her bridesmaids were radiant in gorgeous sequin dresses.
Graham and his Groomsmen wore navy suits paired with grey waistcoats and teal ties. The colour combination was lovely and matched the beautiful paper lanterns hanging in the wedding barn.
Jenna and Graham said 'I Do' in the Wedding Barn, surrounded by their loved ones, and lots and lots of confetti! Photographer Karen McGowran captured the exact moment the confetti cannons exploded as the newly-weds walked down the aisle, hand in hand.
A lovely poem titled 'Here's to Right Now' was read during the ceremony. It has a perfect sentiment, reminding Bride and Groom to take a step back on their wedding day and truly appreciate all their hard work and enjoy their special moment.
'You're surrounded by your loved ones,
And all are wishing you well
As you create a brand-new chapter,
In the story that's yours to tell.
We talk about the memories
You have yet to make together,
And the moments you've already shared
To be carried with you forever.
But take the time to live today,
As your marriage begins.
Look around and soak it up,
The moment we are in.
For this is where the magic starts,
When you both say your vows.
You pledge to spend your lives as one
Because of the love you feel now.
So yes, here's to a future that is bright and warm and clear,
But more than that, here's to right now and what it means to be here.'
For the Wedding reception, each table was named after a different street, and guests took part in a quiz 'Who Lives in a House Like This'. Balloons and tall glass vases filled with white roses sat at the centre of the tables.
When it came to the speeches, Jenna's Dad, Trevor was first on the microphone. He opened his speech wearing a snorkel mask and holding a box of tissues, confessing he was a big softie and warned there were going to be many tears! He shared some lovely memories from Jenna growing up and boasted of her schooling and university achievements. Not forgetting the time Jenna phoned her dad, 250 miles away, to tell him that there was a spider in her room! Trevor commended Graham's manners, as after 5 years, he still lets him win at golf! Trevor took inspiration for his speech from his love of sport, telling the newly weds their Innings will last for years and years, and presented them with a special cap.
Graham thanked Jenna's bridesmaids Sara, Kylie, Anna and Jacqueline for Jenna's Hen do- on which she knocked herself out on the first night! He told his wife she is his best friend, and makes him smile every day. She also makes him late every day!
Graham's Best Man Ali joked he was surprised Jenna and Graham had made their relationship work, what with Graham supporting Newcastle Utd and Jenna supporting Man U!
The newly-weds first dance led to another spectacular confetti explosion and the beginning of a fantastic evening celebrating.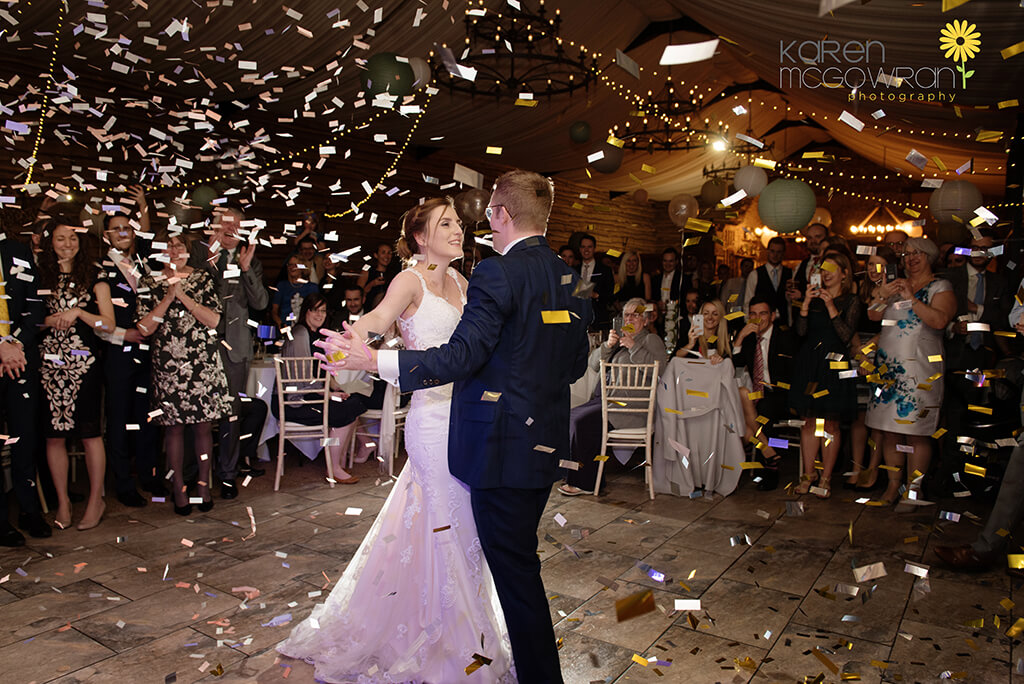 We are so grateful to have been a part of Jenna and Graham's day- a wonderful couple, wonderful family and friends and a wonderful wedding!